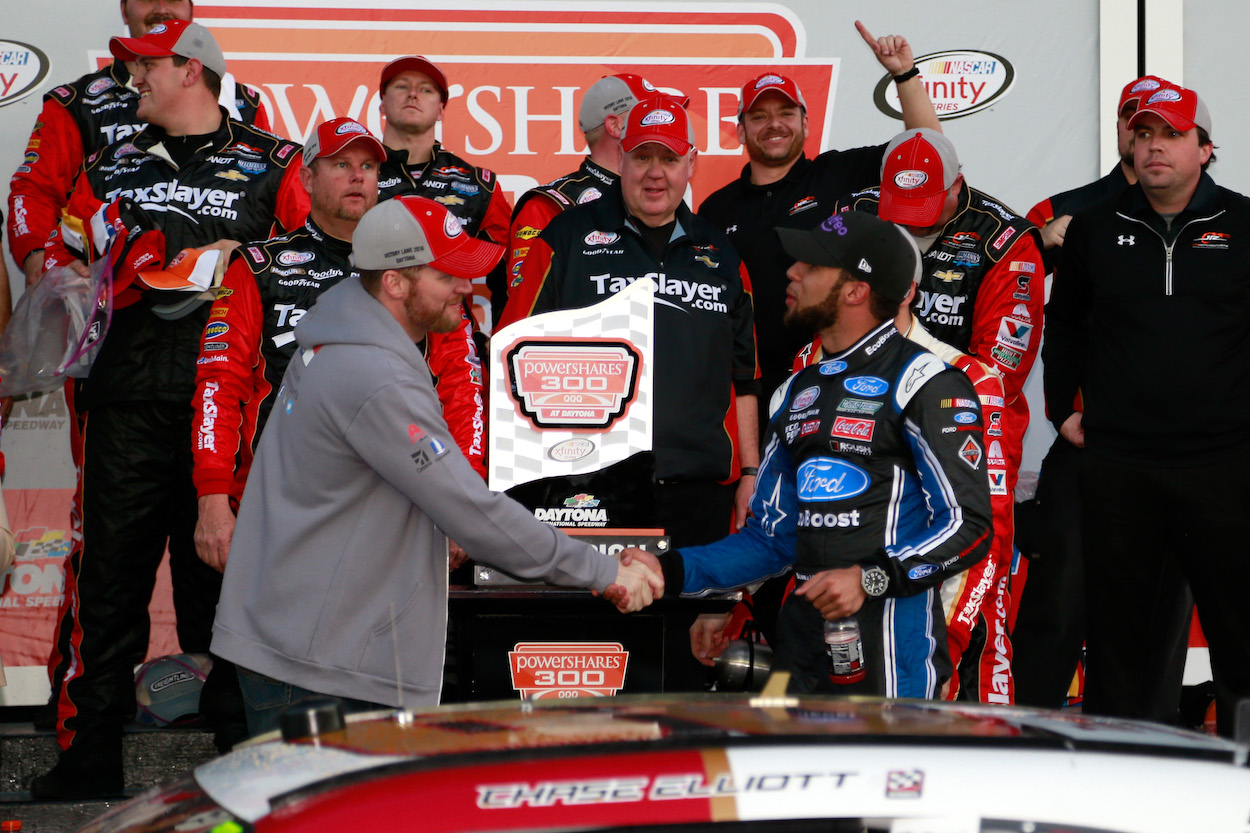 Dale Earnhardt Jr. Shoots Down Bubba Wallace Idea of NASCAR Partnering With Formula 1 in Future
Bubba Wallace proposed NASCAR and F1 partner for a race in Miami starting in 2022. Dale Earnhardt Jr. promptly shot down the idea.
Bubba Wallace stepped onto the national stage last summer following the tragic death of George Floyd. As the lone Black driver on the NASCAR Cup Series, his voice on social justice issues resonated in the racing community and resulted in NASCAR banning the confederate flag from all events.
This week, Wallace offered his voice on a change NASCAR could potentially explore after Formula 1 announced a new race in Miami starting in 2022. Dale Earnhardt Jr. was asked about Wallace's idea on his podcast this week and promptly shot it down. 
Bubba Wallace proposes Formula 1 and NASCAR partner in Miami
This week, F1 announced a new Miami Grand Prix starting in 2022 that will race around the Hard Rock Stadium complex in Miami Gardens. NASCAR Cup Series driver Bubba Wallace, who is a fan of the series, reacted to the news by offering up an out-of-the-box idea of how F1 and NASCAR might partner together and have dual races during the same weekend in Miami.
"Okay hear me out @F1 and @NASCAR.." Wallace posted to Twitter. "Both races same day in Miami. F1-12:00 @ MiamiGP Cup-6:30 @ Homestead."
Dale Earnhardt Jr. shoots down Bubba Wallace's idea 
Dale Earnhardt Jr. responded to questions on this week's "Ask Jr." portion of the Dale Jr. Download podcast. One of the questions asked about his thoughts on the Bubba Wallace proposal of pairing up the new F1 event in Miami with NASCAR's race in Homestead. 
Earnhardt first offered a take from his own personal perspective:  
"That's asking a lot of people because Homestead is a bit farther. It's like an hour drive. When I go to a race or sporting event of any kind, when it's over with, I'm done. I'm tired. I'm ready to go home. Especially like a race weekend as an experience. People come a day or two ahead of time. They're camping. And they're doing whatever. I don't know that you want to split that up."
When show co-host Mike Davis suggested Wallace was being creative and thinking outside the box, Earnhardt agreed but then offered up multiple reasons it wouldn't work.
"I agree it's a very robust idea," Earnhardt admitted. "You want to make as big a splash as you can make. But I doubt that F1 would want to share their event with anything else happening in the region, especially that first one. And NASCAR is not going to want to play second fiddle or be the closing act. It'd be tough to do. I don't see how it would ever happen." 
Dale Earnhardt Jr. learned from Wallace last year
While Dale Earnhardt Jr. doesn't see eye-to-eye with Bubba Wallace and his suggestion for NASCAR and F1 producing a joint venture for a weekend of racing, he absorbed everything Wallace had to say about racial issues in the nation last year.
Earnhardt appeared on SportsCenter with Scott Van Pelt and shared the impact Wallace had on him:
"He's saying a lot of powerful things. I'm so grateful for Bubba because without him we might not have that leadership and that guidance and the opportunity to understand and to listen. That hasn't always been there in our sport so I don't think I can say enough how much I appreciate him. He's also had a lot of conversations with drivers that I think it really helped Bubba and the drivers understand what Bubba deals with and what his life is like and how it's different from theirs.
"I'm hearing the message in a more impactful way. I'm learning more in this go-round than I did ever before. It was a great opportunity to listen to Bubba and everyone else who shared their stories and trying to understand what they're dealing with and how extremely serious this problem is in our country. I'm thankful for the opportunity to open my ears and take it and hopefully we can see some real change. That's all I want is for things to get better."
Earnhardt's voice has always been a powerful one in NASCAR circles. Wallace found his last year and delivered a powerful message on racial issues facing the racing community and the nation. The synergy created between the pair last year was hopeful for the future. However, that doesn't necessarily mean every idea is a good one.
Like Sportscasting on Facebook. Follow us on Twitter @sportscasting19.