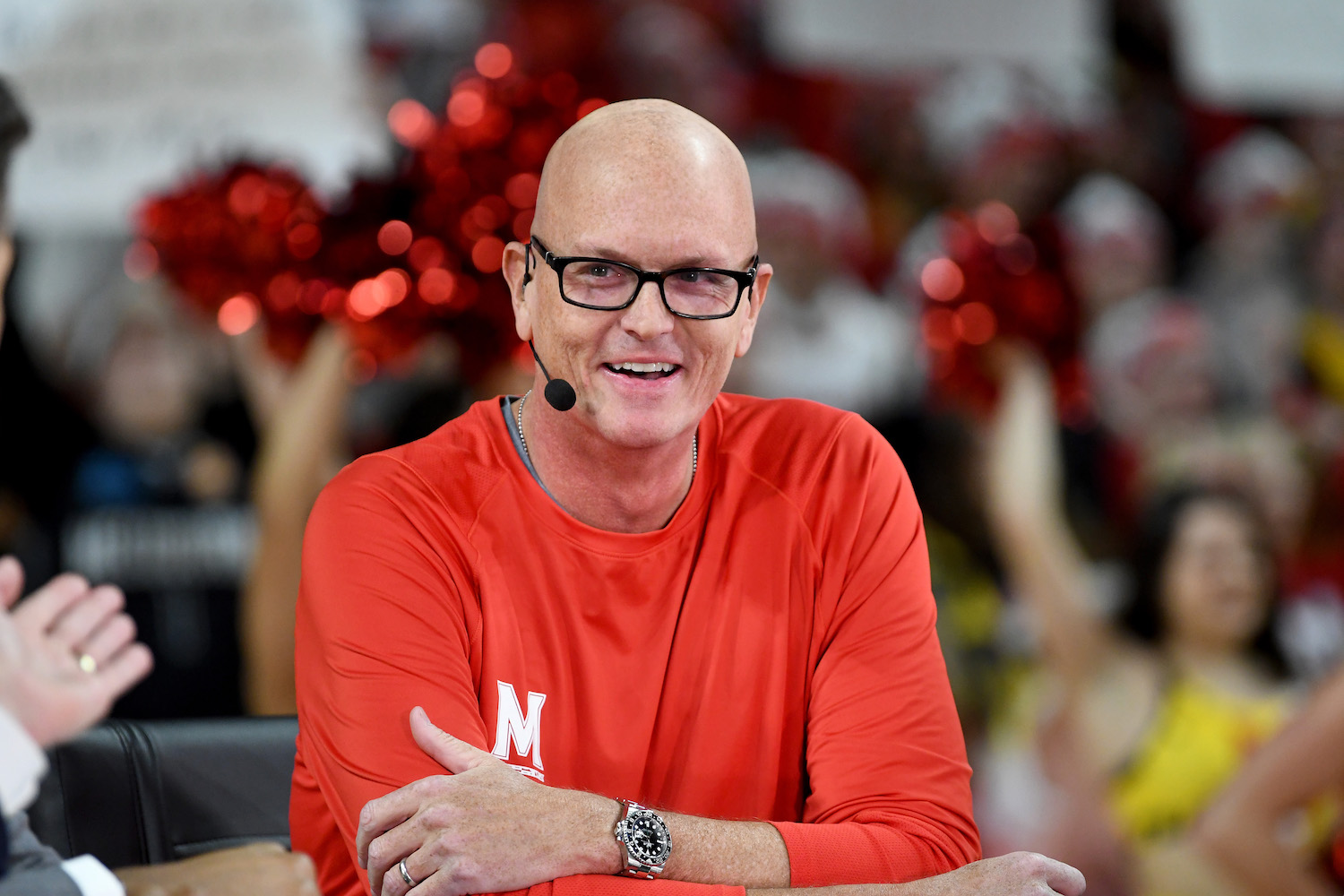 What Is Scott Van Pelt's Net Worth?
Scott Van Pelt is one of the most recognized faces on ESPN. As the host of SportsCenter, Van Pelt earns millions annually and has a high net worth.
Scott Van Pelt has been a mainstay at ESPN for almost two decades. He's shown his flexibility through the years covering everything from golf to college football. He worked at ESPN Radio for years and since 2015 has solely focused on hosting television's late-edition SportsCenter. The combination of his high profile and lengthy duration at the Worldwide Leader in Sports, Van Pelt has earned a considerable amount of money. What is Scott Van Pelt's net worth?
Scott Van Pelt's career before ESPN
After graduating from the University of Maryland, Scott Van Pelt landed his first sportscasting job at WTTG-TV, the Fox affiliate in Washington, D.C. He stayed for several years before leaving for the Golf Channel in 1995, where he worked as a studio host for several programs.
In 2001, ESPN hired Van Pelt to work as the network's lead golf reporter. Van Pelt soon added other responsibilities becoming a SportsCenter anchor, and later as a co-host with Mike Tirico on ESPN Radio for the Tirico and Van Pelt Show each weekday. 
With Scott Van Pelt's success on radio, ESPN decided to give him his own show in 2009 that was simulcast on ESPN2. The Scott Van Pelt Show lasted for three years before it was re-named in 2012 to SVP & Russillo. 
Scott Van Pelt hosts own SportsCenter
In 2015, ESPN announced Scott Van Pelt would give up the radio gig and focus full time as the solo anchor for SportsCenter's weekday midnight (ET) edition. The SVP SportsCenter is a review of the day's news and highlights with his unique spin.
He opens each show with the best thing he saw that day in sports, and then follows it with highlights, as well as commentary, and interviews in his conversational and witty style. 
In 2020, ESPN showed how much they value Van Pelt and what they see as a long-term relationship with him when the network moved the show and his entire crew to a newly designed studio in Washington, D.C.
While SportsCenter remains Scott Van Pelt's main priority, he still serves as the network's main host of golf coverage, including the Masters and the PGA Championship, where he hosts SportsCenter reports and specials from the events. 
SVP makes millions annually and has a high net worth
When Scott Van Pelt's show moved to Washington D.C., he put his 8,101 square foot home in Connecticut on the market for $2 million. He purchased it in 2014 for $3 million. He then purchased an unbelievable 11,519 square foot Colonial-style estate in Bethesda, Maryland for $4.25 million.
Working at ESPN for almost two decades, he has moved his way up the ranks. Scott Van Pelt's salary has correspondingly increased, and he makes a reported $4 million a year and has a net worth of $20 million.