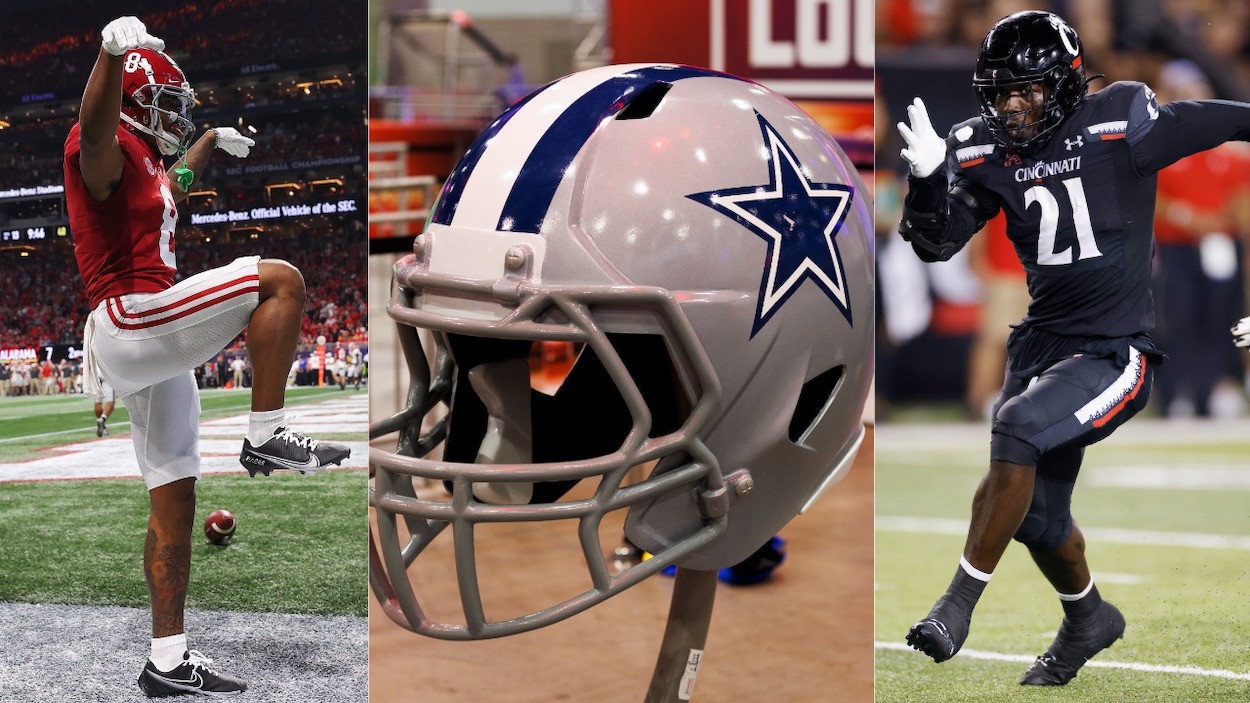 Dallas Cowboys 3-Round Mock Draft
In this three-round Dallas Cowboys mock draft, Jerry Jones plays it safe in the first round before pulling of steals in Rounds 2 and 3.
Any Dallas Cowboys mock draft you see will likely address the same issues. The Cowboys were a good — not great — team in 2021 and, as such, have specific holes to fill vs. wholesale talent upgrade needs.
For the Cowboys 2022 NFL Draft to be a success, Stephen and Jerry Jones will have to add players at positions of need. The most pressing needs are interior offensive and defensive line, wide receiver, edge rusher, and linebacker. Corner and safety could be areas of interest later in the draft, but Dallas doesn't have the same level of need there.
In this Dallas Cowboys mock draft, the fictional Jones' will fill three major holes with their first three picks, taking two SEC stars and a crucial player from a College Football Playoffs team.
Round 1, No. 24 overall: Kenyon Green, G, Texas A&M
Dallas Cowboys mock draft makers want to get cute and give the team a pass rusher or a linebacker in the first round. Those positions are flashy and fun to write about. However, Jerry Jones has already told people what he plans on doing at No. 24. 
The Cowboys owner/de facto draft guru recently told reporters regarding offensive lineman, "We'll get one unless Lamb or Parsons is there," per Dallas Morning News reporter Michael Gehlken on Twitter. 
There won't be a CeeDee Lamb or a Micah Parsons around at the 24 spot this year, so Jones will follow through on his initial plan and take a lineman. Iowa center Tyler Linderbaum should be gone by No. 24, so it will be between guards Zion Johnson from Boston College and Kenyon Green from Texas A&M. 
The 6-foot-4, 323-pound Green started at four offensive line positions and may even be able to play center in the NFL as well. As for 2022, he'll start at LG for the Cowboys in Week 1. 
Round 2, No. 56 overall: John Metchie III, WR, Alabama
Jerry Jones will make the safe, smart pick in Round 1 in 2022 because he'll think he can find his CeeDee Lamb and Micah Parsons in later rounds. The first player in this Dallas Cowboys mock draft that Jones will feel is a steal in the second round is Alabama wide receiver John Metchie III. 
After trading Amari Cooper to the Cleveland Browns, the Cowboys have Lamb and Michael Gallup — who tore his ACL in Week 17 — at wideout. Jones will look to give Dak Prescott another weapon on the outside, and Metchie could be a steal at No. 56. 
The 5-foot-11, 187-pound Canadian caught 96 balls for 1,142 yards and scored eight touchdowns in 2021 before tearing his ACL in the SEC Championship game. By comparison, the player he replaced for 'Bama had 106 catches for 1,999 yards and 17 TDs in his career. That player was Miami Dolphins star rookie Jaylen Waddle. 
Metchie would likely be a Day 1 pick if not for the injury, so Jones will see this to get his new Lamb at a discount. 
Round 3, No. 88 overall: Myjai Sanders, EDGE, Cincinnati 
Now for Jerry Jones to find his 2022 Micah Parsons in this Dallas Cowboys mock draft. Myjai Sanders was a key defensive disruptor for the surprising College Football Playoff participant Cincinnati Bearcats. However, as the team's top pass-rusher in 2021, his stats weren't great.
Sanders only posted 2.5 sacks, but that didn't tell the whole tale of his season. He still finished in the top five of FBS players for QB hurries, according to Senior Bowl director Jim Nagy on Twitter.
The other issue with Sanders is that he played at 242-pounds at Cincinnati but showed up to the combine at 228-pounds due to an illness. That same illness seemed to affect his measurables in Indianapolis as well. The good news is, at his pro day, Sanders was back up to 247-pounds and looked much more explosive.
Sanders was a second-round pick at best heading into the draft process, but, despite getting his weight back up, his combine likely hurt his draft stock. That loss will be the Cowboys' gain as he slips to Big D in the third.
All stats courtesy of Sports Reference