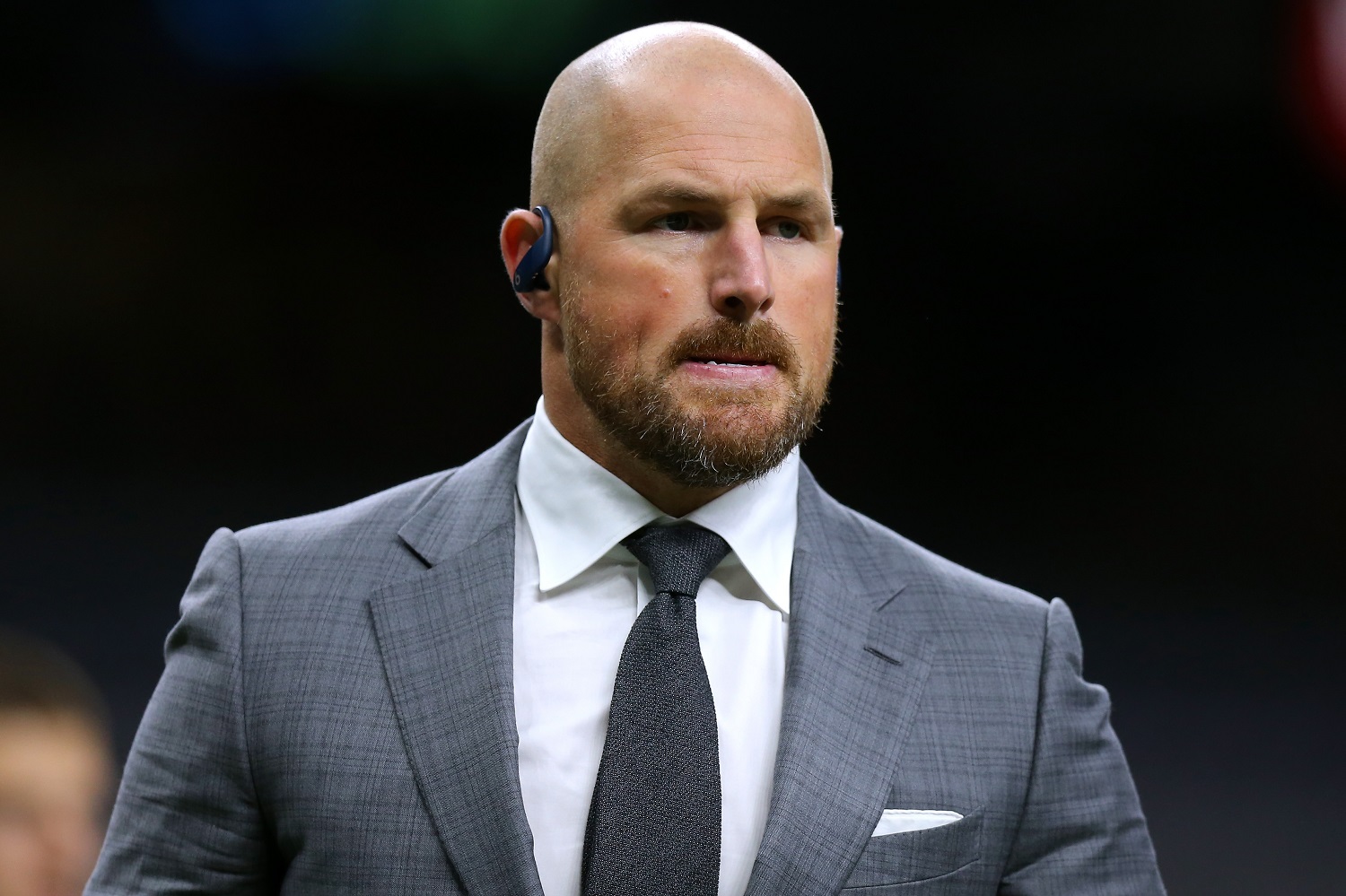 Dallas Cowboys Fans Are Freaking Out Seeing Jason Witten in a Raiders Uniform
The first pictures of Jason Witten in a Las Vegas Raiders uniform were released and Dallas Cowboys fans are freaking out.
With a new NFL season comes players in new uniforms and one of the biggest names to put on a new jersey in 2020 is legendary Dallas Cowboys tight end Jason Witten, who now wears the black and silver of the Las Vegas Raiders.
The first pictures of Witten in a Raiders jersey were recently released and Cowboys fans are freaking out.
Jason Witten played 16 seasons for the Dallas Cowboys
Out of the University of Tennessee, Jason Witten was taken with the 69th overall selection in the third round of the 2003 NFL draft by the Dallas Cowboys and gave the team 16 amazing seasons.
Witten started seven of the 15 games in which he appeared in his rookie season and caught 35 balls for 347 yards and a touchdown before becoming the full-time starter in 2004, at which point his career exploded. Starting with that season, he was selected to the Pro Bowl for seven consecutive seasons and earned 11 Pro Bowl berths overall. He was a First-Team All-Pro in 2007 and 2010 and a Second-Team All-Pro in 2008 and 2012.
Jason Witten retired following his final Pro Bowl appearance in 2017 to join the broadcast team for Monday Night Football but just couldn't stay away. He rejoined the Cowboys in 2019 and had yet another stellar season at the age of 37, catching 63 passes for 560 yards and five touchdowns.
Witten is the all-time leader for the Dallas Cowboys in receptions (1,215) and receiving yards (12,977) and his 72 touchdown receptions are second only to Dez Bryant's 73. His 1,215 career receptions are also good for fourth on the NFL's all-time list behind only Jerry Rice, Larry Fitzgerald, and Tony Gonzalez.
He signed a one-year deal with the Las Vegas Raiders in March
With Mike McCarthy replacing Jason Garrett as the head coach of the Dallas Cowboys, it became very clear that there was no place for Jason Witten. Many thought that he might join Garrett with the New York Giants but he ended up signing a one-year deal with the Las Vegas Raiders in March that could be worth up to $4 million.
It's a little funny that he now plays for Jon Gruden seeing as that's who he replaced in the Monday Night Football booth but the first pictures of Jason Witten in a Raiders uniform were recently released and Cowboys fans aren't laughing at all.
Dallas Cowboys fans are freaking out seeing Jason Witten in a Raiders jersey
The Las Vegas Raiders released photos of Jason Witten in the silver and black this week and fans of the Dallas Cowboys are all sorts of torn up about it. After so many years in Big D, he just became one of those guys that you never thought you'd see wearing another jersey, much like nobody ever thought they'd see Emmitt Smith in a Cardinals uniform.
Here's a few posts from those commenting on Jason Witten's new digs.
The Dallas Cowboys and Las Vegas Raiders do not play one another in 2020 unless both somehow manage to make it to the Super Bowl. Just imagine what social media would look like if Jason Witten actually lined up against his old team.
All stats courtesy of Pro-Football-Reference