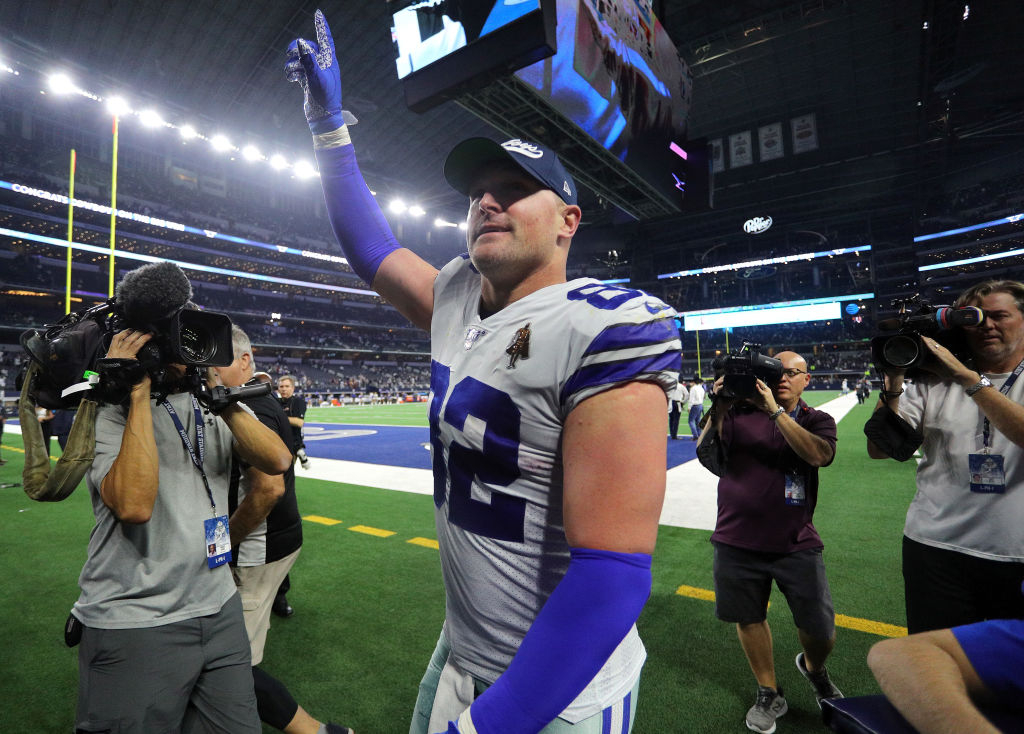 Will Jason Witten Retire if the Dallas Cowboys Move On?
With the Dallas Cowboys seemingly ready to move on, is it time for tight end Jason Witten to retire from the NFL?
Jason Witten has been one of the all-time greats for the Dallas Cowboys. But has the future Hall of Fame tight end played his last game with a star on the side of his helmet? Has he played his last game in the NFL?
A report from Dallas Morning News reporter Calvin Watkins surfaced on Wednesday that the Cowboys may be ready to move on from Jason Witten, who has played his entire career in Dallas. The question now has to be asked. If the Dallas Cowboys are moving on, is it time for the 11-time Pro Bowler to hang it up?
How long has Jason Witten played for the Dallas Cowboys?
Jason Witten was taken by the Dallas Cowboys in the third round of the 2003 NFL draft and has spent his entire career with the franchise. The remarkable thing is that Witten, who started his collegiate career at Tennessee on the defensive side of the football, had played just 20 games for the Volunteers at the tight end position before choosing to enter the draft following his junior year.
Witten played 15 seasons in Dallas before retiring ahead of the 2018 season to join the Monday Night Football broadcast team for ESPN. After spending a year in the booth, Witten returned to the Cowboys ahead of the 2019 season.
What Cowboys records does Witten hold?
In his 16 years in Dallas, Jason Witten has set just about every single Cowboys receiving record there is.
He's played the most games at a receiver position with 255. He's racked up 12,977 yards, over a thousand more than what Michael Irvin brought in during his Hall of Fame career. That's also second in NFL history for tight ends behind only Tony Gonzalez.
His 1,215 receptions is also a franchise mark, and also second in NFL history at his position. His 72 receiving touchdowns for the Cowboys fall just one short of the franchise record, second only to Dez Bryant's 73. While not a team record, Witten also fumbled just nine times in 16 years. Nine fumbles in 1,215 receptions. Astounding.
Should Jason Witten retire?
Jason Witten has gone on record saying he wishes to play a 17th NFL season, even if it's not for the Cowboys. The four-time All-Pro did have a productive 2019 season in Dallas. While not like the numbers he put up in his prime, Witten caught 63 passes for 529 yards and four touchdowns this past year. Most teams would gladly add that kind of production to their roster.
One possibility that's been discussed is Witten following Jason Garrett to the New York Giants. For Cowboys fans, it would be heartbreaking to see one of the most beloved figures in franchise history wearing a different jersey, especially one of a division rival. Remember seeing Emmitt Smith in an Arizona Cardinals jersey? Most Dallas fans like to forget that ever happened.
Sure, this could all go away if the Cowboys re-sign him. But with trying to get deals done for Dak Prescott, Amari Cooper, and Sean Lee, it doesn't seem likely. He'll be 38 years old when the new season begins and he's not a high priority in Big D right now. The decision lies solely with him. If he feels he can still contribute at a high level, don't be surprised to see Jason Witten suit up for a 17th season, albeit with no star on the side of his helmet.