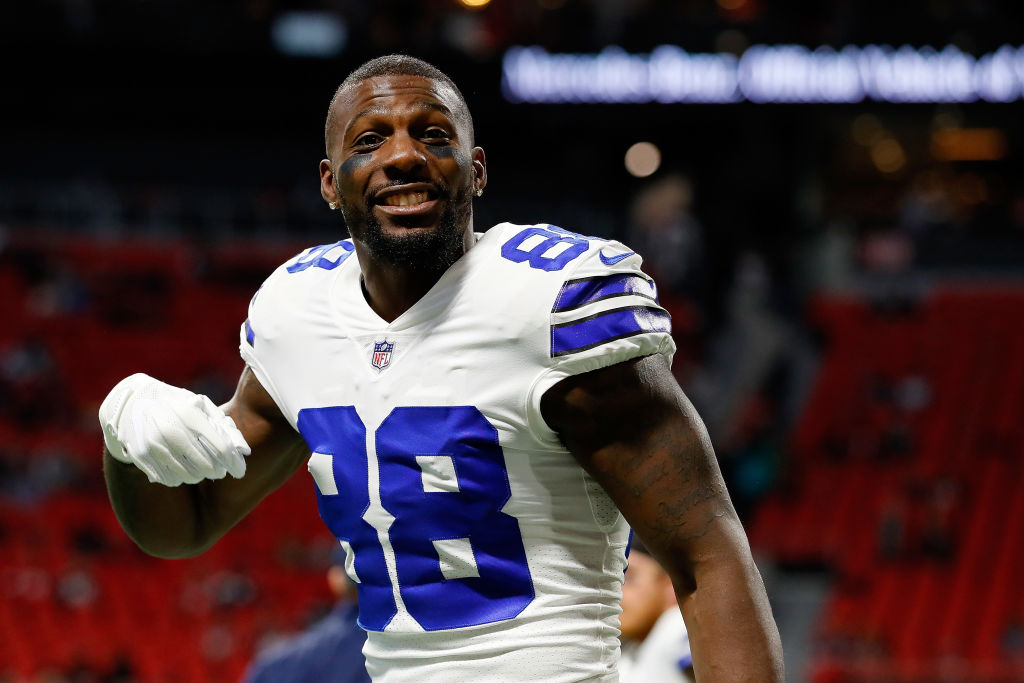 Dez Bryant Is Eager to Help the Dallas Cowboys Win Again
Dez Bryant and the Dallas Cowboys have been discussing a comeback for the 2020 NFL season.
Dez Bryant has the perfect solution for the Dallas Cowboys if they lose wide receiver Amari Cooper via free agency. In fact, Bryant thinks new coach Mike McCarthy would benefit from his idea even if Cooper stays.
It may sound far-fetched since he's been out of the NFL for two full seasons now, but Bryant desires to play again and has told the Cowboys that he wants to come back to Dallas, where he was one of the most dangerous offensive threats in the league for most of his eight pro seasons.
Dez Bryant combined size and speed to scorch college defenses
Dez Bryant has been too much for defensive backs to handle since stepping foot on campus at Oklahoma State in 2007. He caught 43 passes as a freshman and then 87 as a sophomore when he also scored 19 touchdowns on receptions and two via punt returns for coach Mike Gundy's squad.
A pair of four-touchdown games that second season left Oklahoma State fans salivating at what the 6-foot-2 wideout might do next, but Bryant's college career ended three games into his junior year because the NCAA ruled him ineligible over his dealings with former NFL player Deion Sanders.
The Dallas Cowboys jumped at a chance to land a star
The Dallas Cowboys couldn't hide their excitement at the prospect of selecting Dez Bryant in the 2010 draft. Wanting to take no chances at losing their shot, they moved up from 27th to 24th in the first round by making a trade with the New England Patriots.
Bryant did not disappoint on the field in Dallas. He made eight catches in his regular-season debut, returned a punt for a score in his second game and didn't look back. Bryant finished the year with 45 catches and six touchdowns as a receiver while also averaging a staggering 18.8 yards per punt return and scoring twice more.
Subsequent seasons were even better as Bryant averaged 84 catches over the next four seasons and caught 50 touchdown passes in that span.
Foot and knee injuries limited Bryant to 22 games over the next two seasons. He returned to catch 69 balls in 2017, but his yardage average per catch slipped as quarterback Dak Prescott also struggled at times. The Cowboys let Bryant go after 531 receptions in eight seasons.
Can the Dallas Cowboys use another receiver?
Dez Bryant signed with the New Orleans Saints midway through the 2018 season but he tore an achilles tendon and never got on the field for a game. He has not played since, but he wants back in the NFL – preferably with the Dallas Cowboys.
Even if the Cowboys don't keep Amari Cooper, who is eligible for free agency after 79 receptions for 1,189 yards and eight touchdowns last season, Michael Gallup and Randall Cobb caught a combined 121 balls for nearly 2,000 yards.
In that context, Bryant's desire to play again in Dallas is a reach. But both he and the Cowboys have confirmed that a conversation took place recently.
Stephen Jones, the team's chief operating offer and the son of owner Jerry Jones, made a statement that was lukewarm at best but also didn't close the door on Bryant. The player says he is just looking for a chance like the one given tight end Jason Witten after a year in the broadcast booth.
 "I'm where I need to be (physically) right now," Bryant said. "I'm more serious than ever. … I'm 100% hungry for the right situation."