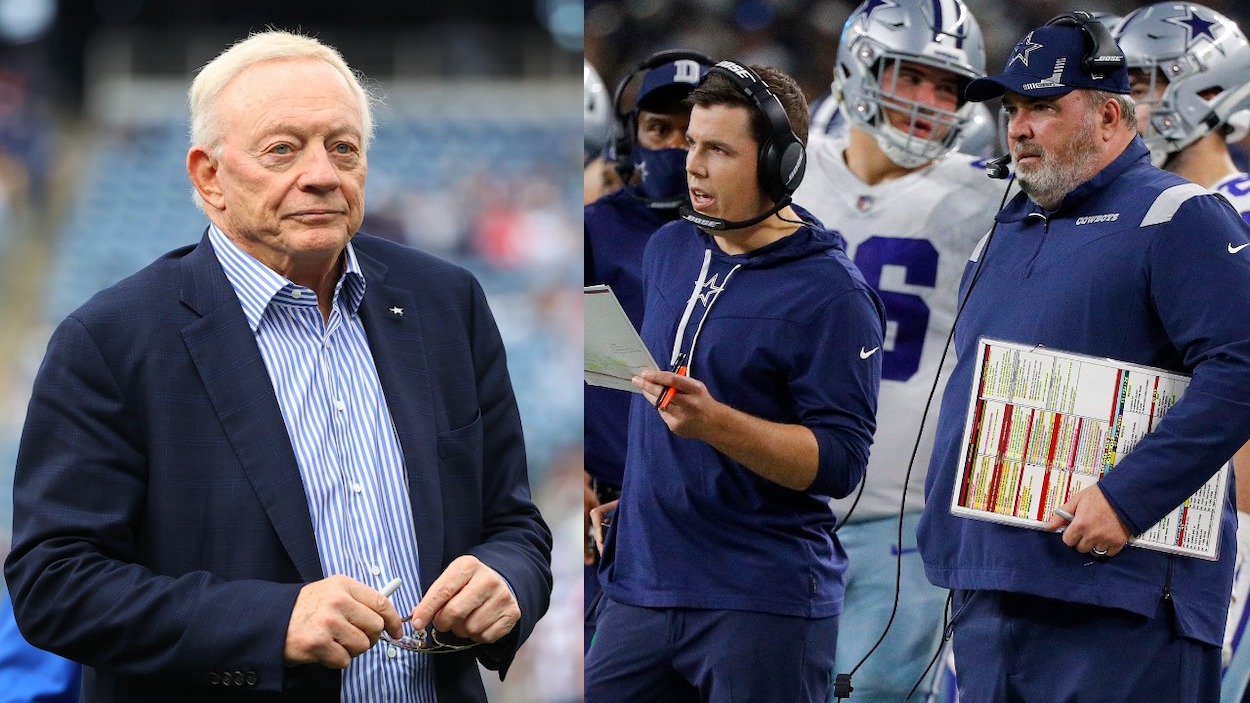 Dallas Cowboys: Jerry Jones Is Revving Up to Fire Mike McCarthy and Replace Him With Kellen Moore
The more Dallas Cowboys owner Jerry Jones talks, the more it sounds like he's getting ready to fire HC Mike McCarthy and promote OC Kellen Moore.
Dallas Cowboys owner Jerry Jones desperately wants to win a Super Bowl. After winning three Lombardi Trophies from 1992-95, Jones' squads haven't even sniffed an NFC Championship Game since. Now, in the aftermath of another talented Dallas team crashing out of the NFL playoffs too early, it seems like Jones hasn't completely decided that head coach Mike McCarthy's job is safe. And the more he sits and stews and talks about it to the media, the closer McCarthy gets to the unemployment line. Also, the closer offensive coordinator Kellen Moore gets to wearing the big headset next season.
Jerry Jones sounds less thrilled with Mike McCarthy every day
Throughout Mike McCarthy's career, the issue that has dogged him more than any others is his time management and use of timeouts.
For some reason, the Super Bowl-winning head coach doesn't seem to have the basic understanding of managing the clock in late-game situations that your average Madden video game player would.
The last play of the Dallas Cowboys' 2021 season illustrated this perfectly.
The team was Ddown six points with 14 seconds to go and no timeouts left. Dallas quarterback Dak Prescott ran a called QB draw, and (unsurprisingly) the clock ran out of the Cowboys' season before the umpire could spot the ball.
Now, Jerry Jones faces the prospect of losing both his coordinators — DC Dan Quinn and OC Kellen Moore — to head coaching jobs and being stuck with just McCarthy next season, and neither of his star assistants, doesn't seem to be sitting well with Jones.
In an interview on Friday with 105.3 The Fan in Dallas (h/t Jon Machota of The Athletic), Jones said that one of his "pet peeves" is hearing about the things the team needs to fix or work on in the offseason. Jones opined that if there are problems to be fixed, they should have been fixed in-season.
After complaining about problems not fixed, Jones said of the coaching situation, "as you know, the ultimate decision [on] these coaches is one that I have to make."
A quote like that certainly sounds like Jones is still making up his mind about McCarthy.
As more teams show interest in the young play-caller Moore, and the fan and media criticism of McCarthy (and by extension, Jones) increases, it seems more and more likely Jones will give his head coach the boot and elevate his OC.
He's done it before.
The Mike McCarthy/Kellen More situation is similar to Wade Phillips and Jason Garrett
Legendary NFL coach Bill Parcells retired following the 2006 NFL season. After interviewing 10 candidates, per ESPN, Jerry Jones settled on longtime DC and former Buffalo Bills head coach Wade Phillips.
Phillips became the third native Texan to coach the team. The others were the two most successful coaches in franchise history, Tom Landry and Jimmy Johnson.
However, before hiring Phillips, Jones hired 40-year-old Miami Dolphins quarterbacks coach Jason Garrett as offensive coordinator. Garrett had just two years of coaching experience prior, but Jones was very familiar with the former NFL QB. Garrett backed up Troy Aikman in Dallas for seven seasons.
After a 13-3 inaugural season under Phillips, Garrett was promoted to assistant head coach. The team went 9-7 the next year and 11-5 after that. Despite the success, the Cowboys couldn't get out of the Divisional Round under Phillips. Somewhere along the way, Jones became disillusioned with his head coach and wanted to promote Garrett to the job.
A 1-7 start to the 2010 season gave Jones all the reason he needed to fire Phillips. Garret took that season and coached the team for the next decade.
Phillips was just successful enough that Jones couldn't pull the trigger and do what he really wanted to do and give Garrett the reins. The boss is now in nearly the exact same situation again, and this time it seems like he may not wait.
Jones should fire McCarthy now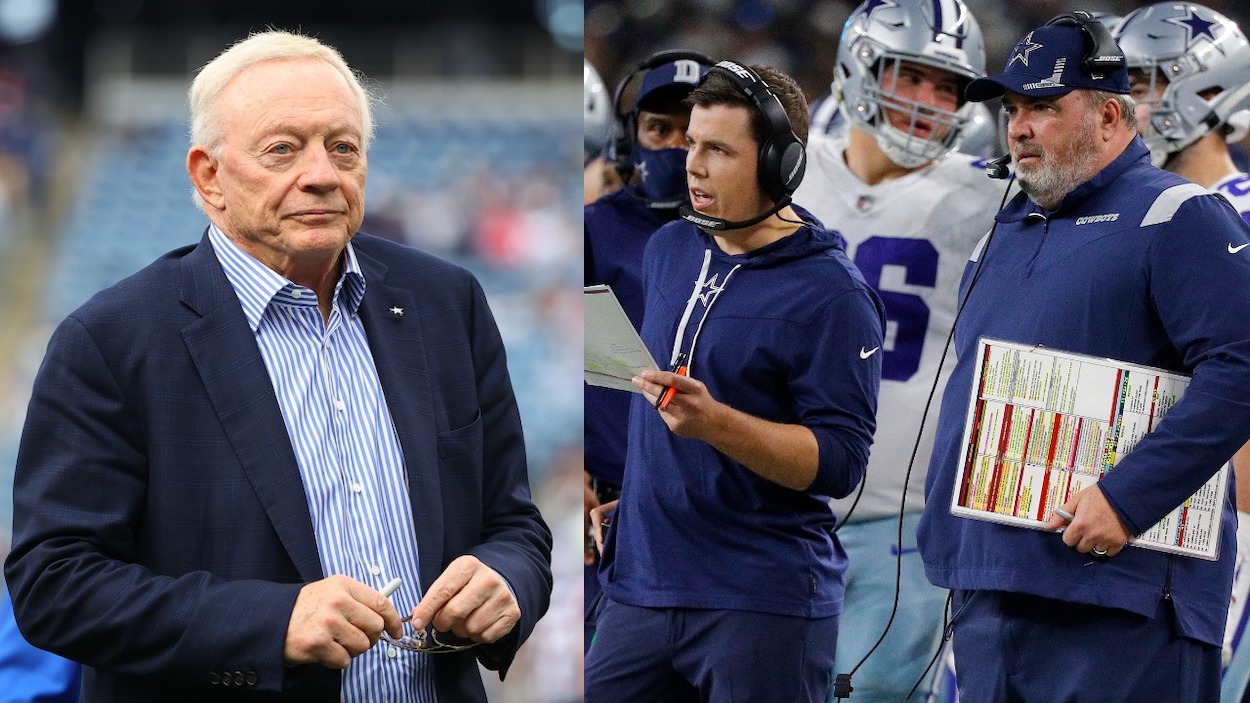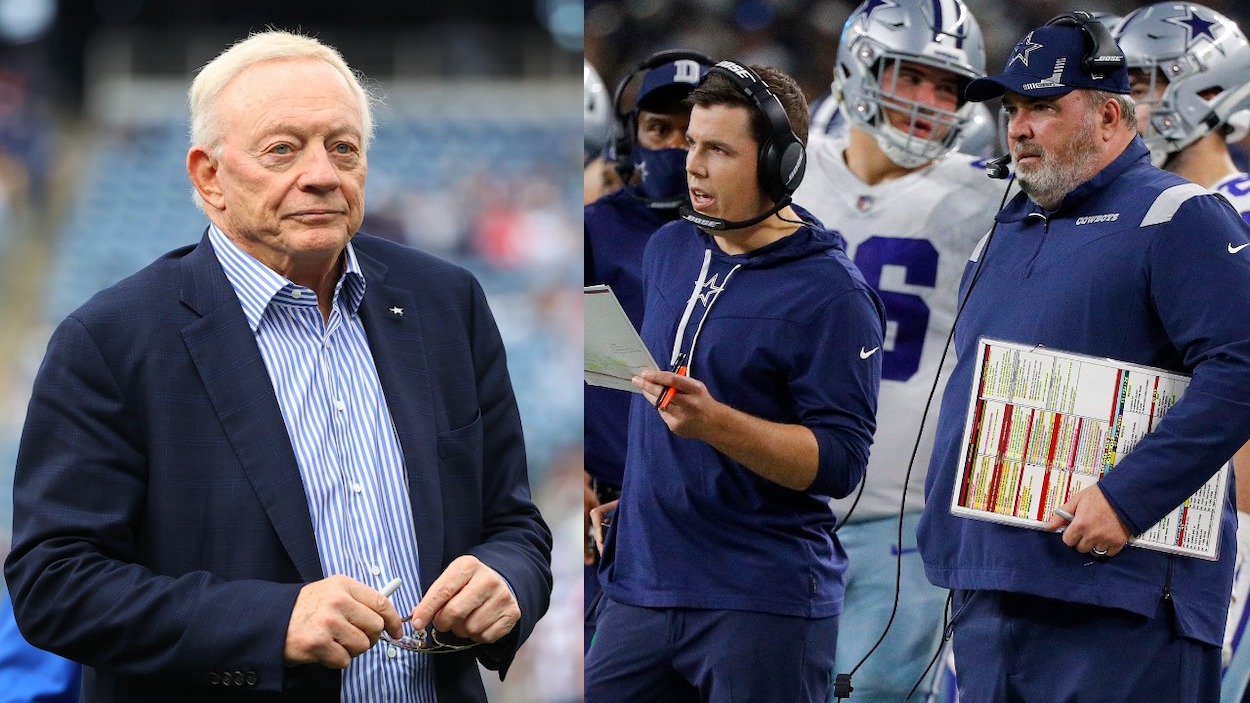 The more Jerry Jones publically talks about his team's coaching situation, the more you can feel his desire building to kick Mike McCarthy to the curb and elevate Kellen Moore.
Moore is a 32-year-old hot-shot play-caller that has interviewed for nearly all the vacant NFL head coaching positions this offseason. He spent one season as the Dallas QB coach before calling plays as OC for the last three. Before that, he was… wait for it… Tony Romo's backup with the Cowboys in 2016. Sound familiar?
Is Moore the next Jason Garrett, or the next Sean McVay? No one can be sure. But, what is for certain is that Mike McCarthy is Mike McCarthy, and that's not going to change. Jones knows who and what McCarthy is, which likely puts a ceiling on where the Cowboys can go.
Dallas does have an incredible stockpile of talent right now, and the current head coach just simply isn't the person who can get the best out of that group.
Is Kellen Moore? Time will tell, but it's worth a shot.
Jones let good get in the way of (possibly) great once by keeping Wade Phillips until the wheels fall off. He shouldn't make that mistake again.
There's a concept in business of "failing fast."
The idea is that it's OK to fail as long as you admit you are failing quickly and pivot toward a potential solution before the failure becomes invasive. It involves trying something, failing, and trying something else right away in order to ultimately find success.
The Mike McCarthy Era in Dallas is a failure.
That's OK, Cowboys fans. As long as Jones accepts this and moves on now. He can't wait for a few more 11-6, 12-5, 10-7 seasons with playoff collapses to make a move. It's what Jones needs to do, and listening to him lately, it sounds like what he's bucking himself up to do soon.
All stats courtesy of Pro Football Reference