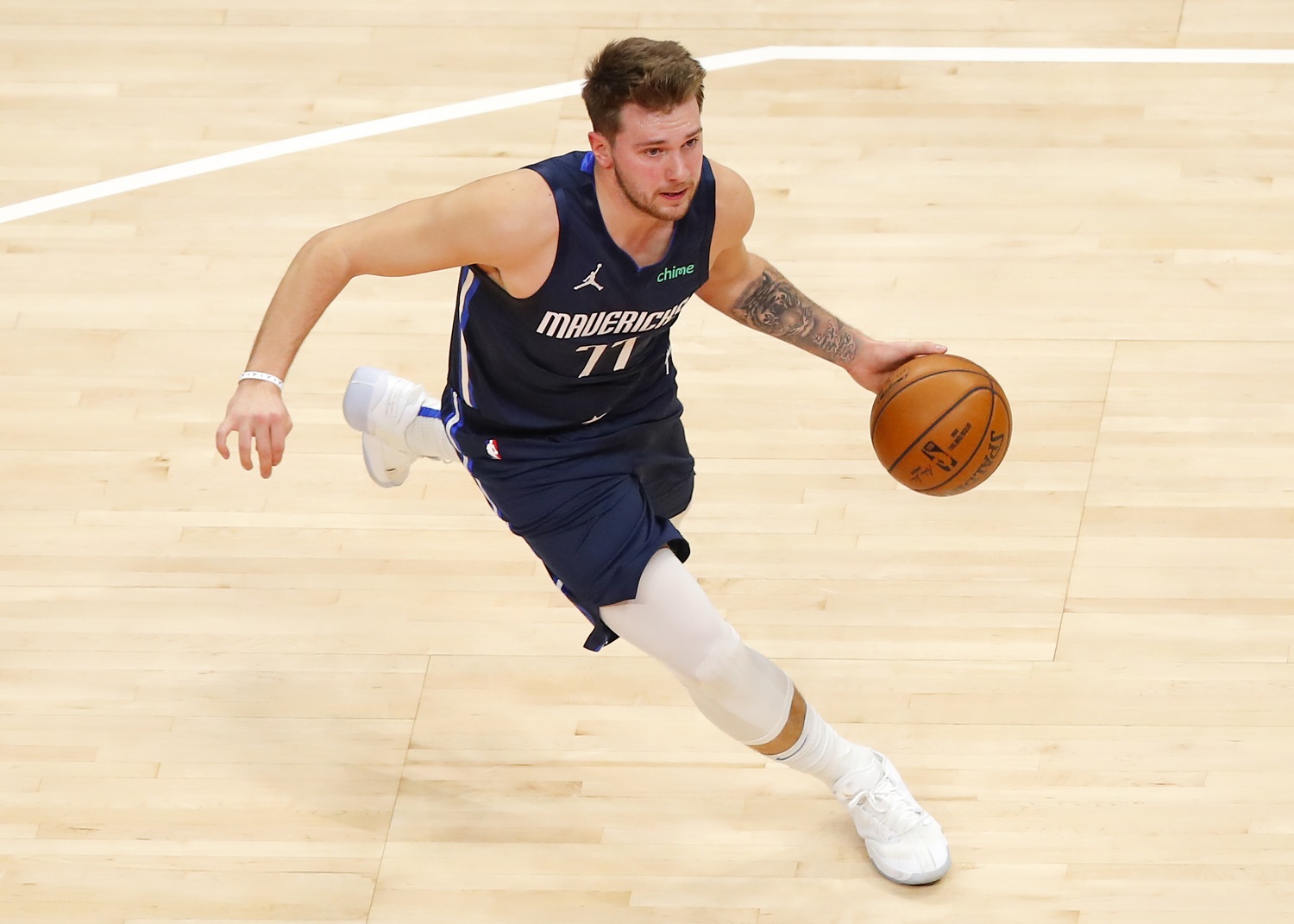 Luka Doncic Is Right to Shoot Down Comparisons to a Hall of Famer
Dallas Mavericks guard Luka Doncic says comparisons to Boston Celtics legend Larry Bird are premature. Just for kicks, we worked up numbers for those two plus LeBron James and Magic Johnson.
A day doesn't go by now without someone saying that Luka Doncic, the brilliant young guard of the Dallas Mavericks, reminds them of Larry Bird during the prime of his career. It's understandable, albeit uncomfortably close to being rooted in a racial stereotype.
Putting aside similarities to a white NBA star out of the game for nearly three decades, there are more interesting potential comparisons, all of which probably make Doncic equally uncomfortable. He humbly, and correctly, suggests that his career hasn't been nearly long enough to justify mentioning him in the same breath with all-time NBA greats.
But we've got time (and numbers) on our hands, so we'll do it anyway.
The Luka Doncic comparison to Larry Bird is common
Cedric Maxwell played six seasons alongside Larry Bird for the Boston Celtics beginning in 1979, meaning he caught the future Naismith Memorial Basketball Hall of Fame inductee at the start of his career. That was long enough for Maxwell to witness Bird's 28 triple-doubles thanks to shooting, physical stature (a 6-foot-9 frame), and an uncanny ability to deliver the ball in the right place to set up buckets for teammates.
Preparing for a radio broadcast of a recent game between the Boston Celtis and Dallas Mavericks, Maxwell became the latest NBA observer to make the comparison. "You can quote me: This is Larry Bird reincarnated," Maxwell told the New York Times.
And that was before Luka Doncic, who turned 22 years old over the weekend, buried the Celtics with a pair of 3-pointers in the final minute of a 110-107 victory.
"Luka is better than Larry was at that age," Maxwell said. "The biggest thing is that there's an arrogance, a cockiness, that Luka has that is directly out of the bloodstream of Larry Bird."
Doncic can't and shouldn't try refuting the part about the cockiness, but he wants no part with the rest of any Bird analogies.
"More games to go," he said, according to the Dallas Morning News. "A long time before you can compare me to Larry Bird. I just want to keep hooping, have fun playing basketball."
Fair enough.
Mark Cuban pulled a 180-degree reversal on Luka Doncic comparisons
As recently as last summer, Dallas Mavericks owner Mark Cuban was trying to slow down the chatter about which player star guard Luke Doncic resembled. "Don't try to compare him to others," Cuban admonished on Twitter. "He is blazing his own path."
A little more than three months later, Cuban could be heard telling Russell Wilson on a podcast that Doncic reminds him of Magic Johnson, who came into the NBA alongside Larry Bird after their memorable NCAA Tournament championship game showdown.
"He's got that charisma that Magic has. Millennials just have a different mind about them and different interests. On social media, he lights people up. He lights kids up. Wherever we're playing, he's spending time talking to kids, bringing kids onto the court. … His game's most like Magic Johnson's but his personality, I think, is almost bigger than Magic Johnson's."

Mark Cuban
If not Bird or Magic, then how about LeBron James?
Luca Doncic turned 22 years old on Feb. 28, 2021. In doing so, he closed the books on an impressive statistic. Doncic and LeBron James are the only players in NBA history to amass 4,000 points and 1,000 assists before their 22nd birthday.
That was easier for James to pull off because he came into the league at an earlier age and logged 102 more games than Doncic before turning 22 – though it's not like he has anything to apologize for when you look at per-game averages.
Just for fun, then, we put the Stathead Basketball database to work and pulled stats for the first 164 games for James, Magic Johnson, and Larry Bird since that's where Luka Doncic stands heading into the Dallas Mavericks' March 1 game against the Orlando Magic.
Of the four, Doncic and Johnson are the only pure point guards. James is as close as it gets to being a point forward. Bird was more of a pure forward but with those exceptional passing skills.
Here's how they compare on various shooting percentages plus rebounds, assists, and points per game.
| | | | | | | |
| --- | --- | --- | --- | --- | --- | --- |
| Player | FG% | 3-PT% | FT% | RPG | APG | PPG |
| Doncic | 45.2 | 32.7 | 74.2 | 8.5 | 7.6 | 25.4 |
| Bird | 47.6 | 35.9 | 84.9 | 10.7 | 5.0 | 21.3 |
| Johnson | 53.1 | 19.4 | 78.5 | 6.6 | 8.1 | 19.1 |
| James | 44.8 | 33.0 | 75.6 | 6.3 | 6.5 | 24.2 |
Conclusion: Doncic is correct to point out that 164 games do not constitute a career. Let's check back with him around his 30th birthday, however, because you do have to like the way his numbers are trending.