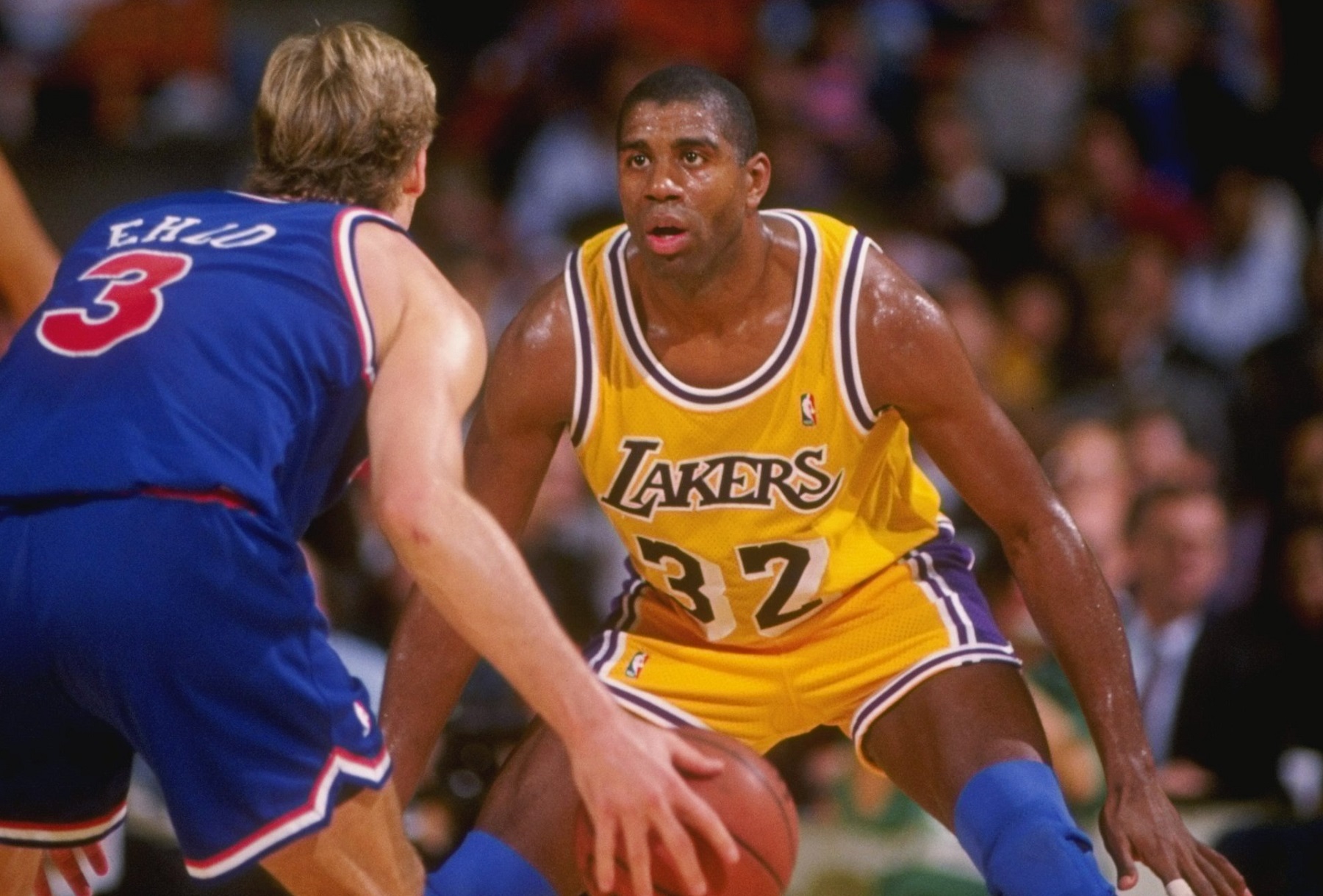 Mark Cuban Believes the NBA Has Its Next Magic Johnson
Dallas Mavericks owner Mark Cuban thinks Luka Doncic is the next Magic Johnson because of what he does on and off NBA basketball courts.
It didn't take Los Angeles Lakers guard Magic Johnson long to establish himself as a special NBA player after coming out of Michigan State. Nearly a quarter of a century after Johnson played his final game, Dallas Mavericks owner Mark Cuban sees many of Johnson's qualities in Luka Doncic.
Magic Johnson is the gold standard of big point guards
The basketball world fell in love with Magic Johnson's game during his sophomore season at Michigan State, which culminated in a victory over Larry Bird and Indiana State in the NCAA Tournament final. At 6-foot-9, Johnson towered over opposing guards at both ends of the court.
Johnson helped the Lakers to five championships in the 1980s after Los Angeles made him the No. 1 pick of the 1979 NBA draft. His career average of 19.5 points a game was impressive, but Johnson's passing frequently dazzled. He averaged 11.2 assists a game, and his imposing size allowed Johnson to average 7.2 rebounds a game.
Three league MVP awards and 12 selections to the All-Star Game further cemented his reputation as one of the greatest point guards ever – if not the best. Johnson earned induction into the Naismith Memorial Basketball Hall of Fame in 2002.
Luka Doncic is off to a fabulous start
The Dallas Mavericks are coming off their first winning season since 2016 and have an unquestioned leader handling the ball as they try building toward their first league championship since 2011. Luka Doncic, a 6-foot-7 guard out of Slovenia, is only 21 years old but is wise beyond his years when it comes to basketball sense.
Doncic was the near-unanimous Rookie of the Year in 2019 after averaging 21.2 points and 6.0 assists. He upped the figures to 28.8 and 8.8., respectively, this past season when he became the darling of the bubble in Florida by averaging 31.0 points on 50.0% shooting and adding 8.7 assists and 9.8 rebounds in the first-round playoff loss to the Los Angeles Clippers.
His attacking style is even more relentless and is as effective as Magic Johnson's in his prime. Doncic shot 57.4% from inside the arc in his second season.
Mark Cuban raves about Luka Doncic
Dallas Mavericks owner Mark Cuban has visions of the franchise's second NBA championship since he bought the team in 2000. Dallas practically stole center Kristaps Porzingis from the New York Knicks in a January 2019 trade with the New York Knicks. If he can stay healthy, the one-two punch Porzingis forms with guard Luka Doncic could be the most potent in the league, not unlike Kareem Abdul-Jabbar and Magic Johnson with the Los Angeles Lakers' 1980s dynasty.
Cuban appeared on Seattle Seahawks quarterback Russell Wilson's DangerTalk podcast recently and spoke glowingly of Doncic and how his work on the court reminded the owner of Johnson.
"He can pass the ball, can see from the top, can get where he wants from the court," Cuban said. "(He) knows how to pass to a guy on time and on target, loves to play in crunch time. Will take on the responsibility of anybody any time."
With a broad smile and a personality that made him approachable, Johnson became a fan favorite. Cuban says Doncic is every bit as affable.
"Luka's the same way. He's got that charisma that Magic has. Millennials just have a different mind about them and different interests. On social media, he lights people up. He lights kids up. Wherever we're playing, he's spending time talking to kids, bringing kids onto the court. … His game's most like Magic Johnson's but his personality, I think, is almost bigger than Magic Johnson's."

Mark Cuban
All stats courtesy of Basketball Reference.