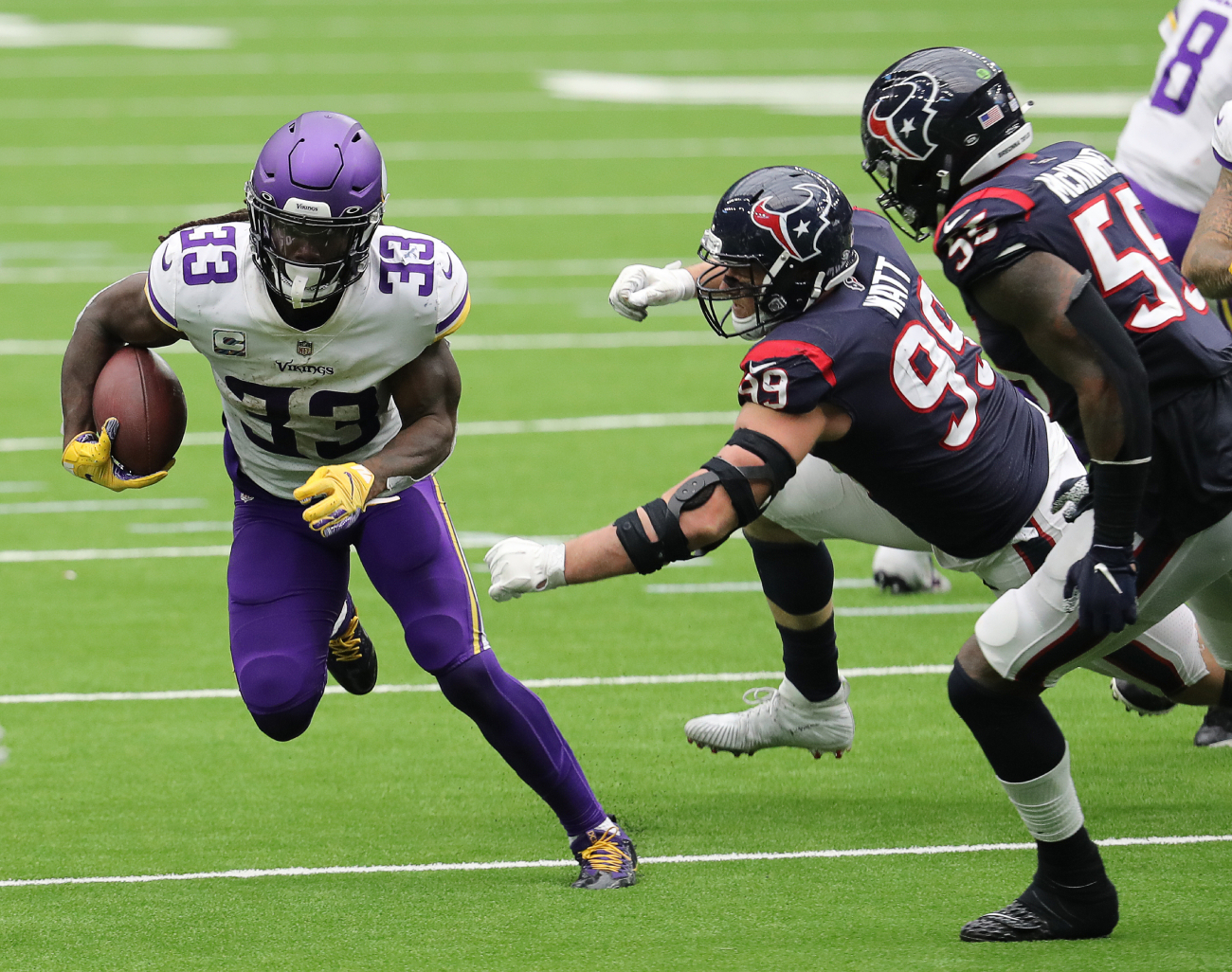 Dalvin Cook Reveals He's Envious of One NFL Running Back
Minnesota Vikings Pro Bowler Dalvin Cook is envious of one other running back in the National Football League.
Minnesota Vikings running back Dalvin Cook has become one of the NFL's top running backs. A dual-threat out of the backfield, Cook used a strong mix of power and speed to find the end zone. Despite missing last week's game against the Atlanta Falcons, Cook leads the league in rushing touchdowns. Cook is a very confident runner, and he's also envious of another running back in the NFL.
Dalvin Cook's NFL career
Dalvin Cook played his college football at Florida State, where he rushed for more than 1,000 yards in all three of his seasons. He racked up 1,765 rushing yards and 19 touchdowns on the ground in his junior year. Cook was a second-round pick in the 2017 NFL draft. The Minnesota Vikings selected him with the 41st overall pick.
Cook was off to an impressive start in his rookie season, rushing for 354 yards and two scores in four games. During Week 4 against the Detroit Lions, Cook tore his ACL and missed the remainder of the season. The following year, Cook missed four games with a hamstring injury.
In his first relatively healthy season in 2019, Cook made the Pro Bowl. He played 14 games, missing time with a chest injury. Cook finished the season with 1,135 rushing yards and 13 touchdowns. He has started the 2020 season off strong with seven touchdowns in five games but was injured during a Week 5 game against the Seattle Seahawks. He missed Week 6 against the Atlanta Falcons with an adductor strain.
Cook rewarded with contract extension
This past offseason turned out to be the year of the contract extensions. Kansas City Chiefs quarterback Patrick Mahomes inked a record-setting deal that could pay him a half-billion dollars over his career. Fellow quarterback Deshaun Watson of the Houston Texans also inked a big extension for four years worth up to $160 million.
Dalvin Cook also joined in. The Minnesota Vikings running back, in his fourth season in the league, was also rewarded. Cook, a 5-foot-10, 210-pounder inked an extension for five years and $63 million.
"This is where I want to be at," Cook said at the start of camp, according to ESPN. "This is what I love to do. I was going to be here regardless of whatever the speculations (that) came up or (questions of) if I wasn't coming. I was going to be here ready to work. I've been grinding all offseason, hitting the weights, hitting the field, getting better at my craft and my position to get ready to play this year."
Cook is envious of Derrick Henry
Dalvin Cook can certainly hold his own in the NFL. He's blossomed into one of the league's best running backs. Cook took note of another 2019 Pro-Bowl running back last week when the Tennessee Titans played the Buffalo Bills on a rare Tuesday night. He was very impressed with Titans running back Derrick Henry.
Henry stands 6-3, 247 pounds and simply throws defenders around. That was evident when Henry stiff-armed Bills defensive back Josh Norman into oblivion when Norman tried to make a tackle. Cook took note and said he doesn't know what it feels like to send a defender flying.
According to FanDuel, Cook was asked if he saw Henry's stiff-arm on Norman. "That's a grown man he tossed like that," Cook said with a laugh. "I gotta go lift some more weights or something, I don't know. I never did that. As far as utilizing your power and throwing another man off his feet, that's different. I think I gotta grow some more inches and lift some more weights."