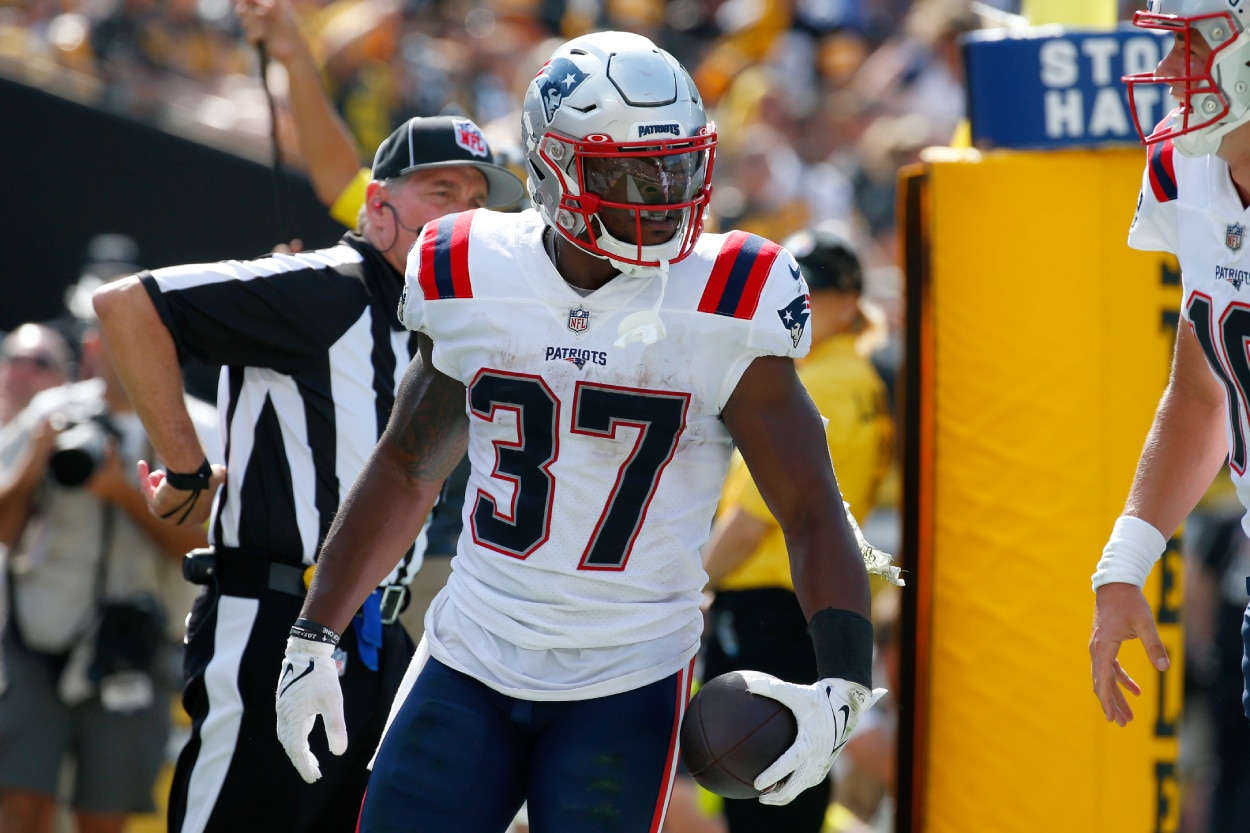 Damien Harris Razzes Former Teammate After Gift-Wrapped Patriots Touchdown
Damien Harris capitalized on a muffed punt by former New England Patriots receiver/special teamer Gunner Olszewski in Sunday's win over the Pittsburgh Steelers.
Touchdowns for the New England Patriots have been tough to come by so far this season. They managed just one in a Week 1 loss to the Miami Dolphins. Against the Pittsburgh Steelers on Sunday, points, again were tough to come by. Patriots running back Damien Harris accounted for one of New England's two touchdowns Sunday in a 17-14 victory over the Steelers.
Harris' 2-yard touchdown run in the third quarter was set up by a muffed punt by former Patriot Gunner Olszewski deep in Steelers territory. After the game, Harris told Olszewski he doesn't ask for handouts, but he'll gladly take them.
Damien Harris led a solid running attack in New England's victory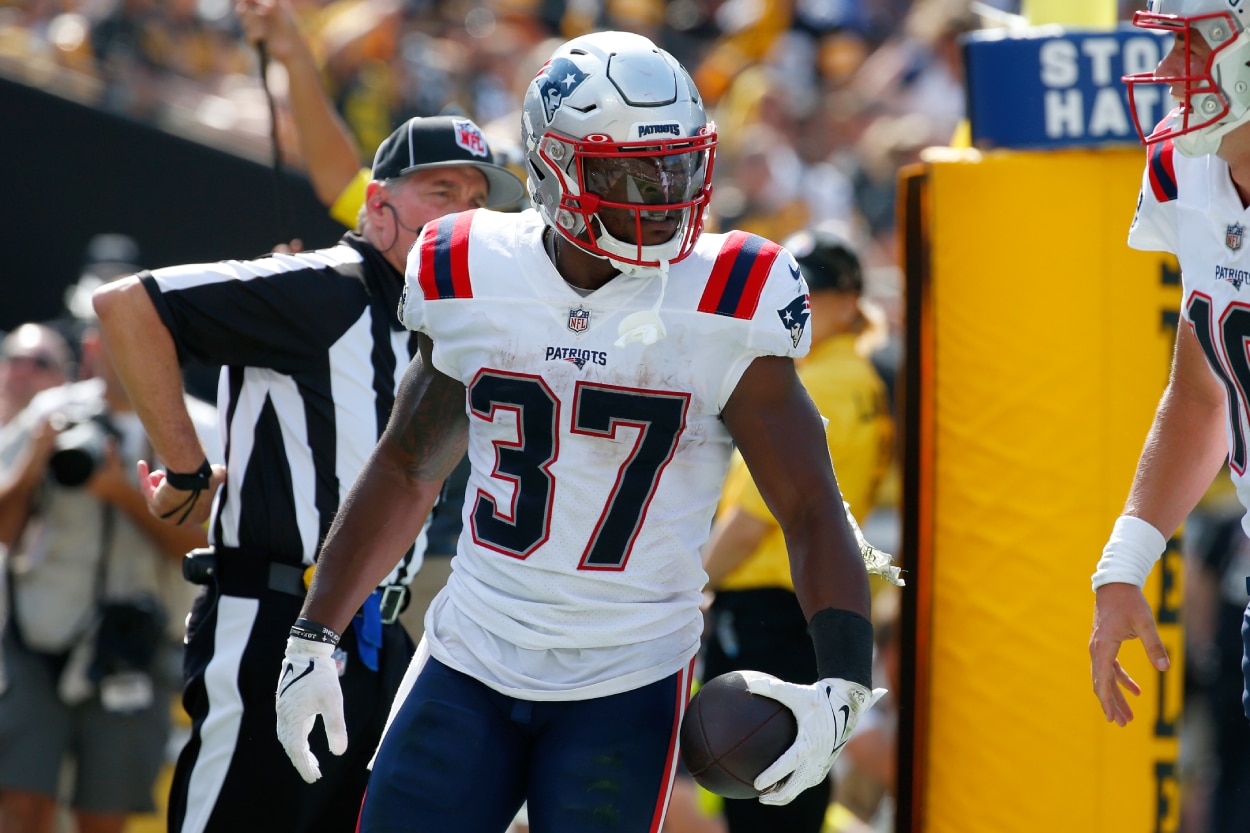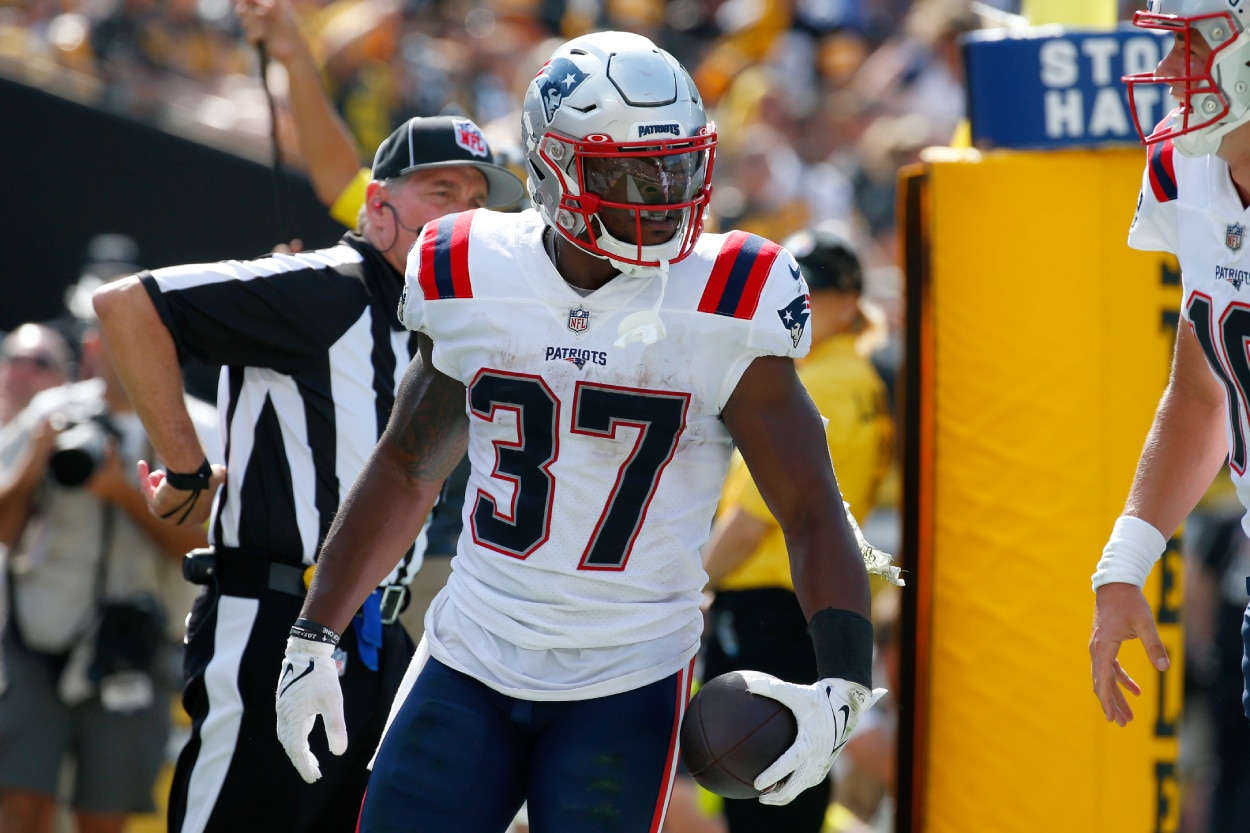 The offense still has a way to go, but the Patriots had their ground game going, especially when it counted most. Harris led the way with 15 carries for 71 yards. He helped New England milk the clock in the fourth quarter, running behind an offensive line that pushed the Steelers around.
Harris teamed with Rhamondre Stevenson to run out the final 6:33 of the game after the Steelers pulled within 17-14. Steelers quarterback Mitch Trubisky hit tight end Pat Freiermuth early in the fourth quarter to help get Pittsburgh within a field goal.
While New England's offense was sluggish, the Patriots rode the running game. Harris and Stevenson chewed up 42 yards on six carries down the stretch. While they got the bulk of the credit, it was the offensive line that opened up the big holes.
"The offensive line, man," said Pats center David Andrews, per The Boston Herald. "We got to third-and-three at the end of the game right there, you are thinking, 'Oh man, I hope they call a run here.' Then we went back to it and finished it. As an offensive line, it felt really good to finish the game that way, and come out of here with a W."
The passing game struggled once again, but quarterback Mac Jones connected with a leaping Nelson Agholor on a 44-yard touchdown pass right before the break. New England led 10-3 at halftime.
Harris said he feels bad for Olszewski now
The Patriots offense will take all the breaks it can get for now. New England caught a big one in the third quarter that set up Harris's touchdown.
Olszewski, a former Patriots receiver/special teamer, muffed a punt deep in Pittsburgh territory in the third quarter. Rookie Brenden Schooler pounced on the loose ball, giving New England possession. Three plays later, Harris scored to give his team a 17-6 cushion.
"When it happened, I told myself I'll feel sorry for him after the game," Harris said in his postgame press conference. "I guess now's the time for me to feel bad for him. It's a tough break, but that's the way the game goes. Sometimes the ball just doesn't bounce your way. Fortunately for us, it bounced our way.
"I told him after the game, I don't want a touchdown that easy, but if he's going to give it to me, I'll take it. Gunner, obviously, is a dear friend of mine."
Kidding aside, Harris savored the win and said he was happy the run game could secure the victory with the late drive.
"It was just good that offensively we ended the game with the ball in our hands," He said. "Not giving it back to them. Running out the clock.
"It was just about execution. These tough games, critical situations, hostile environment, that's what it comes down to — good fundamentals and execution. We put that on display, and we were able to close out the game."
Like Sportscasting on Facebook. Follow us on Twitter @sportscasting19 and subscribe to our YouTube channel.