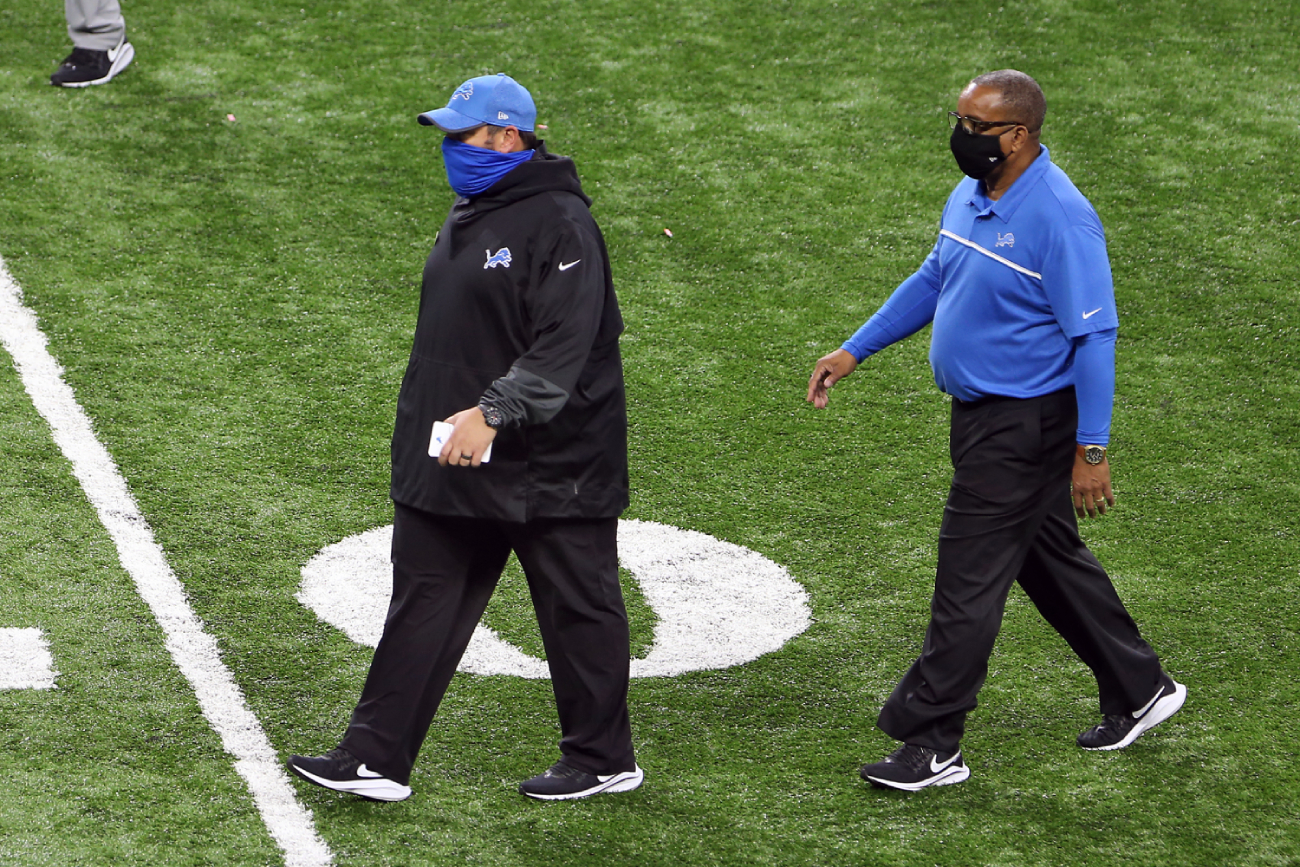 Dan Orlovsky Blasts Detroit Lions Head Coach Matt Patricia
ESPN football analyst Dan Orlovsky lays into Detroit Lions head coach Matt Patricia for his latest comment on the team.
Once again, Matt Patricia and the Detroit Lions are struggling. The team stands at 1-3 and has looked ugly at times blowing leads. Patricia's job has to be in jeopardy, and he appears to be feeling the heat. His latest comment Monday drew the ire of former Lions quarterback and now NFL analyst Dan Orlovsky. Orlovsky blasted Patricia for his latest remark, calling it "a bunch of trash."
Matt Patricia doesn't appear to be head-coach material
Matt Patricia is a part of the Bill Belichick coaching tree. Patricia was an assistant coach under Belichick for 14 seasons, including serving as the defensive coordinator from 2012-2017. He won three Super Bowls with the Patriots and earned some notoriety in 2016 when his defense allowed the least amount of points.
Patricia was hired by the Detroit Lions and hasn't come close to living up to expectations. He's been a head coach in the NFL for 36 games. He's compiled a record of 10-25-1 during his three seasons with the Lions. Patricia was hired by Detroit for the 2018 season.
During his rookie season as an NFL coach, Patricia and the Lions went 6-10. He followed that up with a 3-12-1 mark a year ago. This season, Patricia has seen the Lions blow leads, including a heartbreaking one in Week 1 against the Chicago Bears. The Lions dropped a would-be touchdown pass in the end zone in the final seconds and their bad luck has steamrolled from there. Detroit is 1-3.
Patricia struggling in his third year with the Detroit Lions
Matt Patricia made waves with a comment he made after the Detroit Lions dropped their third game in four outings Sunday. The head coach of the Lions agreed the loss to the New Orleans Saints was disappointing but said the team is still a work in progress. He was asked why people should still believe he's the right coach for the team.
Patricia said that was a difficult question. He said there was a lot of work to do when he first came here and he's still working on it. He gave a lot of credit to the Saints but said he's still got work to do because the team he inherited needed a lot of work.
"(The Saints) played extremely well and I know we got a lot of work to do," Patricia said during a press conference after Sunday's game. "I think when I came to Detroit, there was a lot of work to do and that's what we're trying to do." Patricia said he understands that the first four games of the season haven't been good enough and they're still working on getting things done.
Patricia's comment draws the ire of former Lions QB Dan Orlovsky
ESPN football analyst Dan Orlovsky was a quarterback for the Detroit Lions right before Matt Patricia was hired as head coach. After hearing Patricia's comment saying there was a lot of work to do when he was hired, Orlovsky lost it. He said Patricia's comment was "a bunch of trash."
"We were 11-5 in 2014 and a really good football team," Orlovsky said on the "Keyshawn, JWill & Zubin" show Monday. 'In 2015, we go 7-9, it's because we turned the football over. But the last eight games, we were 7-1. So flipped our season around. Next two years, we're 9-7 and I believe in Week 17 we were playing Green Bay in both years for a chance to win the division. OK? So, to come in and say you had a lot of work to do is completely false. It's a bunch of trash because that wasn't the case in Detroit.
"We were a good football team. Matthew Stafford was playing as good as he has in his career — that was because of Coach (Jim) Caldwell. And we were an organization that was ascending. He was building. The culture was amazing. The culture was fantastic. So you had a winning record in three out of four years, the culture was great, your quarterback was playing really good football. So for him to come in and say there was a lot of work to be done is a bunch of trash."
All stats courtesy of Pro Football Reference.