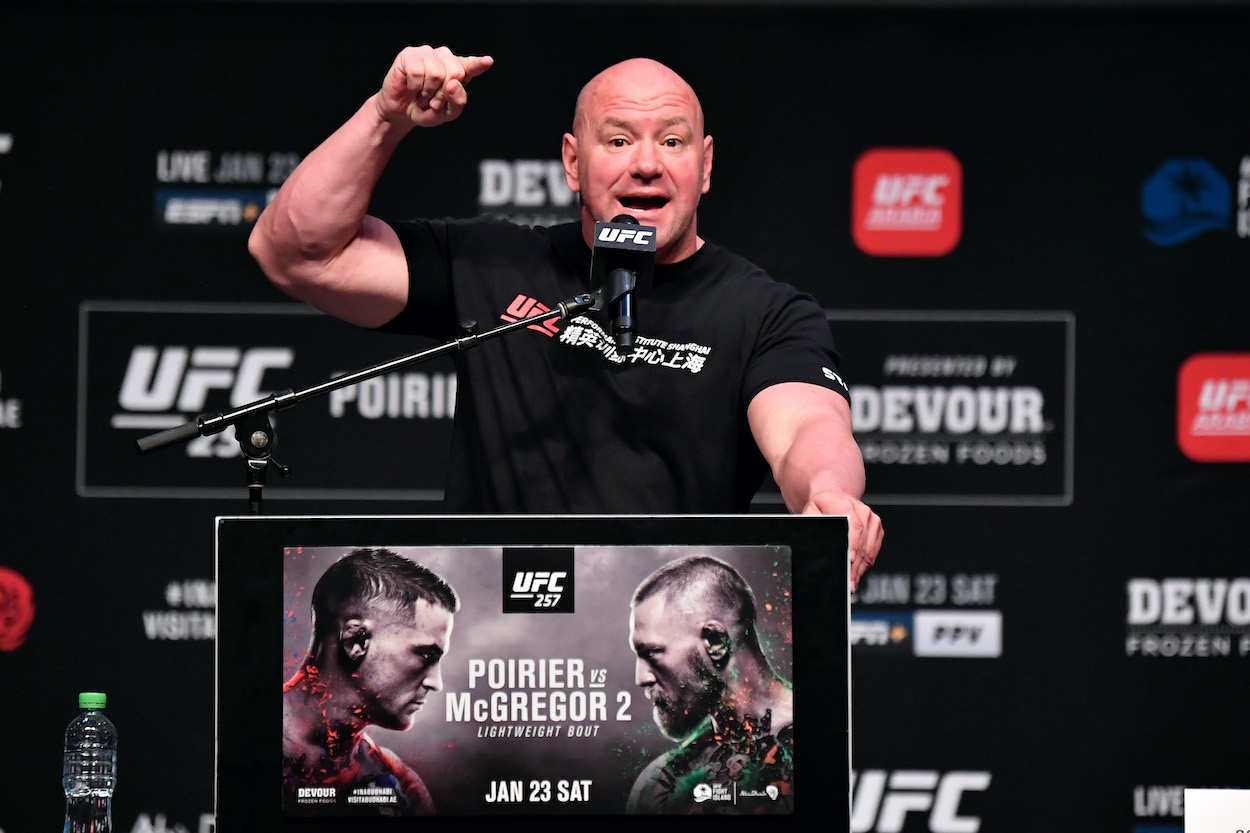 Dana White Furiously Rips His Own Judges After UFC 259: 'The Scoring Was Insane'
UFC fans weren't thrilled with the judges after some questionable scoring decisions during UFC 259, and even Dana White isn't happy.
After Jan Blachowicz defeated Israel Adesanya by unanimous decision at UFC 259, all the talk wasn't even about the upset. It was about the judges instead.
Two judges scored the fight 49-45 and one judge scored it 49-46 for the winner. They might've gotten the champion correct, but fans and media pundits were outraged by the final scorecards. Even UFC President Dana White was disappointed by the scoring, and he furiously ripped the judges in his UFC 259 post-fight press conference.
Jan Blachowicz upsets Israel Adesanya at UFC 259
The fight card at UFC 259 was one of the most highly-anticipated lineups in fighting history. The greatest women's fighter of all time in Amanda Nunes defending her featherweight title. Aljamain Sterling attempting to win his first bantamweight title belt against a newly crowned Petr Yan. And Israel Adesanya, one of the most unique and beloved UFC fighters in the sport today, returning to the octagon for his fifth title fight.
Nunes took care of business, and Sterling was gifted a victory thanks to an illegal knee from Yan. All eyes shifted to the main event to cap the night as Adesanya met Jan Blachowicz in the octagon for the light heavyweight title.
Adesanya entered the bout as a -240 favorite at most sportsbooks, while Blachowicz was priced as a +190 underdog. Not many gave Blachowicz a chance to retain his light heavyweight title, but he didn't care what anyone thought.
Blachowicz dominated the fight for most of the five rounds and was named the winner by unanimous decision. Although most fans had no problem with the result, many took offense to the lopsided scorecards.
UFC fans weren't thrilled with the scoring at UFC 259
Once the scorecards were revealed for the main event at UFC 259, fans were stunned that the judges gave Blachowicz so much credit.
Judge Sal D'Amato gave Blachowicz a 49-46 win, and judges Derek Cleary and Junichiro Kamijo scored the fight 49-45 to Blachowicz. Adesanya surely lost the last two rounds of the fight, but he held his own in the first three rounds and arguably won at least two of them. But apparently, the judges saw a lopsided bout that resulted in a resounding victory for Blachowicz.
Dana White didn't exactly agree.
UFC President Dana White rips his own judges
After UFC 259 wrapped up, Dana White took to the podium for his post-fight press conference. When asked about the scoring in the main event, White didn't sugarcoat his thoughts.
"The scoring was insane," White said. "These guys are giving out 10-8 rounds like f—ing… there were two rounds in that fight that they gave a 10-8. When I came up in the fight business, a 10-8 was an ass-whupping. You got your ass whupped. You didn't do s— in that round and got beat down if it was a 10-8.
"This 10-8 s—'s is out of control right now. So hopefully, we can get this fixed. They're going to screw up a lot of fights, they're handing out 10-8s like that. There was no 10-8 in that fight."
So, how does White fix this problem? When asked whether he needs to restrict certain judges from scoring title fights, White said he won't take it that far.
"I don't think that's necessary, I just think that for some reason, all of a sudden these guys are scoring 10-8s for rounds that are clearly not 10-8s," White said. "I mean, how do you address this? It's the criteria they're giving them right now. I think they're getting some bad advice."