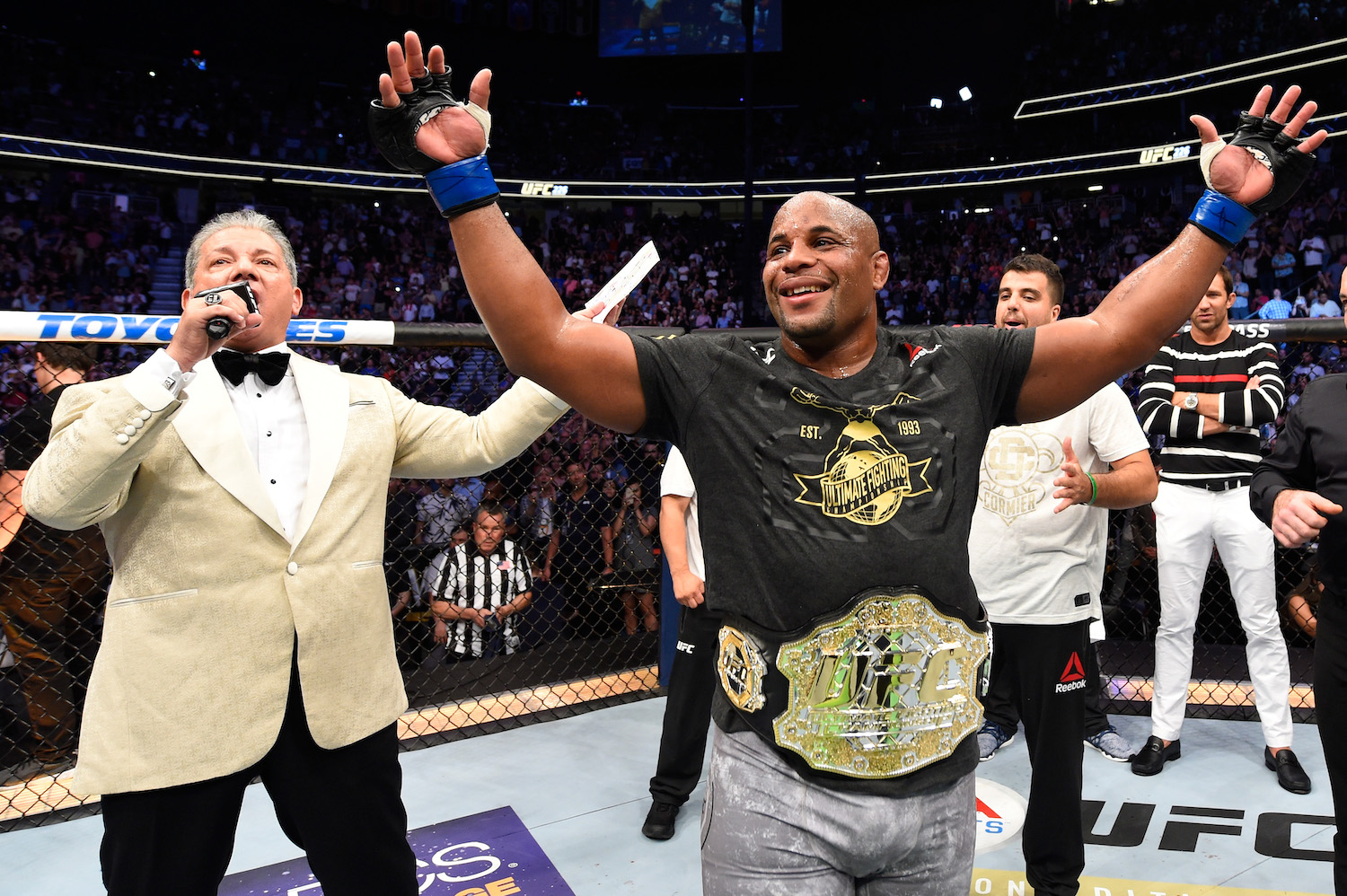 Daniel Cormier Just Revealed His Future Plans After Trilogy Fight with Stipe Miocic
Daniel Cormier is one of the greatest fighters in MMA history. His legacy is secure. With rumors of retirement swirling, this weekend he announced his plans after his upcoming fight with Stipe Miocic.
UFC President Dana White has called Daniel Cormier one of the greatest MMA fighters of all time. Cormier's legacy is secure and he has nothing else to prove. Speculation has swirled in recent months that the third fight in his trilogy with Stipe Miocic would be his last. During this weekend's broadcast of Lewis vs. Oleinik, Cormier officially revealed what his plans are after his upcoming fight with Miocic.
Daniel Cormier faces Stipe Miocic in trilogy
When Daniel Cormier steps into the octagon to face Stipe Miocic for a third time, oddsmakers have the fight at dead even. It makes sense because the fighters have split the first two bouts. Cormier won the first fight in short order with a first-round knockout. The rematch a year later Miocic walked out the champion after a fourth-round TKO.
Miocic has called Cormier's win a fluke. Cormier said anyone with a pair of eyes could see he was the dominant fighter in both fights. 
"When you look at the time we've spent in the octagon, I've won the vast majority of it," Cormier said before Saturday night's main event. "For him to think that me beating him is crazy, it's honestly good for me to hear that kind of attitude coming from him because that makes me feel that the win he got gives him an unbelievable amount of confidence. And I believe it's a confidence that's not warranted."   
Cormier training camp unlike any other
At age 41, Daniel Cormier said this training camp was one of the toughest in his career for a variety of reasons. For starters, his body just isn't the same as it was when he was younger. But unlike recent camps, where he pulled back if he didn't feel up for it, that wasn't the case this time around. 
"We made sure I was training like I used to. Like I did against Jones and Gustafsson. Last fight, I didn't. The back didn't feel up to it, I made sure training was lighter. It's easy to give your feeling an out. Put in an old school training camp. Did the bike all the time. I sparred three days a week, ran, lifted weights."
While the physical side of camp was tough, the mental side has been especially challenging because Cormier spent six weeks away from his family staying at his old house with his training partners in a bubble-like environment. "With everything that's going on in the world today, I don't even get to stay at home with my pregnant wife and my two children."
Daniel Cormier admits this is final fight
Daniel Cormier said the reason he's put so much into this training camp and made the sacrifices he has is not just because he wants to win, but he wants to go out on top. Cormier candidly admitted this will be the final fight of his history-making career. 
"I believe it's the final walk that I'll ever make. I've made a lot of sacrifices. When it comes to my legacy, I want to leave as the best in the world. I want to be like Georges St. Pierre. I want that one shining moment of the NCAA tournament where it's never forgotten. I have had a ton of them. This will be my ultimate moment in the spotlight."
If Daniel Cormier gets his wish, he'll defeat Miocic at UFC 252 and call it a career. A storybook ending. If, however, things don't go as planned and he loses, could there be more left in the tank? Time will tell.