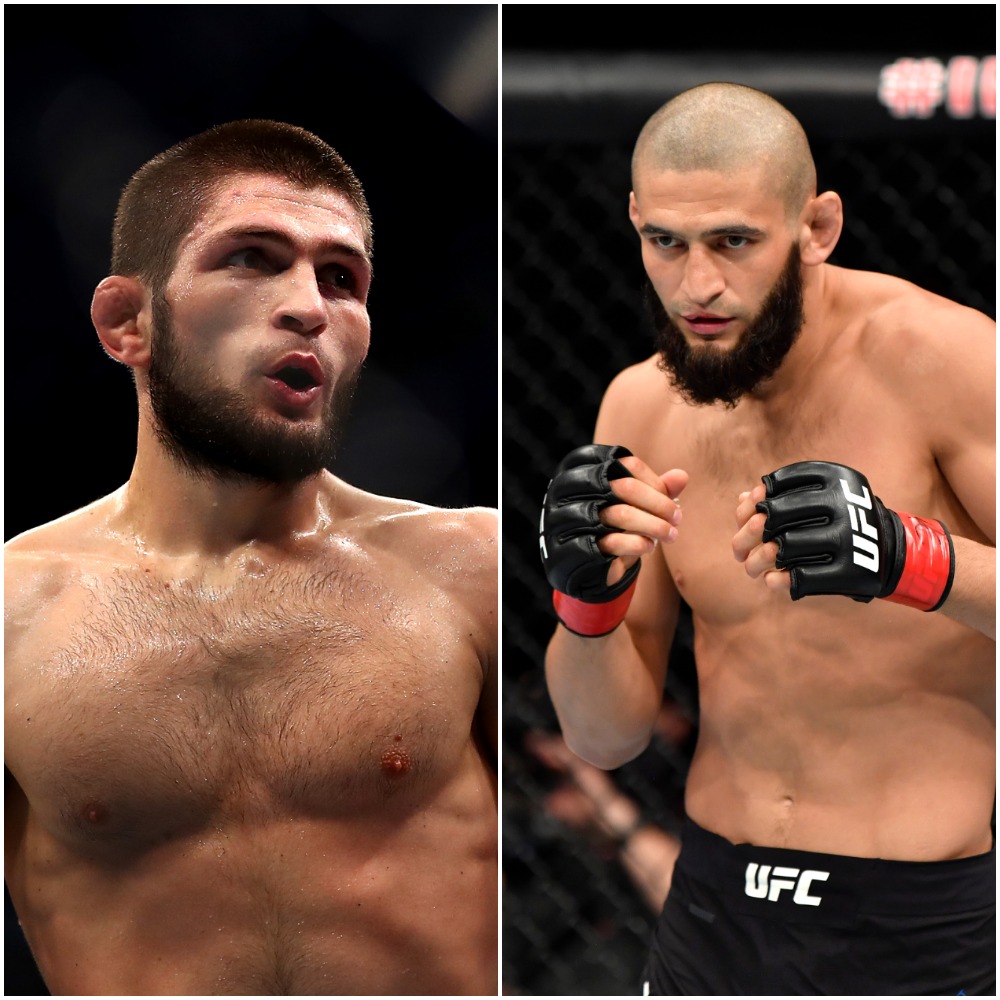 Khamzat Chimaev aka Khabib Nurmagomedov 2.0 Makes UFC History Pulverizing 2 Opponents in 11 Days
The UFC has its next star in Khamzat Chimaev and it's a replica of Khabib Nurmagomedov. One difference — Chimaev just made UFC history winning twice in 11 days.
His name is next to impossible to pronounce properly the first time. He's from Russia. He's undefeated. Sound familiar? Khabib Nurmagomedov had all those credentials when he introduced himself to the UFC in 2012. 
Eight years later, Nurmagomedov 2.0 has arrived in the form of Khamzat Chimaev. The Chechnyan made his UFC debut on July 15 at Fight Island, where he won convincingly, and then 11 days later returned to the Octagon where he earned a first-round knockout and made UFC history in the process. 
Khamzat Chimaev impresses in early MMA career
Khamzat Chimaev grew up in Chechnya where he began wrestling at five. He was a natural. By 2010, he was wrestling for the national team. In 2011, his family immigrated to Sweden. Chimaev settled in his new home and, in 2018, won the gold medal in freestyle wrestling at the Swedish Championships in both the middleweight and welterweight divisions.
He made his professional MMA debut in May 2018. In that fight, he won via a second-round TKO. His next fight, first-round D'Arce choke. A pattern quickly developed. Chimaev attacked from the start every fight. His unrelenting attack overwhelmed his opponents. 
Chimaev joined Brave CF, a Bahraini MMA organization, where he won twice more in 2018—both first-round TKOs— and followed it up the next year, replicating his efforts winning two more fights in dominating fashion. Chimaev has made a name for himself in Sweden. Multiple-time world title contender Alexander Gustafsson described the Russian as someone he had "never trained with such a good guy before." 
Khamzat Chimaev's first UFC fight on Fight Island
With a 6-0 professional record, Khamzat Chimaev signed with the UFC eager for his first opportunity. On July 8, he got the call. He would be fighting a week later at Fight Island against the veteran Welshman fighter John Phillips with a 22-10 record. 
On July 15, Chimaev, as has become his style, came out on the attack, scoring a takedown against Phillips early, then punishing his face with repeated strikes. A bloodied Phillips held on long enough to escape the first round.
Chimaev delivered another takedown early in the second round. Then, he maneuvered his way into position and pulled off a fight-ending D'Arce choke. While Chimaev impressed the UFC audience and president Dana White with his performance inside the cage, outside of it he shocked White when he said he wanted to fight another time before they left Fight Island.
"He asked me that night (for another fight in Abu Dhabi)," White said to reporters after the UFC on ESPN+ 30 weigh-ins. "I said why not? Yeah. All right. Let's do it."
Chimaev makes UFC history
On July 26, 11 days after his debut, Khamzat Chimaev returned to the Octagon for a drop in weight class in his welterweight match with top Cage Warriors fighter, Irishman Rhys McKee, who was making his UFC debut with a 9-3 record. After Chimaev's initial performance, expectations were high. 
He delivered. At the outset Chimaev rushed across the cage, picked up his opponent, and went to the ground. In top position, McKee was helpless as Chimaev relentlessly pounded him with repeated strikes. Just over three minutes into the fight and after the referee repeatedly encouraged McKee to move, he intervened and stopped the fight.
According to ESPN Stats and Information, Chimaev outstruck McKee 40-0 in significant strikes and 68-0 in total strikes. It doesn't get more dominating than that. After making history not only fighting but winning in a 11-day span, Chimaev was asked in the post-fight interview when he wanted to fight next. 
"I can fight after one hour maybe," Chimaev said with a smile but you knew he was serious. "If somebody is injured, I'm here. I'm going to smash everybody. It doesn't matter. I'm going to smash everybody."
With an 8-0 (2-0 UFC) record, Chimaev has served notice to both the welterweight and middleweight divisions that he's willing and ready to fight whoever and clearly whenever. His performances over the last two weeks were one of the highlights to a month's worth of UFC action from Fight Island in Abu Dhabi. There's no telling when Khamzat Chimaev will next appear in the Octagon, but you know it's going to be sooner rather than later.