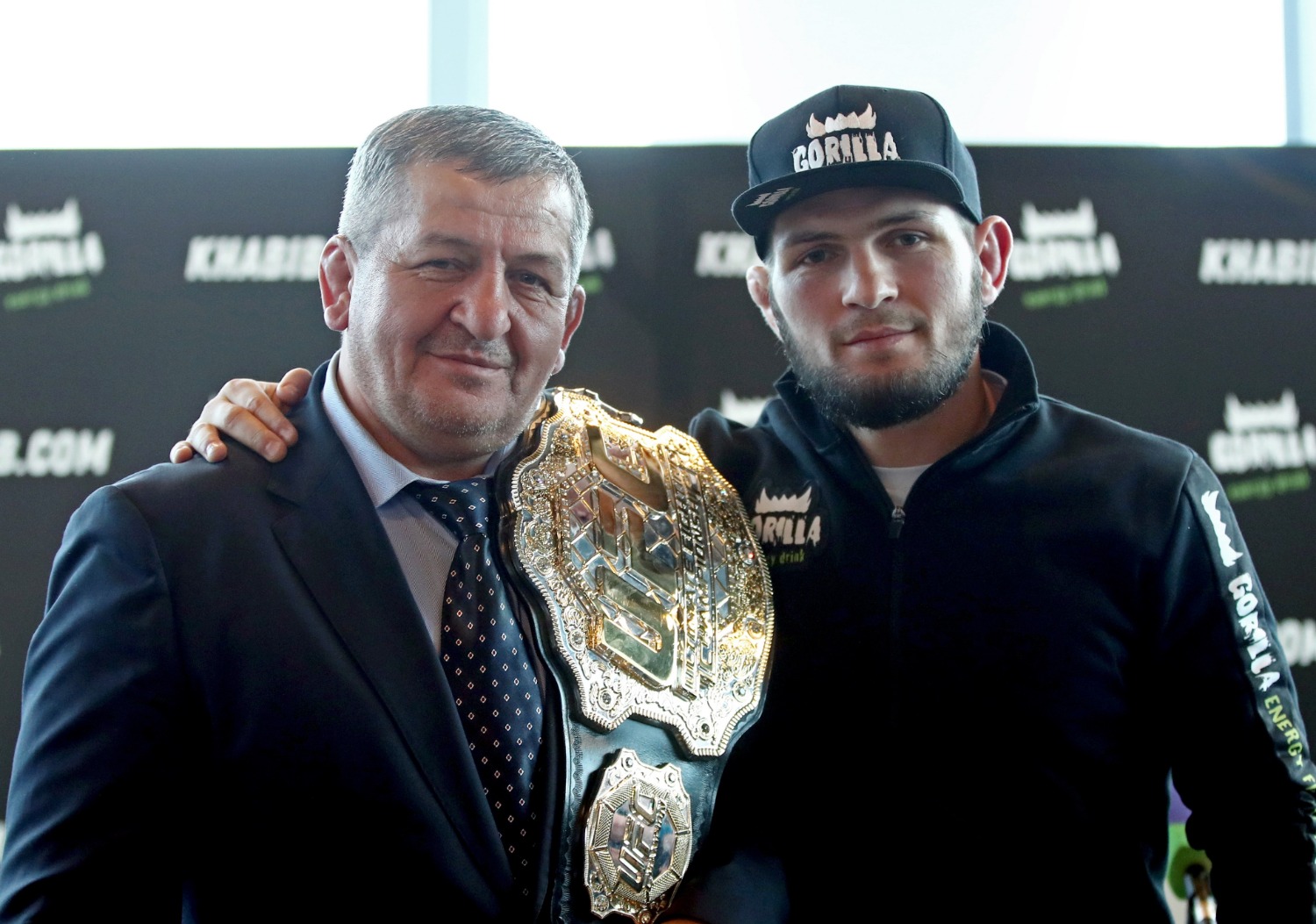 Khabib Nurmagomedov's Dad and Longtime Trainer Suffers Tragic Death After Brutal COVID-19 Battle
UFC star Khabib Nurmagomedov suffered a devastating loss on Friday with the death of his father and trainer Abdulmanap Nurmagomedov.
Khabib Nurmagomedov has never lost an MMA match. However, the reigning UFC Lightweight Champion suffered a devastating loss outside of the octagon on Friday. After battling health issues for months, his father and trainer, Abdulmanap Nurmagomedov tragically died.
His passing certainly highlights the harsh reality of the COVID-19 pandemic. But while his life may have ended, Abdulmanap Nurmagomedov made every year he spent with his son count. Now, it'll be up to Khabib to continue forging a legacy his father helped build.
Khabib Nurmagomedov is one of the biggest stars in UFC
Born in Russia, Khabib Nurmagomedov had the fighting spirit flowing through his veins. Coming from a culture where martial arts and wrestling remain highly popular, he began training at the age of 8 under his father.
His teenage years included more specialization, particularly in judo. Of course, Nurmagomedov's father played a significant role in pushing his son to achieve athletic greatness.
By 2008, Khabib finally made his MMA debut. He wasted no time showcasing his dynamic skill set. Utilizing his unique combination of wrestling takedowns and a ground-and-pound attack, he quickly rose up the ranks in UFC.
In April 2018, the 5-foot-10, 155-pound fighting savant finally captured the UFC Lightweight Championship by defeating Al Iaquinta by unanimous decision. Just a few months later, he scored his most impressive victory by defending his title against top-notch superstar Conor McGregor.
Following another successful title defense in September 2019, it appeared as though nothing could go wrong for the reigning champion. But 2020 turned out to be an awful year for the Nurmagomedov family.
Khabib's father has been dealing with health issues for months
For Khabib Nurmagomedov, the COVID-19 pandemic hit close to home. And it couldn't have come at a worse time. In May, ESPN reported that Khabib's father had been put into a medically induced coma post-surgery in Moscow. This occurred after he suffered a heart attack following a positive COVID-19 diagnosis.
"I can confirm Khabib's father is in a medically induced coma," Abdelaziz told ESPN. "Khabib has been in contact with [Russian president] Vladimir Putin over the last several days, and he has promised Khabib's father will receive the best medical treatment available.

The UFC superstar took to Instagram live to confirm his father's heart complications. Unfortunately, his dad would never live to see his son fight again.
Abdulmanap Nurmagomedov tragically died on Friday due to COVID-19 complications
On Friday, Khabib Murmagomedov suffered a devastating loss. Only it had nothing to do with battling an opponent inside the octagon. Russian outlet RT reported that Abdulmanap Nurmagomedov died in a Moscow hospital due to complications from his COVID-19 infection.
Despite waking up from his medically-induced coma, Khabib's father ultimately lost his battle to the disease. However, he leaves behind an incredible legacy as both a devoted father and an excellent trainer.
From there, Abdulmanap would garner his reputation for creating champions. A specialist in wrestling and sambo – the Russian self-defense martial art – he became one of the most respected coaches in his homeland and later achieved international renown and the unofficial title of 'Father of Dagestan MMA.'

Ultimately, we will have to wait and see what effect this has on Khabib Nurmagomedov's fighting career. Without his father in his corner, will he remain undefeated and continue carving out a legendary career? Or will this have a detrimental effect on his training and future?
Only time will tell, but for now, the reigning UFC Lightweight Champion deserves time to heal.