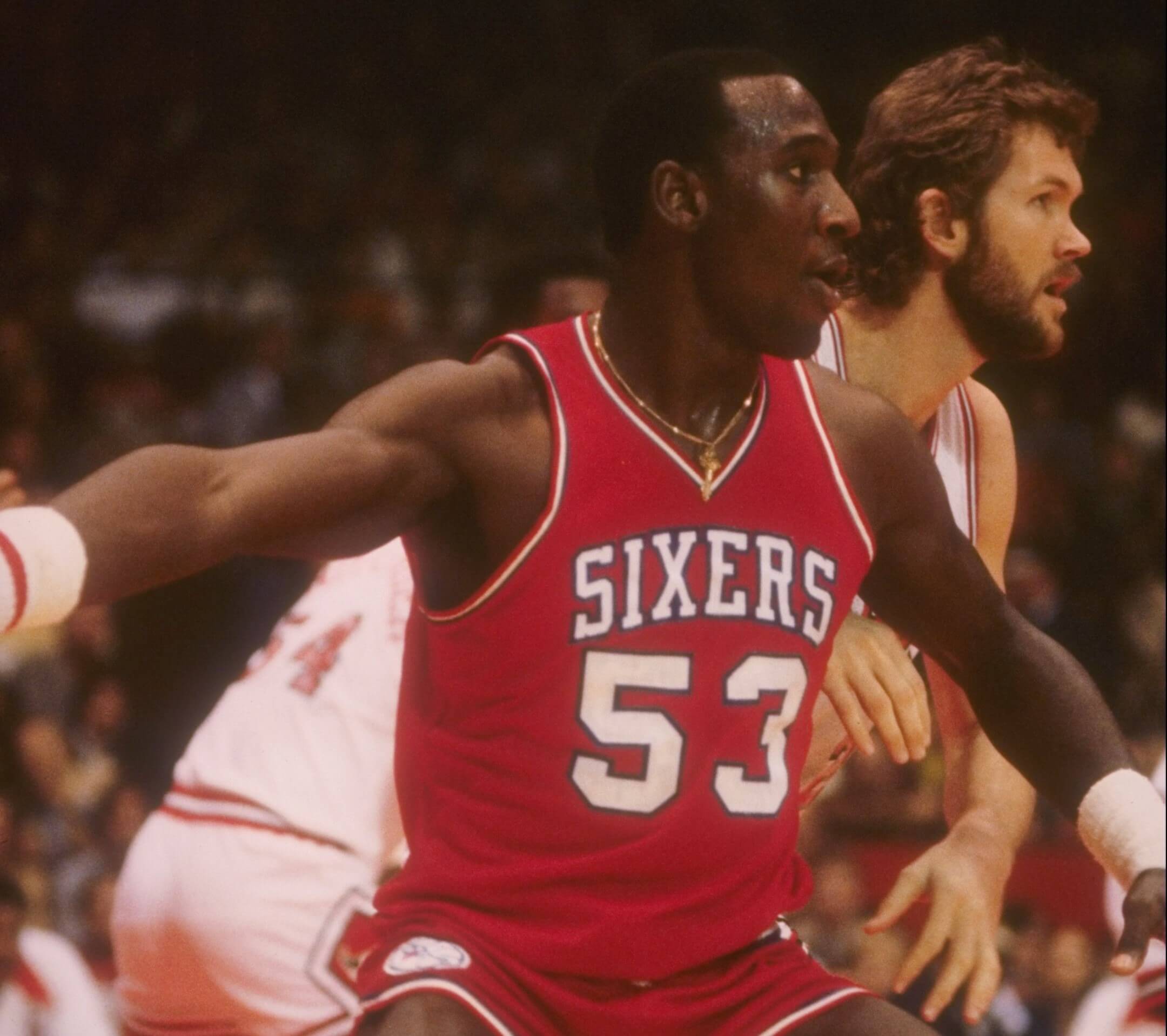 Darryl Dawkins Could Have Been 'Shaq Before Shaq,' According to Former Boston Celtics Forward Cedric Maxwell
Darryl Dawkins never made an All-Star team in the NBA, but he was one exciting and powerful center.
When we look back at the Boston Celtics of the early 1980s, we remember the bruising Eastern Conference battles with the rival Philadelphia 76ers. The two teams met in the conference finals for three straight years from 1980 to 1982, with Philly winning in '80 and '82.
When the Celtics and Sixers met, the games were heated. Even a preseason game was interrupted by a brawl that saw Boston star Larry Bird get ejected. Bird also found himself in an infamous fight with Julius Erving in 1984. While the series was loaded with stars, the Sixers boasted a promising center who former Celtics forward Cedric Maxwell had the potential to be one of the biggest stars in the game in Darryl Dawkins.
How good was Darryl Dawkins?
Darryl Dawkins had plenty of college options after dominating as a 6-foot-10 center at Maynard Evans High School in Orlando, Florida. Instead, he abruptly chose to jump directly into the NBA, becoming the first player to do so. The Philadelphia 76ers made Dawkins the fifth overall pick in the 1975 NBA Draft.
"I didn't make my decision until three days before the draft, and I just figured I wanted to be able to help my brother and sister get through college and take care of my mother and grandmother, so I took that route," Dawkins told The Morning Call in 2000. 
While Dawkins averaged 4.5 and 11.3 minutes in his first two NBA seasons, he played a much bigger role in his third year. During the 1977-78 season, Dawkins started 11 of the 70 games he played and averaged 11.7 points and 7.9 rebounds.
At 6-foot-11, 251 pounds, Dawkins provided the Sixers with a physical presence in the middle. Nicknamed "Chocolate Thunder," Dawkins was best known for busting backboards and forcing the NBA to adopt breakaway rims. He shattered two backboards during the 1979 season. He admitted the first one was accidental.
"The first one was an accident, but I wanted to see if I could do it again when I got back to Philadelphia," Dawkins told the New York Times in 2004. "All the fans were hollering, 'You've got to do one for the home crowd,' so I went ahead and brought it down.
"Fans were running out, grabbing the glass. People's hands were bleeding. I felt like I was doing something no other human could do. Everybody says a dunk is only two points, but it gets your team hyped, gets the crowd all excited, especially when you dunk on somebody. And I always dunked on somebody."
Maxwell said Dawkins could have been 'Shaq before Shaq'
Dawkins showed tons of promise, but he never made an All-Star team in the NBA. His best year with the 76ers came during the 1979-80 season when he averaged 14.7 points and a career-high 8.7 rebounds. In his second year with the New Jersey Nets (1983-84), Dawkins put up a career-high 16.8 points per game and added 6.7 rebounds.
Maxwell, who often battled with Dawkins during the late 70s and early 80s, said Dawkins' potential was unlimited. Dawkins was one who loved to have fun and was also known for naming all of his dunks. In his book, If These Walls Could Talk, Maxwell said Dawkins could have been a superstar in the league.
"Dawkins was 6-11, 251 pounds, but he was one of those guys who seemed so much bigger," Maxwell wrote. "He had incredible athleticism and a huge personality. If he was a little more focused, Dawkins could have been Shaq before Shaq.
"(Dawkins) had it all. He could shoot, run, and put his big butt in the post. He was the opposite of the strong, silent Sixers like Caldwell Jones, Maurice Cheeks, and Bobby Jones. Dawkins was so playful.
"We tangled during a playoff game, and he grabbed onto my arm and wouldn't let go. And he was laughing the whole time. I've often wondered what would have happened if he had kept his focus."
Dawkins died on Aug. 27, 2015, at a hospital in Allentown, Pennsylvania. He was 58.