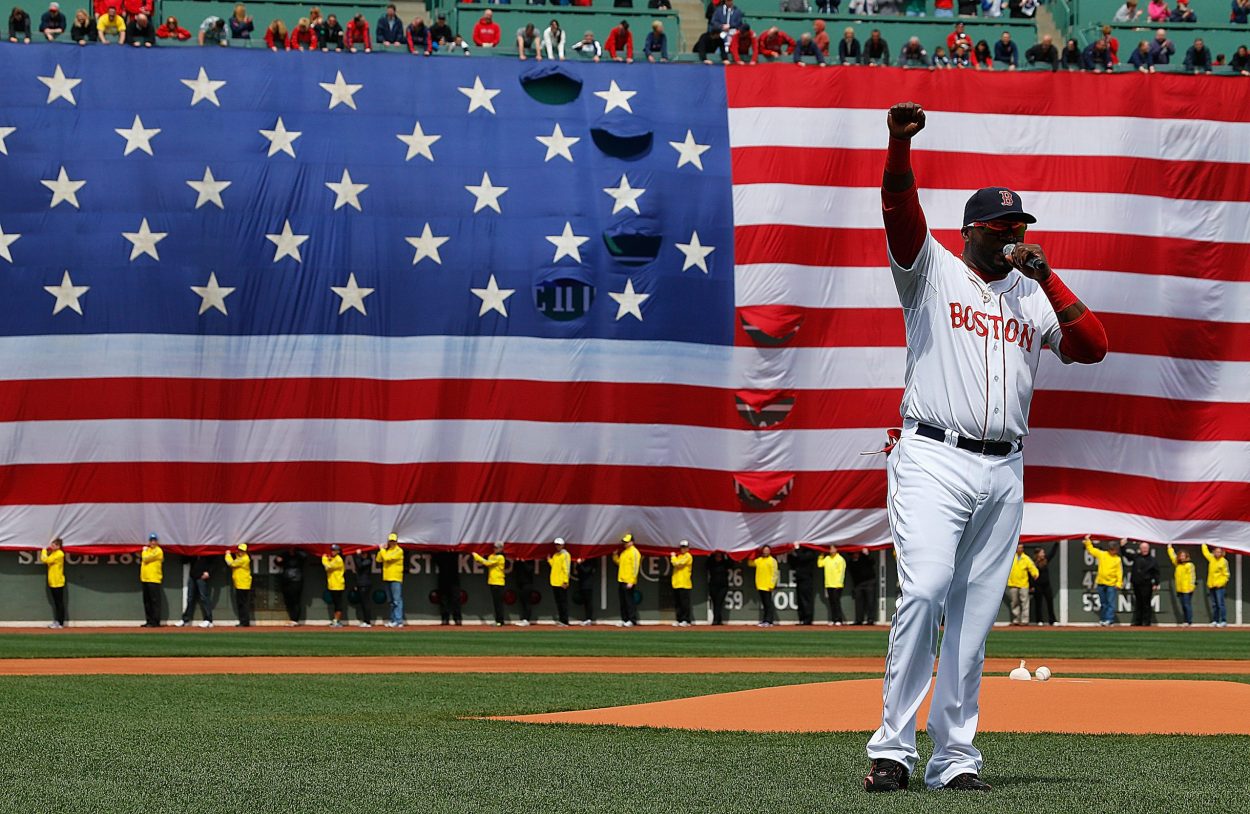 David Ortiz Emotionally Recalls Legendary Speech After Boston Marathon Bombing: 'I Felt Like Somebody Stabbed Me in the Back'
David Ortiz endeared himself to Boston Red Sox fans over the course of a legendary career, but he really ingratiated himself to the city with a riveting speech shortly after the Boston Marathon bombing in April of 2013. It's been eight years since Ortiz made those gripping remarks. Yet, he is still stirred with emotion …
David Ortiz endeared himself to Boston Red Sox fans over the course of a legendary career, but he really ingratiated himself to the city with a riveting speech shortly after the Boston Marathon bombing in April of 2013.
It's been eight years since Ortiz made those gripping remarks. Yet, he is still stirred with emotion when he thinks back on the speech and the circumstances which led to it.
David Ortiz rallied the city after the Boston Marathon bombing in 2013
The city of Boston endured a tragedy in the spring of 2013.
The 2013 Boston Marathon was scheduled for April 15. What should have been another triumphant day in the event's history quickly turned grim, as two terrorists planted homemade bombs that detonated 14 yards apart.
It was a devastating incident. The blasts killed three people. Hundreds of other persons were injured, with more than a dozen losing limbs. The bombing was only the precursor to a chilling chain of events.
The Federal Bureau of Investigation identified two suspects, Dzhokhar Tsarnaev and Tamerlan Tsarnaev, two brothers of Chechen Kyrgyzstani descent. The brothers killed an MIT policeman and hijacked a car before engaging police in a shootout in Watertown, Massachusetts.
A search ensued, with Tamerlan dying after the shootout and Dzhokhar eventually being captured. Dzhokhar was initially sentenced to death, though a court overturned that decision. However, the Supreme Court will hear the case in October, per NBC Boston.
The bombing rocked the city. Ortiz was there to lift the community back up.
Ortiz spoke before a Red Sox game at Fenway Park on April 20, the team's first game back in Boston since the bombing. He pointed out the jerseys the team sported that day said "Boston" rather than "Red Sox." Big Papi also thanked law enforcement officials before forcefully stating Boston would not let anyone dictate its freedom.
The speech was one of those seminal moments that transcended sports. For his part, Ortiz remembers the emotions leading up to that day.
Ortiz explained how gutted he felt after the tragedy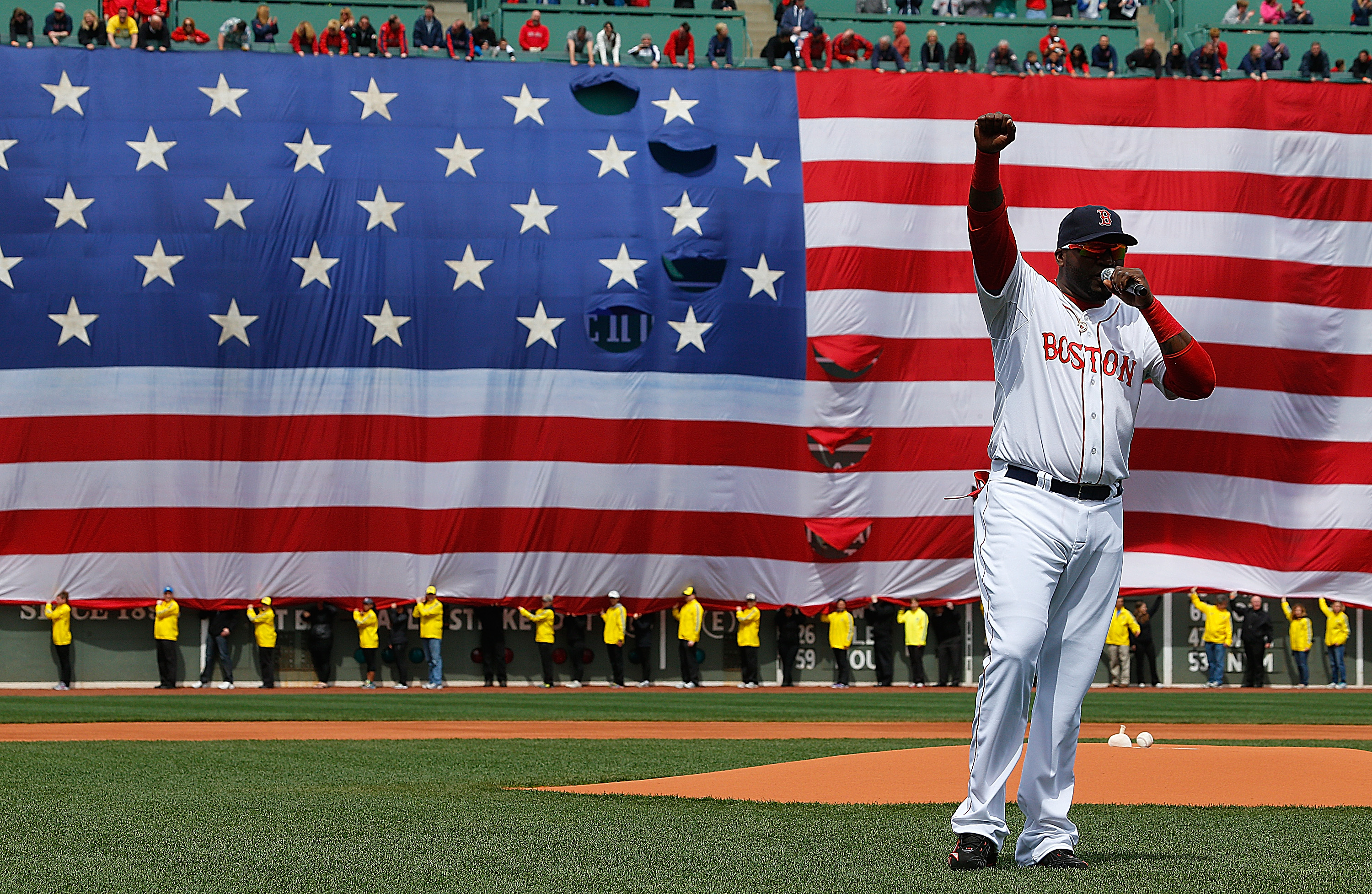 Interestingly, Ortiz did not even know he would speak on that day in April of 2013.
On the debut episode of the Call Him Papi podcast, Ortiz revealed that he was asked to speak to the fans right before the game. However, he acknowledged the well of feelings that had already been building inside of him.
Big Papi had been on the disabled list (now called the injured list) before returning on April 20. He said he had been sitting at home and building in anger, adding, "I felt like somebody stabbed me in the back."
Ortiz spent 14 of his 20 seasons in Boston. It's where he became a postseason legend and helped the franchise to three World Series victories. He is as synonymous with the Red Sox as any other player in team history. Knowing all that, it is not surprising that the tragedy inspired a tremendous sadness within him.
Yet, Ortiz was able to channel his angry feelings into a positive message, providing something of a watershed moment in his Red Sox career.
Big Papi and the Red Sox lifted spirits further in the fall of 2013
No single athlete or team can negate the sadness that so many Bostonians felt in April of 2013. But Ortiz and the Red Sox gave Beantown something to cheer for later that fall.
The Red Sox steamrolled to a World Series, with Ortiz winning World Series MVP honors. He was a force to be reckoned with in the Fall Classic, hitting .688 with two homers, six RBIs, and a 1.948 OPS. True to his character, Big Papi also made sure to mention those affected by the bombing during his MVP acceptance speech.
Ortiz feels sadness when he thinks back to the tragedy. However, as often seemed to be the case, he found a way to encourage and inspire, perhaps in part because of his personal affinity for and connection with the city of Boston.
Stats courtesy of Baseball Reference.