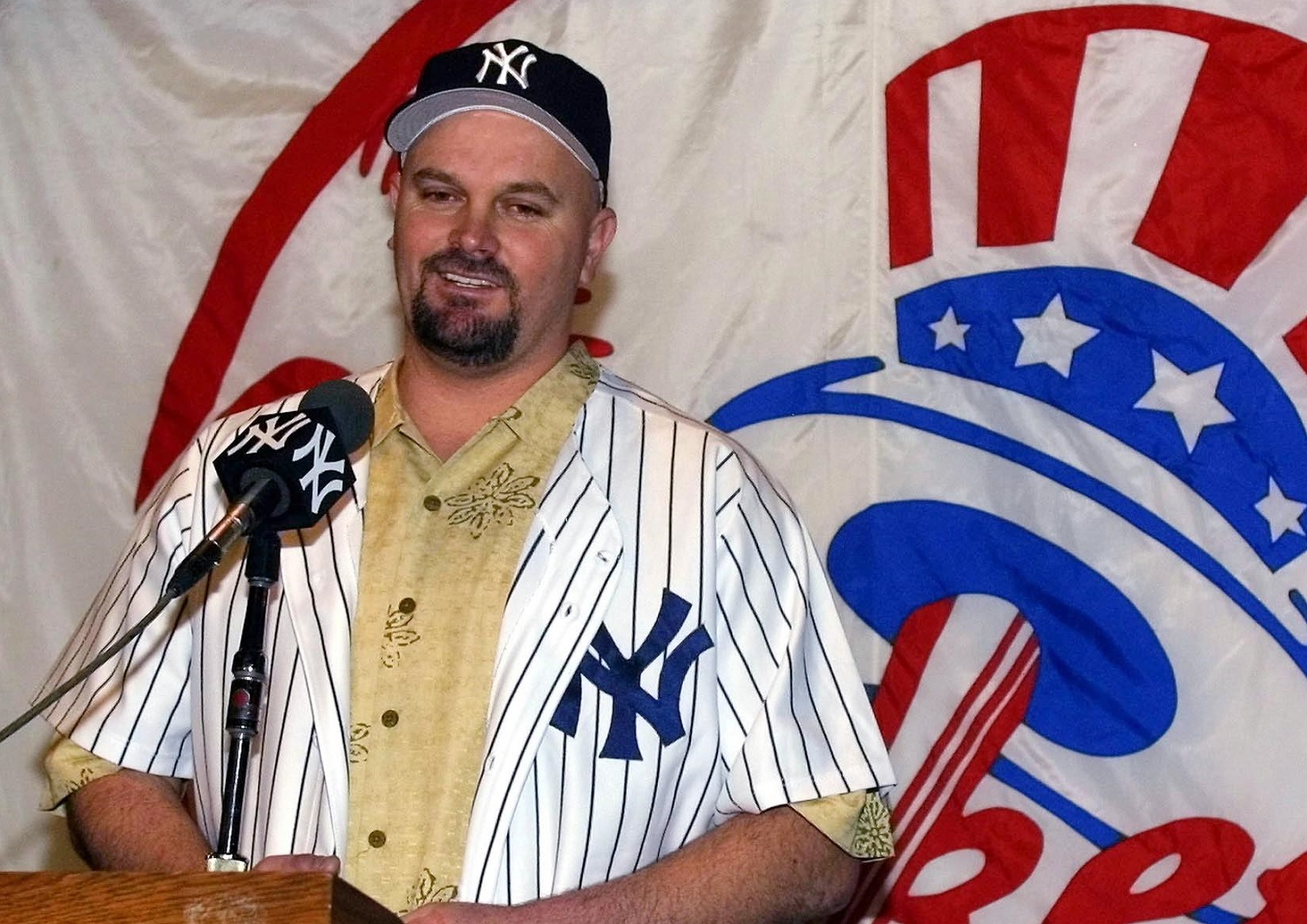 David Wells' Own Stories About His Yankees Days Confirm He's a Jerk
David Wells, who pitched 21 MLB seasons, continues to tell stories that don't paint the two-time New York Yankees pitcher in a good light.
David Wells is the brother-in-law who moves into the guest room for a week while his apartment is under repair and is still there two months later, eating your food and not paying rent. But the family likes him because he took everyone out to Red Lobster that one time last fall.
New York Yankees fans still love Wells in no small part because of that shiny 7-2 postseason record in pinstripes. But that doesn't make him any less insufferable each time Wells reveals a little more about his character.
David Wells has no use for umpires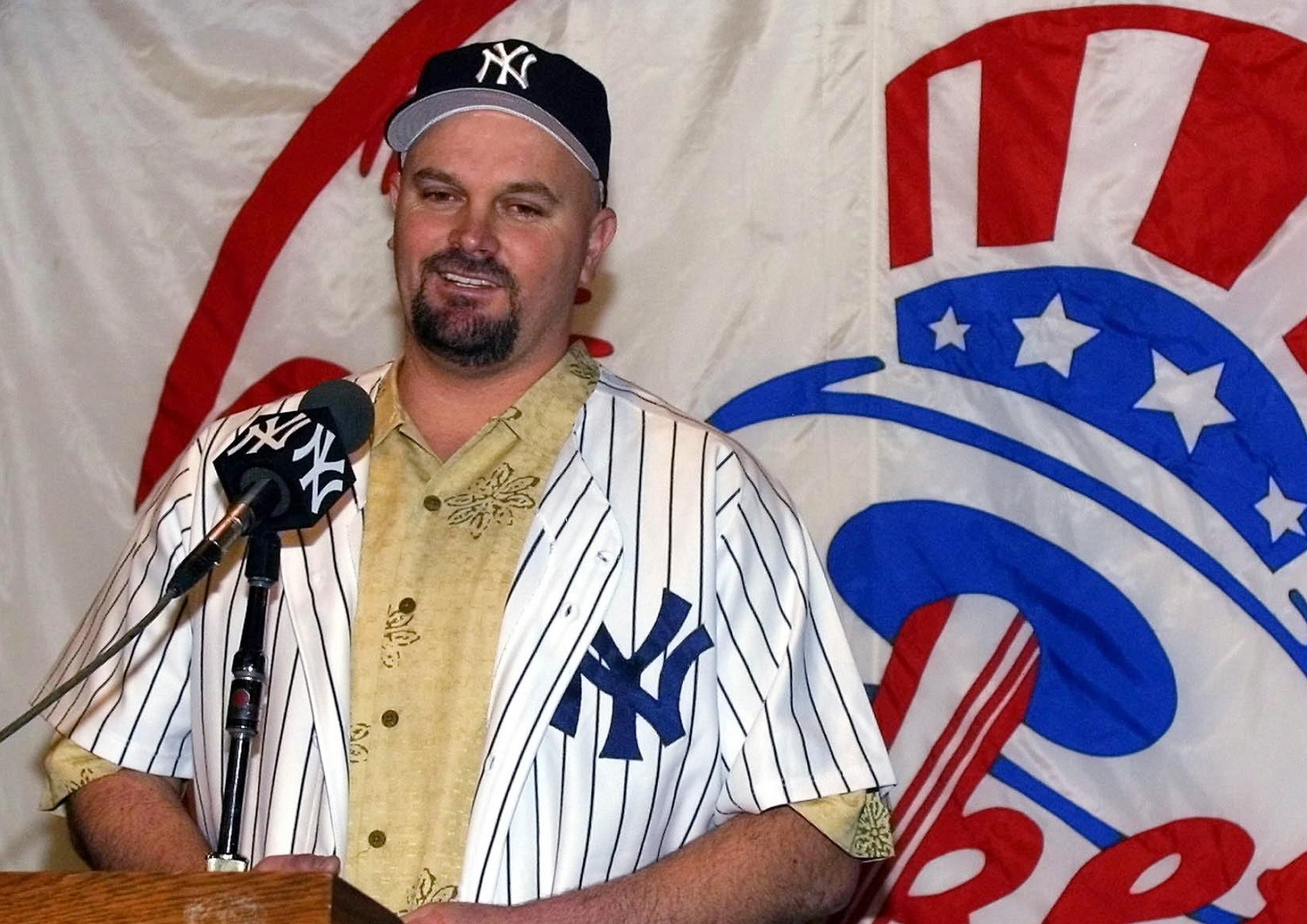 Wells retired in 2007 with a 239-157 record and 4.13 ERA. He has since coached some high school baseball and done MLB analysis for TBS, Fox Sports, and the YES Network, which carries Yankees games.
When he's not on TV, Wells does the occasional interview on podcasts or with newspaper reporters, after which a normal should be disbelief that he said what he said. The latest example came this week when he spoke with Barstool Sports, which noted that Wells "was always a little bit of a hot head."
What started as a question about "unwritten rules" in baseball turned into a Wells rant about umpires.  
"You should be able to bump them and do whatever," Wells said. "Actually, you should be able to punch one of them if you want. Because there are a couple guys I wanted to punch over time. But you know, with the umpires they ruin the game, I think. They're right a majority of the time and there's some great umpires, don't get me wrong. But it's those ones that are (unflattering word), we should have free will at them."
'Boomer' pitched four seasons with the Yankees
The first indication that Wells might have been a bit overbearing in the clubhouse comes from looking at his 21-year MLB career. After six seasons with the Toronto Blue Jays, he rarely stayed put for long. He pitched for eight other clubs (plus the Blue Jays again) in the next 15 seasons.
The second indication is that the three-time All-Star didn't care for manager Joe Torre during stints with the Yankees in 1997-98 and 2002-03. Torre had his detractors, but he gave players some latitude as acknowledgment that they were playing under the microscope in New York.
"I know how to do my job. Just don't try to manage me," Wells told the New York Post during another podcast. "But they would try to manage me off the field, too. I'm like, 'Do you want to win? Then leave me alone.'"
Wells cited the time he acquired an authentic Babe Ruth hat and wore it on the mound. Torre told him to take it off after the first inning because it didn't match the Yankees' modern uniform. Torre fined Wells $2,500.
"He calls me in the office afterwards and he goes, 'Twenty-five hundred bucks,'" Wells recalled. "And I go, 'That's all?' I'm like, 'You're shallow.' Next day, I went and got a bunch of ones, fives and tens, and I threw it at him in the office. Money went flying. I was like, 'Go buy some stuff for your car, a——.' He never talked to me for the rest of the year."
Juvenile on Wells' part, right?
David Wells was even abusive toward George Steinbrenner
Many MLB stadiums have outfield seating close enough to the wall that it's possible for a fan to touch a long fly ball while technically in play. It's almost always a moot point; the ball is usually high and deep enough that it's going to cross the fence for a home run in another milli-second.
Wells, though, became upset when a fan reached over the wall and appeared to deny Yankees outfield Paul O'Neill the opportunity to make a play. Wells claims he pleaded with Yankees owner George Steinbrenner to raise the height of the fence, only to be told, "You ain't the pitcher I signed."
He dared Steinbrenner to trade him, to which The Boss responded, "I tried to. Nobody wants you."
Said Wells: "I got in George's face and I started calling him every name in the book and he's in my face as well and he goes, 'I'm not afraid of you.' And I said, 'I'll tell you what, old man. I'm gonna go put some ice on and if I come back here and you're still here I'm gonna beat the s— out of you."
Wells claims Steinbrenner fled when the pitcher returned a short time later.
"He tore off running, I chased him," he said. "'Go back up in your suite … and watch the game.' I was all over him."
Nice guy, right? Wells must be the life of the party during Yankees' old-timers days.
Like Sportscasting on Facebook. Follow us on Twitter @sportscasting19.