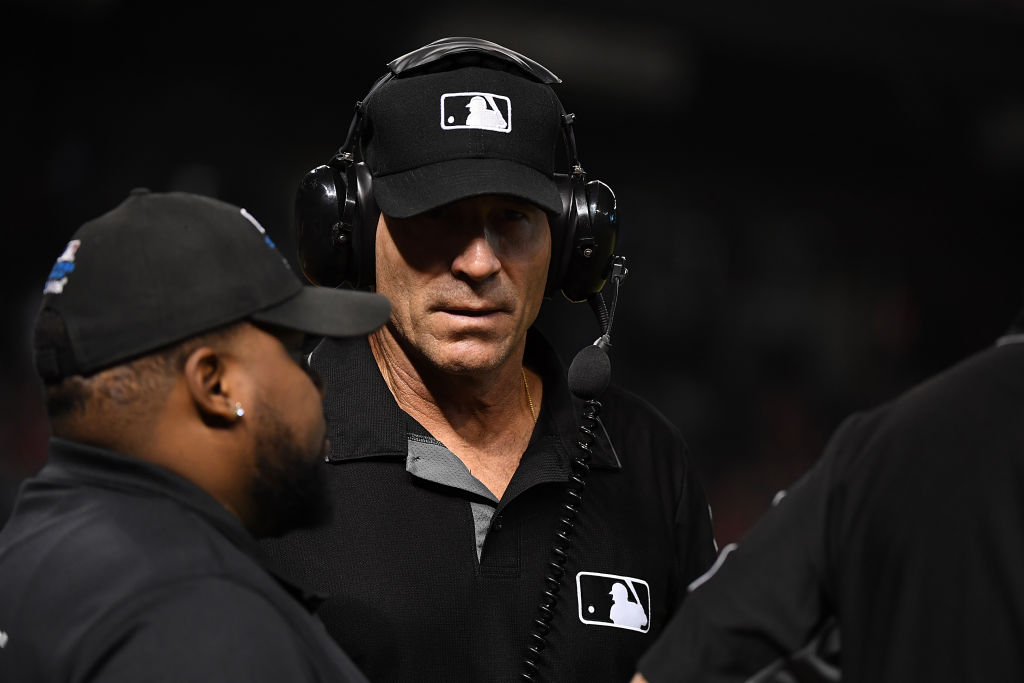 Maligned Umpire Angel Hernandez Might Have Blown Another Call by Blaming Joe Torre
MLB umpire Angel Hernandez believes he is the victim of discrimination by Major League Baseball.
Angel Hernandez may have missed another call. At least this one didn't cost a team the game.
Hernandez, who has been a Major League Baseball umpire since 1991, is in the midst of a lawsuit against his employer. Key portions of the suit assert that MLB executive Joe Torre has a bias against him, but papers filed in court on Friday point to commissioner Rob Manfred being behind a significant professional setback for Hernandez.
Angel Hernandez is a controversial figure
Umpires make numerous split-second decisions in games and are frequently second-guessed over a fraction of those calls. However, Angel Hernandez has come in for more criticism than most. In fact, the way players have called him out in recent years is highly unusual.
Detroit Tigers second baseman Ian Kinsler went so far to say in 2017 that Hernandez "needs to find another job, he really does."
Six years earlier, a Sports Illustrated poll revealed that players rated Hernandez as the third-worst umpire in the majors, yet he kept his job season after season.
Fourteen of the 18 appeals on calls Hernandez made at first base from 2016-18 resulted in his decisions being overturned, as were three of his four rulings in the 2018 American League playoffs.
Said New York Yankees pitcher C.C. Sabathia:
"I don't think Angel Hernandez should be umping playoff games. He's absolutely terrible. He was terrible behind the plate today. He was terrible at first base. It's amazing how he's getting a job umpiring in these playoff games."
Said retired pitcher Pedro Martinez, who was doing analysis for TBS: "Angel was horrible. … Major League Baseball needs to do something about Angel. It doesn't matter how many times he sues Major League Baseball. He's as bad as there is."
Hernandez has worked three MLB All-Star Games, 10 divisional playoff series, seven League Championship Series, and two World Series. However, he has been passed over for the World Series every year since 2005.
Angel Hernandez accuses MLB of discrimination
Umpire Angel Hernandez filed a lawsuit against MLB in 2017, and the case is in the pretrial discovery phase in U.S. District Court in Manhattan. Hernandez alleges that Joe Torre holds a grudge going back to his days as manager of the New York Yankees and is responsible for Hernandez not landing World Series assignments or being named a crew chief.
Torre managed the Yankees from 1996-2007. He joined the commissioner's office in 2011 and was put in charge of overseeing umpires. Hernandez's suit alleges it was at that time that his evaluation grades began taking a sharp downward turn.
In addition, the Cuban-born Hernandez claimed less qualified umpires had been assigned to World Series games at the expense of minorities.
The umpire's beef might instead be with the commissioner
Paperwork filed in court Friday and Saturday indicates that MLB umpire Angel Hernandez might be pointing a finger in the wrong direction. While Joe Torre makes the better target in a discrimination lawsuit because he butted heads with Hernandez while managing in the major leagues, it appears more likely that commissioner Rob Manfred was behind a decision that's central to the umpire's lawsuit.
According to documents reviewed by The Associated Press, MLB administrator Steve Palermo sent an email on Oct. 16, 2015, to Randy Marsh, the director of umpiring, recommending that Hernandez be put on that year's World Series crew. Palermo, an umpire supervisor, copied Torre and Peter Woodfork, the senior vice president of baseball operations, on the email.
Woodfork forwarded the email to Matt McKendry, senior director of umpire operations, and made a reference to Hernandez as "the guy in the middle of the largest debacle." Woodfork then sent a text message to Torre that read: "Angel is going to be a no for Rob."
Although Woodfork testified in a deposition last summer that he did not recall receiving an instruction from Manfred regarding the umpire, there doesn't appear to be a direct link to Torre being the reason Hernandez was bypassed.
While that hardly clears MLB of the discrimination allegations in the lawsuit, it does put a dent in an important element of the suit.