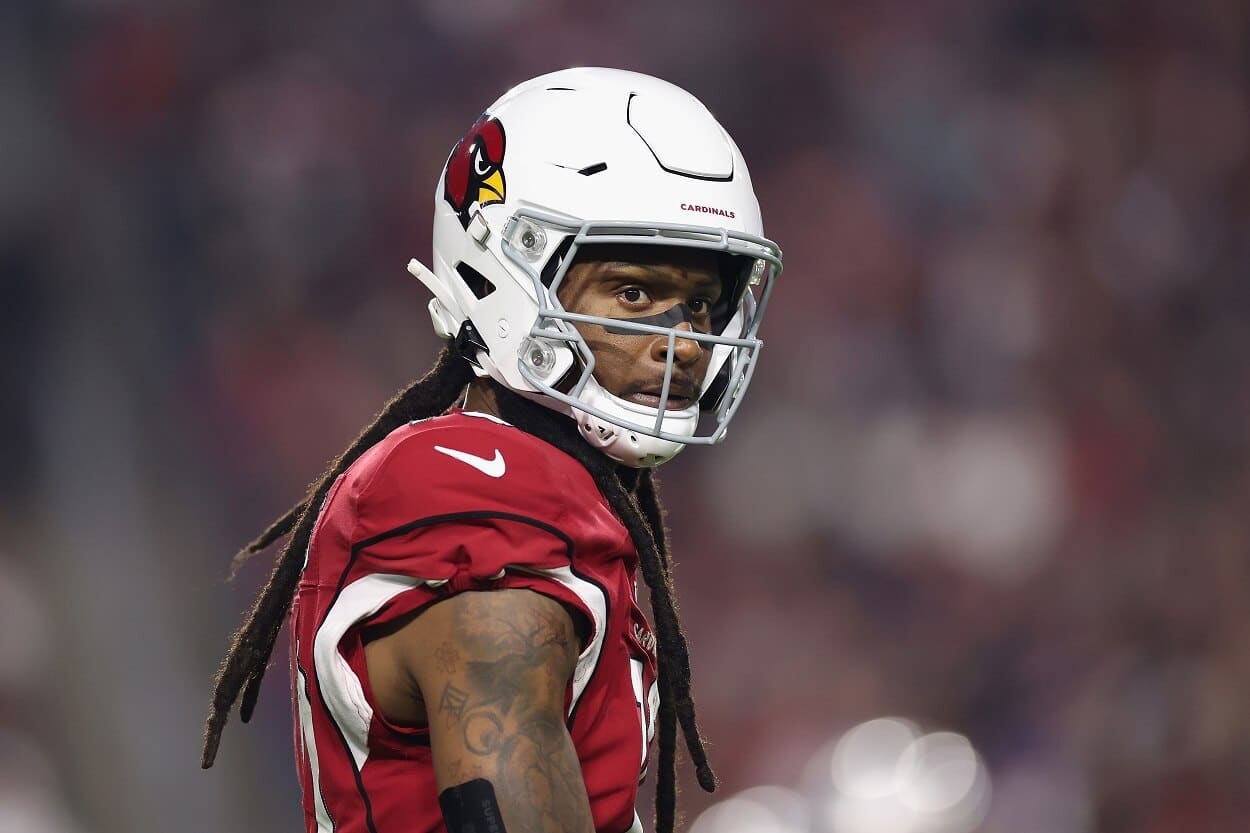 DeAndre Hopkins Trade Rumors: Latest Update From NFL Insider Should Leave Cardinals Fans Confused and Concerned
The Arizona Cardinals could release DeAndre Hopkins instead of trading him.
It might not be time to push the panic button yet, but Arizona Cardinals fans should feel pretty pessimistic about what lies ahead for a franchise that's apparently all-in on Kyler Murray (at least financially) and seemingly all-out on one of the best receivers to ever step foot on an NFL field. 
Dangled in trade rumors for months, DeAndre Hopkins has yet to be dealt to one of the many teams that could utilize his pass-catching services. With the 2023 NFL Draft rapidly approaching, the pressure is on the front office to make a decision about the team's most accomplished player. 
Unfortunately for Cardinals fans, the latest update on the Hopkins situation will do nothing to quell concerns about the long-term outlook for a team that has a dearth of young talent, an expensive, injury-prone quarterback, and an unproven head coach and general manager combo.
DeAndre Hopkins may not be dealt after all
While it's impossible to rule out a last-minute trade, the DeAndre Hopkins situation looks more likely to end with the Cardinals completely cutting ties with the Canton-worthy wideout. 
Speaking on The Greg Bedard Podcast, Albert Breer of Sports Illustrated delivered an important update surrounding Hopkins' uncertain status. 
"Some teams think that Cardinals are going to cut him, they think the Cardinals will wind up cutting him," Breer said, "His market is not great right now. There's nobody who was willing to take on Hopkins' contract and pay the Cardinals' initial asking price."
With Arizona reportedly asking for at least a second-round pick for a soon-to-be 31-year-old player who hasn't played a full season since 2020, the fact that not a single team has pulled the trigger speaks volumes. Although Hopkins' age and durability are mild concerns, his nearly $20 million salary for the 2023 season seems to be the major sticking point for potential suitors. 
Ultimately, teams that may have interest in adding one of the most productive receivers in league history could force the Cardinals' hand by making lowball offers or simply not bidding on Hopkins at all. 
But the fact it's reached this point is a major red flag during the early tenure of the new head coach-general manager combo of Jonathan Gannon and Monti Ossenfort.
Just the idea of releasing the five-time Pro Bowler should give Cardinals fans concerns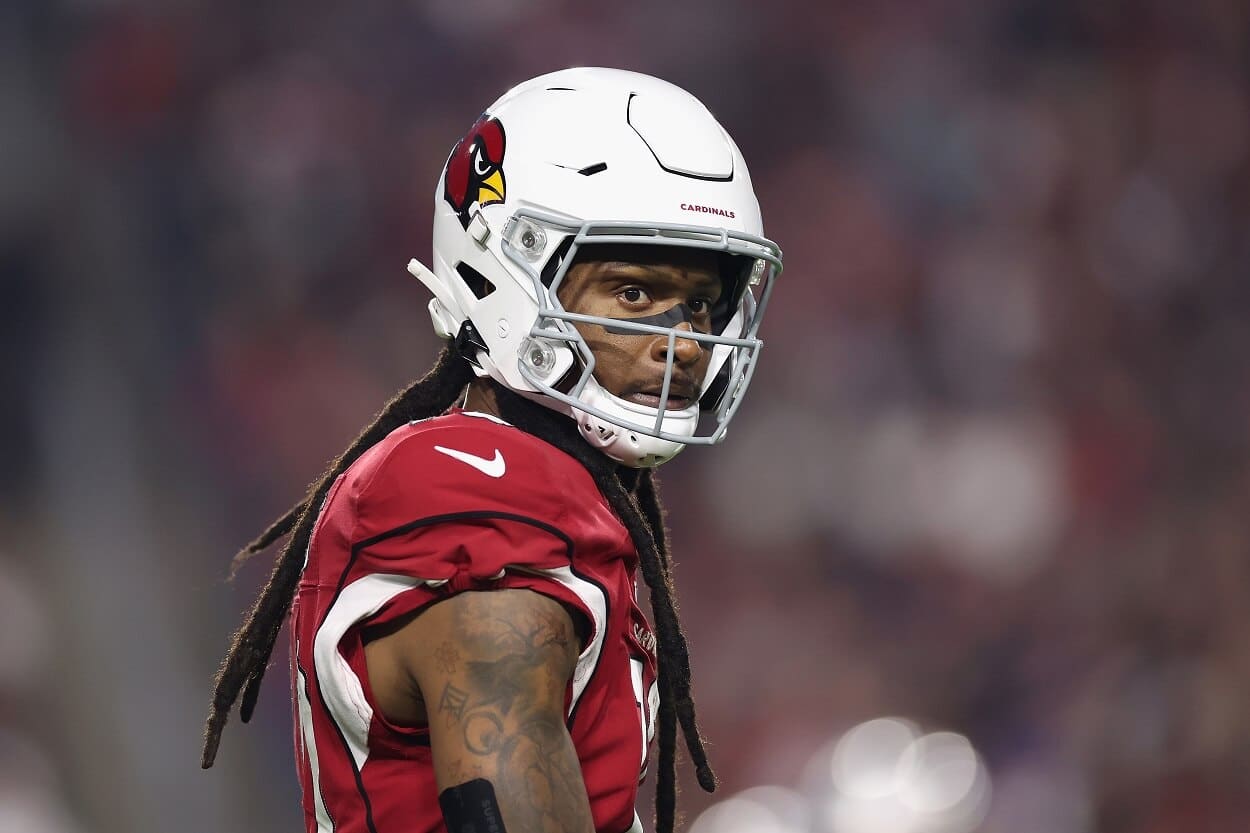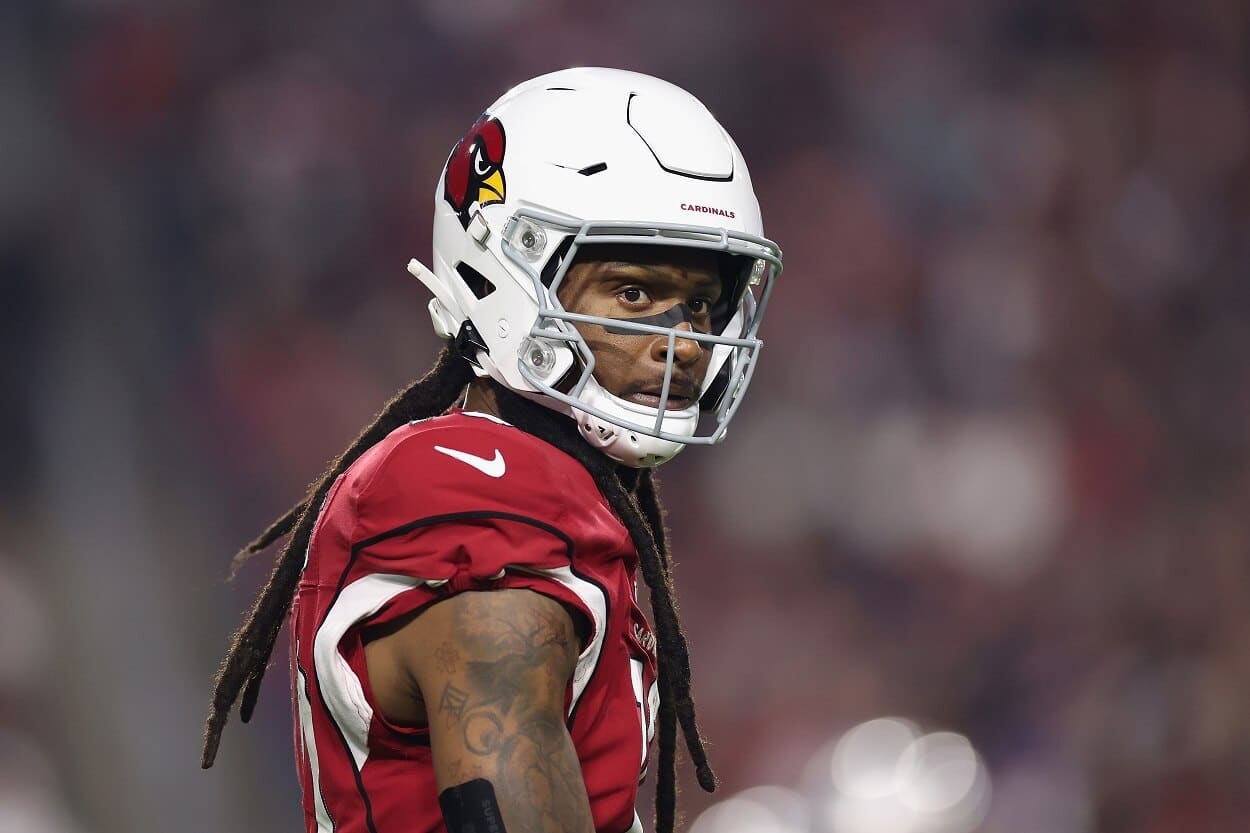 Somehow, the Cardinals could go from having a future Pro Football Hall of Famer headlining their offense to letting him leave for zero compensation. 
Think about that for a second. 
A year ago, DeAndre Hopkins surely would have fetched at least a second-round pick in a deal. In reality, the Cardinals probably could have convinced at least one team to part ways with a top-32 pick for a receiver who, when healthy, is unquestionably a top-five player at his position. 
Earlier this offseason, Arizona could have set a reasonable asking price and found a trade partner. Instead, the front office overvalued an aging, expensive player and seem bound to pay the price. 
If Ossenfort ends up outright releasing one of the team's few established stars, how can that not be viewed as a wild mismanagement of a key asset? Sure, Hopkins may be on the back end of his days as an elite player, but he surely would be the WR1 on at least half of NFL rosters right now. 
Rather than getting back some form of draft capital that could be used to find a new No. 1 target for Murray, the Cardinals look poised to get rid of Hopkins and get nothing back in return. Meanwhile, they'll be left with a massive hole on the perimeter that won't be easy to fill, especially with other needs. 
Arizona is in an awkward position since it committed significant resources to lock up Murray, a player who still comes with questions about his ability to lead the franchise to a championship. With no clear-cut plan and an offense that is on the verge of losing its most impactful weapon, Cardinals fans shouldn't be surprised if their favorite team lands another top-five pick in 2024.
Which NFL teams should be considered the favorites to land Hopkins if he becomes a free agent?
If the Cardinals follow through and free Hopkins from his contract, he should have plenty of suitors calling his agent. Even though he's on the wrong side of 30 and has to prove he can stay healthy, the five-time Pro Bowler possesses the route-running chops and savvy to still be a 1,000-yard receiver for a championship-caliber team. 
So, who could be in the mix for Hopkins if he hits the free-agent market? 
The Kansas City Chiefs have to be viewed as a potential landing spot for multiple reasons. First, they need another high-end pass catcher to take some of the pressure off of all-world tight end Travis Kelce. Plus, you have to imagine Hopkins–who hasn't even come close to winning a Super Bowl ring—would be excited about the prospect of joining forces with Patrick Mahomes. 
However, the Chiefs don't have sufficient cap space to win a bidding war. Still, if Hopkins wants to put himself in the best position to put up big numbers and scratch the final item off his NFL bucket list, he should consider signing an incentive-laden deal with the defending champions. 
Obviously, the New England Patriots badly need a No. 1 receiver. At the same time, it's hard to see Bill Belichick being willing to spend north of $15 million a year on Hopkins. 
In the NFC, the Green Bay Packers, the Seattle Seahawks, and the New York Giants could all use help at the position. Plus, the Carolina Panthers could be a sneaky contender in the Hopkins sweepstakes. 
After all, pairing Bryce Young or C.J. Stroud with an All-Pro wideout and a respected head coach like Frank Reich is a heck of a way to execute a rebuild. 
Either way, one thing seems certain: DeAndre Hopkins won't call Arizona home much longer. 
And if his current employer moves on without receiving a single draft pick in return, it'll be further proof that the Cardinals are far away from competing for a Super Bowl title anytime soon.