De'Angelo Hall Says He Gained Respect for DeAndre Hopkins After Their Legendary Training Camp Altercation
Former NFL cornerback De'Angelo Hall and Arizona Cardinals star wide receiver DeAndre Hopkins were involved in a training camp altercation in 2015. The infamous exchange was featured on HBO's Hard Knocks. Hall revisited the events of that day and had an unexpected reaction to what transpired.
DeAngelo Hall and DeAndre Hopkins got into it on Hard Knocks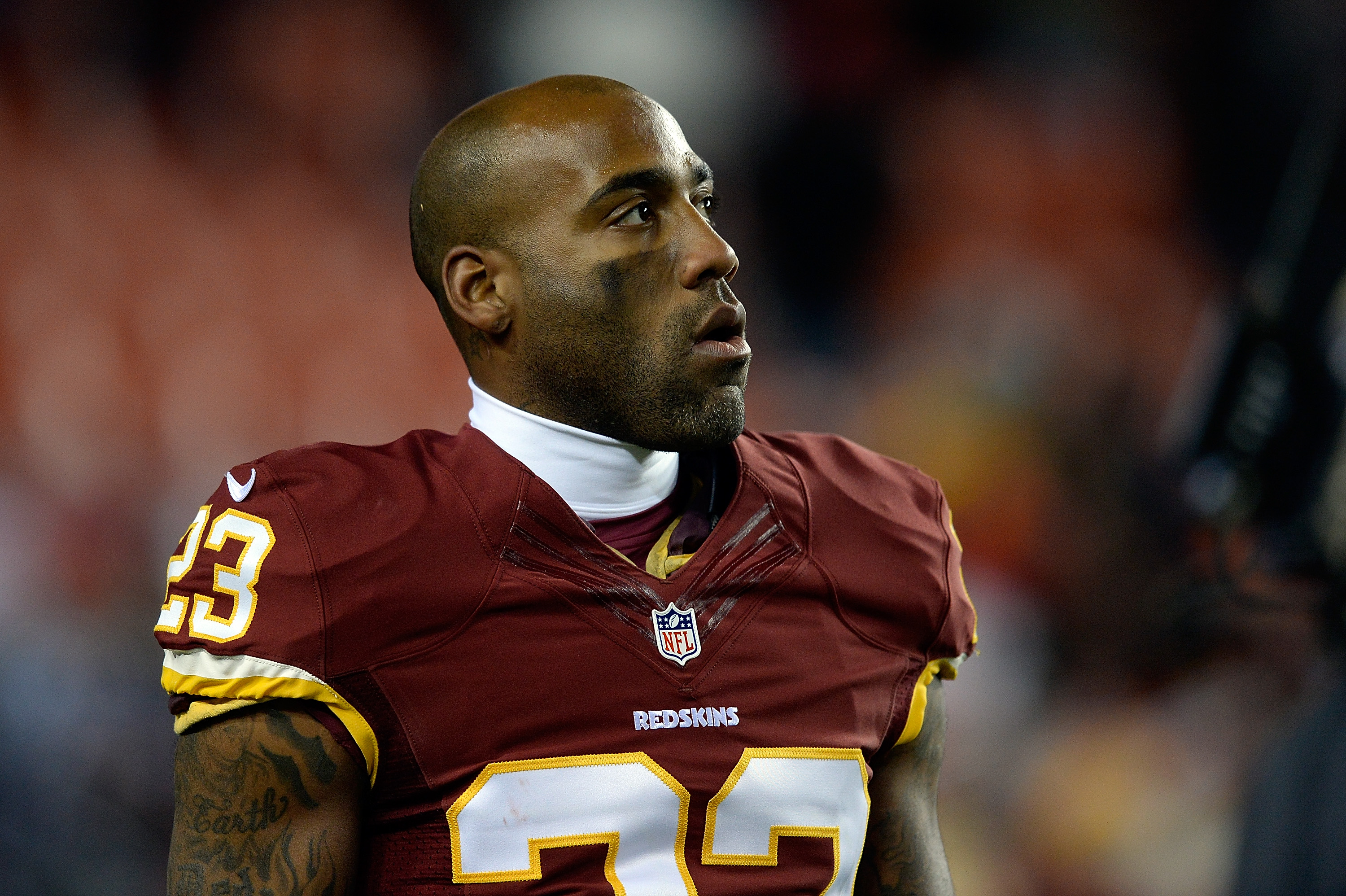 In 2015, DeAngelo Hall was a member of the now Washington Football Team. The Pro Bowl cornerback was in his 12th NFL season and was one of the more experienced players on the team. Washington had a joint practice with the Houston Texans.
Joint practices have become more prevalent, but when two teams get together, egos can sometimes clash. That's precisely what happened between Hall and Texans wideout DeAndre Hopkins. Hopkins was heading into his third season in the league but had already established himself as one of the rising stars at the wide receiver position.
Throughout the week, Hopkins was carving up the Washington defensive backs. The Clemson product dropped one pass, then the opposing defender began talking trash to him. Hopkins beat his man but couldn't finish the play and was visibly upset with himself. As he was walking away, Hall approached him and began talking smack as well. He touched D-Hop, and the receiver took great exception.
We can box. I fear God, homie.

DeAndre Hopkins
The two players started jawing at one another, and it nearly escalated before teammates intervened and separated them. No players threw any punches, but that would not be the end of their battle.
Hopkins broke Hall's ankles later on in the practice
Although the altercation between the two teams didn't turn physical, it still appeared to be weighing heavy on the minds of both players. Naturally, they ended up lining up against one another in the scrimmage.
DeAndre Hopkins was the No. 1 wide receiver for Houston, and De'Angelo Hall was the No. 1 cornerback for Washington. The battle definitely made for great television. D-Hop lined up on the outside, with Hall opposite him. The Texans receiver ran full speed into his route. He stopped on a dime for a comeback route. The Washington cover man tried to plant his foot and reverse direction.
Things didn't end well, as Hall twisted his ankle and went down on the play. The Texans quarterback completed the pass to Hopkins, and the Central, South Carolina native took the time to let people know he won the battle.
"First day of pads, already breaking ankles on the route," he said after seeing Hall on the ground. He continued to trash talk. "I just finish it. I don't start nothing."
On NFL Network's Good Morning Football, the Washington defensive back claimed that he slipped and Hopkins didn't break his ankles. Whether he genuinely believes that or not is unclear, but either way, it looked terrible.
De'Angelo Hall says he gained more respect for Hopkins
Hall went into detail about the events surrounding the altercation and the ensuing play on Good Morning Football. He says the argument began because he was sticking up for his teammate Chris Culliver was matched up with Hopkins.
Culliver was a younger player, just as Hopkins was. Hall felt it was his duty to step in and say something to the Houston wideout. He said he saw D-Hop smack his teammate in the helmet. That exchange cannot be seen in the footage, however. Hall said he tried to check the receiver, and that's when it escalated.
Hall says Hopkins wasn't established yet, so Hall felt a bit disrespected. He also cleared up a discrepancy, saying the infamous play did not occur right after the altercation. Instead, it happened later on in practice.
The Chesapeake, Virginia native watched the Hard Knocks episode back and was not a fan of the fanfare that took place, making fun of him getting hurt. "I needed to talk about this to release some of the anger and frustration," he said. He says his children have to hear about the play from their classmates.
Still, Hall said he gained respect for Hopkins even after the incident. "He was one of the humblest spirit, but he battled back," he said. "When someone comes to challenge you, you don't back down." He says Hopkins has the "dog mentality."
There's no animosity between the players now. Still, to this day, DeAngelo Hall refuses to admit that DeAndre Hopkins broke his ankles.
Like Sportscasting on Facebook. Follow us on Twitter @sportscasting19.