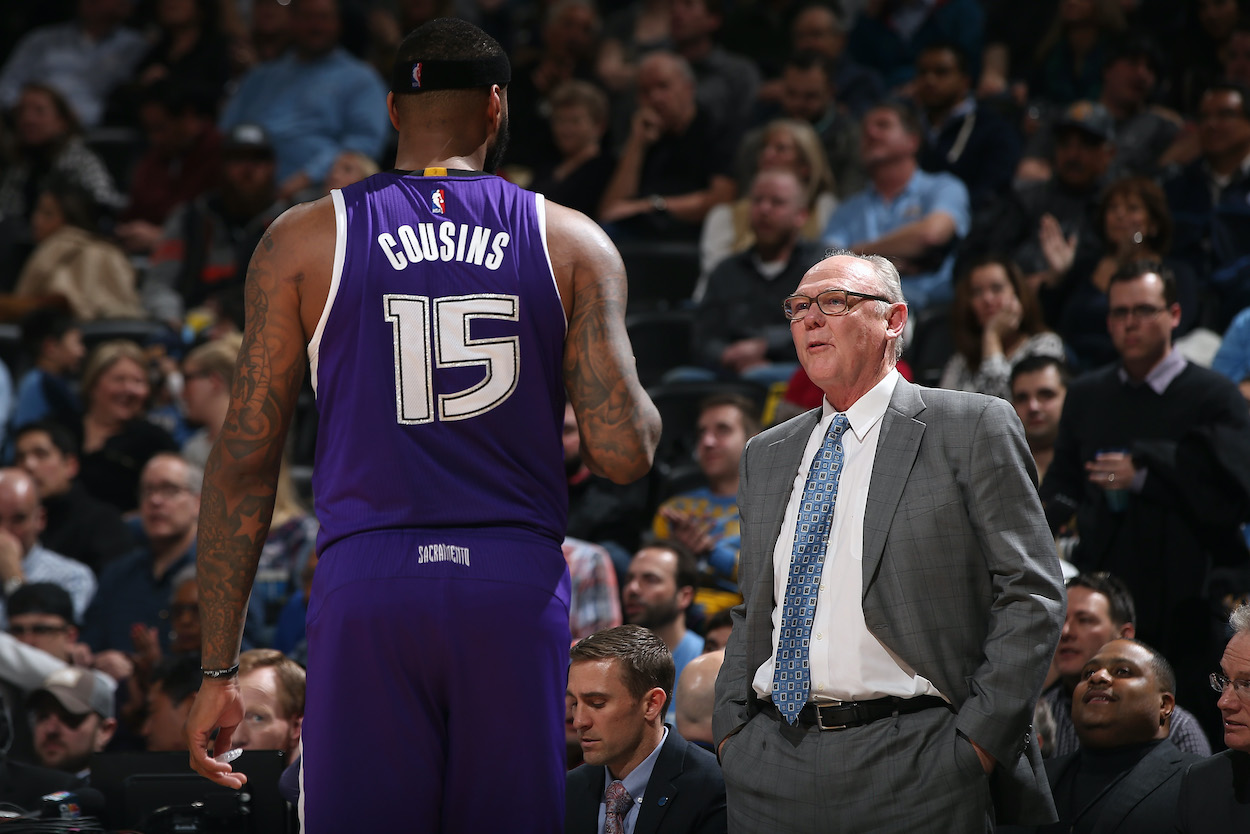 DeMarcus Cousins Got Crushed (Yet Again) by His Former Coach George Karl After the Big Man Took Shots at Sacramento Kings
DeMarcus Cousins and George Karl don't get along and the former coach used Cousins' comments about the Sacramento Kings to take another shot.
DeMarcus Cousins made waves in an interview with ESPN's Marc J. Spears when he absolutely crushed the franchise that drafted him, the Sacramento Kings. That didn't sit right with many in the NBA establishment, including longtime NBA player and head coach George Karl. Cousins' former Kings coach fired back at him on Twitter after the quotes came out, which shouldn't be a surprise considering their history.   
DeMarcus Cousins blasted his first NBA organization, the Sacramento Kings
After one season at Kentucky, big man DeMarcus Cousins declared for the NBA draft. His Wildcat teammate John Wall went No. 1 that year, and, four picks later, the Sacramento Kings took Cousins at No. 5.
Cousins played 470 games for the Kings over six-plus seasons. He averaged 21.1 points, 10.8 rebounds, and 1.2 blocks per game during that time. He also made the All-Rookie team and three All-Star appearances.
Despite the gaudy individual numbers, the team didn't fare nearly as well. His team was 196-362 and only won more than 30 games in a season twice.
Five years and six teams removed from his time in California's capital, Cousins doesn't look back at that time fondly. He recently told Marc J. Spears for an article on ESPN's Andscape.com (formerly The Undefeated):
What did Sac do for me? Besides say my name [draft day]. I did more for them than they did for me. That's just being honest. Just being 100% honest. I had two owners, three GMs, seven coaches in seven years. I was there seven years. I had three GMs, two owners and seven coaches. Not much more needs to be said.

DeMarcus Cousins on the Sacramento Kings
Cousins also told Spears if he could do one thing over in his career, he would have skipped his draft workout with the Kings. Ouch.
Legendary coach George Karl fired back on Twitter
Although George Karl hasn't coached an NBA team since 2016, he still enjoys weighing in on the league he played in during the 1970s and coached in for almost three decades. The polarizing coach's last stint was two years in Sacramento with a disgruntled DeMarcus Cousins.
The two did not get along (more on that below).
They have a history of going at each other on social media, and after Cousins' recent comments went public, the now 70-year-old retired coach saw an opportunity to blast his nemesis one more time.
Retweeting a Hoops Central tweet that contained Cousins' quote about Sacramento from the Andscape article about what Sacrament ever did for him, Karl wrote:
Paid you approx $50M and gave you the opportunity to play professional basketball for a living.

George Karl on DeMarcus Cousins
Karl actually undersold Cousins' career earnings from Sacramento, which are $56.8 million. But the point was still taken. The former coach still doesn't like his former player, which is understandable considering their rocky past.
Karl and Cousins have never got along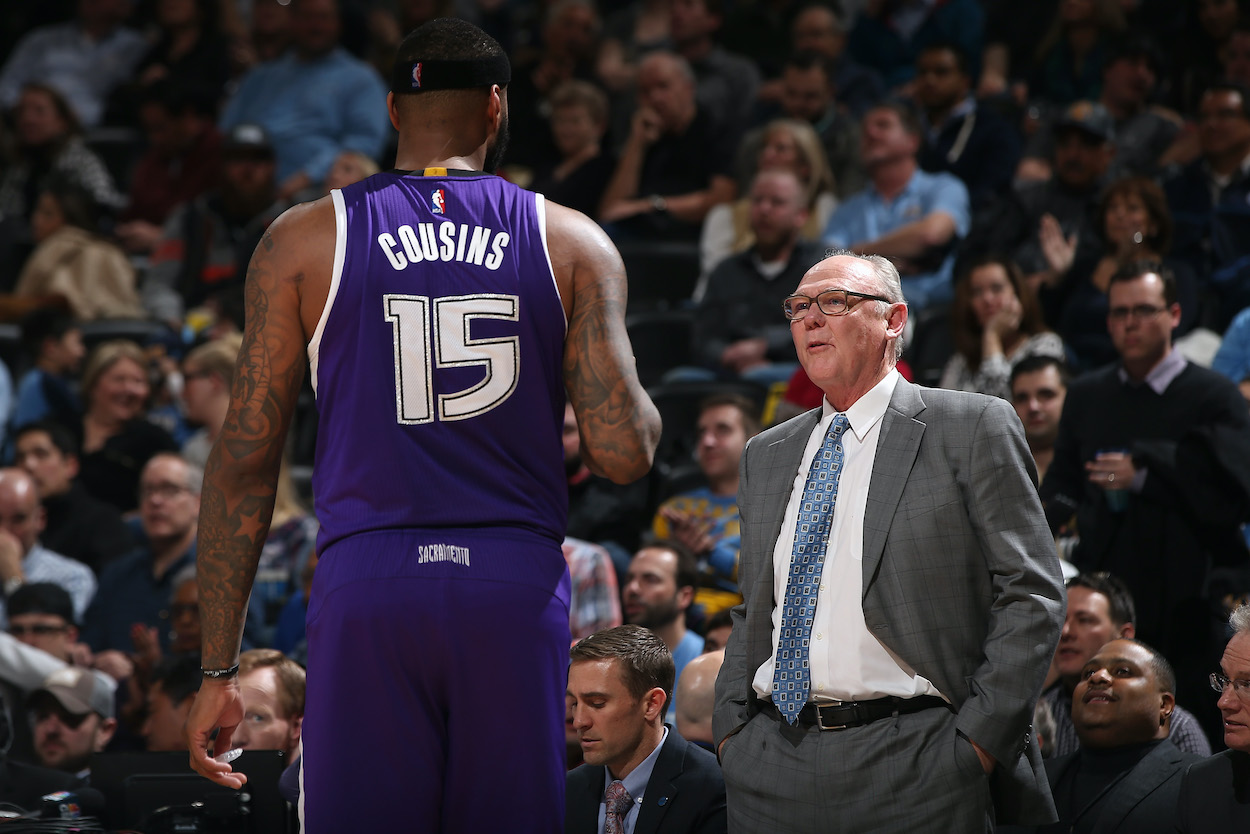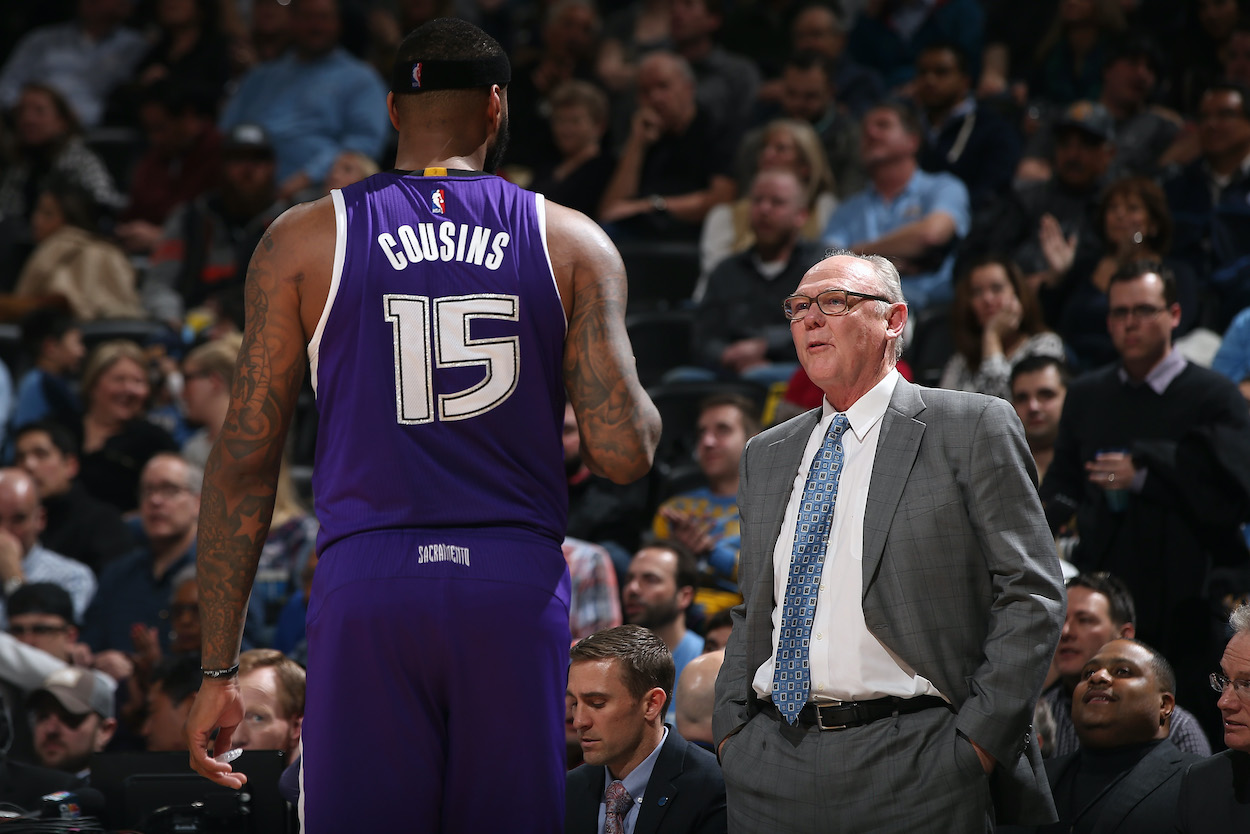 George Karl coached DeMarcus Cousins and the Sacramento Kings for two seasons, from 2014-16. The pair's relationship started bad and ended worse.
Karl replaced head coach Michael Malone, who Cousins had a great relationship with (and who he plays for now with the Denver Nuggets). The team went 11-19 in the final 30 games under Karl, and, before the draft in the offseason, the coach quietly tried to trade the star player.
The trade was unsuccessful, and Cousins wasn't happy about it. He famously tweeted a snake emoji in reference to his coach. Shortly after, the two had an incredibly awkward meeting caught on camera at Summer League.
In 2015, the relationship boiled over, and the pair got into an altercation in the locker room after a blowout loss. At the time, Jason McIntyre of The Big Lead reported that Cousins "stormed into the locker room and cursed out head coach George Karl with a torrent of obscenities."
After less than two seasons, the Kings fired Karl, but the bad blood didn't stop there.
In 2020, Karl took to Twitter to zing Cousins. Retweeting a post by Hoops Hype asking fans which NBA players they "disliked" most 10 years ago and now, Karl wrote "DeMarcus Cousins," followed, of course, by a snake emoji.
Now the ball is in Cousins' court. Let's see if he takes the bait and keeps this long-standing feud going.
All stats courtesy of Basketball Reference