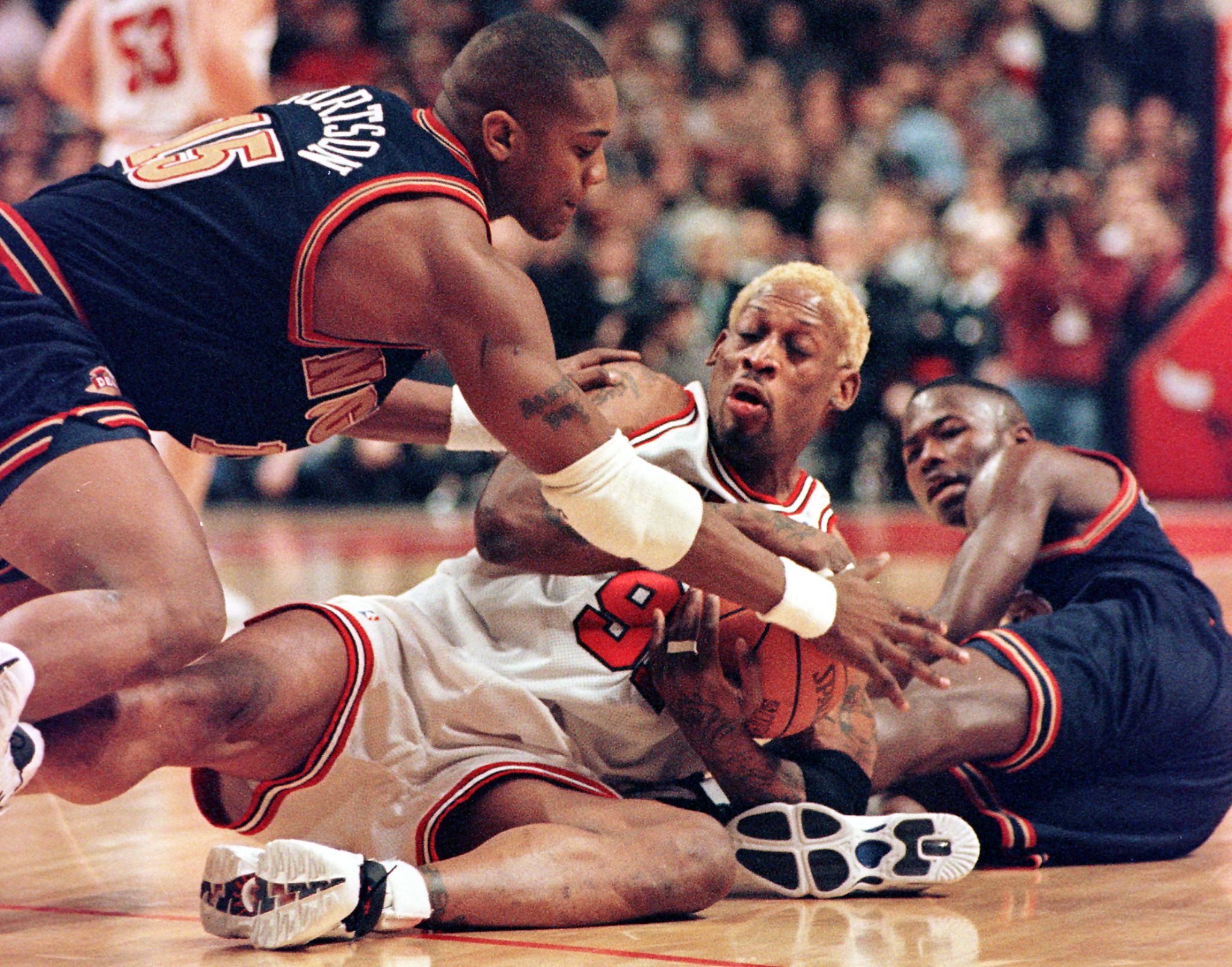 Dennis Rodman Always Pushed the Limits of the NBA's No-Punching Rule: 'He's an Expert at It'
Dennis Rodman tested both the patience of his opponents and the rules of the NBA during his playing days.
Dennis Rodman did a whole lot more than just grab a bunch of rebounds. The Naismith Memorial Basketball Hall of Famer had a way of getting under the skin of his opponents, taking them out of their game. Rodman, who won five NBA titles with the Detroit Pistons and Chicago Bulls was an antagonizer during his days with the Bad Boys and the Bulls.
Rodman tested the patience of his opponents and also tested the NBA's no-punching rule, prompting an agitated George Karl to blast "The Worm" during Karl's coaching days.
Dennis Rodman made the most of his limited offensive skills in the NBA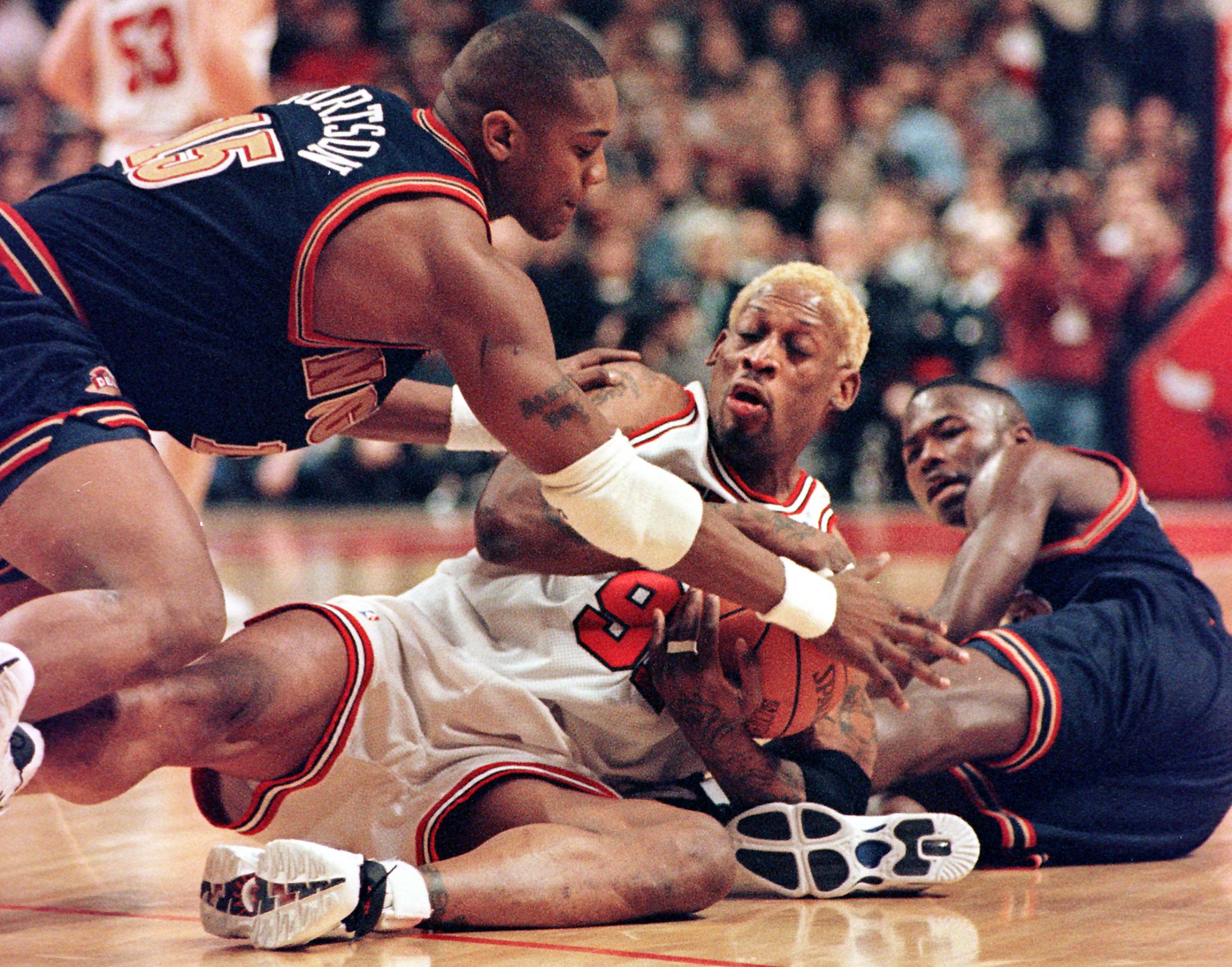 For a guy who averaged 7.3 points per game, Rodman had quite the NBA career. The 6-foot-7, 210-pound forward out of Southeastern Oklahoma State University was taken in the second round of the 1986 NBA Draft. He lasted 14 years in the league, won five titles, and was a two-time NBA All-Star. He was inducted into the Hall of Fame in 2011.
Rodman, limited on the offensive side of the ball, more than made up for it on defense. He used hustle, hard work, and a competitive drive to gain the upper hand. An undersized forward, Rodman led the NBA in rebounding for seven straight seasons. He averaged 13.1 rebounds per game in his career.
Chuck Daly, Rodman's coach with the Pistons, told Sports Illustrated back in 1996 that he believed Rodman was the best rebounder ever. Daly believed he was better than legendary centers Wilt Chamberlain and Bill Russell in the rebounding department.
"Wilt was just bigger and stronger than everyone," Daly said. "Russell was built more along the lines of Dennis, but he didn't have to go up against power forwards and centers as big as the ones Dennis has to face night after night. When you factor size into the equation, I don't know how you could say there's ever been a better rebounder."
Dennis Rodman tested both the patience of his opponents and the NBA rules
Back when he was coaching the Seattle SuperSonics, Karl snapped. He let out his frustrations after Rodman and the Bulls took a 3-0 series lead over his Sonics in the 1996 NBA Finals. Seattle's Frank Brickowski was ejected in Game 3 after a flagrant foul on Rodman. Rodman's antics fired up Karl.
"He's a guy who's taking the no-punching rule (which calls for an automatic one-game suspension) and using it to his advantage," Karl said then, according to United Press International. "He doesn't throw any punches but he throws a lot of elbows and grabs you and does things that can hurt you. He's an expert at it."
Karl was annoyed with Rodman, saying his antics on the court aren't basketball.
 "What he's doing is illegal," Karl said. "It's about getting attention, it's getting the world's attention. It's becoming a joke. Everybody's talking about it and everybody's laughing about it. I mean, aren't the referees looking at film on this guy? I don't know anybody other than Dennis Rodman who can turn the game into a circus and win."
Rodman said a lot of his game was mental
While Rodman went out there and collected his share of rebounds, he also tried to beat his opponent at the mental game. He worked hard at it.
"It is all mental. It's a mind game," Rodman said after Game 3. "You have all the abilities to beat people with your talents, but to beat someone mentally, to get them off their game is very hard." 
Rodman's teammate, Scottie Pippen, said Rodman was a master at getting his opponents off their game.
"I think the little things that he does — banging them (opponents), grabbing them — he works hard at what he does," Pippen said. "After a while, those things tend to get under your skin and bothers players and takes their minds off what they have to do on the basketball court. I think it makes them more apt to retaliate at Dennis instead of playing the game."
Rodman proved to be a winner, not only with his five championships but also by getting into his opponents' heads.