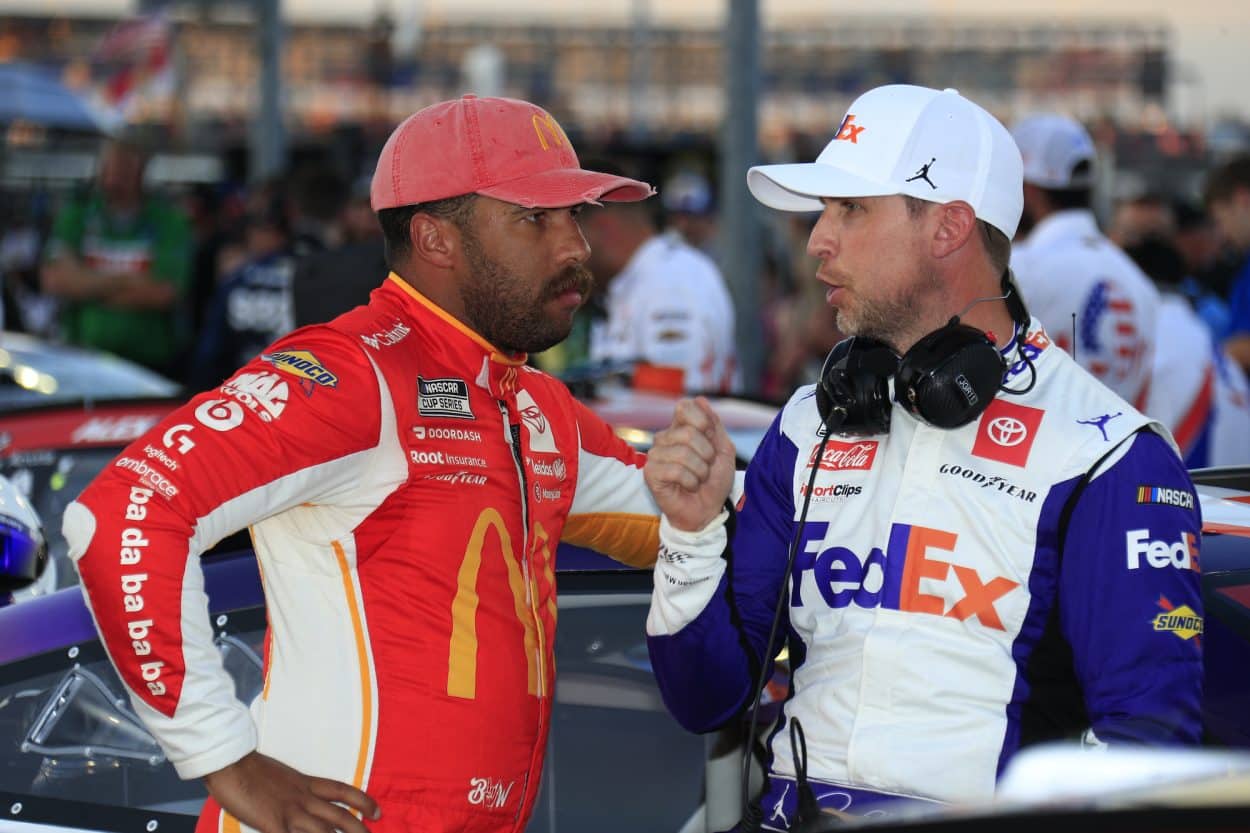 Denny Hamlin Bluntly Admits His Sacrifices for Bubba Wallace Have Cost the No. 11 Team This Season
Denny Hamlin bluntly admitted to reporters that some of his recent issues have been a result of sacrifices he's made for Bubba Wallace.
Denny Hamlin will certainly remember the 2022 NASCAR Cup Series season. It's had more twists, turns, ups, and downs than the six road courses on the schedule this year. 
In what typically would be classified as a bad year — at least by the 41-year-old driver's standards — which has included four DNFs or an amount greater than the past three years combined, he's somehow managed to find his way to Victory Lane on a couple of occasions. However, this past week in Atlanta, the Joe Gibbs Racing driver bluntly admitted one reason for his team's recent struggles is due to a sacrifice he made for his 23XI Racing team and Bubba Wallace.  
Denny Hamlin suffers pit road problems
Denny Hamlin started the season off on a bad note, suffering his worst-ever finish at Daytona, where he ended 37th and earned his first DNF of the year. Alternating between middle-of-the-pack finishes and bad ones, the three-time Daytona 500 winner then pulled off a surprise, putting an entire race together and claiming the trophy at Richmond. 
Since that win in early April, his team has shown some improvement in the last dozen races with three top-10 finishes, including another victory at Charlotte in the Coca-Cola 600. However, despite that progress, there have still been struggles, specifically on pit road.
The most notable problem happened at Dover when Hamlin fell victim to the same fate as many teams this year, losing a wheel on pit road. As a result, he lost his crew chief Chris Gabehart and two pit crew members to suspension. 
Hamlin admits performance suffered due to sacrificing for Bubba Wallace
After appealing the suspension, which NASCAR ultimately upheld, Hamlin's crew chief and pit performers sat out four races, beginning at Charlotte and ending at Nashville. Unsurprisingly, with backups serving in their absence during that time, there were additional issues, including too many crew members in contact with the pit service area in the race at World Wide Technology Raceway. 
This past week before the race at Atlanta, Hamlin talked about his pit crew but did so in the context of the swap of pit crew members from his 23XI Racing car driven by Bubba Wallace with teammate Christopher Bell. During that conversation, the future NASCAR Hall of Famer made a surprising admission.
"I hear a lot of people say, 'Why don't you just give them your guys?' Well, as a matter of fact, to be clear, when I lost two guys, JGR told me that the best option was to take two people from the 23 and put them on my team. They are the best available that we could grab versus taking two reserves that are on the bench waiting to come up. I said, 'No, give me whoever is left. You've got to give that 23 team a chance, more reps to work together to be solid.' 
"We have sacrificed our own performance and anybody who watched, we didn't have the best pit road performance over the last four weeks. We had fast cars. We just thought that that was the best thing that could happen. I'll take whoever's left on the bench that's in reserve and let Bubba's team continue to get reps because they are so young. They need time." 
Sacrifice didn't help Wallace
Unfortunately for Wallace, Hamlin's generosity in allowing him to keep his pit crew members instead of poaching them at the suggestion of higher-ups at JGR didn't even make a difference. The No. 23 pit crew struggles continued as Hamlin's hopes of them growing better as a group never came to fruition.
Last week the organization did something about it when it announced a swap of several pit crew members between Wallace and Bell. Hamlin said the hope with the shake-up was that it would allow the teams to find chemistry with the new members and grow together as the teams make a push toward the playoffs (Wallace will have to get in with a win).
At the first race in Atlanta following the exchange, Wallace's pit crew went without incident, while Bell's team suffered a loose wheel on pit road. Not exactly what JGR officials envisioned to start but there's still plenty of time for the teams to figure it out and get it together. 
Like Sportscasting on Facebook. Follow us on Twitter @sportscasting19 and subscribe to our YouTube channel.