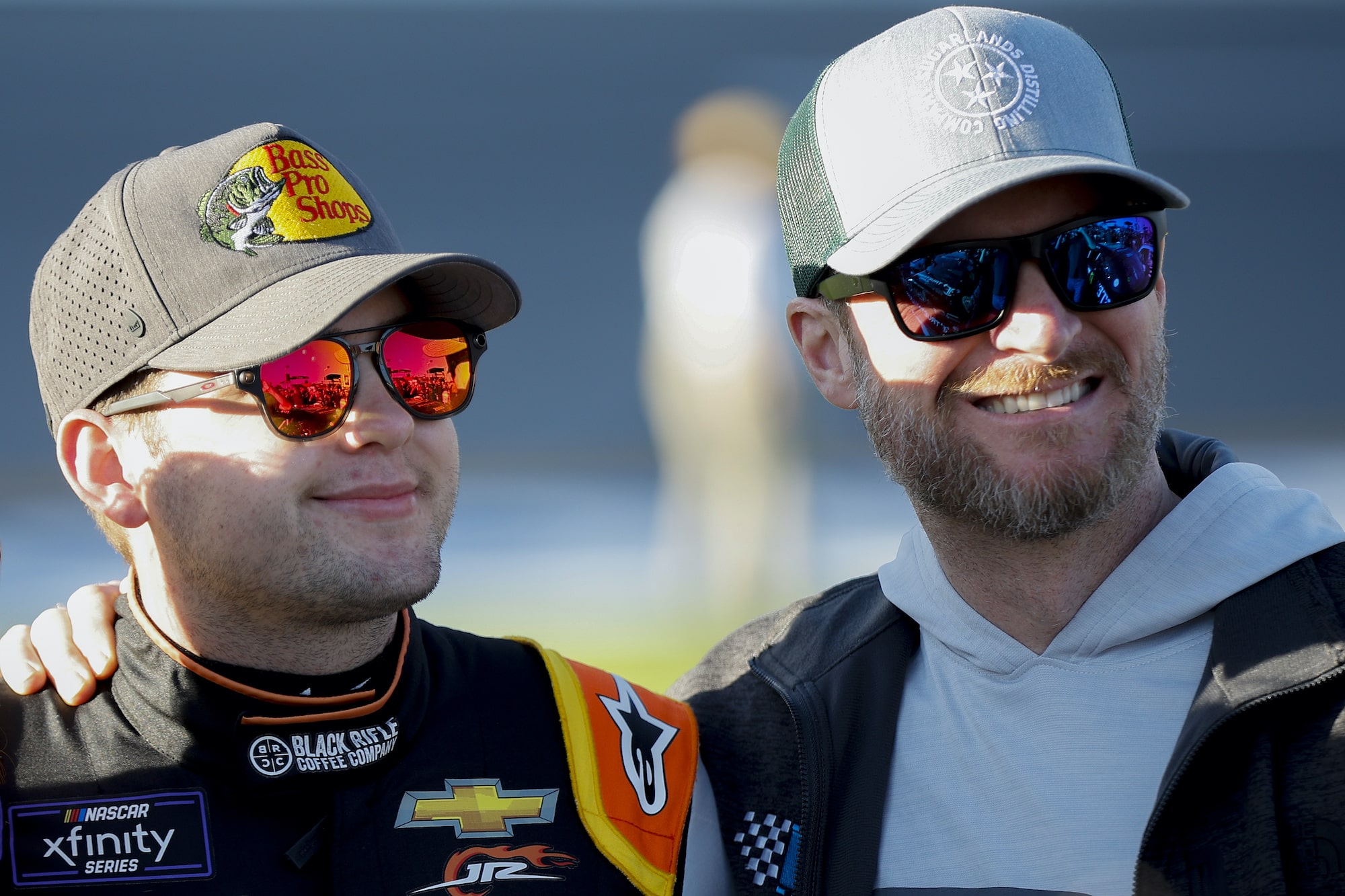 Denny Hamlin Pushes Back on Suggestion for NASCAR Expansion to Get JR Motorsports Up to Cup Series and Dale Earnhardt Jr. Agrees
Dale Earnhardt Jr. agreed with Denny Hamlin this week that expansion might not be the best answer in moving his JR Motorsports team to the Cup Series.
Dale Earnhardt Jr. co-owns JR Motorsports, which is currently the top Xfinity Series organization, with its cars winning five out of the last seven races. But Junior isn't content racing in the second-tier series and has expressed an interest in moving up to the Cup Series for more than a year. 
This week it was suggested on Twitter in order to make that move happen, NASCAR needs to consider expansion of its team charter system. 23XI Racing co-owner Denny Hamlin responded with a legitimate question suggesting that might not be a fair solution. Earnhardt agreed.  
Dale Earnhardt Jr. wants to go Cup Series racing
For years Dale Earnhardt Jr. insisted he had no interest in Cup racing. That stance dramatically softened last year and the NASCAR Hall of Famer has now been much more open about his desire to race at NASCAR's highest level. Last week before the race at Nashville, Junior even offered a suggestion of who he'd like to be driving for the team. 
"I was hoping that Martin (Truex Jr.) would want to come over and help us start our Cup team at JR Motorsports," he said during a live version of the Dale Jr. Download. "That's coming full circle. I mean, I helped him get started, so he might as well help us come get started."
While Truex would be a dream scenario, it would make more sense to just promote one or more of his drivers from his current Xfinity teams. In either case, the two-time Daytona 500 winner admits they are working behind the scenes to make it happen. 
"I wish it was that easy," he acknowledged. "We want to go. We are working our tails off trying to exhaust every opportunity. We want to go Cup racing. JR Motorsports absolutely wants to be in the Cup Series."
Expansion suggested; Hamlin and Earnhardt respond
Not surprisingly, fans have readily proposed their own ideas of how Earnhardt's organization could make the move. This week, Couch Racer, which is a merchandise brand co-owned by a couple of NASCAR spotters, including Freddie Kraft, who spots for Bubba Wallace and is a co-host on the Door, Bumper, Clear podcast under Earnhardt's Dirty Mo Media umbrella, suggested on Twitter that NASCAR expand the team charter system from 36 to 40 and go back to 43 car fields. 
"When team owners like @DaleJr and Kelley say they want in that's a sign expansion is needed," the account tweeted.
Kraft's boss at 23XI Racing, Denny Hamlin, responded with a fair question. 
"What about all the teams that just spent a lot to get in?" the three-time Daytona 500 winner asked.
"That is absolutely the first question that deserves an answer," Earnhardt replied. 
Hamlin agrees Earnhardt would be good for Cup Series but it must be done fairly
After that initial exchange, Earnhardt dropped out of the conversation, but Hamlin and the Couch Racer account continued with an interesting dialogue. The brand proposed the establishment of fair market value and recommended a certain value would be paid by the expansion teams and then distributed amongst the top-25 teams in points.
"It will be hard to establish FMV," Hamlin countered. "Each transaction has had other factors attached to it. You can't dilute the first 36 also. It's just not as easy as you think. That's why other leagues charge a large amount for expansion teams."
Couch Racer suggested "there's a way," but also acknowledged not every team provides the same "value," then asked Hamlin what he was willing to pay for a third charter.
"You have a point with your first statement but you gotta give credit to those who made the financial investment years ago," the JGR driver said. "I think we all agree that @DaleJr would be a great asset to cup ownership but the path in probably needs to be the same as it was for everyone else no?"
There's absolutely no doubt Dale Earnhardt Jr. will own a Cup Series team in the future. What remains in doubt is when and how it happens.
Like Sportscasting on Facebook. Follow us on Twitter @sportscasting19 and subscribe to our YouTube channel.