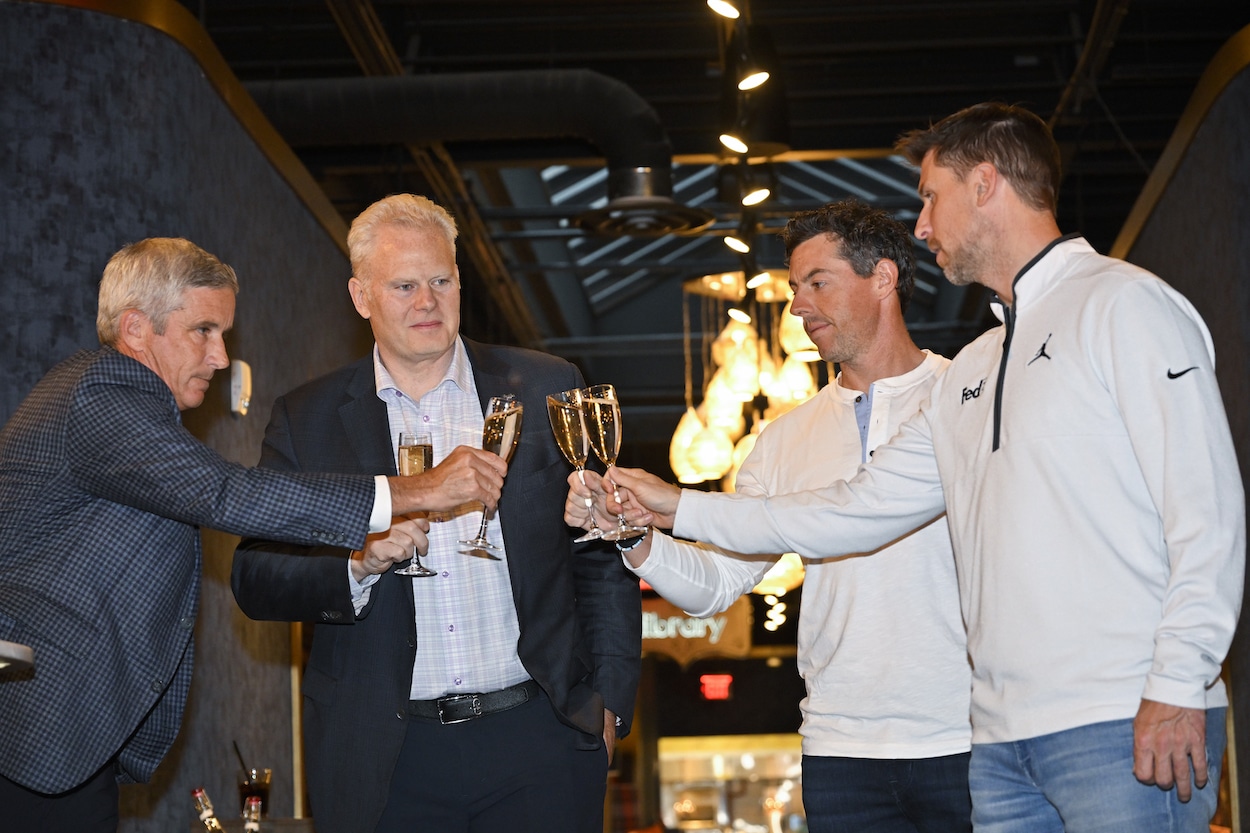 Denny Hamlin Reveals Details of Conversation With PGA Tour Commish, Including Talks of Stalled Negotiations, and How He Wished NASCAR Would Realize the Importance of Its Stars 
Denny Hamlin detailed his conversation with PGA Tour Commish Jay Monahan, including how NASCAR negotiations aren't going well and how he wished the sanctioning body would realize the importance of its stars.
Denny Hamlin had a week to remember last week. While scoring his first win of the 2023 NASCAR Cup Series season at Kansas would undoubtedly be the highlight, the Joe Gibbs Racing driver also had an opportunity to participate in a FedEx event with golfer Rory McIlroy, who was in town for the PGA Tour's stop at Charlotte. Tour Commissioner Jay Monahan also attended the event.
This week on the driver's podcast, he revealed the details of his conversation with the sport's leader, including how he revealed that negotiations aren't going well and how he hoped NASCAR officials would come to the realization, like the PGA Tour, that the stars — drivers in this case — are the most important piece of the overall product.  
Denny Hamlin's week ended with his first win of the year
Denny Hamlin didn't mince words a week ago after finishing fifth at Dover, blasting his pit crew for its "atrocious" performance in that race and, on a broader scale costing him wins over the last couple of seasons. 
After a meeting with the team owner, crew chief Chris Gabehart went to work with his crew members, including an early-morning meeting. They identified the problems and came up with solutions. And apparently, it worked.
There was only one problem on pit road Sunday at Kansas, and that was the driver missing his marks during one of the stops. The pit crew performed flawlessly and was an integral part of the No. 11 team earning its first win of the 2023 campaign. 
Hamlin meets PGA Tour commissioner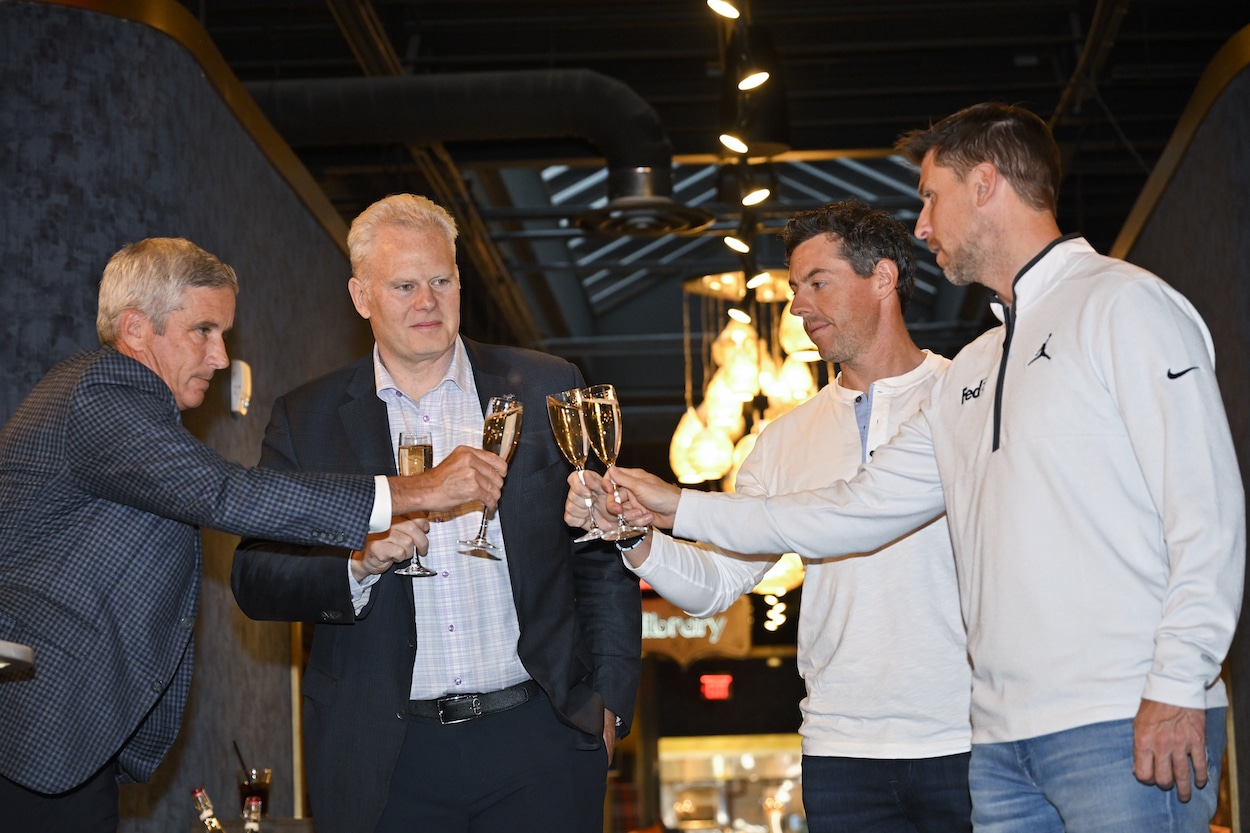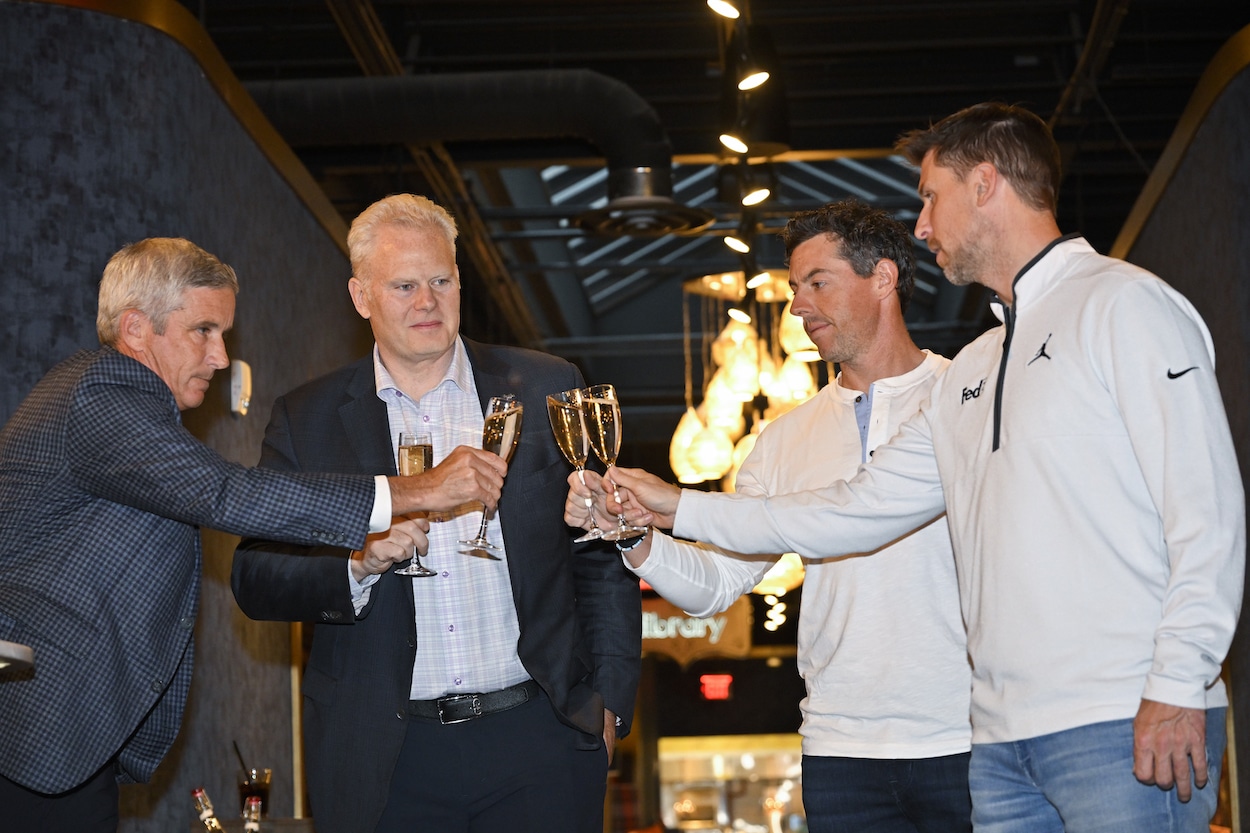 This week on his Actions Detrimental podcast, it's understandable how the three-time Daytona 500 winner would be excited to talk about his first win of 2023. However, before he dove into the details of that victory at Kansas, he went back through the week that was and talked about doing several special things, including a trip to Washington, D.C., where he walked through the halls of the Pentagon and the humbling opportunity to lay a wreath at the Tomb of the Unknown Soldier. 
In addition, back home in Charlotte and with the PGA Tour in town, the 42-year-old was invited to a FedEx-related event that included golfer Rory McIlroy and commissioner Jay Monahan. 
"Had an event with Rory McIlroy with FedEx. That was really good," Hamlin said on his podcast. "I actually got to talk to Jay Monahan from the PGA Tour. They increased their purses like a hundred and something percent in the offseason. A lot of that probably from LIV and the competition there. They've given the players a fair share. 
"Interesting, I don't know that he knows who I am or knew who I was, but immediately, he was like, 'So how's the NASCAR negotiations going on?' I'm like, oh boy, you're digging right in there. I'm like, 'Ah, you know, it's eh right now. It's not great.'" 
The driver said Monahan's initial question tipped him off on his awareness of the NASCAR negotiations, and he knew Hamlin's role as a co-owner with 23XI Racing.
"He's like, 'Where are y'all at? How's things going? We realized that the PGA Tour — that the players are the most important part of our product, and that's why we got to an (agreement).' I was like, 'Could you call someone up and let them know that?' He was like, 'Y'all will be fine. You'll get it figured out because everyone's going to realize eventually that the stars are what makes this.'"
Negotiations not going well is the big takeaway
While it's understandable how Hamlin would like NASCAR to adopt the PGA's newest model and increase the piece of the pie for the sport's stars, the only way that happens is through negotiations, which are currently underway, and based on what the driver/co-owner had to say, they're not going well.
That fits in line with the news from last month when team owners effectively boycotted their meeting with NASCAR execs to show their dissatisfaction with the governing body over several items, including disagreement over making the charter system permanent. 
Hamlin's words are the most recent update on the situation and show that the two sides are still not close to reaching an agreement. It's hard to hear about his conversation with Monahan and not compare the two sports, and see if there is a possibility that some drivers might break away and compete in another series, similar to what happened with LIV Golf. 
There were reports at the end of 2022 that the Race Team Alliance, a coalition of NASCAR teams that discusses issues and opportunities in the sport, had hired a sports marketing agency to research the possibilities of drivers participating in exhibition races outside of the NASCAR umbrella, both domestically and internationally. It was reported these could begin as early as the 2023 offseason.
Who knows if that will happen? But Hamlin's latest comments certainly don't do anything to dissuade you from thinking it still might be a possibility.
To stay up to date on the latest happenings in NASCAR, including breaking stories you can't find anywhere else, follow Kyle on YouTube and Twitter.