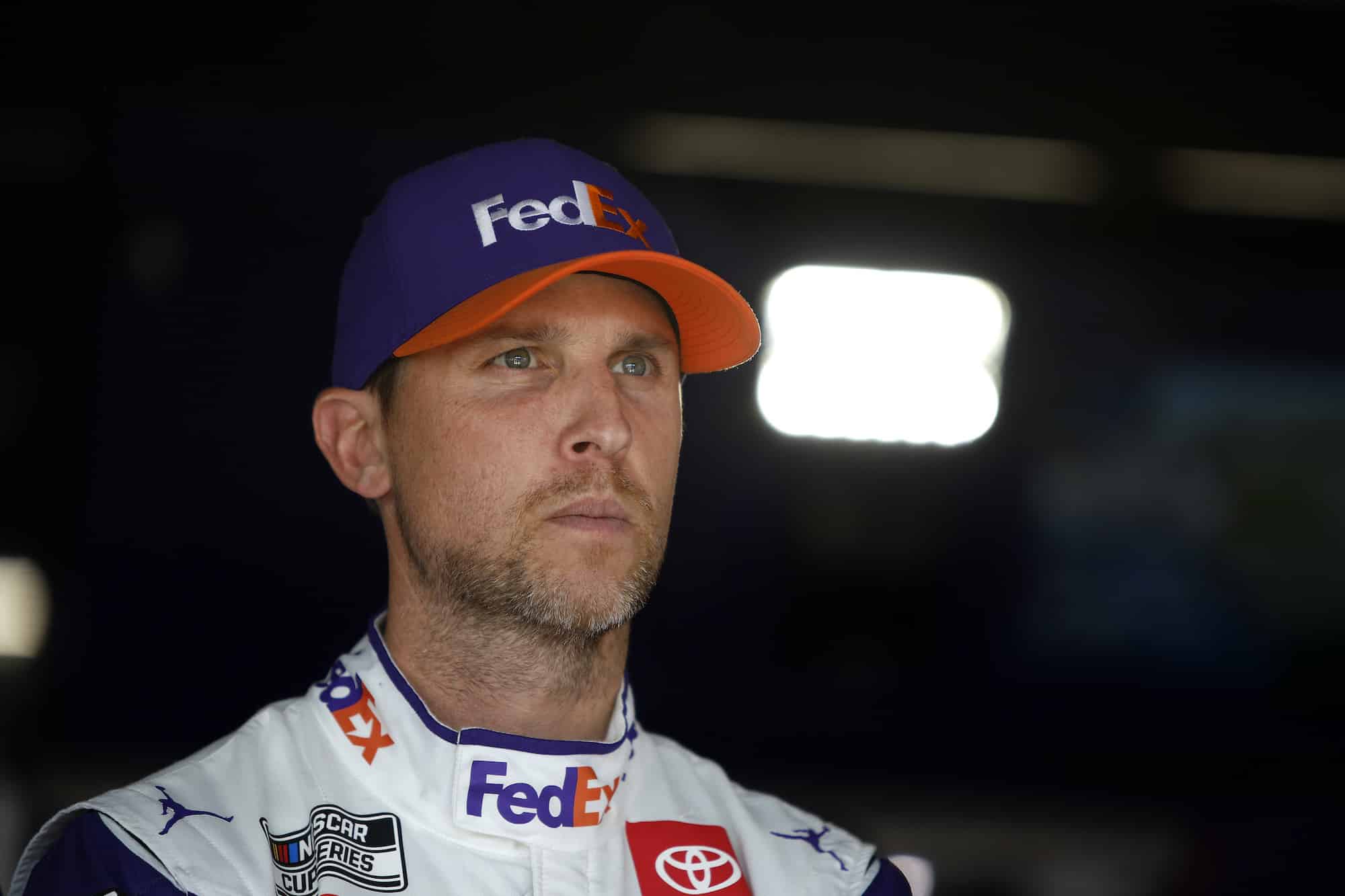 Denny Hamlin Wants You to Forget the Recent Past Because It's Embarrassing and Shows Just How Little Respect Some Drivers Have for Him
Denny Hamlin's latest incident with Ross Chastain just added another number to an embarrassing stat and shows that he doesn't have the respect of certain Cup Series drivers.
Denny Hamlin will one day be in the NASCAR Hall of Fame. Despite not winning a championship, he's posted those kinds of numbers, including 48 Cup Series wins. The three-time Daytona 500 winner has maintained a high level of success over the last 17 seasons.  
However, in the last year, the 41-year-old has shown he has a weakness. Several of the younger competitors in the series have opted to exploit it. If the Joe Gibbs Racing driver doesn't make a dramatic shift in his approach going forward, it will be a part of his legacy many will remember him for just as much as the victories.  
Denny Hamlin dumped by Ross Chastain and promises retaliation 
Denny Hamlin wasn't going to willingly acquiesce and let Ross Chastain pass him on Sunday at World Wide Technology Raceway. He was going to make the Trackhouse Racing driver earn it. 
After laps of unsuccessfully trying to make the pass, the watermelon farmer grew impatient and dumped the No. 11 going into the corner early in Stage 2. The veteran responded by running the No. 1 car low on the track, grazing him on a restart, and deliberately blocking and preventing him from passing for a lap around the track. 
Following the race, the 29-year-old driver profusely apologized for making multiple mistakes. A surprisingly calm Hamlin responded and said it was not over.
"The sport is self-policing and usually, when you least expect it, and it means the most is when it comes back around," he told reporters. You have to just fence these guys hard. Just to kind of get their attention. It's going to have to be meaningful. It's going to be on a meaningful day."
Chase Briscoe dumps Hamlin at Indianapolis
That's the first time Denny Hamlin has been dumped this season. It's the third time it's happened in the last nine months. Rewind to August last year and the Indianapolis Motor Speedway road course. 
The JGR driver appeared to be the favorite late in the race, leading the field to green in the second overtime restart when he forced Briscoe into the grass on turn 1. The Stewart-Haas Racing driver responded by cutting off turn 2, rejoining the track directly behind the veteran, and spinning him moments later, ending his chances at victory. 
Hamlin confronted Briscoe on pit road after the race and listened to the rookie explain his side of the story. 
"I agree it's not on purpose, but my team told me that he had a penalty right away and to me, it's obvious," Hamlin said afterward. "If you cut the racetrack and end up in the lead, you're going to have a penalty. Lack of awareness. Race me for a lap. He went right in the back of me. We can't race that way. I don't think he did it malicious. I've raced with him for a year now. He's not that kind of person, just bad judgment."
Alex Bowman dumps him at Martinsville
Fast forward a few months to October at Martinsville. Denny Hamlin had won two playoff races and was locked into the Championship 4, which would happen the following week at Phoenix. 
On the short half-mile track, the No. 11 appeared to be the dominant car late, taking the lead with just over 100 laps remaining. Alex Bowman was his closest pursuer. Similar to Chastain and Briscoe, the No. 48 car drove straight into the rear of the JGR car and sent him up into the outside wall with seven laps remaining. 
Bowman went on to victory and apologized for getting "loose." Hamlin went ballistic, including interrupting the HMS driver's victory celebration and cursing on national television.
"He's just a hack," Hamlin said in the postrace interview as fans showered him with boos. "Just an absolute hack. He gets his ass kicked by his teammates every week. He's f****** terrible. He's just terrible. He sees one opportunity, he takes it. Obviously he's got the fast car of the week, and he runs 10th. He didn't want to race us there. We had a good, clean race. I moved up as high as I could on the racetrack to give him all the room I could, he still can't drive."
Notice a pattern here? Younger drivers seeing the No. 11 in front of them and deciding if they can't pass him, they'll just dump him and apologize later. There is no fear of consequences. In the previous two instances, Hamlin responded with words but no actions. Why should anyone believe this time will be different? 
Like Sportscasting on Facebook. Follow us on Twitter @sportscasting19 and subscribe to our YouTube channel.