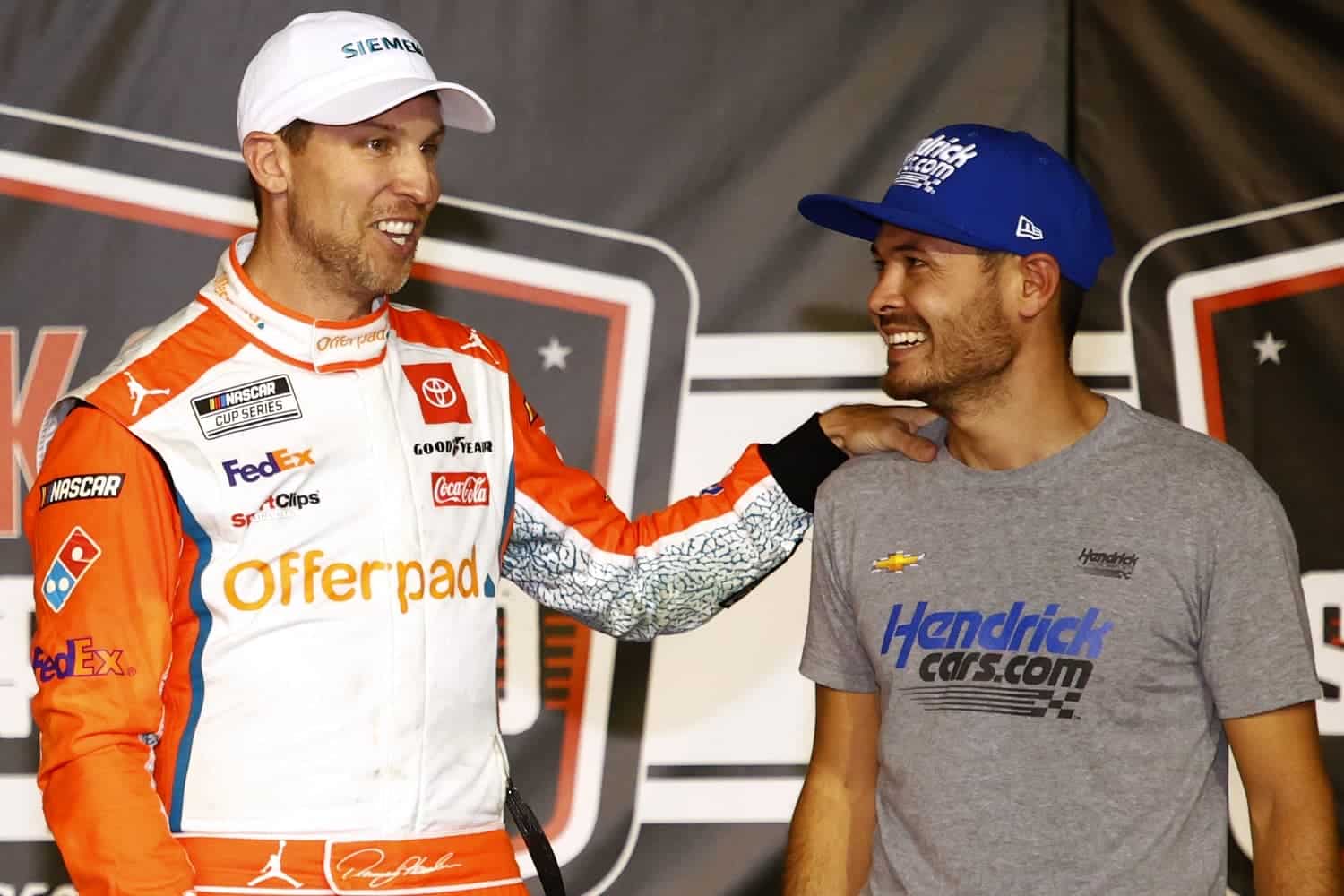 Denny Hamlin and Kyle Larson Phone Calls Illustrate How Much Drivers Fear NASCAR's Iron Fist
Denny Hamlin and Kyle Larson both got unexpected phone calls from top NASCAR executives recently, which is seldomly good news.
If Denny Hamlin and Kyle Larson had checked their calendars, they would have realized it was Austin Dillon's week to take the hit. But such is the level of paranoia among competitors that even NASCAR executives bearing good news are eyed with dread and suspicion.
Of course, it didn't help that the two Cup Series stars have had their recent brushes with the long arm of the NASCAR law recently.
Kyle Larson escaped the Ryan Preece episode without punishment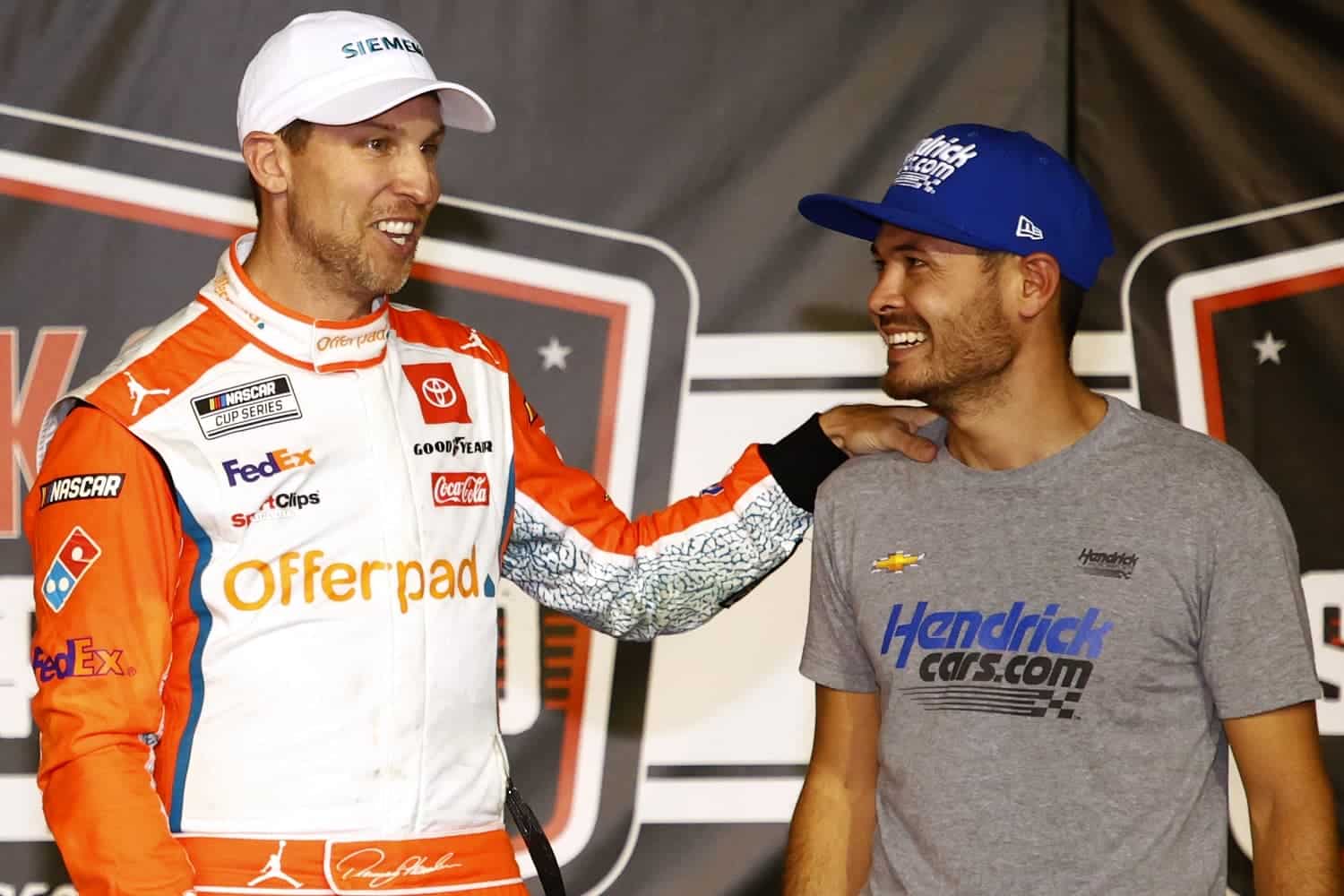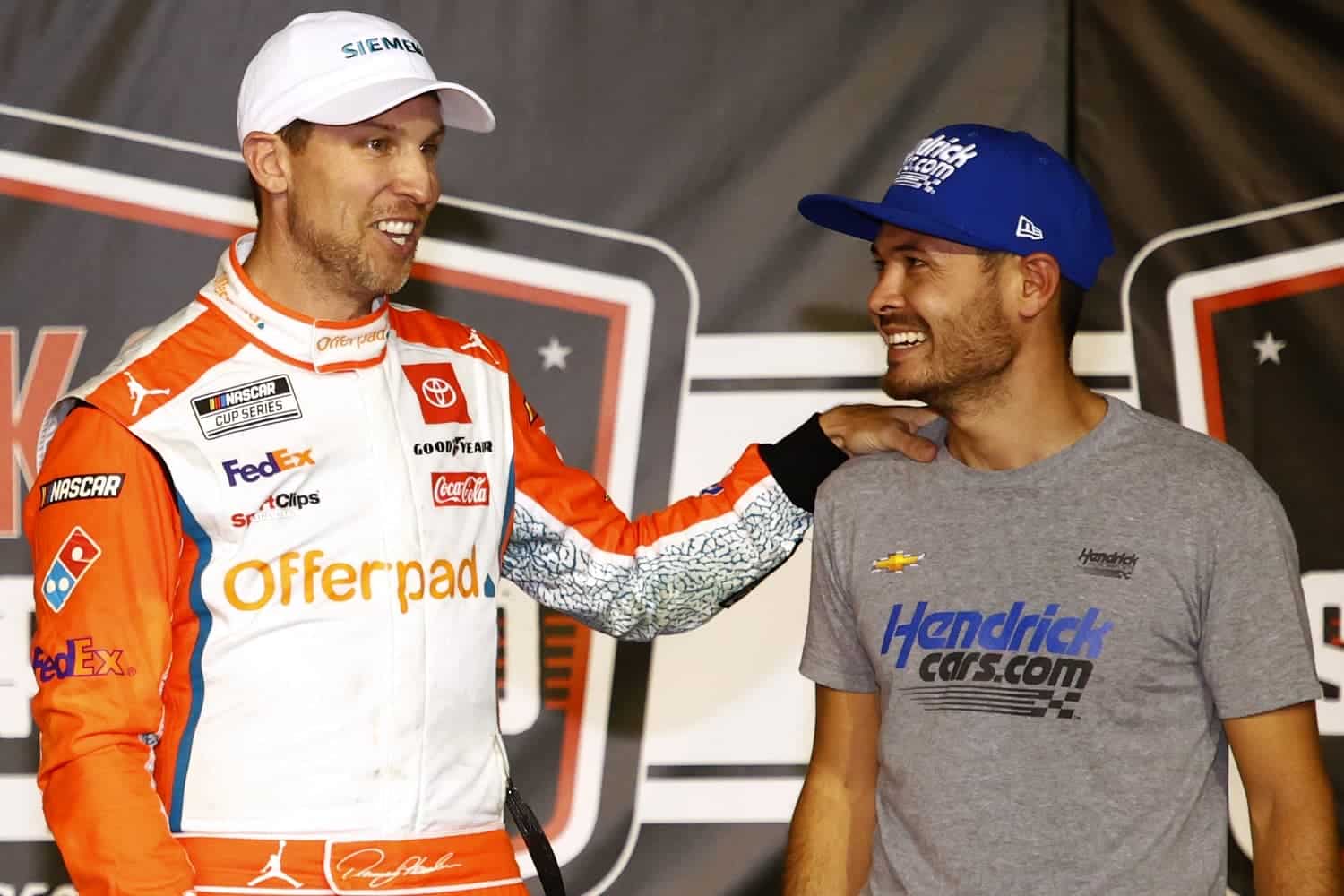 Denny Hamlin is still smarting from the penalties assessed after he admitted rubbing Ross Chastain into the wall at Phoenix, a race that feels like it was ages ago. Hamlin lost his appeal, which left him out $50,000 and 25 championship points.
Kyle Larson's No. 5 Chevy was one of the four Hendrick Motorsports cars penalized for modifications to hood louvers. Though fines and suspensions stood, all the cars got the 100 championship and 10 playoff points restored upon appeal. NASCAR then turned around and impounded the cars of two of Larson's teammates for inspection at the R&D center, landing the Alex Bowman and William Byron teams new penalties.
More recently, Larson and Ryan Preece of Stewart-Haas Racing went jousting at the Bristol dirt race. Nothing came of that in the immediate aftermath, but Larson apparently had lingering concerns he might be hearing from NASCAR.
That takes us to last weekend at Martinsville, where NASCAR impounded the No. 3 Chevy of Austin Dillon for additional inspection and turned up issues. NASCAR cited a violation of the rules regarding underwing assembly mounting and stay assembly hardware.
Consequently, the team lost 60 driver and owner championship points plus five playoff points. Crew chief Keith Rodden;s punishment was a two-race suspension and $75,000 fine.
Denny Hamlin and Kyle Larson heard from NASCAR executives recently
Aside from the incidents mentioned above, several other drivers and teams have felt NASCAR's wrath this season, whether instances of impounded cars or punishment for Daniel Suarez over bad behavior at COTA.
It's understandable, then, that drivers are no more eager to get a phone call from NASCAR than we are to get a letter from the IRS. Denny Hamlin and Kyle Larson each got the associated queasy feeling in recent days when their phones rang.
Hamlin's phone call came from Jim France, the CEO and chairman of NASCAR.
"My first thought was, 'Oh, s***. Here we go again.' PTSD, for sure," Hamlin said, according to racing reporter Kelly Crandall.
France's reason for calling was harmless, Hamlin would soon learn. He was calling to tell the Joe Gibbs Racing veteran he made the cut as one of NASCAR's 75 greatest drivers. That's in conjunction with the Cup Series' 75th season celebration.
"It was a good phone call," Hamlin said. "It was very good to hear."
Larson's phone call was potentially more ominous since Mike Helton is the vice chairman and chief operating officer, which puts him closer to the day-to-day operations – including disciplinary matters. Thus, Larson instantly flashed back to the incident with Ryan Preece.
"I'm like, 'S***. It's Thursday, are you guys going to suspend me this late in the week?'" Larson told Crandall.
Never fear. It was another notification about the greatest drivers list.
NASCAR will honor the drivers at Darlington
NASCAR picked its 50 greatest drivers in 1998 as part of the 50th-anniversary celebration. The organization began naming the 25 additions one at a time this month, and are being honored at Darlington in May.
Aside from Hamlin and Larson, the new picks thus far are Greg Biffle, Chase Elliott, Kasey Kahne, Randy LaJoie, Sterling Marlin, Ryan Newman, and Hall of Fame inductees Mike Stefanik and Tony Stewart.
Got a question or observation about racing? Sportscasting's John Moriello does a mailbag column each Friday. Write to him at [email protected]