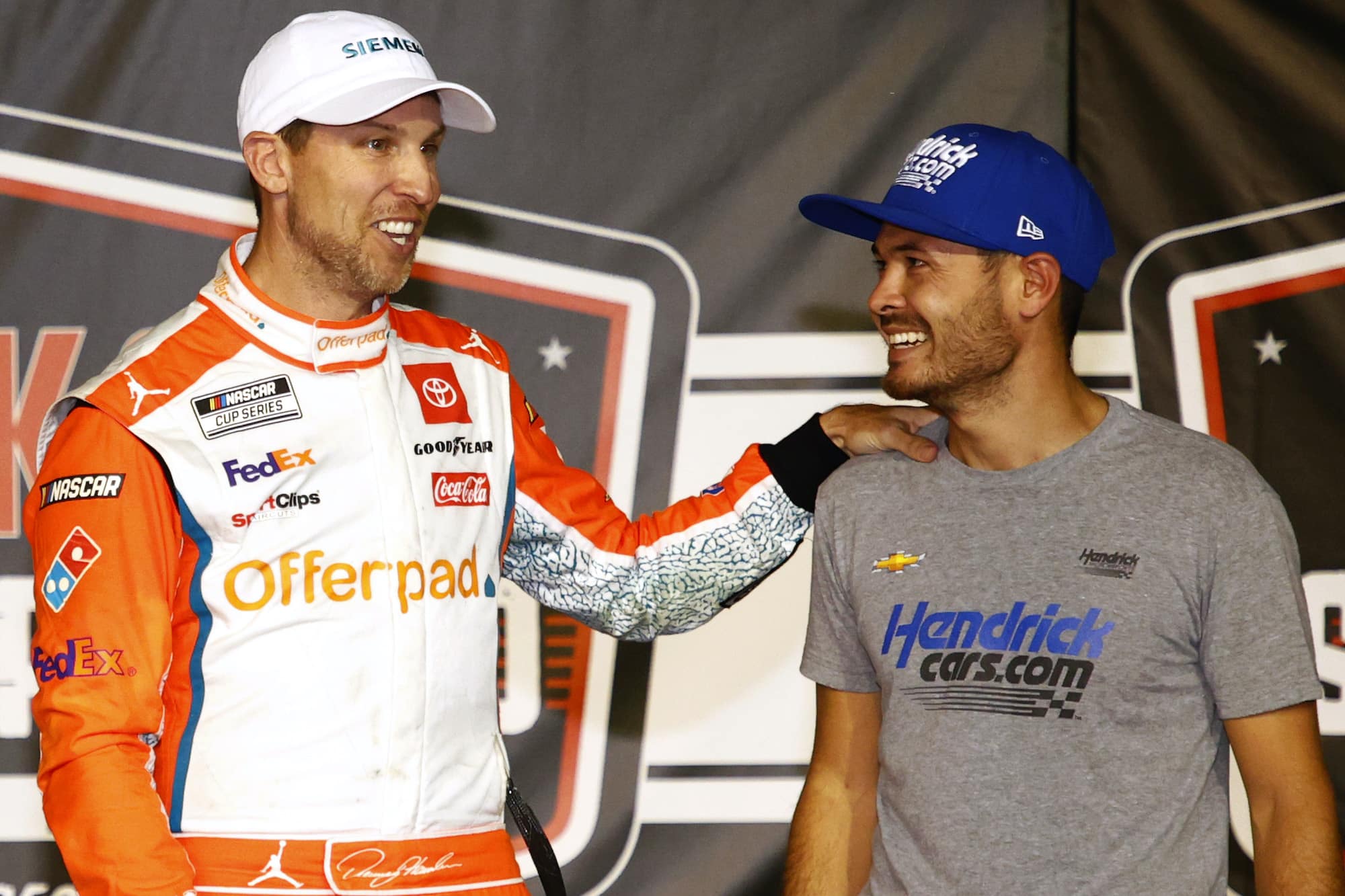 Denny Hamlin Takes Direct Aim at Kyle Larson, Calling Out HMS Driver for His Attitude, Holding Grudges, Instigating the Problems With Ryan Preece, and Wrecking Himself at Bristol
Denny Hamlin didn't hold back on his podcast, calling out Kyle Larson for his attitude at Bristol, holding grudges, instigating the issues with Ryan Preece, and wrecking himself.
Denny Hamlin knows others are listening to what he has to say on his podcast. Retroactive NASCAR penalties, anyone? This week, the Joe Gibbs Racing driver revisited this past weekend's race on the Bristol dirt and discussed the hot topic of conversation — the brewing conflict between Kyle Larson and Ryan Preece.
And to no one's surprise, Hamlin didn't hold back what he thought about the situation, including why he felt Larson was to blame for instigating it and how it's nothing new for the Hendrick Motorsports driver because this is what he does.
Denny Hamlin says Kyle Larson was at fault at Bristol and it's a pattern
Denny Hamlin didn't have the best of days on the Bristol dirt. He finished 22nd. This week on his Actions Detrimental podcast, the 23XI Racing co-owner reviewed his race and the subject everyone else was talking about, the new conflict between Ryan Preece and Kyle Larson. When asked who he felt was to blame, the three-time Daytona 500 champion didn't hesitate.
"I watched it. And it looks like Kyle Larson," Hamlin said. "This is what he does. Kyle's one of my best friends, but at this point, I have to call Kyle out a little bit. Kyle is one of those drivers that puts you in a spot where you have to lift. Raise your hand if this sounds familiar? 
"He's done it to me a few times on a road course. He'll get tired of me contesting my position so he'll just run me off into the grass. He'll just say, 'Alright, either you can lift or you're going through the grass over there.' And I think that he wanted to get clear of Preece so he just gassed it up and said, 'Alright, well I'm coming up and you can lift or go into the fence.' Preece didn't lift and got drove into the fence. 
"Larson's in the wrong here. Preece stood his ground. He wasn't going to take getting crowded. Wasn't going to take being put to a decision of lift or be put in the fence and so when he got back to Larson he gave him the business a little bit. And Larson's mad because he's like, 'Well hey, it was an hour and a half ago. Can't you just stop being a kid and get over it?' 
"Larson wouldn't get over it. I've raced with Larson. He holds grudges when he gets back to you. There's no question. I think Larson came into this weekend with not a very good attitude. We saw it in his pre-race comments. 
"Again, I'm really good friends with the guy, but each person has to be called out individually. This was not Ryan Preece's fault. You can argue all you want, but then Kyle drove right down the race track on the backstretch and tried to door the s*** out of the 41 and ended up wrecking himself in the process."
Hamlin called out Larson after Talladega last year and got in hot water
At least Denny Hamlin is consistent. He criticized Larson a year ago after Talladega because of a crash started by the HMS driver on the last lap that took out both 23XI Racing cars in Kurt Busch and Bubba Wallace. Unfortunately, his message got lost due to how it was delivered. 
That's because Hamlin did it in a tweet where he posted a clip from a Family Guy episode that stereotypically portrayed Asian women as bad drivers and overlaid Larson's name on the clip. The HMS driver's mom is Japanese American. 
Hamlin received considerable blowback for the racially insensitive tweet, removed it and apologized, and then attended NASCAR-mandated sensitivity training. 
Larson has had a bad attitude about Bristol dirt
While it's not uncommon for drivers to call out others for their on-track actions, it was interesting to hear how Hamlin spotlighted Larson's attitude coming into the weekend on the Bristol dirt. As he noted, it wasn't good.
The 30-year-old driver, who has been outspoken in the past about his feelings for racing on dirt at Bristol, was no different this year. 
"I think we all really enjoy the concrete surface here at Bristol," Larson told reporters. "I think the crowd's typically bigger it seems like at this point now for the concrete stuff. I don't know. It's up to the series and the promoters but I would love to get to running two races on the concrete here."
When a reporter asked if NASCAR changed the race to a different dirt track, which one would he prefer, the HMS driver was blunt in his response. 
"None," he paused. "None." 
"Why's that?" the reporter questioned. 
"Because we don't need to be racing on dirt," the driver said.
Spicy Kyle Larson. He obviously carried some of that spice into Sunday's race. Ryan Preece didn't like it. And Denny Hamlin called him out for it.
For the latest breaking news and information about NASCAR's three national series, check out @kdsportswriter on Twitter.