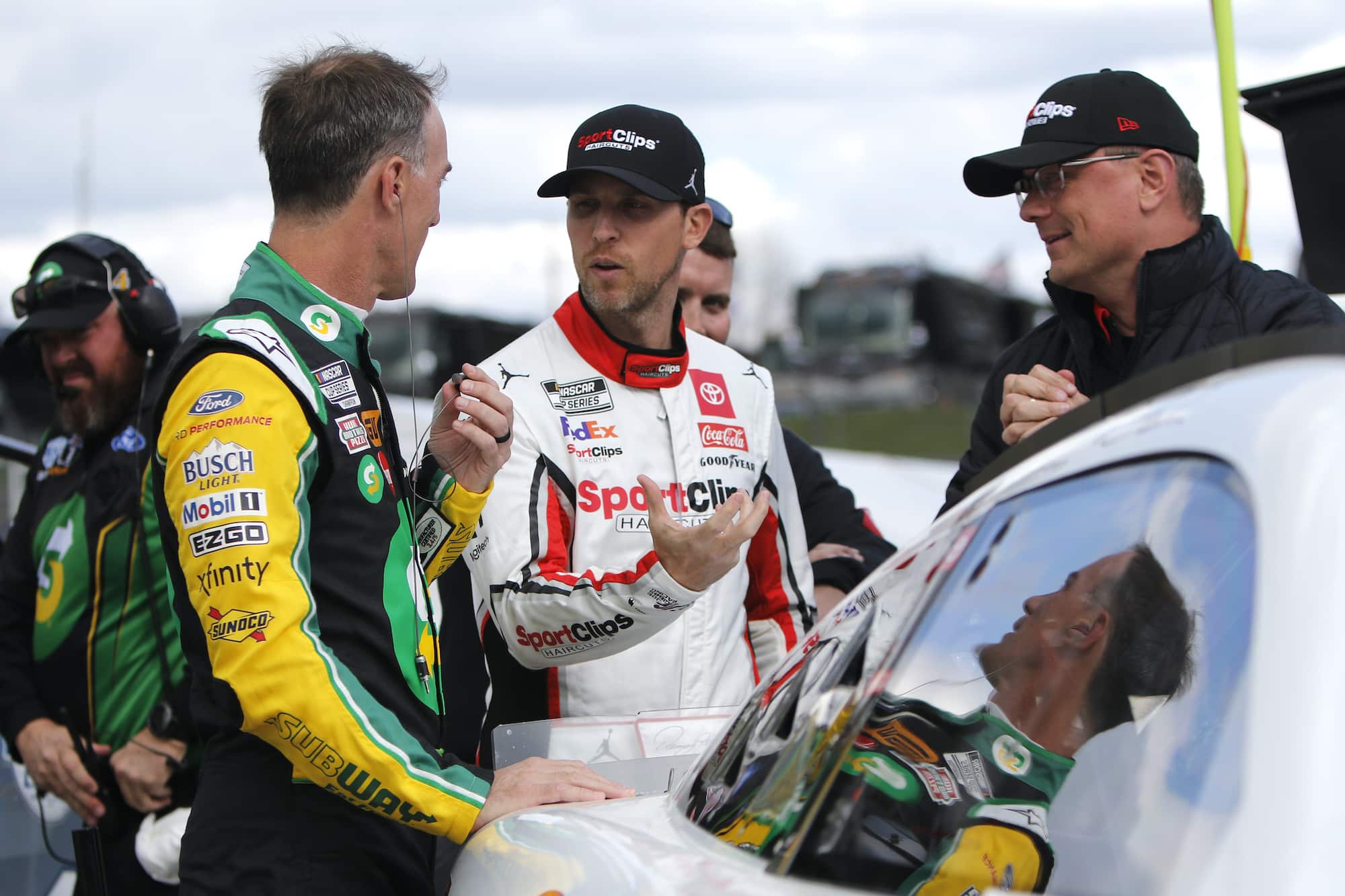 Denny Hamlin Quick to Point Out Kevin Harvick's Past Mistakes While Defending Himself Against Criticism From Fans of Retiring Driver
Denny Hamlin didn't hesitate to call out Kevin Harvick's past mistakes on his podcast while defending himself against fan criticism for late contact with the No. 4 in Atlanta.
Denny Hamlin and Kevin Harvick have unquestionably been the most outspoken drivers about concerns with the Next Gen car. The two veterans regularly brought up safety issues, even before the car turned its first laps in 2022. They were on the same page.
This season, Harvick's 23rd and last in the Cup Series, the No. 4 car has had its share of struggles, including a 30th-place finish at Atlanta this past weekend. After the race, Happy's fans were unhappy with what happened to him late in the race, blaming the Joe Gibbs Racing driver. 
A day later on his podcast, the three-time Daytona 500 winner fired back and went so far as to point out the multiple times Harvick has made mistakes in the past.
Fans accuse Denny Hamlin of wrecking Kevin Harvick at Atlanta
With five laps to go in Stage 2 on Sunday night at Atlanta Motor Speedway, Alex Bowman got loose and slid up the track into the left rear of Denny Hamlin, which sent the No. 11 up the track toward the wall before it slid back down and got escorted into the infield grass by the No. 48. 
That was the first of two incidents for Hamlin. The second came in the final stage with 68 laps to go when Kevin Harvick made contact with the left rear of the JGR car at the start-finish line and got sideways, the Stewart-Haas Racing car sliding down onto the apron. The No. 11 continued on without issue.
After the race, a fan blamed Hamlin for multiple mishaps on Twitter. 
"Wow @dennyhamlin driving like the hack tonight," the fan tweeted. "At least 3 people he's run flat over including Harv."
"Wait what? Who? How much 3Chi have y'all had?" Hamlin replied. 
Hamlin points out Harvick's past mistakes 
While Hamlin directly responded to the one fan's tweet that night after the race, he offered a more extensive response to the accusations on his Actions Detrimental podcast the next day.   
"I watched Corey (LaJoie) go up and clip William Byron. And I heard William post-race, and he was like 'Yeah, that was my fault.' I'm like, what? Am I unwell? Between my Twitter mentions."
"You ran into everything according to Twitter," podcast co-host Jared Allen, interrupted, continuing Hamlin's thought. 
"I'm trying to figure out who I ran into," the driver said. "I really couldn't figure it out but they — I mean Harvick fans, they were mad at me. I'm like, wait a minute, I didn't even see him. He ran into the corner of me just like he did at Bristol when he misjudged that. And he misjudged that there was someone else earlier this year that he's, you know, misjudged the right front of his car."
Will this lead to a beef between the two drivers? No one knows for sure, but you can bet anytime they get close to each other in the next few races, both drivers' fans will be paying close attention and ready to fire the first shot on who is to blame.
To stay up to date on the latest happenings in NASCAR, including breaking stories you can't find anywhere else, follow Kyle on YouTube and Twitter.