Denny Hamlin Shocks Fans When Revealing How He Hit It Big in $2 Billion Powerball Lottery
In just a few episodes of his new podcast, Denny Hamlin has dropped several big truth nuggets along the way, including recently revealing how Kyle Busch could have put Joe Gibbs Racing out of business with the big dollars he was demanding in 2022. 
In the three-time Daytona 500 winner's latest episode, he once again talked about big dollars — except this time, they had nothing to do with racing. Instead, he revisited the last time he was in Phoenix in November and how he shockingly hit five of the six Powerball numbers and detailed the awkwardness that followed.
Denny Hamlin had a tough trip to Phoenix last November
Denny Hamlin visiting Phoenix last November wasn't a good trip from the start. That's because, for the first time in four years, he wouldn't be vying for a championship. He failed to advance to the Championship 4 only because of Ross Chastain's miracle video-game move at Martinsville the week before.
Once in the desert, it only got worse for the JGR driver and the rest of his teammates on Sunday when it was announced that Coy Gibbs had unexpectedly died during the night. 
"Today we will do what we don't want to do, but we we will unite as a family and race for the name on our chest," Hamlin shared on Twitter before the race.
He finished eighth. 
Hits 5 of 6 numbers in $2 billion Powerball
A day after running through a gamut of emotions, Hamlin was on his way to the house where he was staying when he messaged his hosts to inform them that he would be late for dinner because he was stopping to get gas. They asked him to pick up some lottery tickets for the $2 billion Powerball.  
The then-41-year-old stopped at a nearby convenience store and stood in line with more than 30 others waiting to get tickets. After struggling to figure out what to do at the ticket kiosk and recognizing others around were getting frustrated, Hamlin opted to go to the front counter, where he told the clerk that he wanted $300 worth of tickets. 
"So he gives me the tickets, and I have them and then we go to dinner," Hamlin recalled. "They drew the Powerball. I come home. I'm brushing my teeth and the Powerball tickets are sitting there face up and the very first ticket that that nice gentleman printed, hit five of the six numbers on Powerball. I was only missing one number.
"I hit it for a little portion. I looked it up. The odds of me hitting all the numbers but one was one in one million. And unfortunately, the guy at the gas station was new. He was supposed to ask me to Power Play it. I guess if you hit the Powerball number, which I did, the Powerball that hit that night was 20. I had it. Then whatever your winnings are, it triples. Well, I didn't Power Play because I never played the lottery before. I never played the Powerball but the very first ticket that got printed — Bam! I hit five of the six numbers."
Gets recognized while redeeming ticket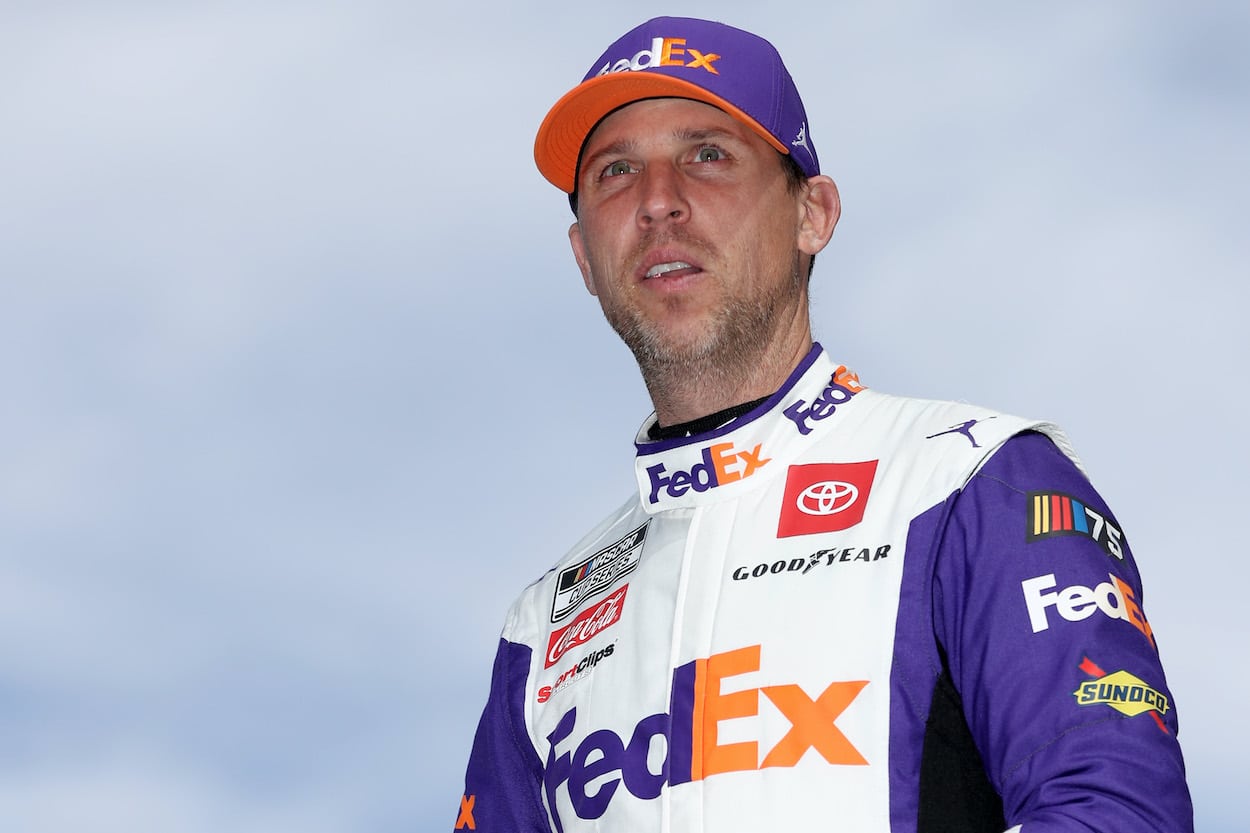 While Hamlin never revealed the actual amount of his winnings on the podcast, he described the uncomfortable trip to collect the money.  
"I kind of felt a little bad," Hamlin admitted. "I'm walking in the Arizona lottery office, and there's a lot of older people there, and I'm sitting there, and I'm holding my hat really low because I don't want to be seen because everyone there is kind of cashing a $20, $40 ticket here and there. Some scratchoffs. Like they're buying more tickets, scratching them off, and then going to get more tickets. 
"And here I am, this guy says, 'Denny, what are you doing here?' I'm like, 'Well, I hit the Powerball.' He's like, 'How many did you hit?' I said, 'All but one number.' He's like, 'I've been doing this my whole life and I've never ever gotten that.' 
"I just got lucky. I took a picture with him and then there was somebody else wondering what I was doing there. I just kind of felt bad that I was cashing out this big ticket when likely there were these people who were lifers in there that had never hit it."
Kyle Busch recently said winning the Daytona 500 is like winning the lottery. It's largely up to chance. Denny Hamlin has now proven you can do both.
For the latest breaking news and information about NASCAR's three national series, check out @kdsportswriter on Twitter.