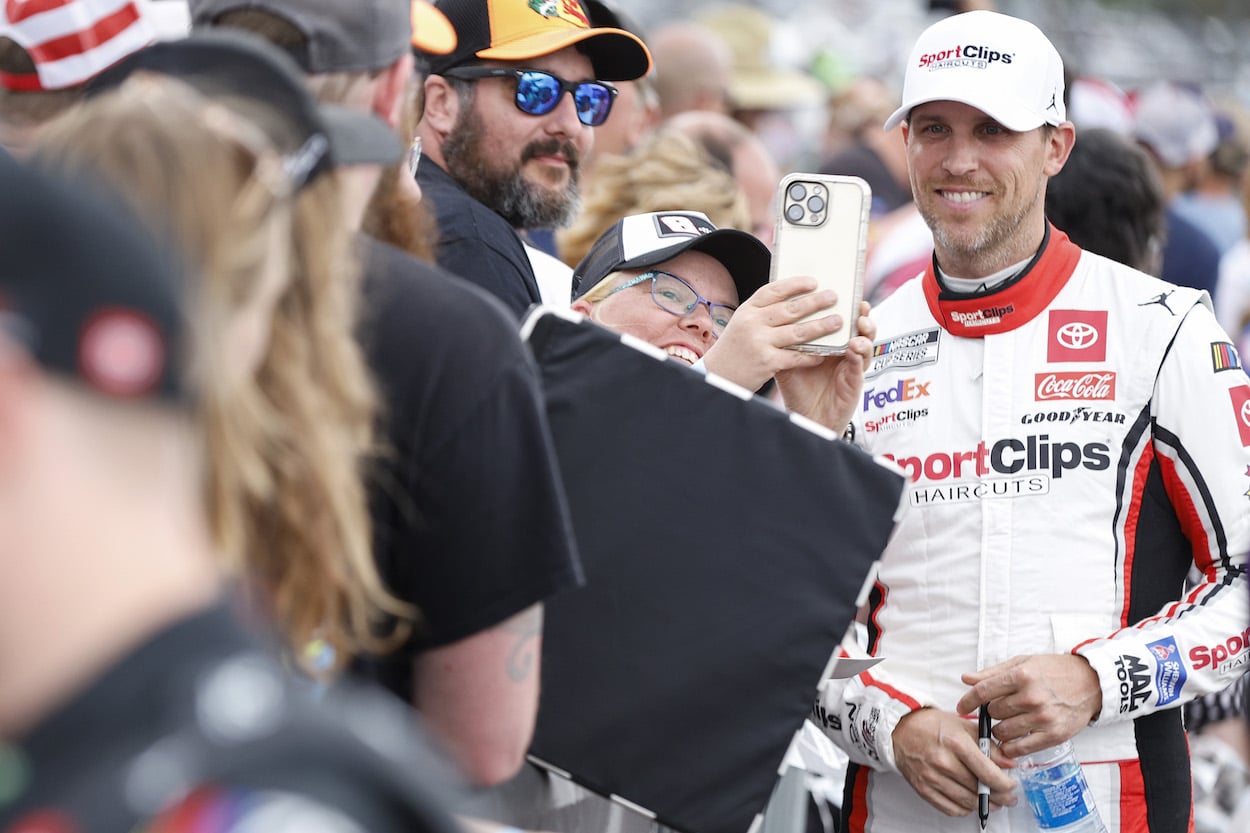 Denny Hamlin Speaks for Many Frustrated Fans in Calling Out Fox's Lackluster NASCAR Coverage
Denny Hamlin didn't hesitate in calling out Fox's NASCAR coverage this week on his podcast, spotlighting mistakes frustrated fans have complained about for years.
Denny Hamlin has thoughts. Sometimes they land him in NASCAR jail. This week he shared some thoughts on his podcast about a subject that has received considerable attention recently — issues with Fox's television production quality. 
The three-time Daytona 500 champion detailed his own television-viewing experience of the recent Bristol dirt race and unsurprisingly sounded like most race fans watching from home. And it wasn't good. 
Denny Hamlin calls out Fox's coverage 
Denny Hamlin is like everyone else involved in NASCAR. He is concerned about the television ratings. He briefly touched on that subject during this week's episode of his Actions Detrimental podcast before transitioning into discussing Fox's coverage of the sport. 
"I think the fans, in general, and on social media, are really, really tough on Fox," Hamlin said. "I think some of it is warranted, but I think that they're very critical about some really small things that they could get better. 
"One thing I saw at (Bristol) dirt last week or when I watched it back, the announcers would be talking about some side-by-side battle, and the camera wasn't on it. So you didn't know — what are they are talking about? Let me see this battle. 
"I did notice too, as soon as some action would start to heat up on a side-by-side battle, they'd cut to like 12th place. You see the second-place guy working over the first-place guy like right on his ass and about to make a move and they cut to like side-by-side for 12th. It's like, s***, let's keep it in the battle that's about to dictate who's going to be leading this race. Certainly I think from a production standpoint, we could make some improvements."
Fox missed the start of the Denny Hamlin conflict with Ross Chastain
What Hamlin didn't discuss was one of Fox's biggest blunders in 2022 that involved him. It happened in the inaugural race at World Wide Technology Raceway near St. Louis.
Early in the second stage, after following the No. 11 car for several laps and unable to pass, an impatient Ross Chastain had seen enough and drove hard into the corner, sending the JGR car out of the way and into the fence. That initial incident ignited the feud between the pair that has lingered into this season.
Those in the stands saw it live. Those watching at home on TV had to be informed about the situation moments later when the network returned from a commercial break.
But Fox wasn't done. After Hamlin showed his displeasure by running the Trackhouse Racing car down near the infield grass when he lapped him, the two met again later in the race, and just when it was evident Chastain, who was trying to get around the JGR car, was going to dive-bomb underneath for the pass, the cameras cut away.  
Fox's mistake last weekend
Hamlin mentioned how he believes that some fans can be overly critical of Fox's coverage on the small things. But what is small? It's all in the eye of the beholder.
He might be referring to something like the network's most recent glaring error during last week's Cup qualifying session at Martinsville when JJ Yeley's No. 15 car was shown on the screen, and the accompanying graphic described him as the 2009 F1 Champion.
It was obvious someone had recycled a graphic used several weeks earlier at Circuit of the Americas, where the actual champion, Jenson Button, competed in the race. 
Hamlin is a lightning rod. Fans have an opinion of him one way or the other. There is no in-between. It's safe to say in his take on Fox's poor coverage, even his haters can't help but agree with him. 
For the latest breaking news and information about NASCAR's three national series, check out @kdsportswriter on Twitter.