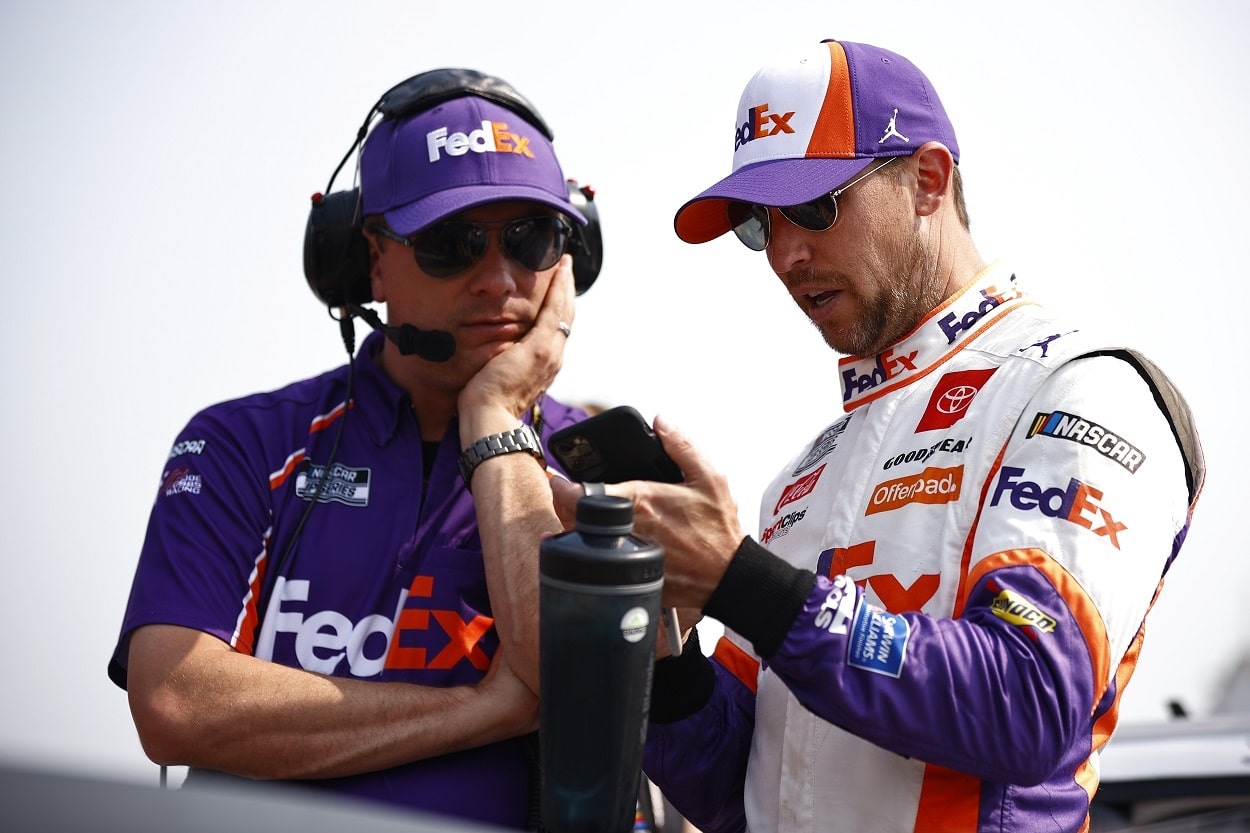 Denny Hamlin's Suspended Crew Chief Has an Overly Optimistic (Yet Hilarious) New Nickname for the No. 11 Team
Denny Hamlin's crew chief Chris Gabehart isn't quite ready to give up on the No. 11 team just yet.
To say the first third of the 2022 NASCAR Cup Series season has been disappointing for Denny Hamlin and the Joe Gibbs Racing No. 11 team might be a bit of an understatement. And that's saying something, given that Hamlin has a victory to his credit, earning a .552-second win over Kevin Harvick at Richmond.
But in the six races prior to his 47th Cup Series victory, Hamlin's best finish was 13th at Phoenix, and he placed outside the top 30 twice. He finished 37th in the Daytona 500 and finished 32nd two races later in Las Vegas. And two weeks after that, he placed 29th in Atlanta.
And things haven't gotten much better for Hamlin in his five starts since Richmond.
At Martinsville, he finished three laps off the pace in 28th. In the dirt race at Bristol, the No. 11 fizzled out after just 91 laps, resulting in a 35th-place finish. He led nine laps at Talladega but fell back and finished 18th.
Then the wheels literally came off at Dover, where the 23XI Racing co-owner finished 21st. Okay, it was just one wheel, the left front one that went rolling down "The Monster Mile" at the end of pit road, but that one wheel led to a four-race suspension for Hamlin's crew chief, Chris Gabehart, and two additional members of the No. 11 team.
With JGR appealing NASCAR's ruling, Gabehart was allowed to join Hamlin this past weekend at Darlington, where the No. 11 FedEx Toyota again finished 21st. Hamlin earned 27 points at "The Lady in Black" and currently sits in 22nd place in the NASCAR Cup Series standings with 231 points.
That's 222 behind leader Chase Elliott, who's recorded five consecutive top-10 finishes, including a win at Dover. But after an encouraging run that was better than the finish suggests, Gabehart oddly isn't sweating it.
Denny Hamlin ran a better race at Darlington than what his finish showed
Despite a second consecutive 21st-place finish, Hamlin's run at Darlington was more encouraging than most of his others during this '22 Cup Series campaign. It certainly didn't start that way, as he was forced to start the Goodyear 400 at the back of the pack after the underbody of the No. 11 was damaged in qualifying and required overnight repairs.
But he made his way through the pack, was in the top 10 by the 57th lap, and finished the first stage in seventh. Hamlin was even better in Stage 2, finishing fourth. And coming out of the caution caused by the incident involving Kyle Bush and Brad Keselowski on lap 168, Hamlin took control of the race for a while, leading 42 of the next 51 laps.
But his day went south as the end of the race got nearer. He cost himself a couple of spots on lap 243 and then fell back to 18th after Alex Bowman's wreck on lap 256 following a slow pit stop that featured more tire trouble. But at least the wheel didn't come off, right?
Not long after, any chance of recording a second top-10 went out the window when the No. 11 was involved in the nine-car wreck on lap 262.
Hamlin's crew chief is enthusiastically optimistic about the No. 11 team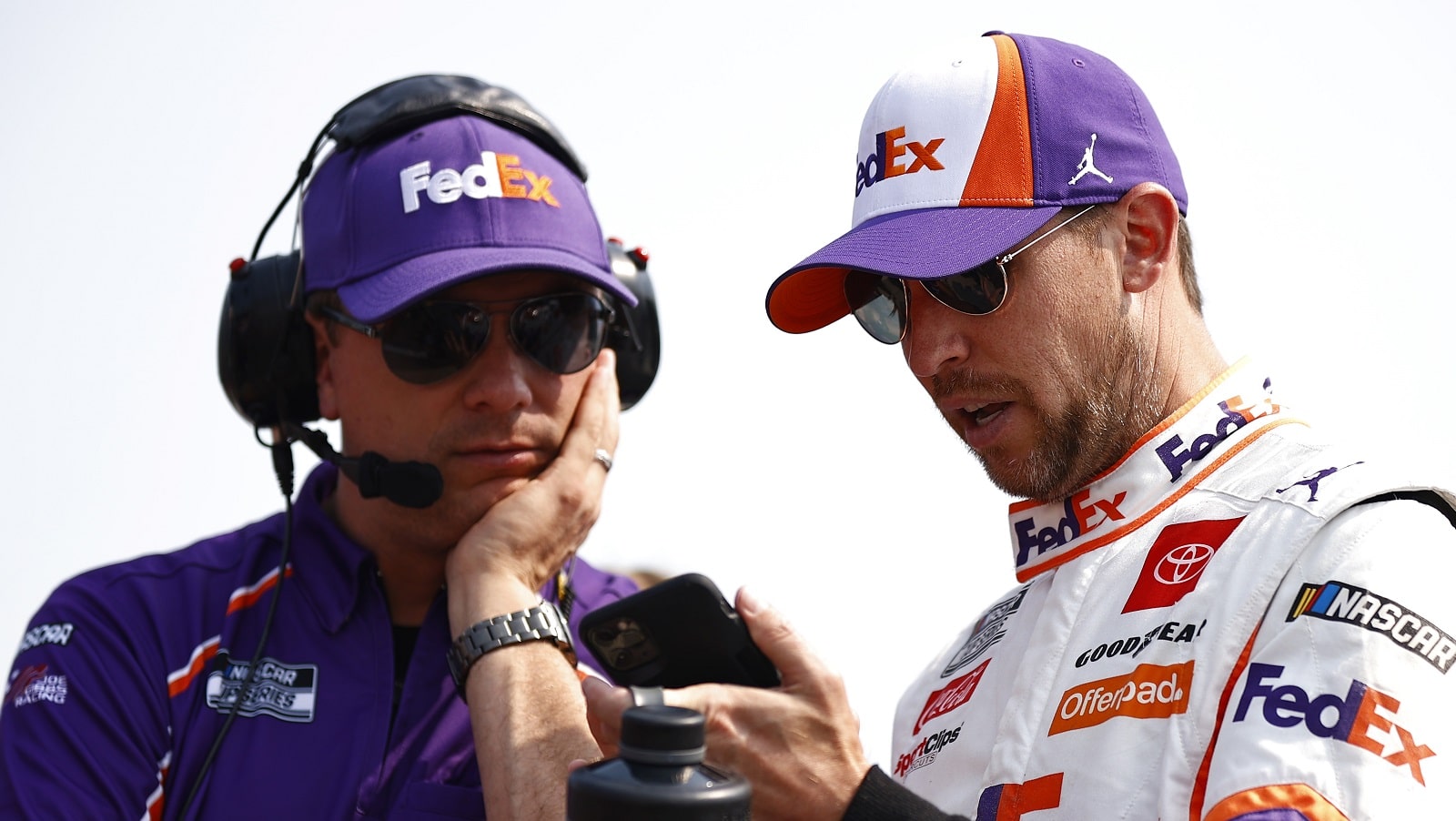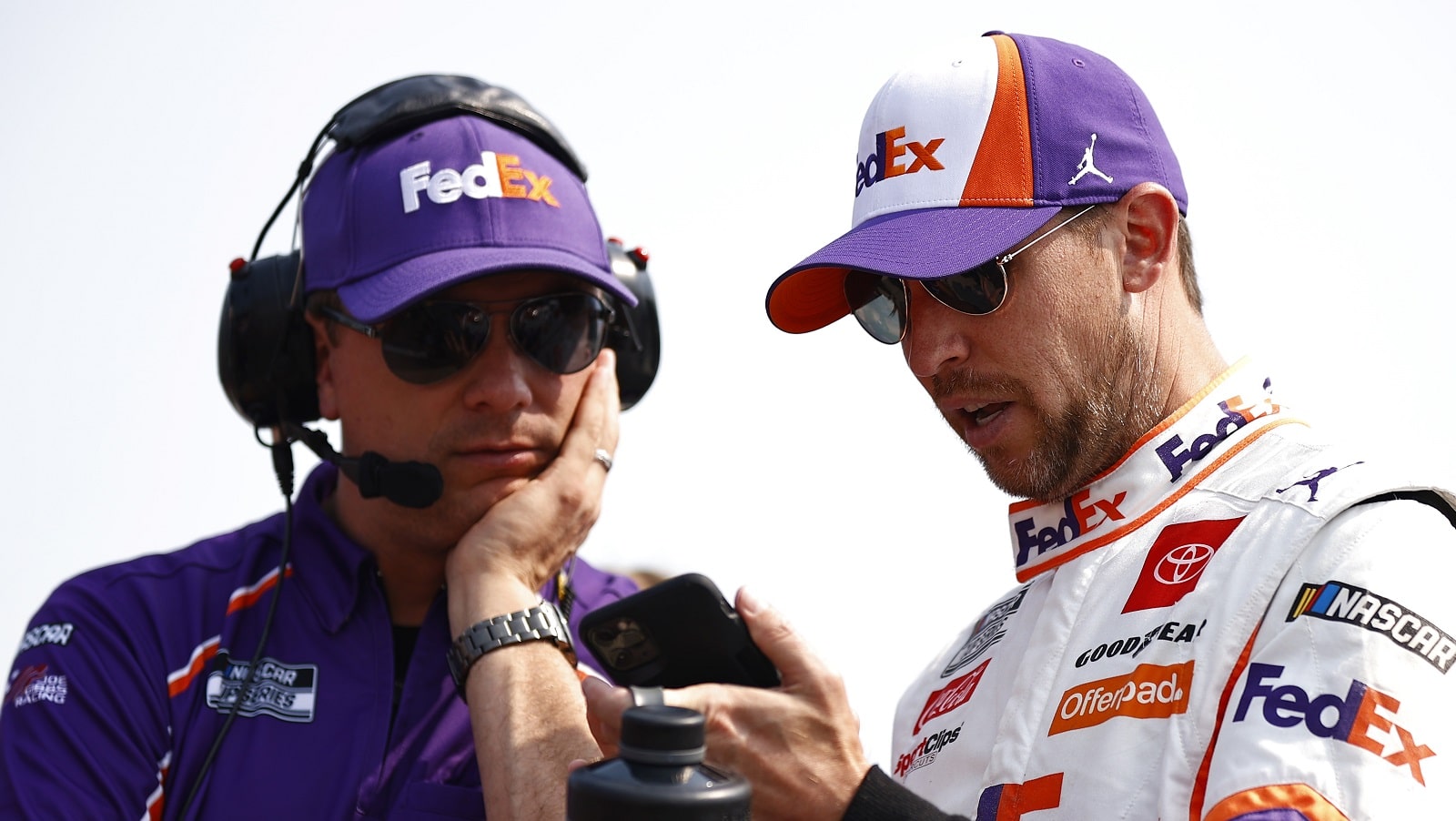 While Gabehart understands there's a chance he may not be at the track with Hamlin in the near future, depending on the appeal, he remains pretty optimistic about his driver's ability to bounce back from the adversity the No. 11 team has faced this season (h/t NBC Sports).
"I am convinced that we are the most dangerous … 22nd-place points team in the history of the sport. I am convinced that we are the most venomous snake laying in the grass. Any week we can jump up and turn this thing on its ear. We could have won last week. We could have won this week.

"As maddeningly frustrating as this is, I will take this to running 12th every week and not knowing how to go forward."

Denny Hamlin's crew chief Chris Gabehart
Both Hamlin and Gabehart have to be disappointed with this start coming off a season in which the No. 11 made the Championship 4, ultimately finishing third in the points standings.
The good news for Hamlin at the moment is that if the Cup Series Playoffs were to start today, he'd be in due to his win at Dover. However, given the parity that's occurred this season, we may see more than 16 different winners, at which point he might need some help.
So while I can appreciate the optimism from Gabehart — that's obviously his job — it's going to take more than an inspirational (and hilarious) new team name for Hamlin to get in a better position to win that elusive NASCAR Cup Series title.
Stats courtesy of Racing Reference
Like Sportscasting on Facebook. Follow us on Twitter @sportscasting19 and subscribe to our YouTube channel.