Derek Carr Contract: How the Saints Salary Cap Can Add a $100M QB
The New Orleans Saints just signed former Las Vegas Raiders quarterback Derek Carr to a $100 million deal. That's not unheard of at all, but how does the Saints' salary cap continue to support massive contracts when the team is 30th in cap space with a $-24,456,217 balance heading into the 2023 offseason? Here's the creative math and the real figures you need to know about behind the Derek Carr contract and the Saints' salary cap.
The Derek Carr contract
When the Saints announced the Derek Carr contract, they said it was a four-year, $150,000,000 deal with a $28,500,000 signing bonus, $100,000,000 guaranteed, and an average annual salary of $37,500,000, per Spotrac.
OK, so how much of that is true?
Well, the signing bonus is money that will end up in Carr's contract. However, it is prorated over five years, not four. There is already a void year on the end of the QB's deal which will pay him $5,700,000 (and count that much against the Saints cap) in 2027.
And as far as the $100 million guaranteed, that's not true either.
Only $60 million is due at signing. That's the $28,500,000 signing bonus, Carr's $1,500,000 2023 salary, and his entire $30,000,000 2024 salary. This means Carr is on the Saints' salary cap and roster for the next two seasons, for sure. But this season, he only counts as $7,200,000 against the cap.
After that, it gets a little dicey.
In 2024, Carr has a dead cap hit of $52.8 million, so the Saints can't cut him then, which also means a 2025 roster bonus of $10 million will guarantee in March 2024. That will bring his 2025 dead cap hit up to $27.1 million with a cap hit of $45.7 million. His 2025 salary guarantees in March 2025, so that's the true line of demarcation.
At some point between the 2024 offseason and March 2025, the Saints will have to restructure the Derek Carr contract or get ready to cut him and save $18.6 million. After that, 2026 brings (what would be) a historic $55.7 million cap hit with just $11.4 in dead cap (for now).
Carr will never see that season for the Saints on his current deal.
And one more thing about the Derek Carr contract worth noting is that the pact also has a full no-trade clause, so once again, the QB will hold all the cards, as he did in Las Vegas at the end.
The Saints' salary cap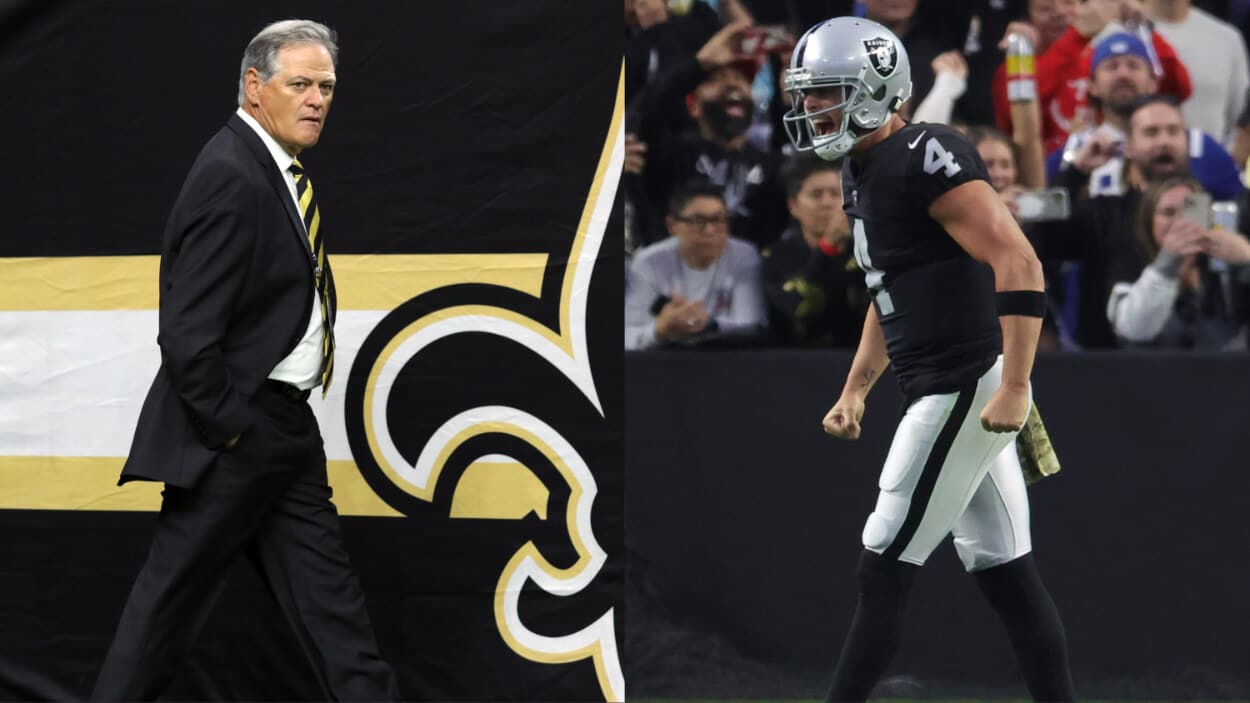 How? That is the question NFL fans are asking about the Derek Carr contract. The Saints' salary cap has been a mess for years, going all the way back to general manager Mickey Loomis selling out to win a Super Bowl with Drew Brees and Sean Payton back in 2009.
This offseason, the Saints' salary cap is $-24,456,217 over the league's $224,161,167 ceiling.
So, how does New Orleans get to sign a Derek Carr contract for $100 million?
Well, first, the contract has just $60-$70 million truly guaranteed, as noted above. And with the $28.5 million signing bonus (prorated to $5.7 million this season), Carr's base salary is just $1.5 million in 2023.
That $7.5 million makes the Derek Carr contract much more manageable in 2023. From 2024 to 2026, that cap number goes up to $35-$55 million against the Saints' salary cap. But in true Saints fashion, they'll deal with that later.
In 2023, it's all about getting under the cap now.
Restructuring Marshon Lattimore, Andrus Peat, Erik McCoy, and Alvin Kamara will save up to $20.9 million. That gets the Saints down to $-7,958,550. Cutting Jameis Winston and James Hurst saves another $10.8 million to get the Saints' salary cap back in plus territory.
After that, cutting a few fringe players and extending some youngsters like Carl Granderson gets the Saints' salary cap to a place they can sign the Derek Carr contract.
It's not easy, but the Saints' salary cap can support Carr this season. But the team will have to pay the piper eventually.