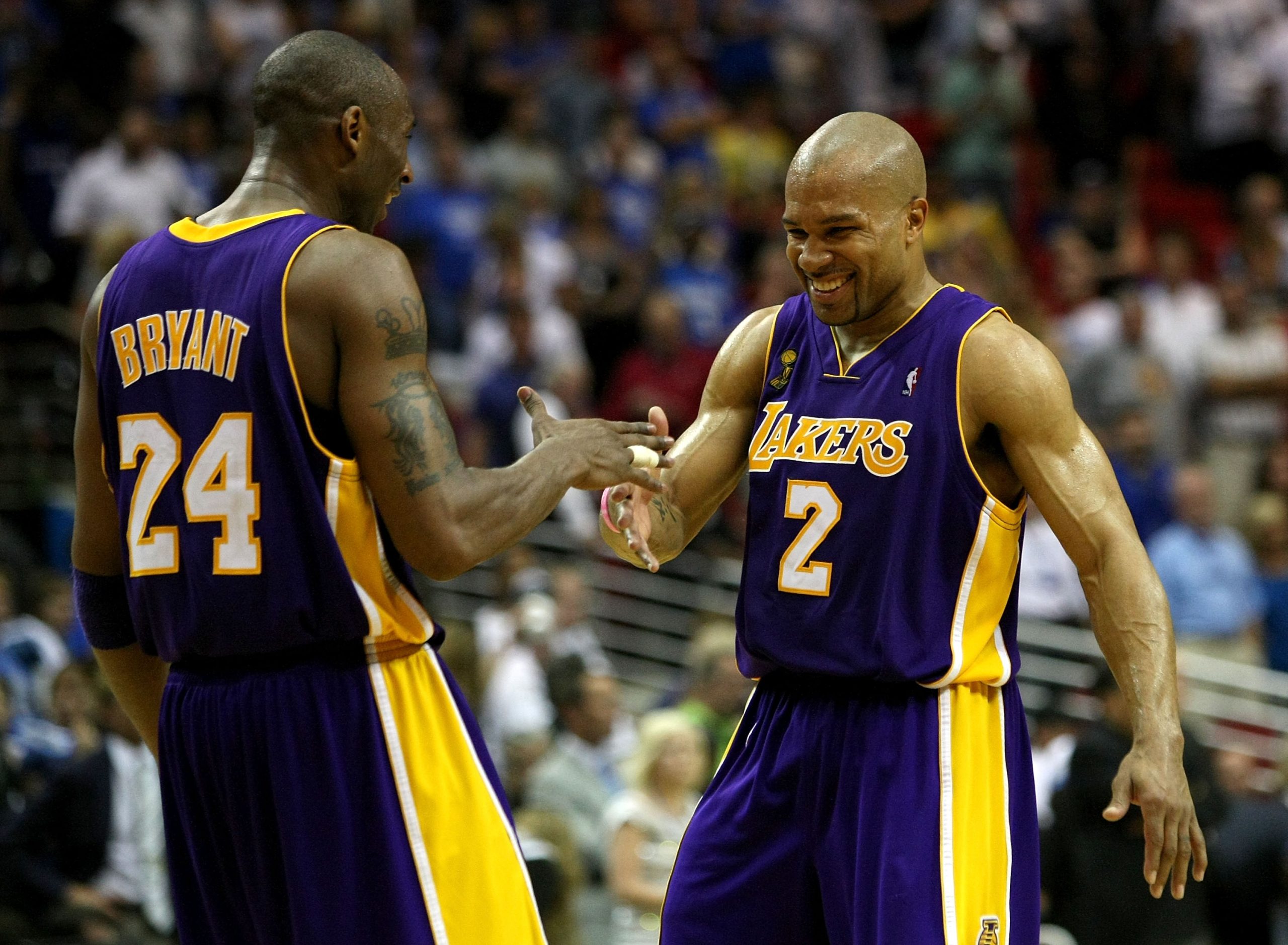 Derek Fisher's Relationship With Kobe Bryant Began With 2 Quick Fouls and Lots of Trust
Derek Fisher said he couldn't believe he got drafted in the NBA, never mind the first round.
Derek Fisher is still in awe of his time with the Los Angeles Lakers. Even when he sat down recently with former teammate Byron Scott, he still couldn't believe he was sitting there with someone he watched and admired as a basketball fan.
Fisher won five NBA titles with the Lakers. He formed a bond with the late, great Kobe Bryant. Fisher told Scott he never thought he'd be drafted, never mind the first round by the Lakers. His relationship with Bryant developed after two quick fouls and lots of trust and hard work.
Derek Fisher was shocked his favorite team drafted him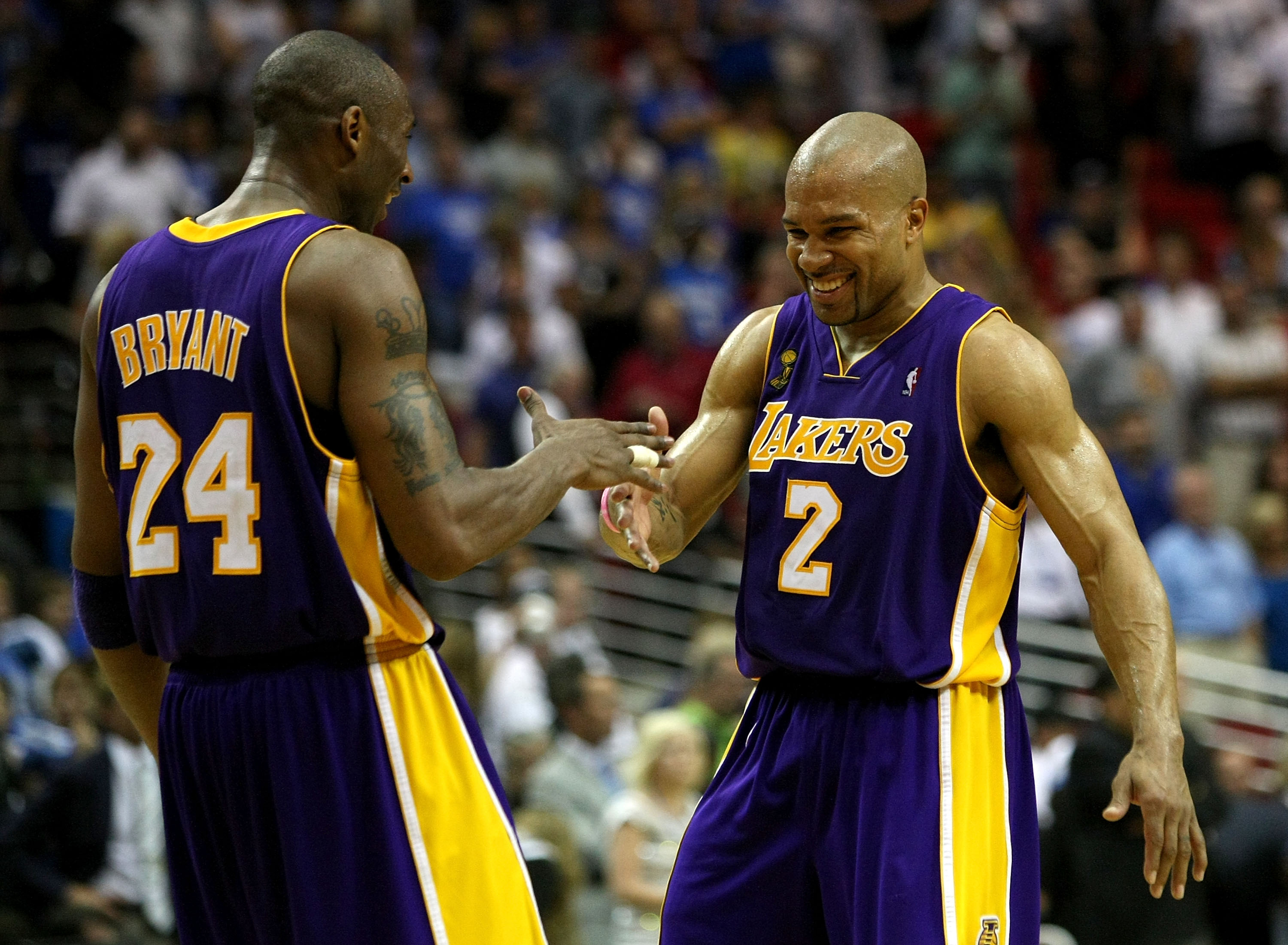 Fisher played his college basketball at Arkansas-Little Rock, where he was named the Sun Belt Player of the Year in 1996. The Lakers made the 6-foot-1 guard the No. 24 pick in the 1996 NBA Draft. It was a selection that shocked Fisher, who grew up rooting for the Lakers.
"It was crazy because I wasn't anticipating being drafted at all, especially not in the first round," Fisher told Scott on the Byron Scott Podcast. "To be drafted by my favorite team and to have a chance to play for the Lakers after rooting for them as a little kid. It was just a dream come true."
Fisher made the most of his opportunity. The Lakers gave him a chance, and he wasn't about to waste it.
"I took it seriously," he said. "Had to prove and show that I deserved to be here. I didn't want to waste that chance. Whether it was practice, shootaround, preseason, regular season, I tried to treat it the same. You have to respect the game that way."
Also drafted that year was Bryant. The Charlotte Hornets selected him fresh out of high school but traded him to the Lakers in a deal for Vlade Divac.
Derek Fisher developed a strong relationship with Kobe Bryant
Fisher came into the NBA the same year as Bryant, but he realized they were on a much different level talent-wise. Despite the talent gap, Fisher saw more action as a rookie. One of the reasons for that was because of two quick fouls in Fisher's NBA debut.
"I got thrown out there," Fisher recalled. "Nick Van Exel picked up two fouls in like 45 seconds. I think that's the best thing that could've ever happened to me. One minute into my first game, I got thrown onto the court. I wasn't able to sit there and freak out and think about being in the NBA. Go play."
Fisher's confidence grew because of that moment and so did his relationship with Bryant.
"The relationship and the brotherhood started in that first year," Fisher said. "For whatever reason, I played more than him for most of our rookie season. A lot of that was Kobe was position-less almost. There wasn't a clear position for him to play. In our rookie year, we spent a lot of time working out after practice, before practice, one-on-one, full-court battles. That's where the relationship really formed.
"For a guy that was as talented as we've ever seen, for us to end up being brothers the way we were, I think the only way that happened was him seeing the competitive spirit, the toughness, the work ethic, and how much I was willing to sacrifice in order for the team to win. That's what he respected the most."
Fisher and Byron Scott said trust was big with Bryant
Both Fisher and Scott played with Bryant. Scott played with the Lakers from 1983-93 but then returned for one final year in 1997. Fisher and Scott the biggest thing needed to earn Bryant's respect was trust.
"He was the ultimate tester," Scott said. "He's going to test guys at practice to see who he can be in the foxhole with. If you didn't back down to him and you worked as hard as him, he respected you. If you backed down, he had no respect for you.
"He would basically say I'm gonna go all-out every single night. If you don't, I can't have you. I can't trust you. If you're willing to do it, I can trust you."
Fisher agreed.
"Trust was big," he said. "Not just trust in terms of performance. Trust that you're not going to back down."
Fisher and Bryant's trust in each other led to five NBA titles and a rock-solid relationship on and off the court.