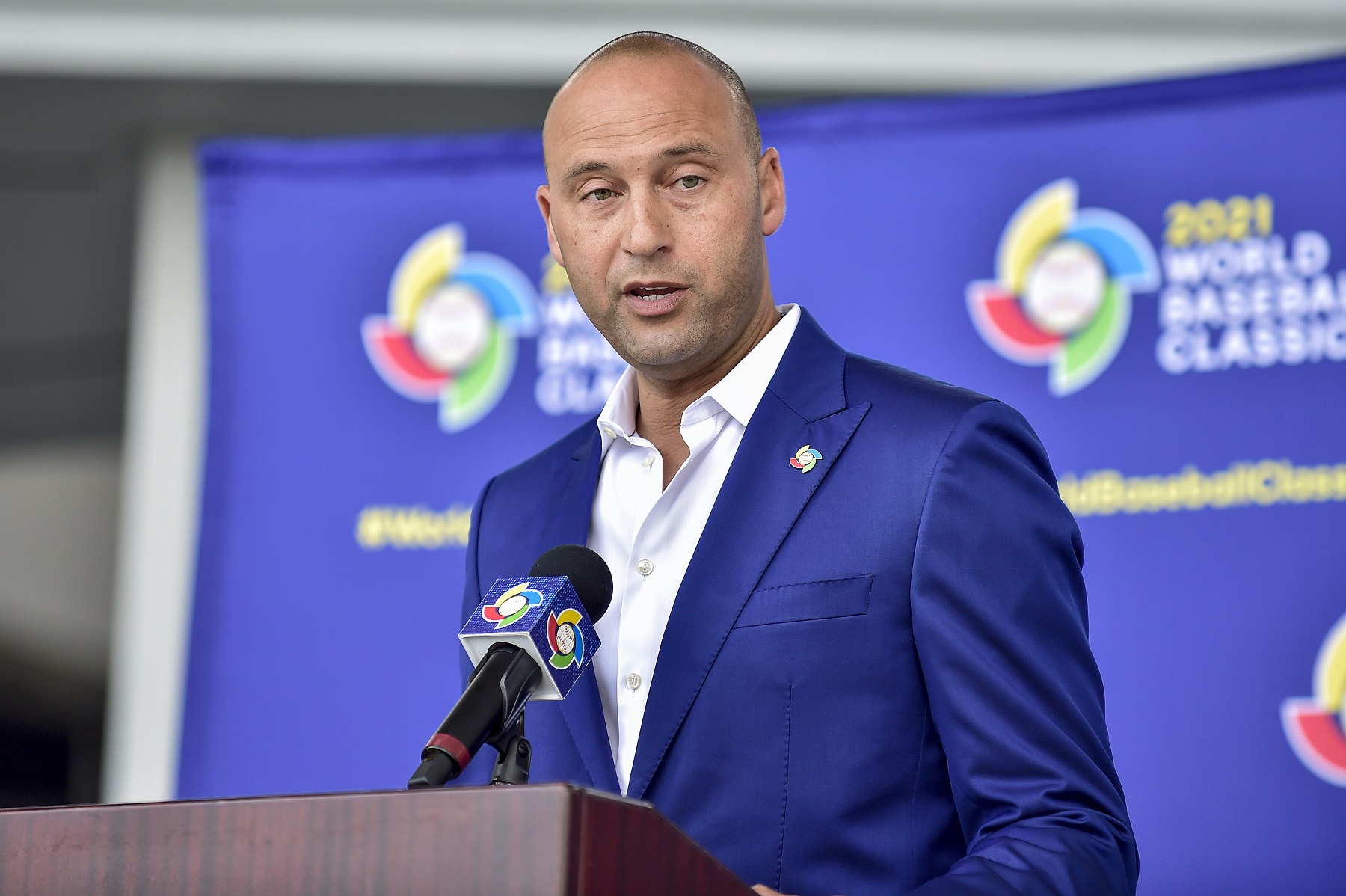 Derek Jeter Could Cost A-Rod His Shot at Buying the New York Mets
Derek Jeter's move into MLB ownership began with him slashing the payroll of the Miami Marlins. That could create concern among fellow owners if they have to consider an Alex Rodriguez winning bid on the New York Mets.
Derek Jeter is the gift that keeps on giving for Alex Rodriguez. Unfortunately for A-Rod, most gift shops have stopped processing returns during the COVID-19 pandemic.
Pairing Derek Jeter, Alex Rodriguez posed a problem
Derek Jeter has lived a charmed baseball life. It began with his rapid rise through the New York Yankees' farm system to reach the major leagues at 21. He swept his way to unanimous selection as the American League Rookie of Year in 1996 and played consistently well through 2012 before retiring after the 2014 season.
Jeter finished his career with 3,465 hits, 260 home runs, and a .310 batting average. Along the way, he led the league in hits twice and collected five Gold Gloves. He also earned a spot in 15 All-Star Games.
The Yankees made a huge move before the 2004 season by acquiring Alex Rodriguez. That came after the Texas Rangers realized three years into a mega-deal with the superstar shortstop that they could continue finishing last in the AL West without him and save a lot of money in the process.
A-Rod won his second Gold Glove and the American League MVP award in his final season with the Rangers. His reward upon arriving in New York was a move to third base so that Jeter could remain at shortstop. Jeter would win Gold Gloves in the first three seasons alongside Rodriguez, but many regarded A-Rod as the superior shortstop.
A-Rod would go on to win two more MVP awards in 2005 and '07, but it's reasonable to suggest that he would have been more comfortable remaining at shortstop for the duration of his career. That was an impossibility because, though a year older, Jeter nearly outlasted A-Rod in New York.
Derek Jeter transitioned from player to owner
Derek Jeter now poses a different sort of obstacle for Alex Rodriguez's future in baseball. Following his retirement from the Yankees, Jeter did not stay away from the sport for very long. In August 2017, Jeter and Bruce Sherman completed a deal to purchase the Miami Marlins. They received unanimous approval for the deal from fellow owners, and Jeter assumed the rule of CEO despite owning only a 4% stake in the franchise.
Rodriguez, who retired in 2016 with 696 homers, is trying to go down a similar path in retirement. Although he's found a second career as an MLB analyst for ESPN, A-Rod has turned his focus toward buying the New York Mets.
The Mets have been on a tight financial leash for more than a decade as a result of owner Fred Wilpon's substantial financial losses related to the Bernie Madoff Ponzi scheme. After several false starts over the years, Wilpon is now intent on selling the Mets, and Rodriguez and Jennifer Lopez have been assembling one of the groups competing to pull together the winning bid.
Alex Rodriguez is bidding for the Mets
Alex Rodriguez faces two significant hurdles in his bid to buy the New York Mets, and both are out of his control.
First, Rodriguez's group will be competing with hedge fund manager Steve Cohen, whose $2.6 billion bid last December was turned down because he would not agree to let the Wilpon family maintain a role in running the team for at least five years. It's considered a certainty that Cohen can outbid A-Rod's group; the question is whether he'll object to last-minute demands that the Wilpons might seek to impose.
According to The Athletic, A-Rod's second problem is the way Jeter operated the Miami Marlins after taking over as CEO. Though Jeter's group won the bidding, it was under-capitalized, causing Jeter to slash payroll and cut other costs. The result was a combined 120-203 record in the first two seasons.
"MLB isn't too keen on another Jeter/Marlins where they had to scrape their last nickel to pay the purchase price. Especially for a major market club that already has such large operating losses." – A source, speaking to The Athletic
A-Rod and Jennifer Lopez would presumably be putting up more of their own money than Jeter did. It also appears they would be less susceptible to the financial pressures Jeter faced.
But Jeter bought the Marlins in the pre-COVID-19 era. If A-Rod wins the bidding, can his checking account absorb a 2021 season with few if any fans in the stands?
All stats courtesy of Baseball Reference.