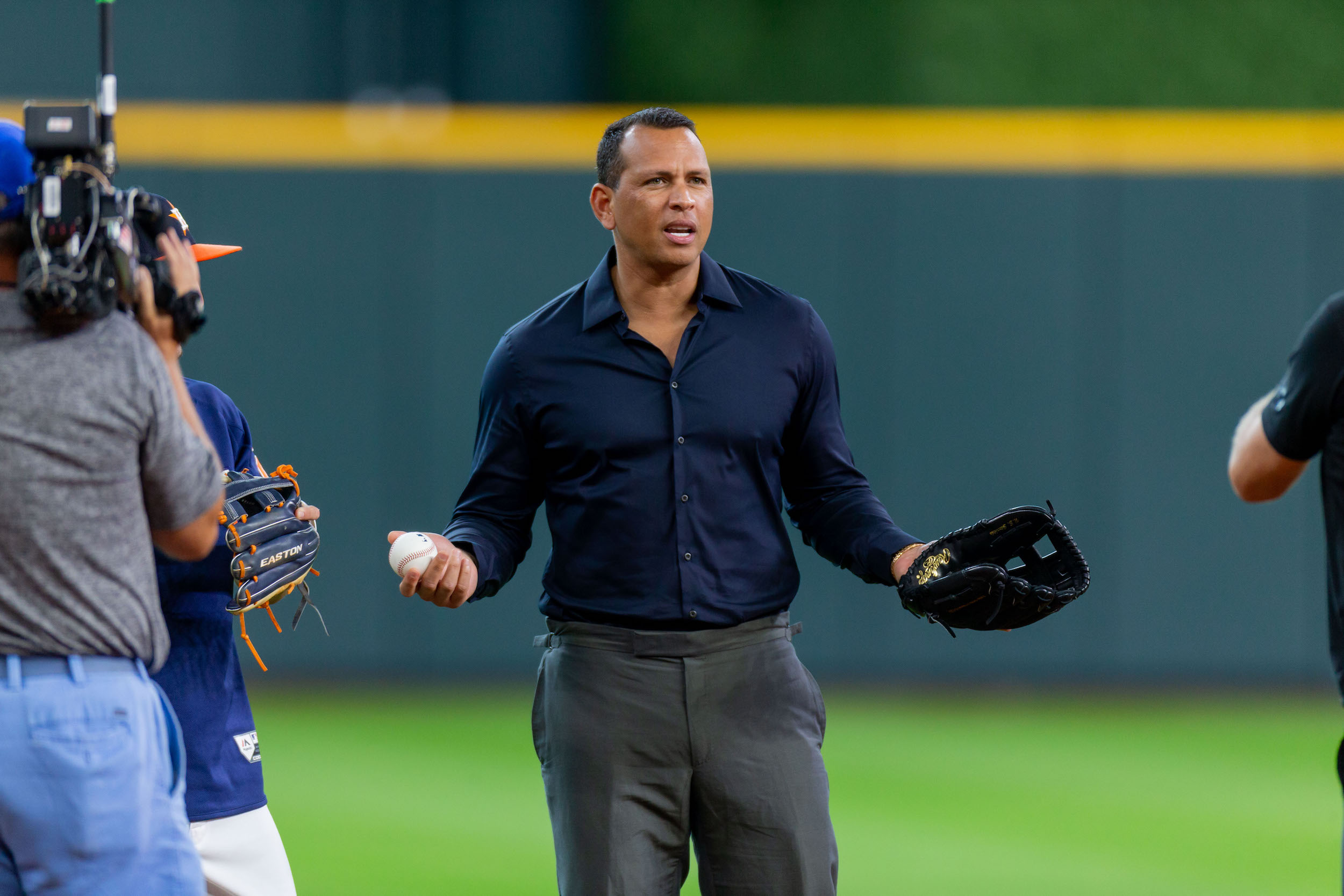 Alex Rodriguez's Interest in the Mets Is Already Complicating His ESPN Sunday Night Baseball Gig
While Alex Rodriguez hasn't bought the New York Mets yet, his potential interest is causing conflicts with his ESPN broadcasting gig.
Whether you love him or hate him, every baseball fan knows Alex Rodriguez. During his time on the diamond, A.Rod became one of the biggest names in North American sports; in retirement, he's found a home on ESPN. In recent weeks, however, his commentary job has become a bit more complicated.
Based on reports, Rodriguez and Jennifer Lopez are apparently interested in buying the New York Mets. While nothing has been consummated yet—and thing may never come to pass—that interest is already adding a new wrinkle to ESPN's Sunday Night Baseball broadcast.
Alex Rodriguez has had a profitable baseball and broadcasting career
During his time in Major League Baseball, Alex Rodriguez was never the most popular man. Thanks to his playing career and current job with ESPN, though, A.Rod has plenty of money in the bank.
After making a name for himself in high school, Rodriguez became the first overall pick of the 1993 MLB draft. While he planned to play baseball at the University of Miami, A.Rod couldn't turn the prospect of a sizable signing bonus.
In Seattle, Rodriguez developed into a legitimate star; during his first year as a legitimate starter, he batted .358 with 36 home runs. For all that success, though, the shortstop wasn't destined to spend his entire career in Seattle. After seven seasons in the Pacific Northwest, A.Rod signed a massive contract with the Texas Rangers.
Although Rodriguez continued to pile up eye-popping offensive numbers in the Lone Star State, the Rangers eventually tired of his sizable contract. The shortstop was shipped to the New York Yankees; his time in the Big Apple didn't go according to plan, but A.Rod did manage to win a World Series title and get within touching distance of 700 career home runs before retiring in 2017.
During his playing career, Rodriguez took home more than $400 million in salary. In retirement, that earning power hasn't decreased; the former shortstop has found a home in the media, first joining Fox Sports and then signing with ESPN.
Making a move towards Mets ownership
Alex Rodriguez seemingly isn't retired with calling baseball games from the broadcast booth, though. The former New York Yankees third baseman has recently been tapped as a potential owner of the New York Mets.
As reported by Mark Fischer of the New York Post, Rodriguez and Jennifer Lopez were "working with JPMorgan Chase managing director Eric Menell, who is the bank's co-head of North American media investment banking."
While there's some controversy about Rodriguez himself—during his time with the Yankees, the third baseman admitted to using steroids and served a year-long suspension—there's no question about his financial might. Buying a sports franchise, however, comes down to more than just money; at this point, we'll just have to wait and see what happens.
Alex Rodriguez and ESPN are already in an awkward situation
Until any potential deals are done, Alex Rodriguez is still an employee of ESPN. His interest in the Mets, however, complicating his role on Sunday Night Baseball.
With Rodriguez interested in buying the Mets, ESPN has decided that it's best for him to avoid commenting on the club. "[We'll] shy away from having Alex do a Mets game, so we don't put him in a bad position … given what's going on," Mark Gross, ESPN senior vice president of production and remote events, said according to Howie Kussoy of the New York Post.
That means Rodriguez will be bumped from the booth for ESPN's first Sunday Night Baseball broadcast of the season; rather than calling the main matchup, he'll be working the late game between the Giants and the Dodgers.
If you're a fan of A.Rod, though, you might want to stay up to catch that game. If he's serious about buying the Mets, his days on ESPN are numbered.
Stats and salary courtesy of Baseball-Reference