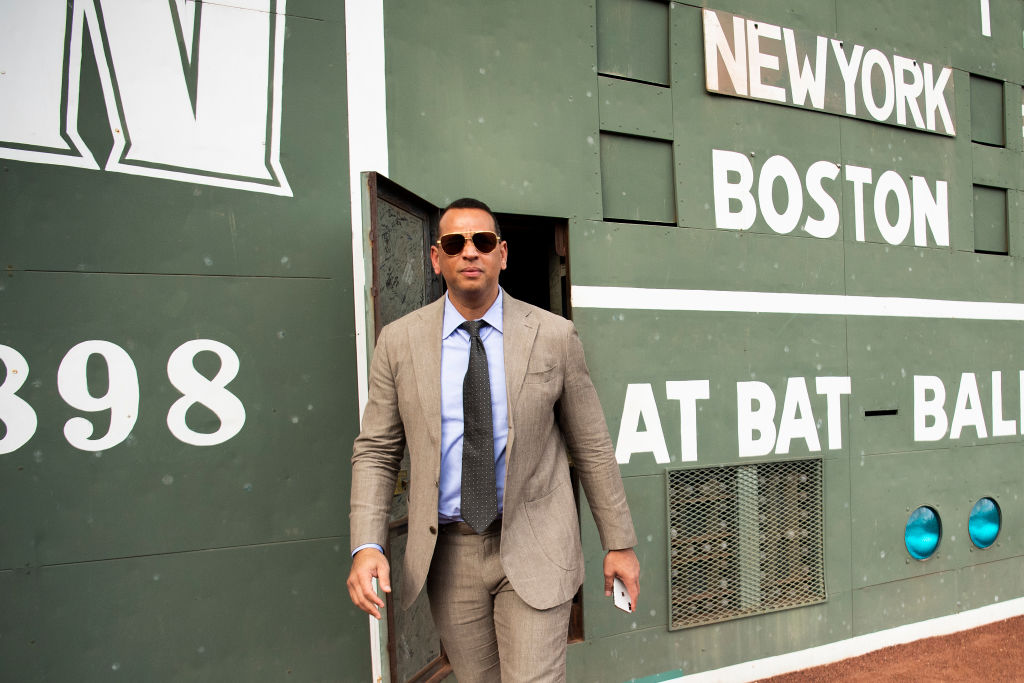 Alex Rodriguez's Massive Net Worth Is More Than Enough to Survive an ESPN Salary Reduction
Alex Rodriguez has piled up a massive net worth, which should make any ESPN salary reductions a minor inconvenience.
Within the past month, the coronavirus pandemic has flattened the world of sports. Right now, virtually everything outside of the NFL offseason has stopped; even that has been moved to an all-digital existence. The lack of live games is also affecting former athletes, like Alex Rodriguez.
With nothing to broadcast, ESPN has asked 100 highly paid employees, which includes A.Rod, to take a pay cut. Even with a reduced salary, though, the former MLB star's massive net worth will barely take a hit.
Alex Rodriguez's well-paid baseball career
During high school, Alex Rodriguez emerged as the nation's top baseball prospect. In 1993 the Seattle Mariners selected the shortstop with the first overall pick; although he had accepted a scholarship to play ball at the University of Miami, A.Rod couldn't ignore the $1 million signing bonus and headed to the pros.
Rodriguez would make his MLB debut in 1994, taking the field as an 18-year old; within two seasons, he was batting .358 and belting home runs with relative ease. The shortstop grew into the Mariners' star player, but things simply weren't to be; in 2000, Rodriguez hit free agency and signed with the Texas Rangers.
In the Lone Star State, Rodriguez truly emerged as a dominant offensive player. During his first season with the club, he blasted 52 home runs; the next season, he hit 57 bombs while driving in 142 runs. Despite that output, though, the Rangers decided to move his massive contract; after almost landing with the Red Sox, A.Rod joined the New York Yankees.
Rodriguez initially found success in New York but didn't have the easiest time in the Big Apple. Between his expensive contract and the presence of Derek Jeter, A.Rod was always under the microscope; his injuries and steroid suspension didn't help matters, either. Despite that decline, he still played 22 seasons of Major League Baseball, batting .295 with 3,115 hits and 696 home runs.
A pay cut could be on the cards, though
After his playing career ended, Alex Rodriguez headed to the broadcast booth. While he's not earning as much as he did during his baseball career, the former infielder still takes home a nice salary from ESPN; that number, however, could be shrinking sooner rather than later.
As reported by John Ourand of Sports Business Daily, the network has asked it's 100 highest paid commentators to take voluntary salary reductions in light of the coronavirus pandemic and the lack of live sports. Rodriguez, who reportedly makes seven figures from his Sunday Night Baseball work, falls within that group.
If Rodriguez accepts, his salary would be reduced by 15%; that mirrors the cut taken by ESPN's executives, albeit at a slightly lower level.
Alex Rodriguez massive net worth should weather any storm
As of now, it's unclear if Alex Rodriguez will agree to the salary reduction. Even if he does, though, the former infielder's net worth is massive enough to absorb any hit.
During his playing career, A.Rod earned a bit over $450 million in salary. His paychecks didn't end when he stopped taking the field, though; thanks to a deferred payment plan, the Texas Rangers will be sending him checks until 2025. He's also on the books for both ESPN and Fox, which keeps the cash flowing.
These days, Alex Rodriguez's net worth is pegged at roughly $350 million. Even if Jennifer Lopez doesn't want to share her money, that's more than enough to survive any salary reduction.