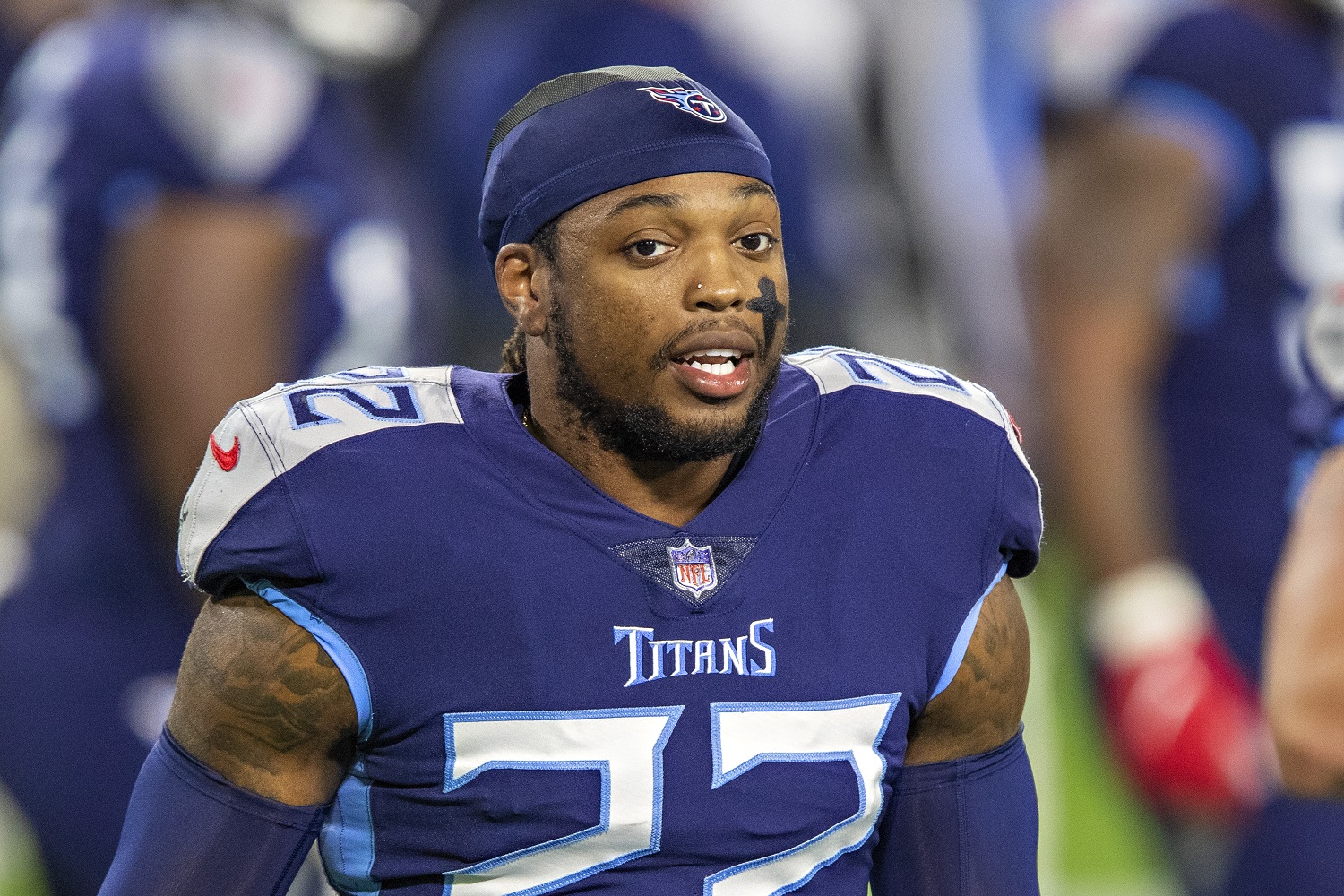 Derrick Henry Takes Care of the Guys Who Take Care of Derrick Henry
Tennessee Titans running back Derrick Henry gave his linemen multiple gifts, including custom pendants, after his 2,000-yard rushing season.
Quarterbacks and running backs earn the adoration and monster contracts. The smart ones make sure the guys who make it possible for them score the bling. And few do that better than Derrick Henry, who has been showing Tennessee Titans teammates some love lately.
As good as he is, Henry knows he hasn't been piling up the yardage and touchdowns based solely on his own magnificent skills.
Derrick Henry is following a time-honored tradition
For every NFL offensive lineman who qualifies as a household name, there might well be a dozen quarterbacks and running backs who are more easily recognizable. That's just the way it works. The top QBs pile up 4,000 passing yards and 30 touchdowns, and star running backs still get their 1,000 yards despite it being a pass-happy league.
But the fact is that none of them do it alone. Without blockers performing at their best, QBs and running backs would be nothing. And while linemen have been getting paid this week – See: Joe Thuney (five years $80 million), Corey Linsley (five years, $62.5 million), and Daryl Williams (three years, $28 million) – there are other ways to make them feel appreciated.
Fresh off an impressive sophomore season with the Arizona Cardinals in which he threw for just short of 4,000 yards and ran for 819 yards and 11 scores, exhausting defenders every step of the way, Kyler Murray commissioned one-of-a-kind individual paintings for each of his offensive linemen. And that was on top of the customized scooters that he bought them a year earlier.
Meanwhile, USA Today reported that  Buffalo Bills QB Josh Allen splurged for high-end sets of golf clubs and Bills-branded bags for his guys – even arranging lessons for them at a nearby country club. The same story references Dak Prescott gifting Segway go-karts and Russell Wilson dishing out for scooters.
Derrick Henry takes care of his guys
Picking expensive gifts out of the Hammacher Schlemmer catalog or from the jewelry case at Saks Fifth Avenue shows commitment, but running back Derrick Henry added the personal touch for his Tennessee Titans blockers.
Henry, who rushed for 2,027 yards and 17 touchdowns, leading the league in both, reportedly doubled down on gifts for his blockers this past season. Around Christmas, the fifth-year pro out of Alabama worked in a plug for FedEx while arranging to ship Pac-Man arcade games to his blockers.
More recently, though, Henry added the personal touch. A tweet from the Titans showed off gold chains with customized "2K" pendants that Henry, 27, presented to his line to commemorate the 2,000-yard season. Henry became just the eighth NFL back to reach the milestone.
Each pendant says "2K" on one side and is personalized with the lineman's name and jersey number on the other side.
Tom Brady may be the Babe Ruth of gift-giving
Gift-giving is a time-honored tradition by NFL players showing their appreciation to less-heralded teammates.
Though Derrick Henry stepped up like a pro this offseason, Huddle Up credits quarterback Tom Brady with possibly the most generous spending spree ever by an NFL star, although there could be an asterisk attached.
After the New England Patriots went 16-0 in the 2007 NFL season that ultimately concluded with a Super Bowl 42 loss to the New York Giants, Brady gave each of his five starting linemen an Audi Q7 SUV. The vehicles listed at more than $50,000 apiece at the time, meaning the total cost exceeded a quarter of a million dollars.
Interestingly, however, Brady may have had some corporate help footing the bill. The SUVs came with a "presented by Audi" designation, which seems to imply that the manufacturer picked up some or all of the tab.
Regardless, it was an incredibly generous acknowledgment of quality work.
Like Sportscasting on Facebook. Follow us on Twitter @sportscasting19.