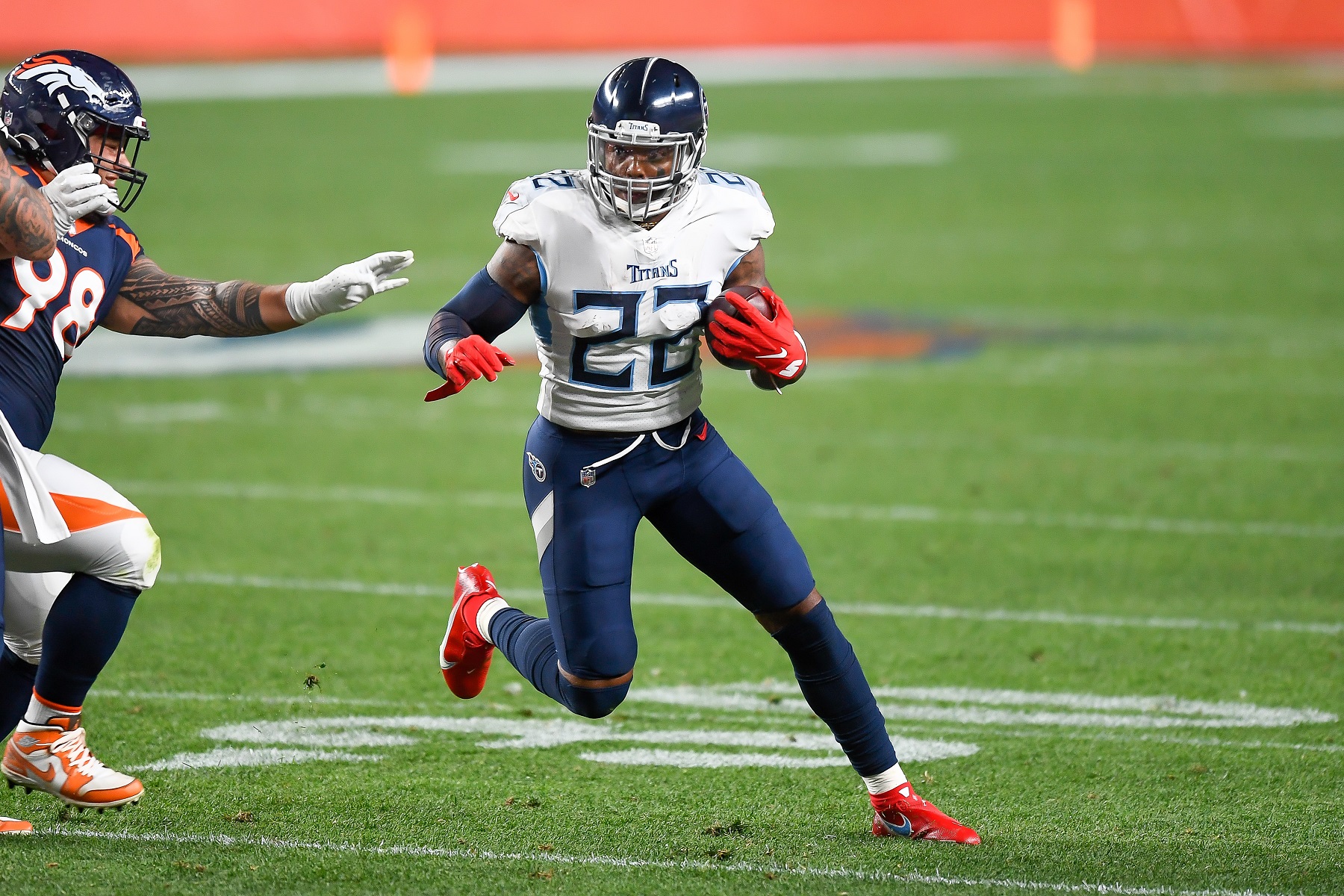 Tennessee Titans RB Derrick Henry Has Scored Yet Again
Pro Bowl running back and NFL leading rusher Derrick Henry has signed an endorsement deal with Old Spice.
For a guy whose future with his team looked tenuous right up until training camp, Derrick Henry is in a good place now. The Tennessee Titans running back has landed his new contract, garnered even more respect on the field, and scored his sweetest endorsement deal.
This is the Derrick Henry the Tennessee Titans anticipated
The Tennessee Titans had their eyes on the future rather than filling an immediate need when they selected Derrick Henry with the 45th pick of the 2016 NFL draft. The Titans already had DeMarco Murray at running back, and the 2014 Offensive Player of the Year as a Dallas Cowboys had just posted a 1,287-yard season.
Yes, he was just two years away from the age of 30, a red flag for judging running backs, but Murray's average of 4.4 yards a carry suggested he had some quality seasons left.
Henry would rush for 490 and then 744 yards in two seasons as Murray's backup when the dynamics suddenly changed. Murray's production had started to trail off during the 2017 season when a knee injury kept him out of the year's final game. The Titans cut him in the offseason, handing Henry the starting job.
Henry responded with 1,059 yards and a healthy average of 4.9 yards a carry in 2018, meaning he would take his imposing 6-foot-3, 240-pound physique into his contract year with a head of steam.
A big year followed by uncertainty and then resolution
Fans who'd paid little attention to Derrick Henry up until that point had no choice but to acknowledge his ability in 2019. Henry rushed 303 times for 1,540 yards and 16 touchdowns – all league highs. In the last six regular-season games, Henry totaled 896 yards and 10 touchdowns as the Tennessee Titans won five times and rolled into the playoffs with momentum.
Henry was magnificent in the postseason, too, with 34 carries for 182 yards against the New England Patriots and 30 carries for 195 yards vs. the Baltimore Ravens. The season ended with a loss to the Kansas City Chiefs in the AFC championship game, but the football world understood that the former Alabama Crimson Tide star was the real deal.
This past offseason was a game of chicken between Henry and the Titans. As a second-round draft pick, there hadn't been a fifth-year option to consider the previous year, so the running back had now arrived at the end of his contract.
As negotiations progressed, other teams were deciding on those fifth-year options on the class of first-rounders that came into the NFL the year after Henry. The Carolina Panthers worked out a lucrative extension with Christian McCaffrey. But the Jacksonville Jaguars turned down Leonard Fournette, so signals continued to be mixed on how teams were approaching the running back position.
Ultimately, Henry and the Titans couldn't work out a deal, and Tennessee slapped the franchise tag on him. After earning $5.4 million over four years, the bump to $10.278 million for 2020 was nice, but it offered no long-term security.
Derrick Henry lands an Old Spice endorsement deal
Derrick Henry's future changed at the July 15 deadline for negotiations between teams and their franchised players. The sides agreed to a four-year, $50 million deal. The $25.5 million guarantee continues to undervalue Henry, but it's still more security than he had. So much can happen in the interim, but he could have one more crack at a jumbo contract at age 30 before the 2024 season.
Meanwhile, the first-time Pro Bowl pick is scoring off the field, too. Henry, who has league highs of 663 yards and seven TDs through six games, just picked up a prominent endorsement deal on the heels of pummeling Buffalo Bills cornerback Josh Norman with a stiff arm on national TV.
According to the Nashville Post, Henry already had deals with Nike, Pepsi, and Champs Sports. But none of those made him the face of a major national ad campaign.
That's not the case this time. Proctor & Gamble just launched a campaign for Old Spice deodorant that will get prominent promotion throughout the season, particularly if the Titans make another deep playoff run. It's a nice gig for Henry considering that previous Old Spice spokesmen have included big NFL names like Brian Urlacher and Ray Lewis.
The 30-second TV spot shows Henry as a video game character plowing through a defense and dragging defenders – first to the end zone, then down a street, through a playground and an airport, and ultimately on a treadmill.
The commercial is already showing up online and will begin its TV run when Tennessee takes on the Indianapolis Colts in a Thursday game on Nov. 12.
All stats courtesy of Pro Football Reference.