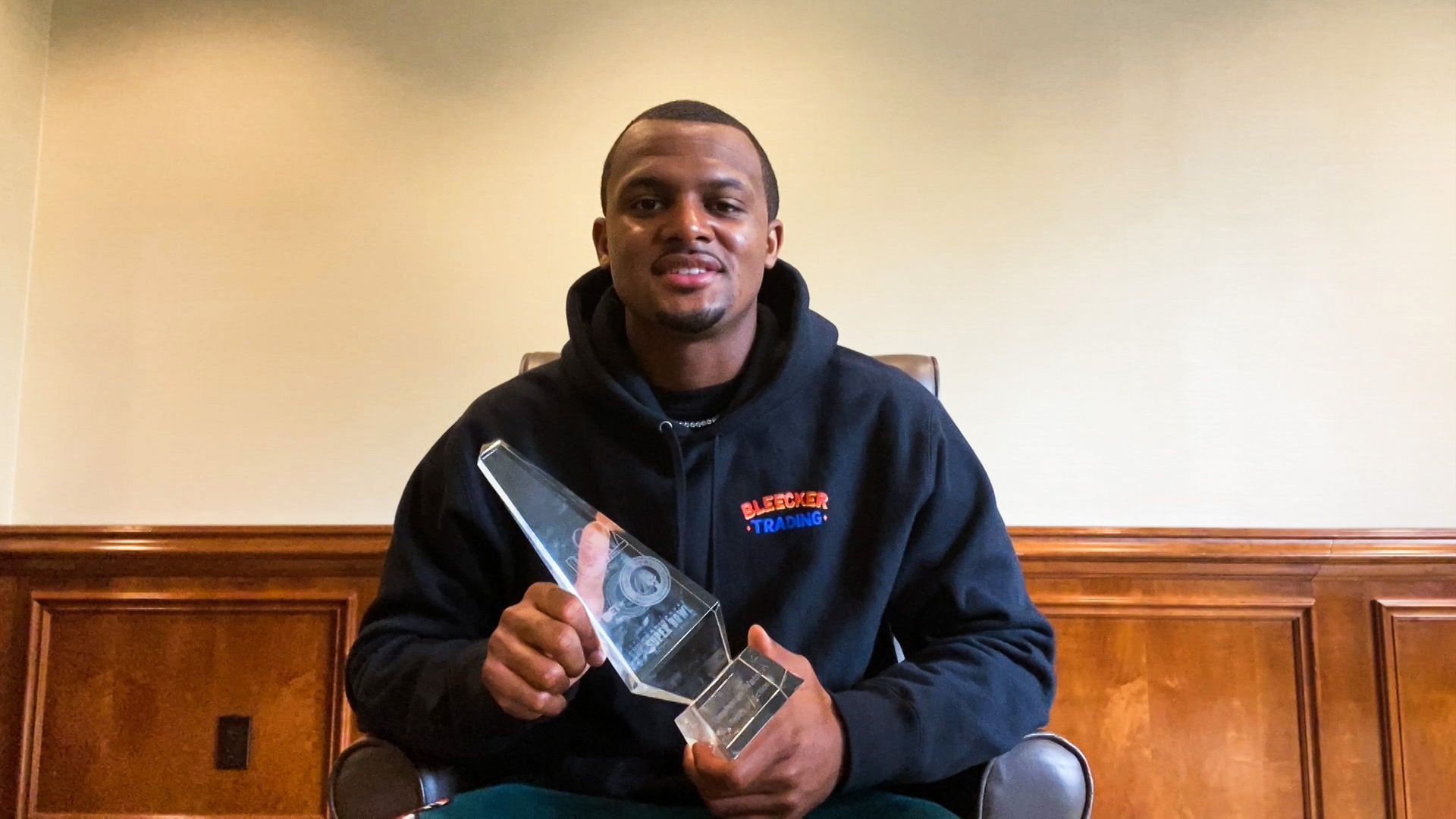 Deshaun Watson Gets Hard-Hitting Advice From Former NFL QB: 'Be Careful What You Ask For'
Disgruntled Houston Texans quarterback Deshaun Watson gets some hard-hitting advice from a former NFL quarterback.
Houston Texans quarterback Deshaun Watson wants out. As the franchise continues to lose players, coaches, and front office members, Watson wants to be the next one to go. One former veteran NFL quarterback has some hard-hitting advice for Watson, saying the grass may not always be greener on the other side.
Deshaun Watson wants to leave the Houston Texans
The Houston Texans are crumbling. It began a year ago when then-head coach and GM Bill O'Brien traded the Texans' top wide receiver DeAndre Hopkins. Hopkins was had for the oft-injured running back David Johnson and a second-round pick. O'Brien was fired four games into the 2020 season.
Watson, who signed a four-year extension for nearly $160 million prior to the 2020 season, was hoping to have some input in the hiring of Houston's new coach and general manager. According to ESPN, he didn't have a say in the GM hiring and has since demanded a trade.
Watson wasn't the only unhappy camper in Houston. Longtime Pro Bowl defensive end J.J. Watt recently asked for his release. The Texans granted it and he's now a free agent. What was once a promising nucleus in Houston has now turned into a disaster.
How good is Deshaun Watson?
Deshaun Watson was drafted out of Clemson in the first round of the 2017 NFL draft. He was taken 12th overall by the Houston Texans. Watson was the third quarterback selected in the draft, taken behind Mitchell Trubisky and Patrick Mahomes.
At 6-foot-2, 220 pounds, Watson is one of the most athletic quarterbacks in the NFL. He has a strong arm and is great outside the pocket with his elusiveness. But how good is he? In 53 starts, Watson is just 28-25. He's 1-2 in the postseason. One of those losses came in 2019 when his team blew a 24-0 lead to the Kansas City Chiefs.
Watson is good, but not elite. He was rewarded handsomely for a player with one postseason victory. Watson put up big numbers in 2020, throwing for 4,823 yards and 33 touchdowns despite his team's four-win season. Hall-of-Fame quarterback Kurt Warner doesn't see a guy like Watson winning a Super Bowl any time soon. "I'm waiting for these athletic quarterbacks, and I use that term. I'm waiting for one of these guys to show me if he can be the athlete, but can he also just play a game and win a game inside the pocket, 35 throws, carry you with his right arm and his decision-making," Warner said on Doug Flutie's Flutie Flakescast podcast last week. 'Because that, to me, is what's separating them and we're not seeing those guys play at this (Super Bowl level)."
Doug Flutie said Watson should 'be careful what you ask for'
If anyone knows about playing for multiple teams in professional football, it's Doug Flutie. Flutie played with eight different teams in three separate leagues during his professional football career. Flutie said he always admired guys who played the majority of their careers with one team. On the most recent episode of his Flutie Flakescast podcast, he said it can be very difficult making the switch to another team.
"(Deshaun Watson) is a Super Bowl-caliber quarterback, but it's not that easy to go into a new franchise, to build rapport with your players, to learn a new offense," Flutie said. "I can't emphasize that enough. To learn a new offense is very difficult. It's like learning a new language. It's always going to be your second language. There's a lot of little detailed information that terminology-wise, especially in the two-minute (drill), needs to be on the tip of your tongue and be ready to go.
"I look at these young guys and I see the opportunity to move on. They don't like the situation and maybe they believe they can't win in their current situation and things aren't going to work out. But be careful what you ask for. If you move on, you better be darn sure that opportunity ahead of you is better than the one you left."