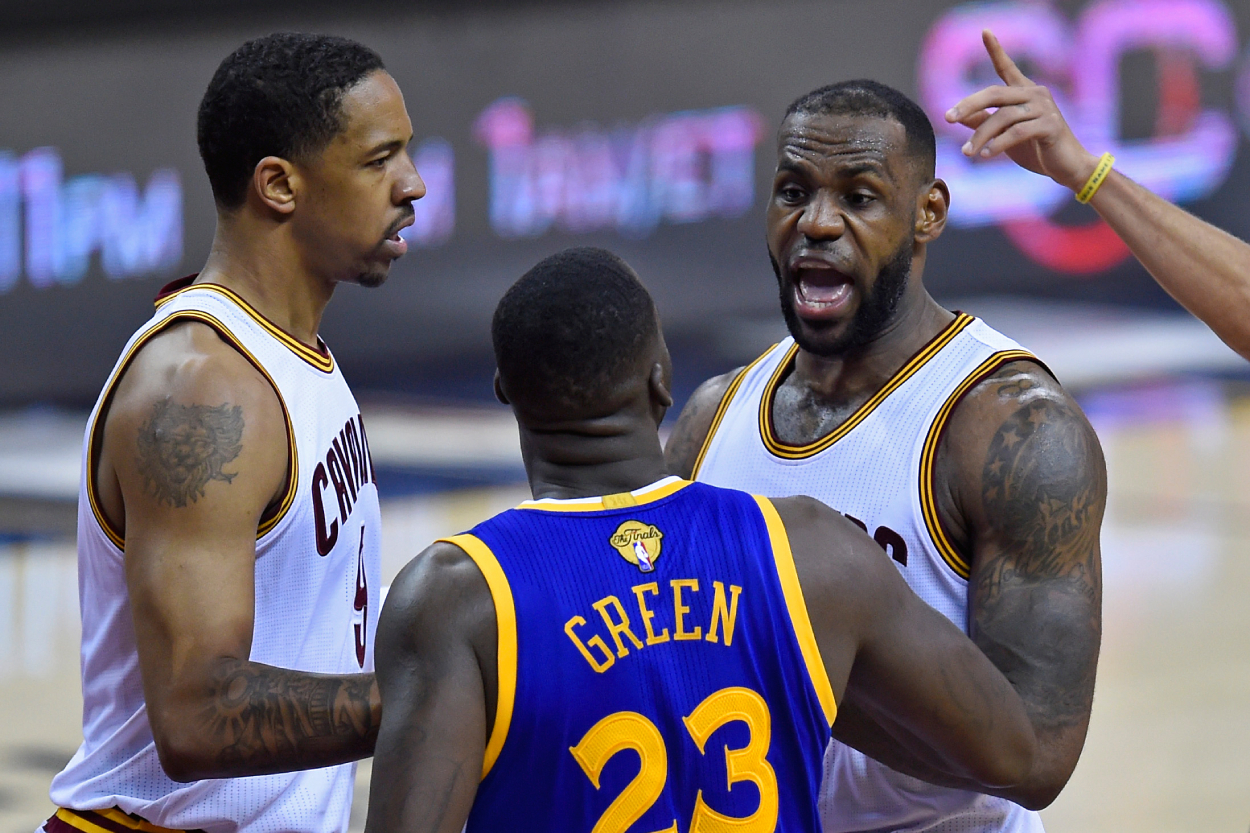 Despite Potentially Costing His Team a Title, Draymond Green Doesn't Regret Infamous LeBron James Altercation During 2016 NBA Finals
Draymond Green's flagrant foul on LeBron James during the 2016 NBA Finals potentially cost the Golden State Warriors a title, but he says he doesn't regret it.
There's always a turning point in every great playoff series. During the 2021 NBA Finals, it was Giannis Antetokounmpo's alley-oop dunk in Game 5. Ray Allen then changed the entire trajectory of the 2013 NBA Finals with his clutch 3-pointer in the closing moments of Game 6.
But in the epic 2016 NBA Finals between the Golden State Warriors and Cleveland Cavaliers, Draymond Green's foul on LeBron James in Game 4 changed everything.
However, despite potentially costing his team a title by getting suspended for the incident, Green says he doesn't regret what he did.
Draymond Green fouled LeBron James in Game 4 of the 2016 NBA Finals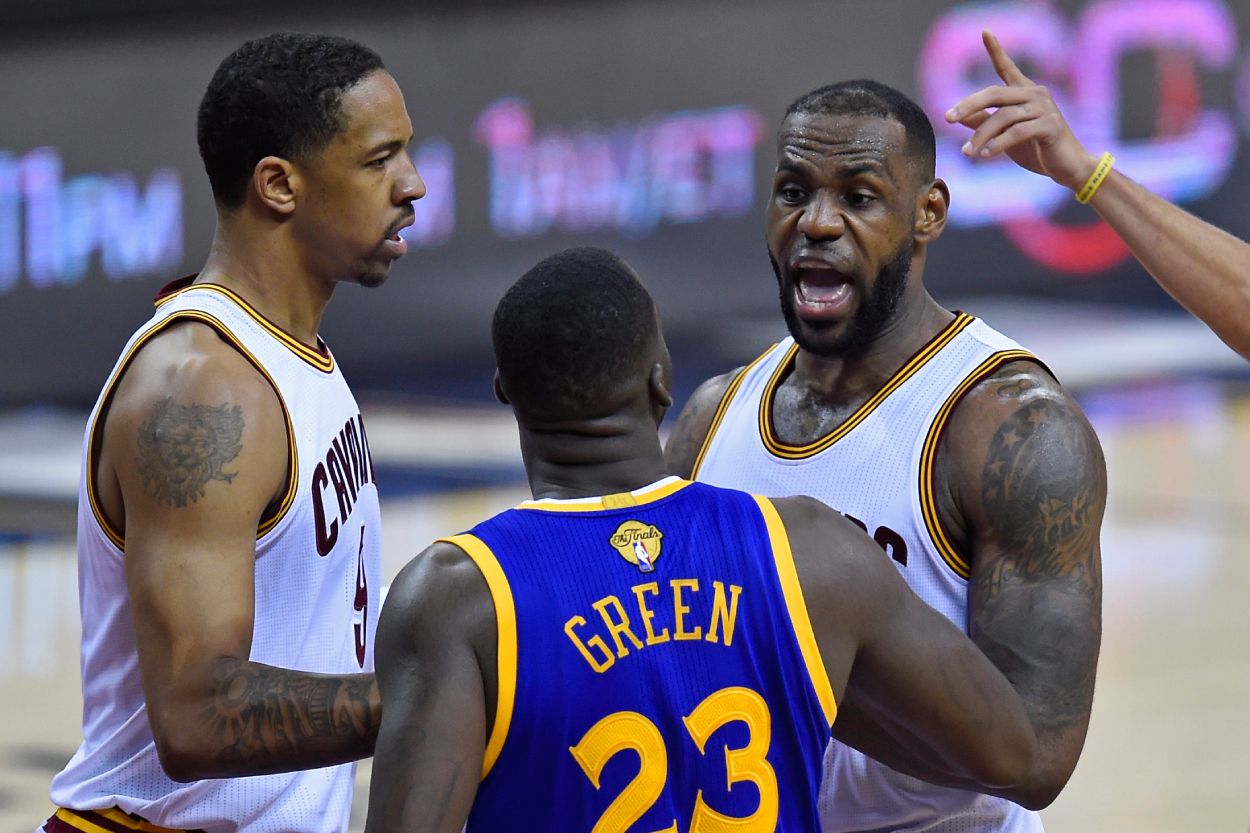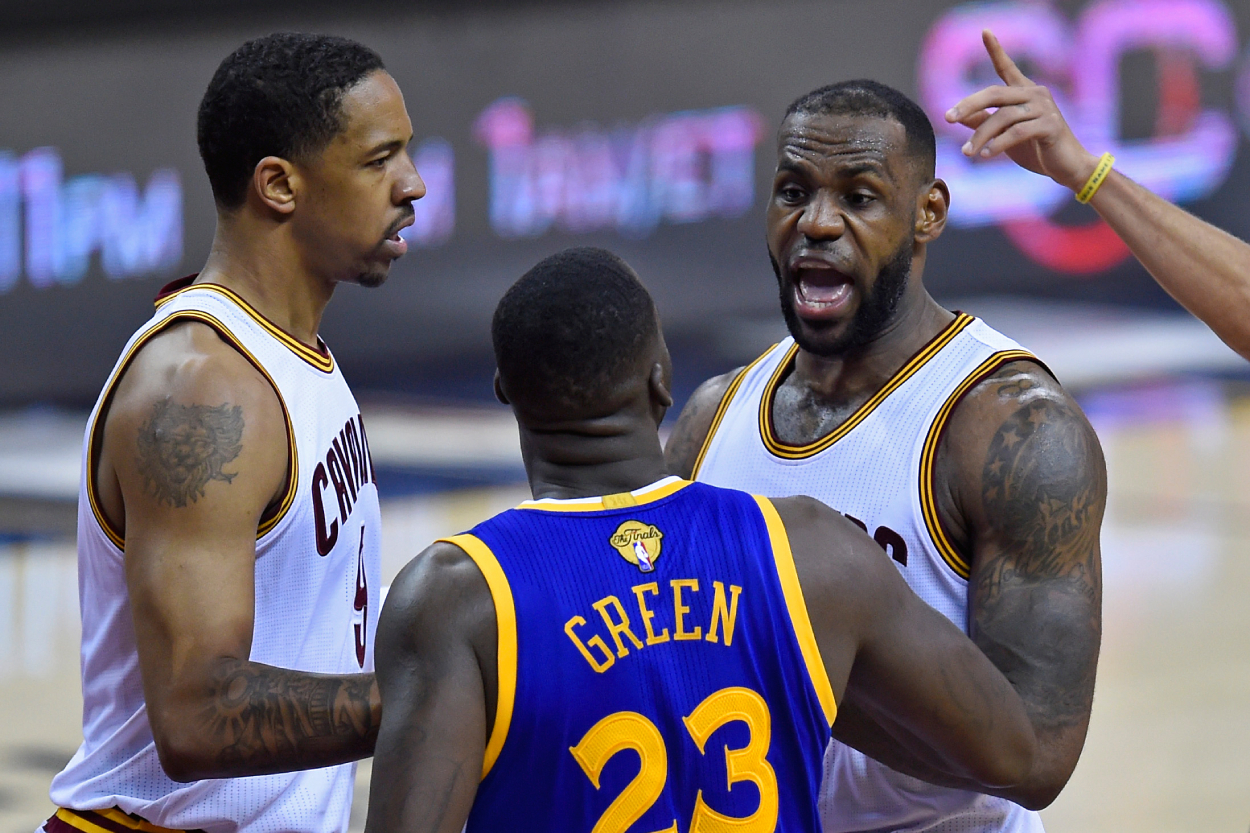 The 73-win Golden State Warriors dominated through the first four games of the 2016 NBA Finals, and it resulted in them taking a 3-1 lead over LeBron James and the Cleveland Cavaliers.
But with less than three minutes to go in Game 4, James stepped over Draymond Green, who had fallen on the floor. Green then got up and tried to hit James, and the two stars began talking trash. After the game, the NBA assessed Green with a flagrant foul, giving him his fourth flagrant foul point of that year's postseason and an automatic suspension.
As you likely know, his absence in Game 5 resulted in the Cavaliers winning 112-97. That was then all the confidence they needed to make a historic comeback. Cleveland won 115-101 in Game 6 before winning 93-89 in the series-clinching Game 7.
So, now that we're nearly six years removed from Green's altercation with James, how does he feel about it?
Draymond Green doesn't regret his altercation with LeBron James
Draymond Green recently appeared on The Old Man and the Three podcast, and former NBA player JJ Redick asked him about that moment in Game 4 of the 2016 NBA Finals.
"The only thing that may have changed is, I'm not sure I would react the same in the moment, just because I have grown as a person," Green said on the Jan. 28 episode. "I don't regret reacting the way I reacted in the moment because the only reason I can't promise you that I wouldn't react that way [is] because if somebody steps over my shoulder, I'm naturally going to try to get you off my shoulder. … What I do know is, I think LeBron coaxed me into that, and I know for sure today he couldn't coax me into that. And so, if it's anything, it's that. But I don't regret it because s*** happens, and I learned so much from that."
Green also added that he doesn't think the Warriors would have added Kevin Durant that offseason had they won the series.
"If we don't get Kevin Durant, I'm not sure our run would have continued," he said.
The 2016-17 Defensive Player of the Year believes he got what he deserved, but Green doesn't think the league should have suspended him for Game 5.
"I got upgraded to a flagrant foul for trying to hit him," he said. "I tried, I definitely tried. He's on my shoulder. But I missed. The reason I was suspended were for flagrant foul accumulation points. I didn't foul him. I missed."
Whether he believes his suspension was justified or not, the moment altered the course of NBA history.
The altercation changed NBA history forever
As Draymond Green alluded to, his flagrant foul changed NBA history forever. There's a good chance the Cavs wouldn't have come back and won had he not been suspended, so they wouldn't have become the first team to rally from a 3-1 deficit to win the Finals.
And had the Warriors won, Kevin Durant likely wouldn't have signed with Golden State in the offseason. So, the Cavaliers could have potentially won the title in 2017, and maybe Kyrie Irving would have stayed in Cleveland that next year. If Kyrie had stayed, there's a chance LeBron James wouldn't have gone to the Los Angeles Lakers in 2018.
But what really bothers Green is he believes he could have won the 2016 NBA Finals MVP had they won the title. The three-time All-Star averaged 16.5 points, 10.3 rebounds, 6.3 assists, 1.7 steals, and 1.0 block per game in the series. He also had 32 points, 15 rebounds, and nine assists in Game 7.
"That totally changes the narrative. Good luck leaving me off the NBA 75 if I was Finals MVP. Good luck even having the debate if I'm a Hall of Famer or not if I was Finals MVP," he said.
Most people probably believe Green is a Hall of Famer. But his flagrant foul still potentially changed his entire NBA legacy.
Stats courtesy of Basketball Reference