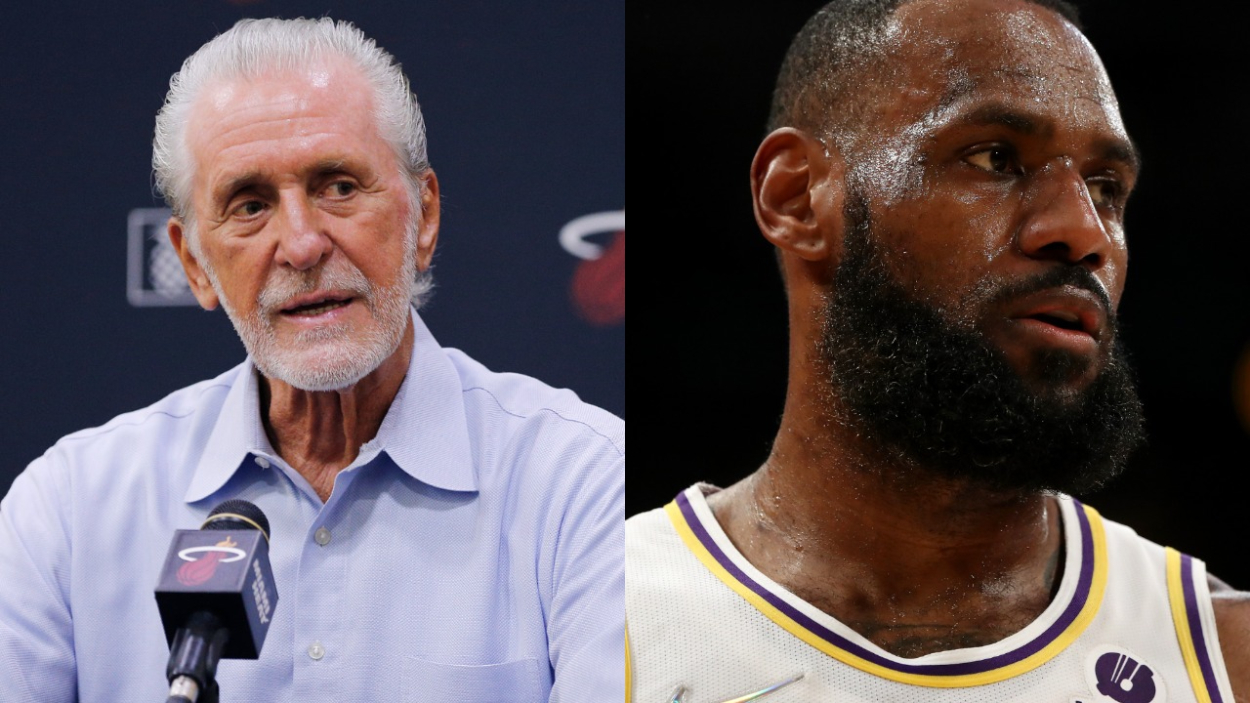 Despite Their Emotional Divorce, Pat Riley Shares His Admiration for LeBron James, Compares Him to Michael Jordan
LeBron James and Miami Heat president Pat Riley may have had an emotional divorce when James went back to Cleveland, but Riley just gave The King the ultimate compliment.
There have been many great versions of LeBron James. Heck, he has essentially had multiple Hall of Fame careers given everything he has accomplished in the NBA.
Miami Heat president Pat Riley, though, may have had him when he was at his best.
During James' four years in Miami, he was as athletic as anyone in the league. He also had an excellent feel for the game, which helped the Heat run like a well-oiled machine offensively. However, after losing in the 2014 NBA Finals, James returned home to the Cleveland Cavaliers in a move that shocked everyone, including Riley.
But despite the divorce that left Riley pretty angry, the legendary coach and executive recently gave James the ultimate compliment: He compared him to Michael Jordan.
LeBron James' Heat departure left Pat Riley pretty angry
LeBron James had a magical four years on the Heat. He, Dwyane Wade, and Chris Bosh led the franchise to four consecutive NBA Finals appearances and back-to-back championships in 2012 and 2013.
However, after Miami lost to the San Antonio Spurs in the 2014 Finals, James chose to return home to his old team, the Cleveland Cavaliers. Pat Riley, who did so much work to build those Heat teams, was pretty mad, to say the least.
"I had two to three days of tremendous anger," Riley said to Ian Thomsen in the 2018 book, The Soul of Basketball, per Yahoo Sports. "I was absolutely livid, which I expressed to myself and my closest friends. My beautiful plan all of a sudden came crashing down. That team in 10 years could have won five or six championships. But I get it. I get the whole chronicle of [LeBron's] life."
Riley, who was previously a championship-winning coach with the Heat and Los Angeles Lakers, has seemed to cool down about the divorce. Time heals all wounds. And in 2021, he essentially said he would welcome James back to the Heat if he ever wished to make his return.
"I would leave the key under the doormat if he would call me and let me know he's coming; I would do that, but that key's rusted now," he said on an episode of The Dan Le Batard Show With Stugotz.
Pat Riley compared LeBron to Michael Jordan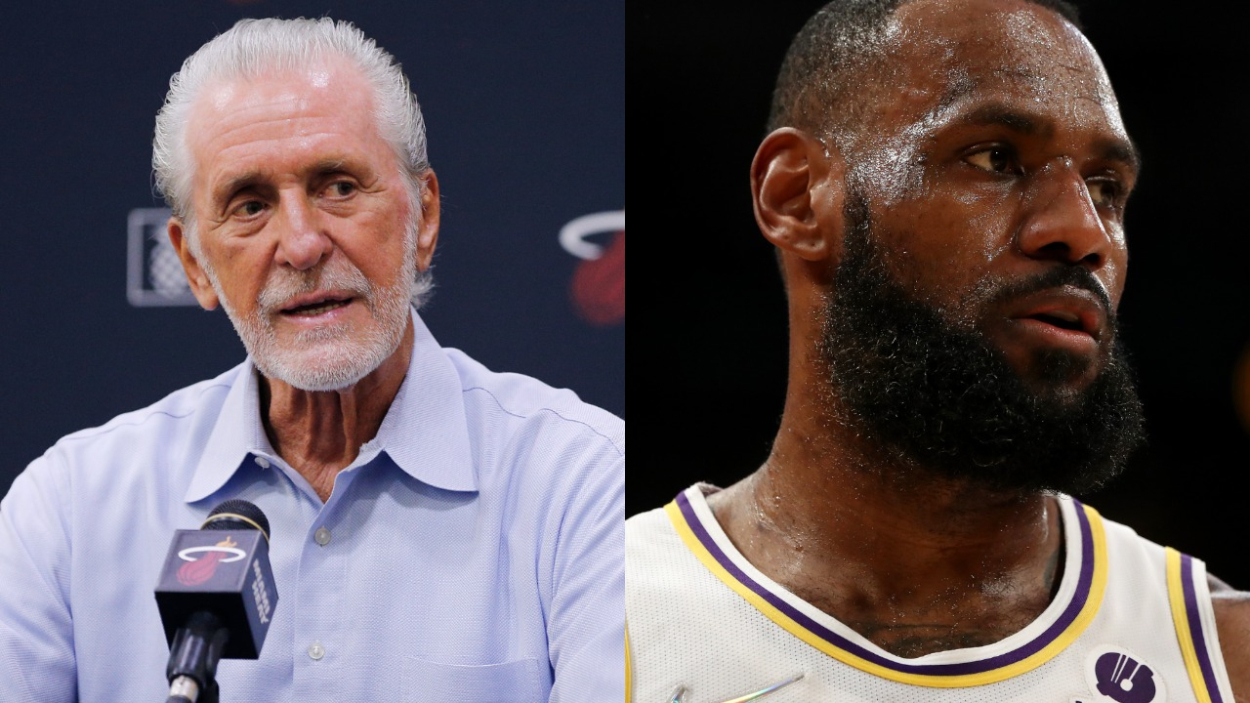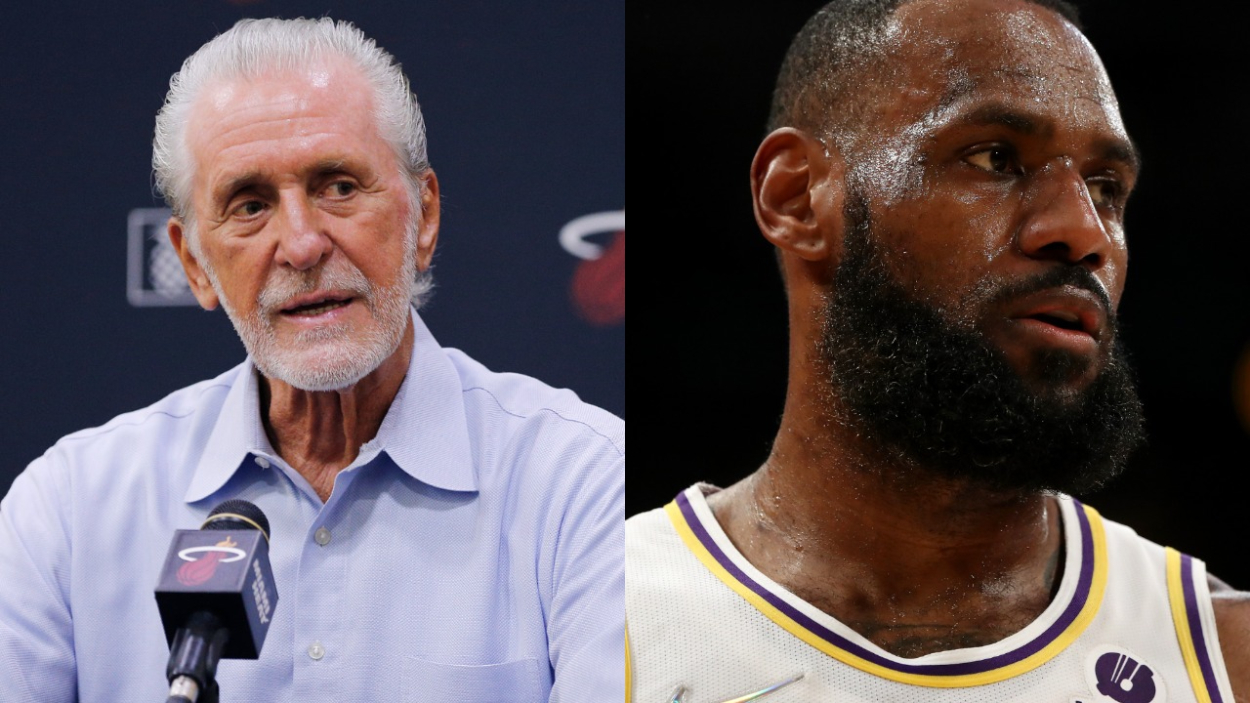 It's unclear whether Riley and James ever talked out their differences, but there doesn't appear to be too many hard feelings anymore.
And recently, the former took part in a special video segment on James the NBA produced for its 75th anniversary.
"LeBron is in a class of his own," Riley said. "He is absolutely unique. He's Michael. He's Magic. He's Kobe. He's Jerry West. He's Bill Russell. You take all of these great, great players, and you put them in a blender and mix them up; LeBron's got something of all of them in him."
Comparing him to all those legends is pretty high praise, but Riley is right. James has become the unstoppable force he is today by combining all those great players' skill sets.
LeBron James is arguably the most unique player to ever play
Pat Riley saw the uniqueness of LeBron James' game firsthand in Miami. And he likely realized one thing: There may never be a player quite like The King again.
He's an elite athlete who could have played college football, but he's 6-foot-9 and 250 pounds. Seeing him come at you while he's driving down the lane is likely a scary sight, especially because not many players as tall as him could handle the ball as well as he could when he entered the league.
But while his athleticism has helped him score at will over the years, his basketball IQ has made him one of the greatest passers the game has ever seen. James has not only led the league in points per game in a season, but in 2019-20, he led it with a career-high 10.2 assists per game while playing point guard for the Lakers.
Had LeBron just focused on scoring throughout his career, he could have been as lethal as Michael Jordan and Kobe Bryant. But he still has a chance to be the NBA's all-time leading scorer when his career is all said and done. And had he focused on passing, he could have been a better distributor than Magic Johnson (although he's just one spot behind Johnson on the all-time assists list).
LeBron James has had one of the greatest careers the league has ever seen, and it has led to him going to numerous NBA Finals and winning four championships, two coming with Pat Riley's Miami Heat.
Stats courtesy of Basketball Reference