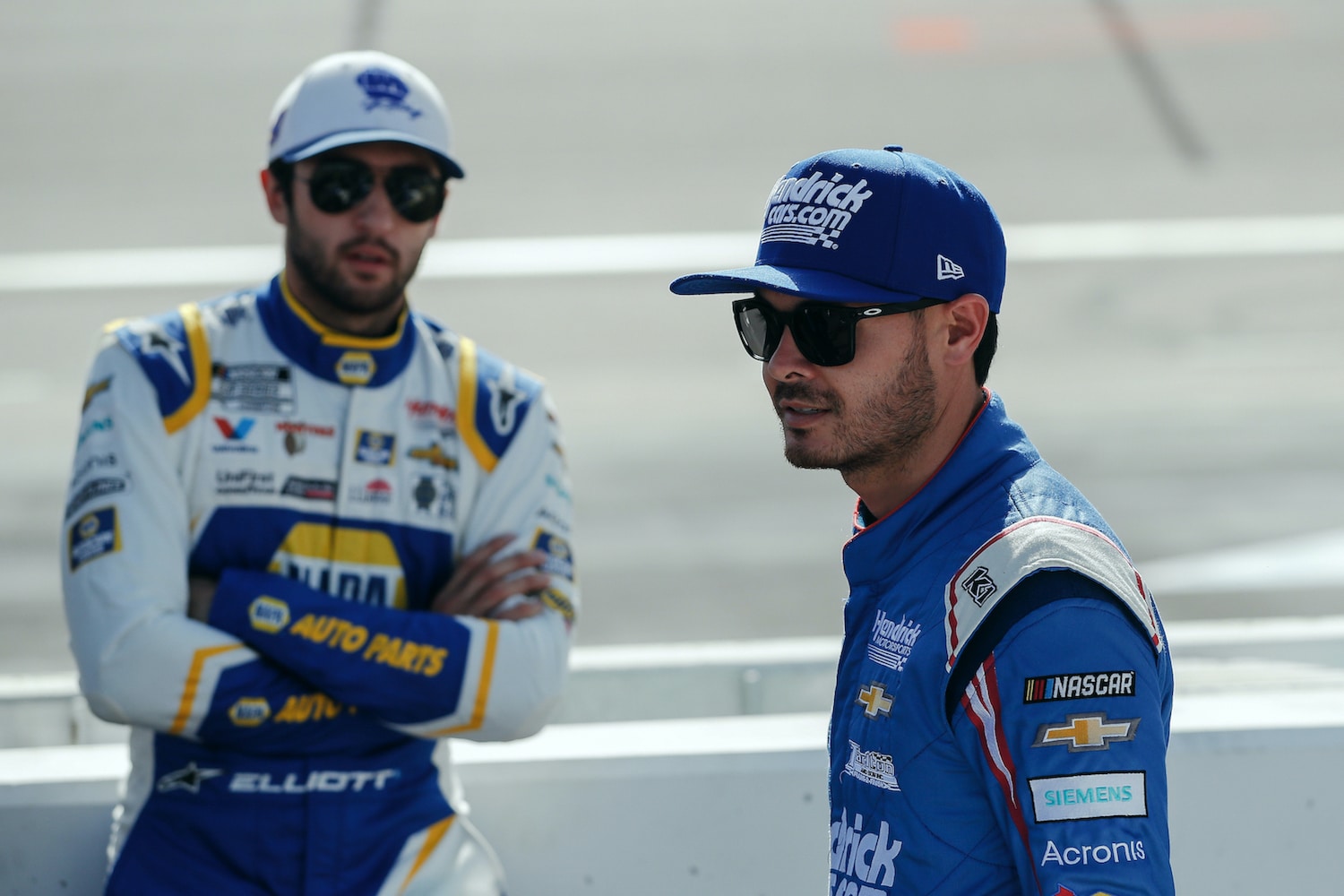 Did Chase Elliott Make a Blunder in His Postrace Comment or Hint at Payback in a Future Race?
Did Chase Elliott make a mistake in his postrace interview or was he thinking about retaliation with Kyle Larson at a later race?
Chase Elliott clinched the regular season championship and earned a valuable 15 playoff points on Sunday at Watkins Glen. But the 2020 Cup Series champion could have cared less about those things just moments after the race in which he was in prime position to win but got moved out of the way on a late restart by his teammate Kyle Larson, who eventually went on to victory.
After the race, the noticeably upset driver, who finished fourth, spoke with NBC's Dave Burns about the day. However, when the reporter repeatedly tried to ask him about the late restart, he refused to answer the question directly and said one word most assume was a mistake, but some are suggesting could have been foreshadowing of things to come.
Chase Elliott moved by Kyle Larson on late restart
Chase Elliott was the best car at Watkins Glen on Sunday. He started from the pole and led a race-high 29 laps. With nine laps to go, Elliott and his HMS teammate Kyle Larson started from the front row on a restart. The No. 9 car got a good jump, beat the No. 5 car out of Turn 1, and reclaimed the lead he had before the caution waved. 
Fast forward several laps later and another caution. Both HMS cars started from the same positions, Larson on the inside and Elliott on the outside heading into Turn 1. This time, however, the reigning Cup champion drove it in hard, locked up his brakes, and slid out wide, escorting Elliott even wider. 
When all the smoke cleared, Larson took the lead with AJ Allmendinger right behind him. The Kaulig Racing car tried but was unable to pass the HMS car, which went on to claim the second win of the season and second consecutive win at the track. Elliott finished fourth. 
Chase Elliott makes blunder in anger
Unsurprisingly, after the race, all the talk was about what happened between the pair of HMS teammates on the final restart. Larson candidly admitted in his postrace interview that he wasn't proud of the move. 
When NBC's Dave Burns interviewed Elliott, the reporter mentioned how Larson wasn't pleased with how the pass happened and asked the No. 9 driver if he understood the risk of restarting on the outside.
"Just a huge congratulations to Kyle and everybody on the 5 team," Elliott said, completely ignoring the question. "Congratulations to everybody at Hendrick Motorsports for getting another win. Appreciate Kelley Blue Book for being on our car this weekend."
When Burns asked what Elliott would like to say to his teammate, it was much of the same.
"Congratulations. He did a great job," he said. "Seriously, they deserve it. Looking forward to going to Bristol next week and trying to get one for our team."
There was just one thing wrong with Elliott's last comment. The Cup Series closes out the regular season next week at Daytona. Bristol is still four races away. In his anger, the driver obviously couldn't think straight and forgot where the series would be racing in a week. 
Did he get confused or actually mean Bristol?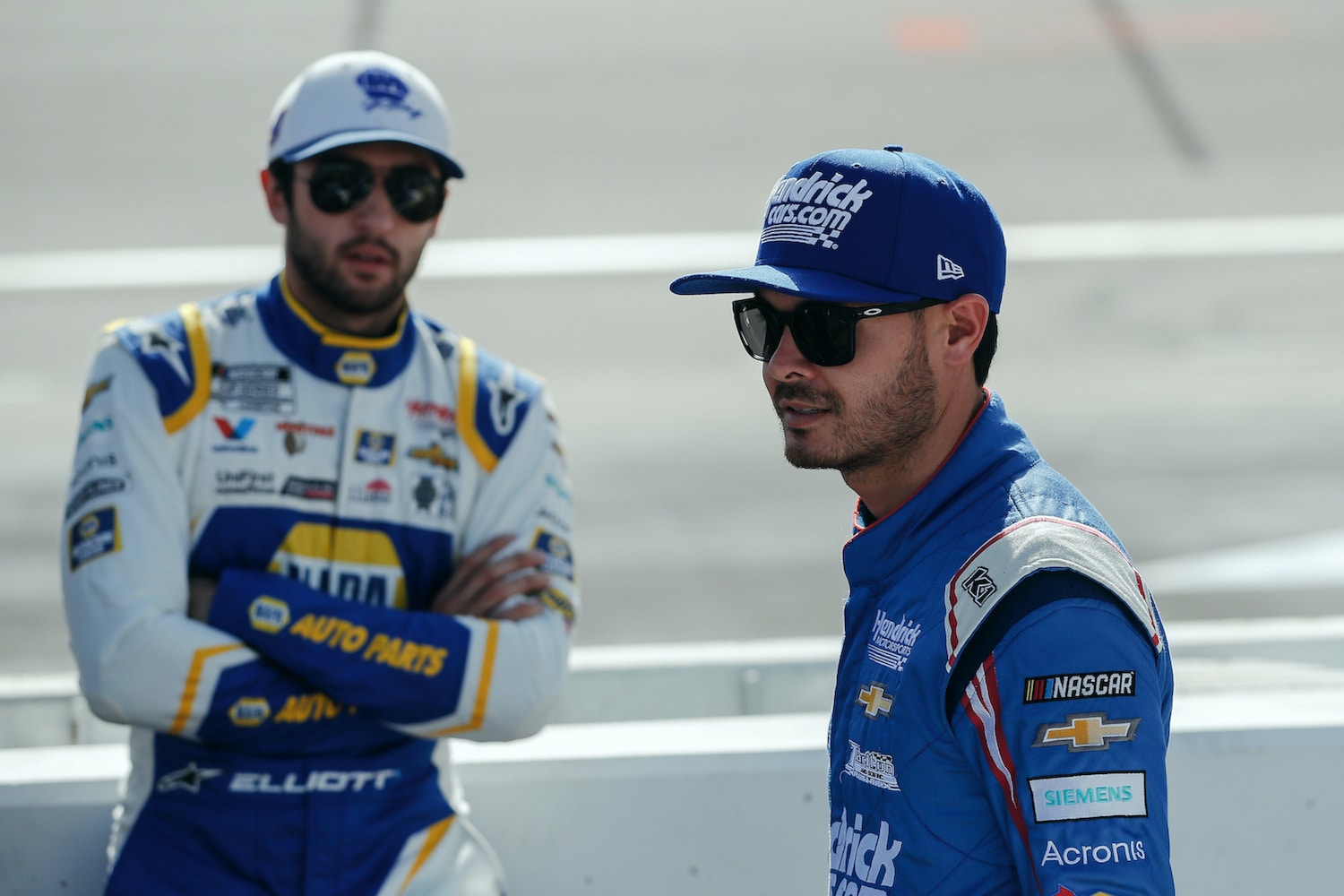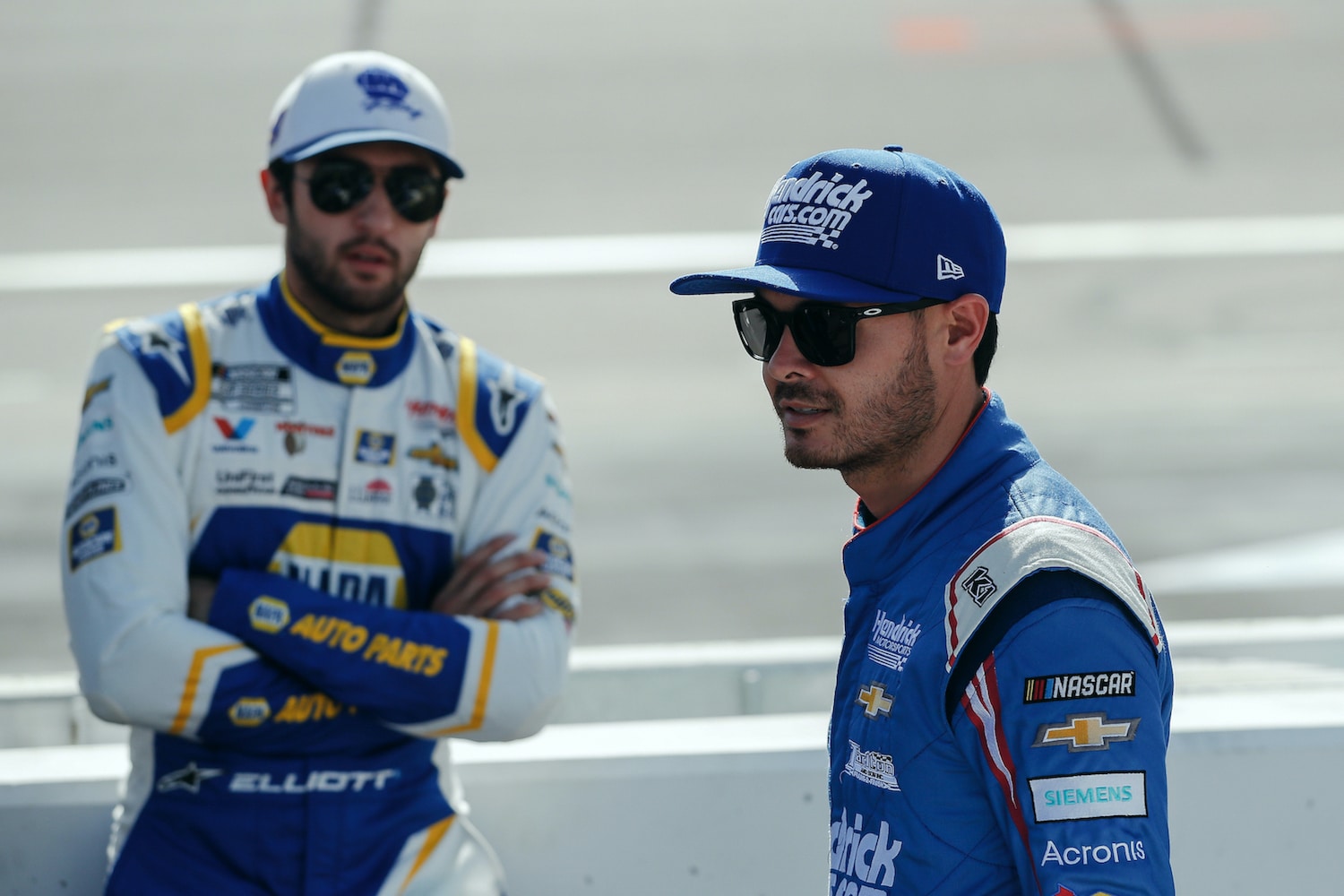 Elliott's blunder, which he interestingly repeated again in the press conference minutes later, sparked a conversation on social media that maybe he didn't slip up at all and actually meant to say Bristol.
One conspiracy theory is that Elliott was thinking about the short track and what happened there last year during the playoffs when he and Kevin Harvick began their feud, but before the race was over, the No. 9 car served as a good teammate and blocked the Stewart-Haas Racing car, allowing his teammate Larson to go onto victory.
With that mindset, Bristol could be a full-circle moment where Elliott might be able to get some sort of retaliation with his teammate for not only what happened at Watkins Glen on Sunday but the incident earlier this year at Fontana when Larson blocked and ran him into the fence, before going on to his first victory.
It's hard to believe Mr. H would allow Elliott to pay back Larson because that doesn't help the team. But at this point, who knows what might happen between the two HMS drivers? No one would have predicted Kyle Larson would use up Elliott like he did. The only thing for sure is the fans will be watching because there's nothing like a good NASCAR drama, and it only gets more intriguing when it's between teammates who are vying for a championship.
Like Sportscasting on Facebook. Follow us on Twitter @sportscasting19 and subscribe to our YouTube channel.