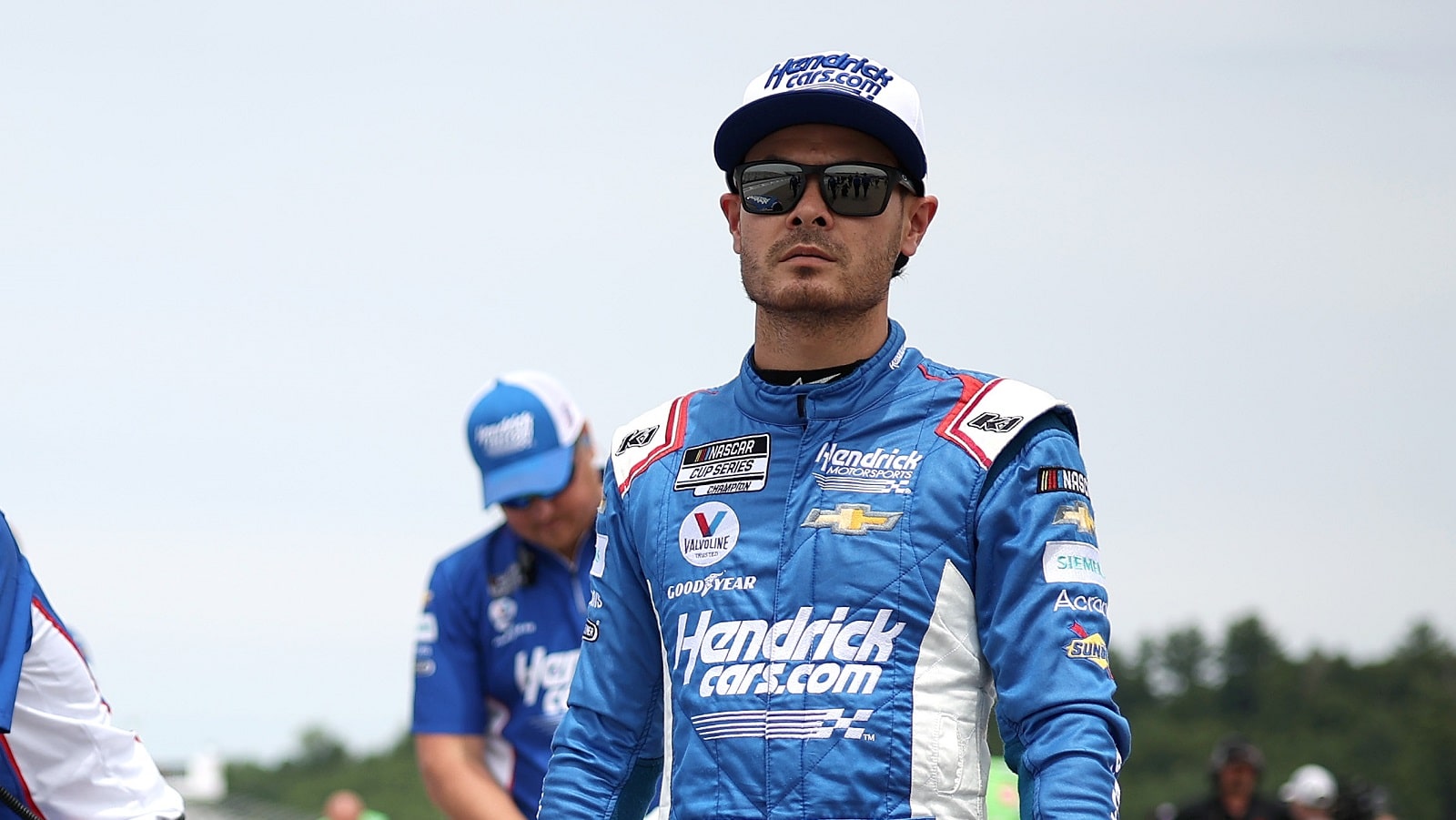 Kyle Larson Has Been Winless Since Fontana, but His Reason for Not Worrying Makes Sense
Kyle Larson has only won once this season, but the defending NASCAR Cup Series champion is third in points.
Considering that Kevin Harvick has been back in the news for all the right reasons lately, we might as well make the comparison between Kyle Larson and the driver of the No. 4 Ford.
Larson's year is playing out much like Harvick's 2021 season. The key difference: Unlike Harvick last season, Larson isn't spinning his wheels chasing a runaway favorite for the NASCAR Cup Series championship. It's why the driver of the No. 5 Chevy isn't overly concerned as he approaches six months without a victory.
The parallels between Kyle Larson and Kevin Harvick are real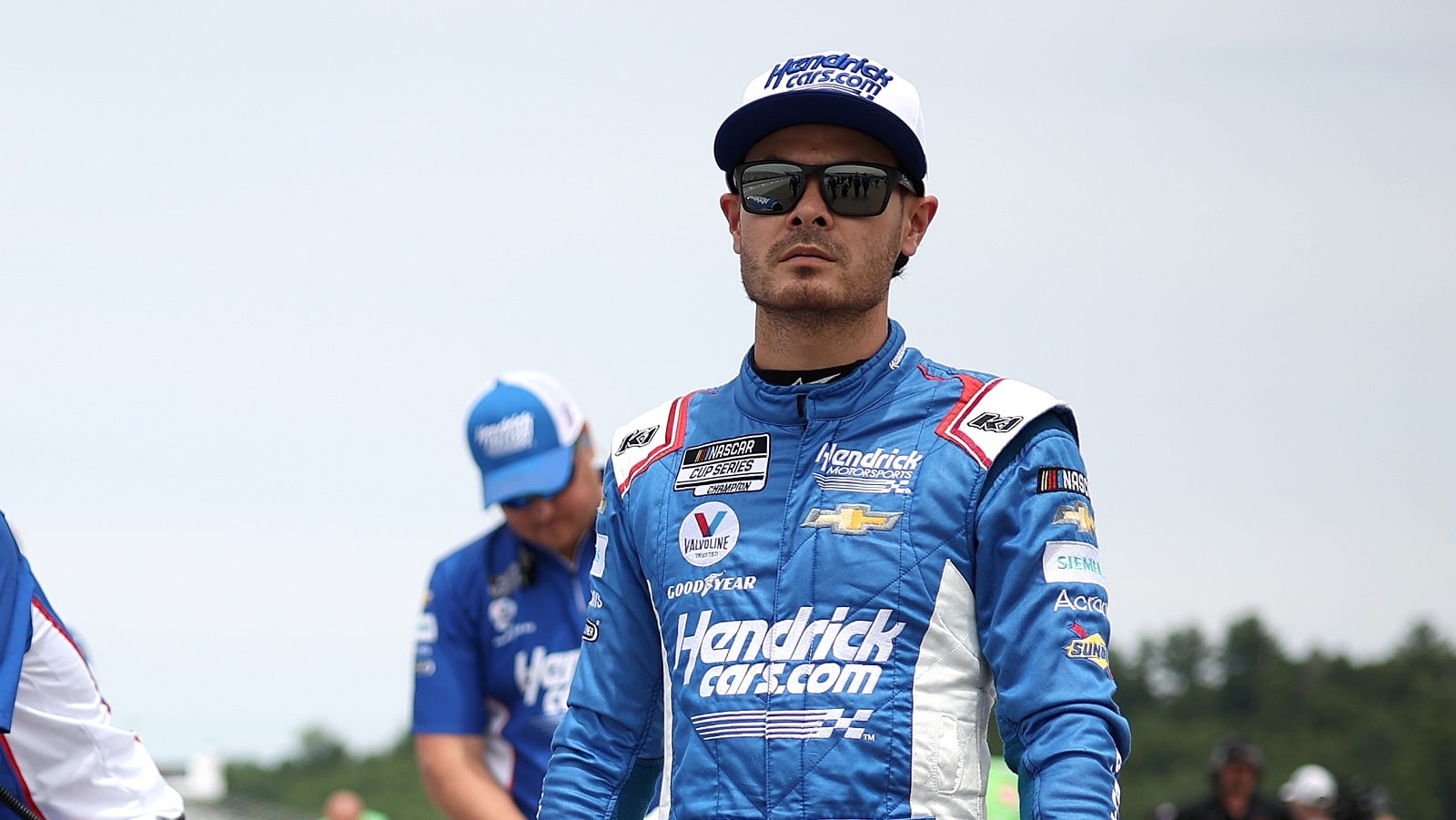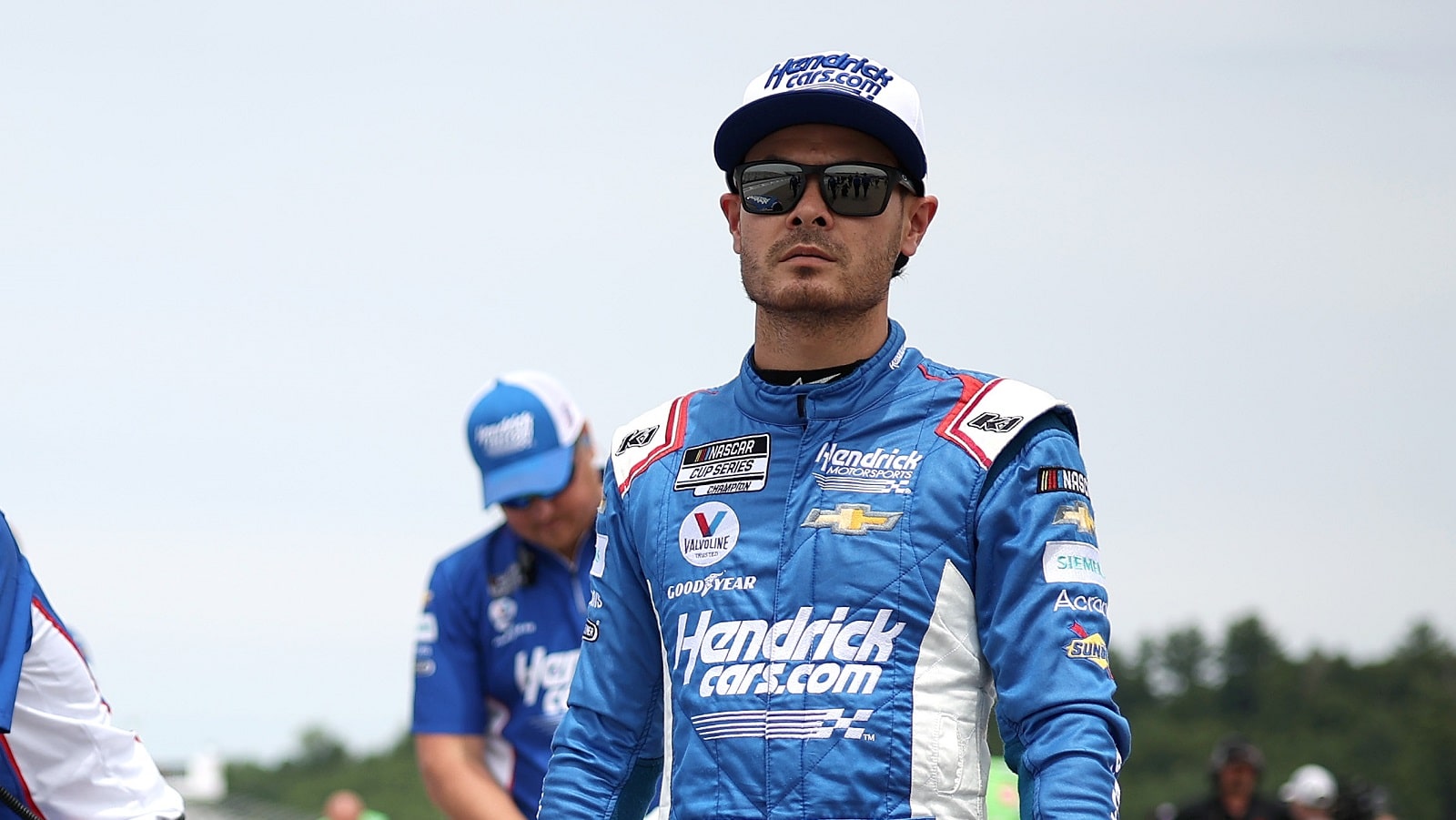 Aside from Kyle Larson's triumphant return from a NASCAR suspension, the big Cup Series story of 2021 was the drastic change of fortune for Kevin Harvick.
Harvick dominated the Cup Series in 2020, winning nine races. However, the last of those victories came in the third playoff race to maintain his nearly season-long reign in points. However, 16th place at Texas Motor Speedway and 17th at Martinsville shockingly kept Harvick out of the Championship 4.
The woes carried over to last season. Harvick went winless the entire year, but he did log 10 finishes in the top five and 14 more in the top 10. It kept him in the top third of the points list all season but didn't mean Harvick was a bona fide contender. That's because Larson was tearing up the competition, first with five wins in regular-season points races and then with five more in the playoffs. Other than Denny Hamlin, no one was keeping particularly close, and even Hamlin only won twice.
Winning and Kyle Larson have been strangers since late February
Kyle Larson crashed late at Daytona to finish in 32nd place to open the current season, but he won at Fontana and finished second at Las Vegas. Given how well he performed en route to the 2021 NASCAR Cup Series championship, many took that as a sign of things to come.
However, Larson followed with three straight finishes of 29th or worse. Six races into the season, he was 16th in the standings; parallels to Harvick's 2021 season were coming into focus.
Larson hasn't won since Fontana, but his situation is superior to Harvick's a year ago. After four DNFs in his first 12 races, Larson has remained running in all but one race since. He's finished second twice, third once, and fourth three times. He's not going to match the number of wins or top-10 finishes from a year ago, but Larson has worked his way up to third place in points behind Hendrick Motorsports teammate Chase Elliott and Ryan Blaney.
Martin Truex Jr. and Ross Chastain are close behind, but Larson only has to hang on through Watkins Glen and Daytona to roll up eight more bonus points for the playoffs.
The defending champion isn't worried
Chase Elliott has won four races and is about to clinch the regular-season crown and its 15 bonus points. Neither Kyle Larson nor anyone else has to outpoint Elliott, the only driver with more than two wins, to reach the Championship 4. Rather, drivers just need to make the final transfer after the sequence of races at Las Vegas, Homestead-Miami, and Martinsville. From there, the four survivors go to the all-the-marbles race at Phoenix.
That's why Larson may be mildly disappointed with his 2022 season but isn't necessarily concerned.
"Everybody season's been really inconsistent, maybe aside from Chase there for a month and a half or two months," Larson told Bob Pockrass of Fox Sports. "So, if you can find some consistency, I think you can make a deep, deep run into the playoffs."
Half of last year's 16 playoff qualifiers recorded between four and five DNFs over the 36 races, and eighth-place Joey Logano was the highest overall finisher.
Of the six drivers to have won twice in the first 24 races of 2022, William Byron and Tyler Reddick already have five DNFs apiece. Ross Chastain, Kevin Harvick, and Denny Hamlin are next at four apiece. All are on pace to begin the playoffs along the top nine seeds with Elliott.
Anyone should be able to survive one DNF in the first phase of the playoffs, but only Elliott might have enough of a cushion to survive the second or third transfers after experiencing an untimely mechanical issue or a wreck.
Larson feels he may have gotten his own misadventures out of the way. Other than his bizarre wreck at Indianapolis that obliterated Ty Dillon's car, Larson has not finished below 15th in his last dozen races entering Watkins Glen.
"I feel like we're getting some momentum to the tail end of our regular season here and we've had fast cars every week," Larson said. "That's the most important piece, I feel like, to go contend for a championship."
All stats courtesy of Racing Reference.
Like Sportscasting on Facebook. Follow us on Twitter @sportscasting19 and subscribe to our YouTube channel.
Got a question or observation about racing? Sportscasting's John Moriello does a mailbag column each Friday. Write to him at [email protected]