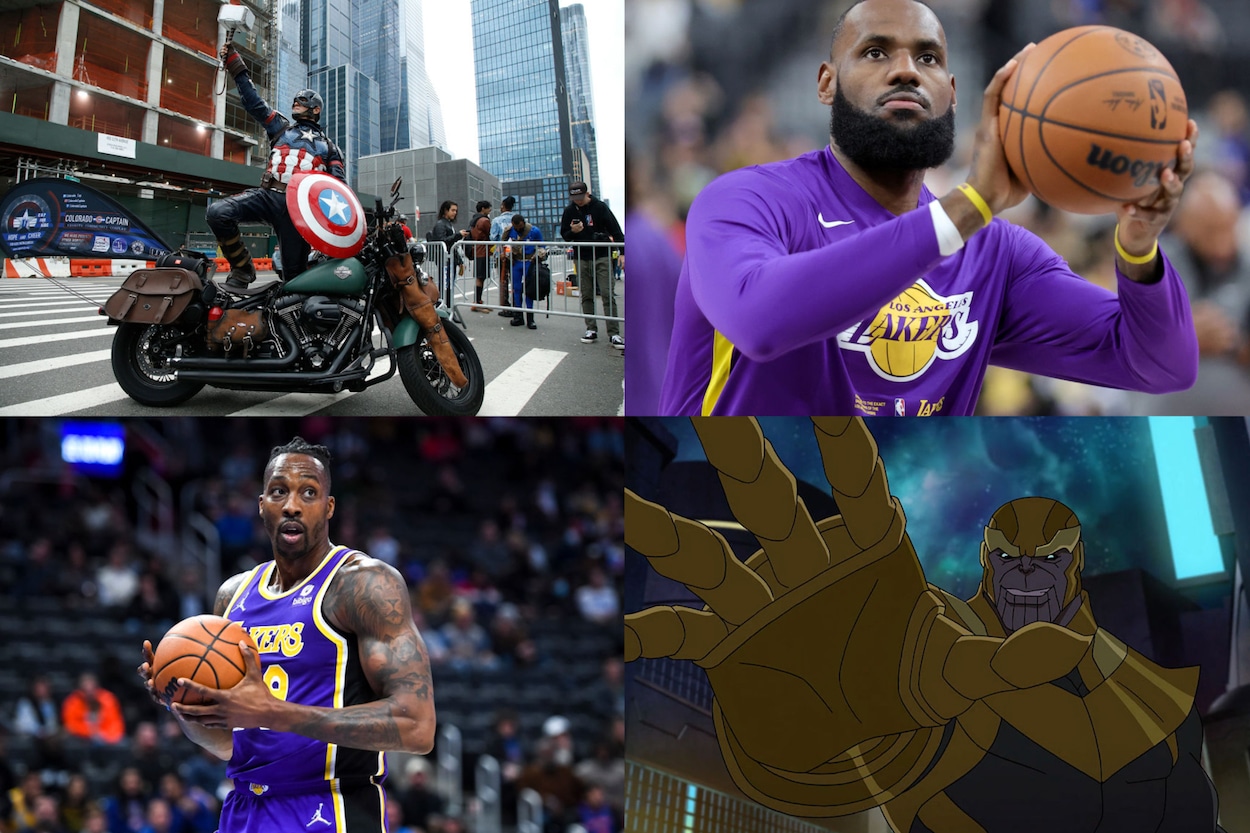 Did Dwight Howard Throw Some Subtle Shade at LeBron James With His Captain America Comparison?
Calling LeBron James has to be a compliment, right? If you consider Dwight Howard identifies with Thanos, though, things get tricky.
If you're a longtime sports fan, then unusual comparisons won't be anything new. Whether we're comparing athletes to their peers, animals, or any other noun that springs to mind, it's easy to use similes and metaphors to contextualize someone's greatness. As one of the best players in modern basketball, LeBron James has certainly been subject to his fair share of parallels.
Dwight Howard, however, added a new one to the list. In a recent appearance on All the Smoke, the center compared King James to Captain America.
While that's not surprising given Howard's affinity for superheroes, it does raise another question: Was he taking a nerdy sneaky shot at LeBron?
LeBron James is a real-life Captain America, says Dwight Howard
During the early days of his career, Dwight Howard beefed with Shaquille O'Neal over which center was worthy of the "Superman" title. The big man, however, apparently doesn't limit himself to the DC universe.
On the All the Smoke podcast, Howard was asked to compare Kobe Bryant and LeBron James. While you might expect a comparison of the two stars' respective games, things took a slightly different turn.
"They two different people," the center explained. "Kobe's … I always felt like Kobe was like Batman. You know what I'm saying? Just this, he by himself … Then, you know, Lebron's like Captain America. That's like Lebron. LeBron is always, he want everyone to be around, you know what I'm saying? He wants to have fun. He wants to dance before the games and put on his music, and Kobe's just locked in. He don't say nothing. He got the basketball, and he dribbling the heavy ball before the game."
Even from afar, those descriptions — at least the parts about basketball and personality — make sense. Kobe was famous for his Mamba Mentality, and LeBron James rode banana boats, starred in Space Jam: A New Legacy, and has no problem live-tweeting through an NFL game. And, based on their NBA resumes, both men are worthy of being called basketball superheroes.
But hold on a second. There's another big, purple thread we can pull on.
'Captain America' takes on a different tone when we consider Howard's affinity for Thanos
As mentioned above, Howard is known as a fan of Superman. More recently, though, he's tied himself to a specific character from the Marvel Universe: Thanos.
During an episode of In Depth with Graham Bensinger, for example, the Atlanta native showed off a specific Rolls Royce. "I got this purple car because of Thanos from The Avengers," Howard explained. "He's my favorite character. He was able to understand that, in order for him to complete his mission, he had to get rid of his emotions, and that's the hardest thing that we all face."
Beyond that, the big man has also identified more directly with the Titanian Eternal. In 2019, he posted an Instagram photo of himself dunking with the caption, "Thanos is coming."
Beyond the obvious contrast — James/Captain America has fun (questionable given the serious tone typically associated with the character) and brings everyone along with him, whereas Thanos/Howard learns to overcome emotion (and his own adopted daughter) in a nihilistic pursuit of the ultimate goal — the comparisons raise another specter.
Captain America and Thanos don't exactly see eye-to-eye. The former works pretty hard to stop the Mad Titan from gathering the Infinity Stones and accessing god-like powers, with the two even squaring off in a climactic fight.
So, with all that context, what is Howard really trying to say by comparing LeBron to one of Thanos' preeminent opponents? Is James' success a product of modern science and some vita-rays? Was there secretly a brawl in the bowels of Crypto.com Arena, pitting James and some other teammates against Howard? Did the big man secretly dream of snapping his fingers and making the Lakers' star disappear?
Dwight Howard clearly thinks highly of LeBron James, regardless of any comic book-based comparisons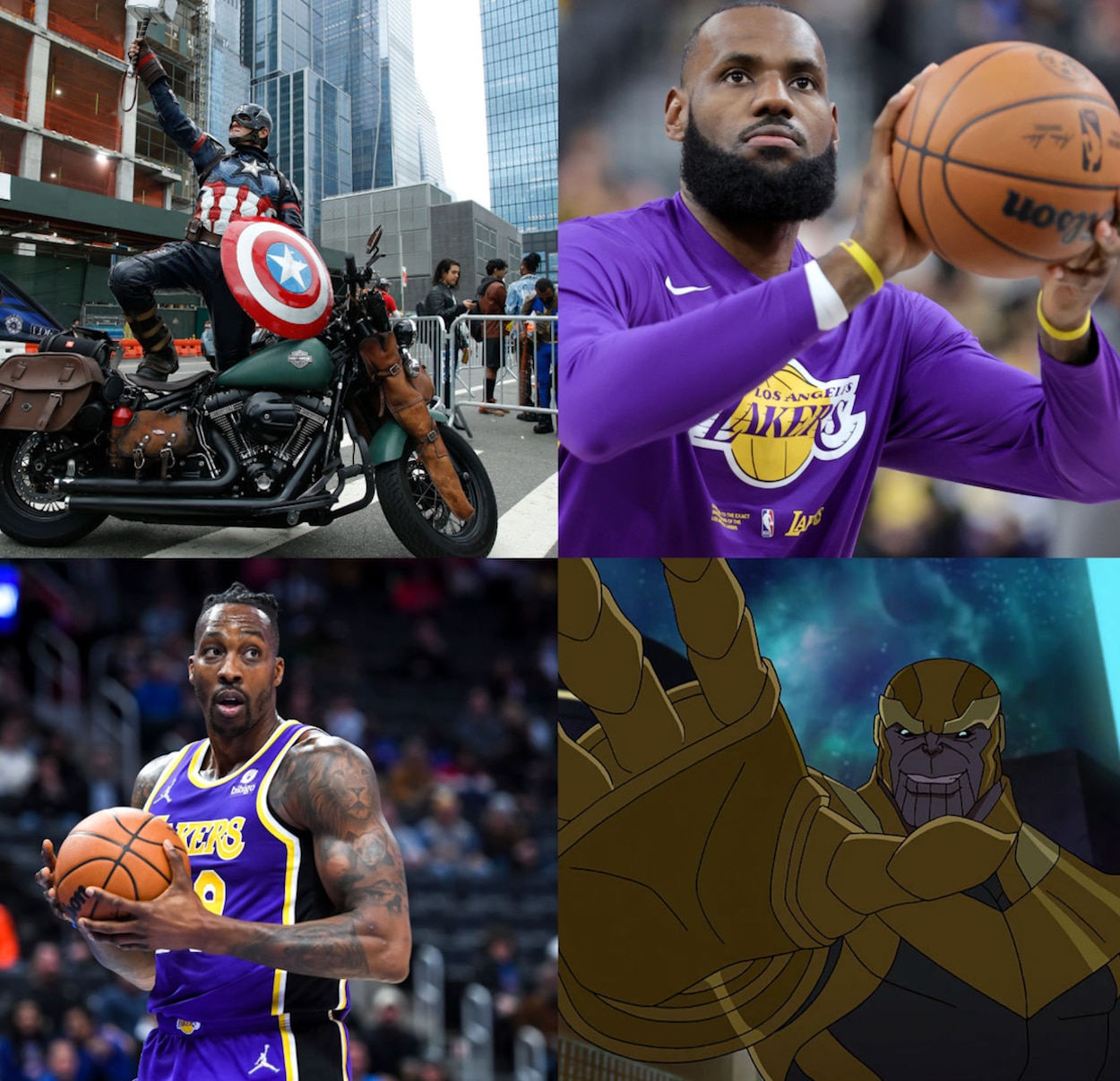 Sorry to burst your bubble, but there isn't any Marvel-related drama brewing behind the scenes (at least that we know of). Within the same interview, Howard spoke pretty highly of King James.
While the center said Kobe Bryant was the most-skilled player ever to hit the NBA hardwood, James still received plenty of praise.
"LeBron, he's just got the whole package," Howard explained on All the Smoke. "He can pass; he can post up. He's big. He's like Magic Johnson on steroids."
Within the Marvel Universe, the Avengers are a team of heroes brought together for a common cause. While Thanos wasn't part of that group, James and Howard did join forces to claim an NBA title. That's a pretty sweet storyline, even if it's not as fun as our tongue-in-cheek comic book-based drama.
Like Sportscasting on Facebook. Follow us on Twitter @sportscasting19 and subscribe to our YouTube channel.