Did NFL Coach Jerry Glanville Ever Win a NASCAR Race?
Jerry Glanville spent offseasons racing in the NASCAR Xfinity Series while coaching the Atlanta Falcons.
Joe Gibbs made a seamless transition from the NFL to auto racing and has earned spots in the Pro Football Hall of Fame as well as the NASCAR Hall of Fame. That's a considerably better outcome than Jerry Glanville's experience in either, but Glanville was undoubtedly a lot more fun to cover.
Whereas Gibbs has owned championship teams led by drivers including Tony Stewart, Kyle Busch, and Daniel Suarez, Glanville did his own driving. The results weren't great, which is too bad since his Victory Lane celebrations undoubtedly would have been memorable.
Jerry Glanville coached eight full seasons in the NFL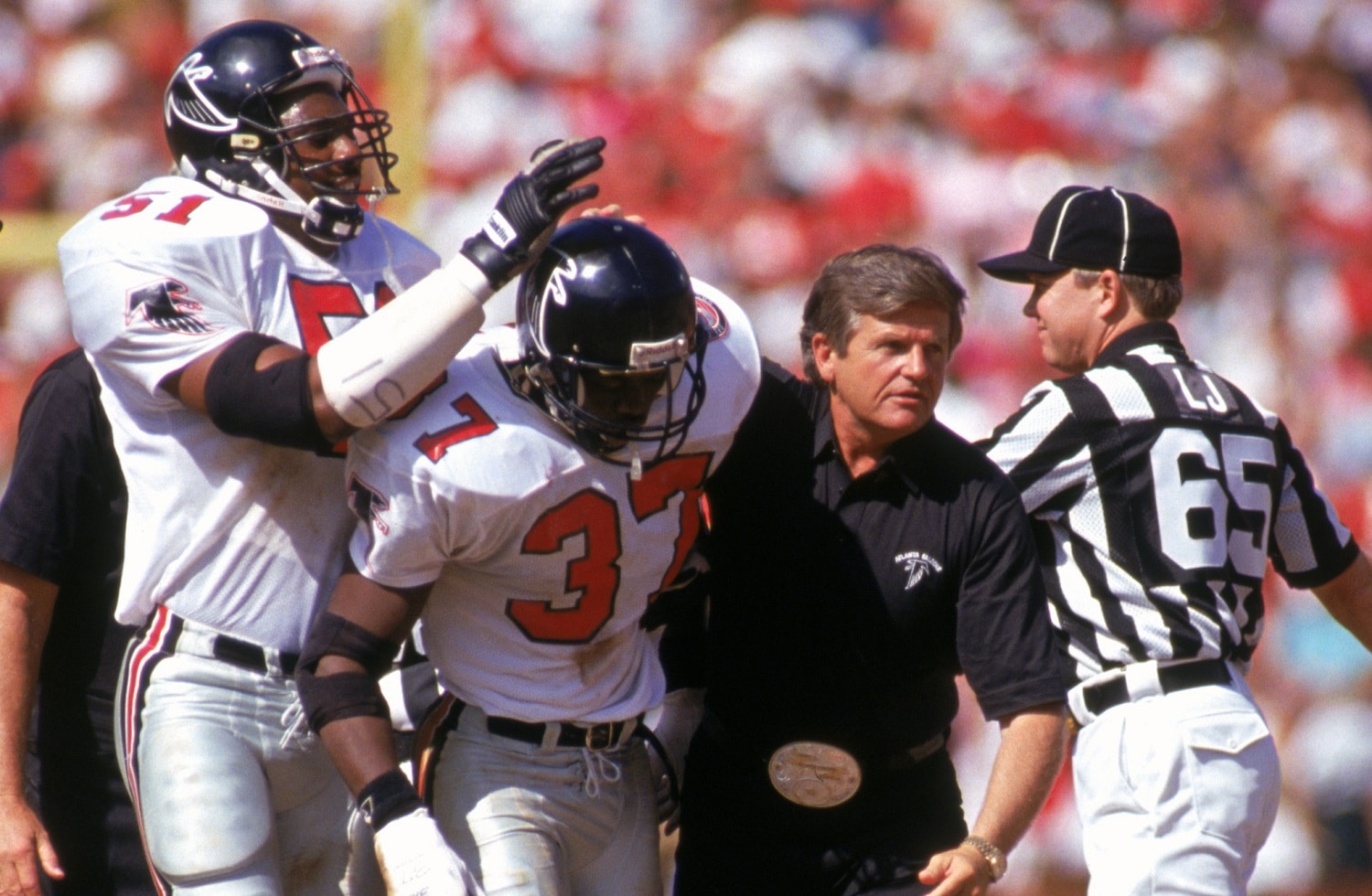 Jerry Glanville's signature pro football moment may have been being caught by an NFL Films crew as he admonished a first-year game official for controversial calls, telling back judge Jim Daopoulos, "This is (the) NFL, which stands for not for long when you make them f****** calls."
Sound bites like that made Glanville a natural for network shows as an NFL analyst after a career on the field that included eight full seasons as a head coach.
Glanville took over the 1985 Houston Oilers from Hugh Campbell on an interim basis and then lasted four seasons, finishing 33-32 with three straight playoff appearances. That wasn't good enough to keep the job, but Glanville landed with the Atlanta Falcons the following season as the replacement for Marion Campbell.
A 27-37 record and a single playoff berth weren't enough to survive there either, and Glanville was gone after the 1993 season.
The coach took a liking to NASCAR and learned from Dale Earnhardt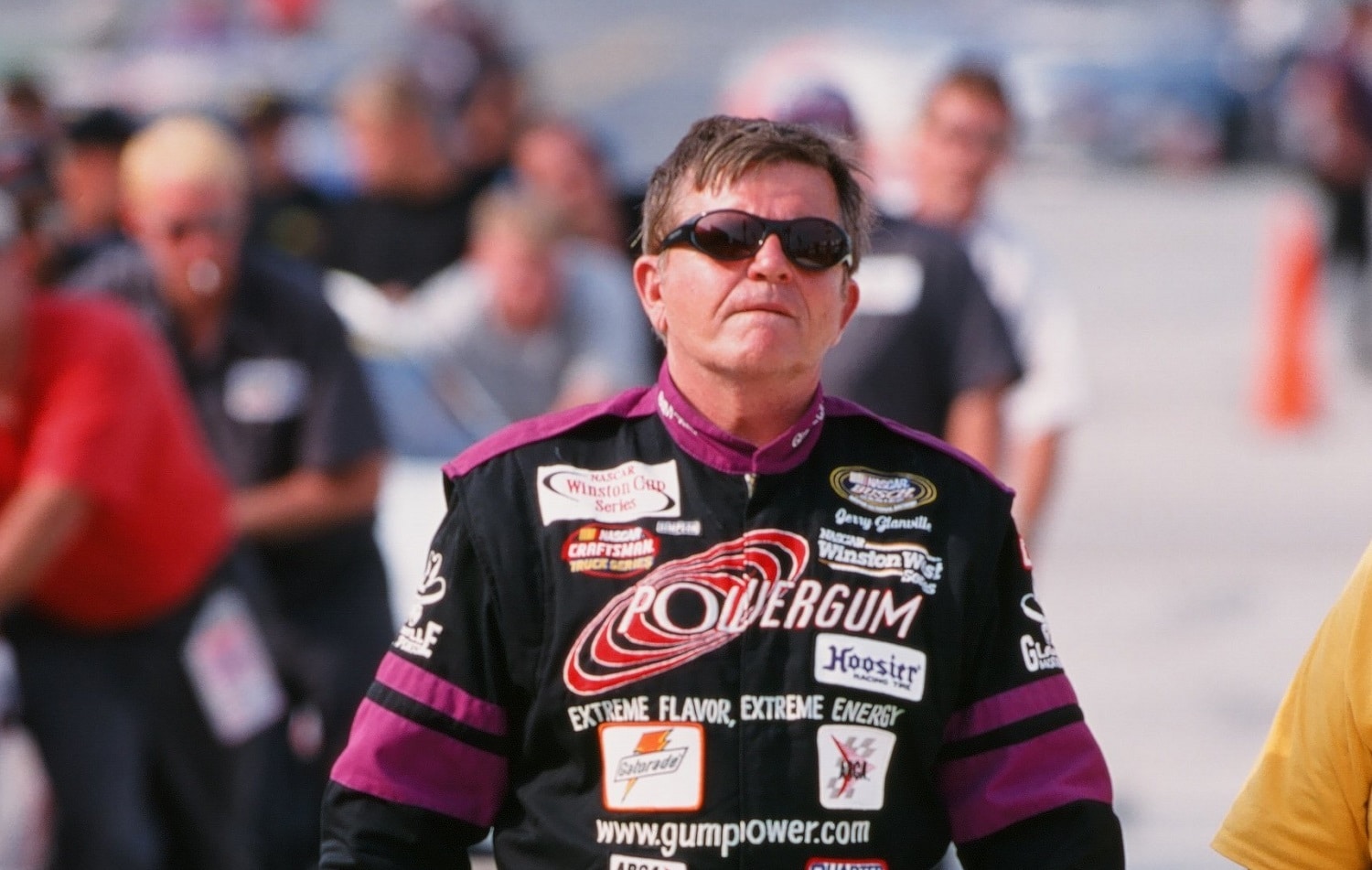 NFL coach Jerry Glanville was 50 years old when he made his NASCAR debut with three starts during the 1992 Xfinity Series season before heading off to training camp with the Atlanta Falcons. After failing to qualify in his first appearance, his race debut came on June 6 at Orange County Speedway in North Carolina, where the Ohio native qualified 26th and finished 22nd following a crash midway through the event.
Glanville spoke several times over the years about being tutored by the legendary Dale Earnhardt at Richmond International Speedway. "We weren't warm and fuzzy, but I think he respected me from football, as a coach," he said.
Glanville made five more Xfinity starts in 1992-93, with a best result of 20th place at Volusia County Speedway in Florida in the first race he completed.
Jerry Glanville never won in NASCAR
The Atlanta Falcons fired Jerry Glanville after the 1993 NFL season. Rather than pursue another pro or college job, Glanville put his energy into continuing his racing exploits, splitting 1994 between the NASCAR truck series and the ARCA Menards circuit. He made 15 starts in the Craftsman Truck Series, with 14th place at Tucson and Louisville his best results.
Glanville continued dabbling in the Craftsman Series from 1996-99, making 13 more starts without cracking the top 10.
In all, he made 33 appearances in NASCAR's second- and third-tier series without winning.
Got a question or observation about racing? Sportscasting's John Moriello does a mailbag column each Friday. Write to him at [email protected].