Dikembe Mutombo Dishes on Why Michael Jordan Was His Favorite Opponent
Dikembe Mutombo didn't reach the NBA until he was 25 years old. But that didn't stop him from enjoying an 18-year Hall of Fame career as one of the top defensive centers in league history. Mutombo won an NBA-record four Defensive Player of the Year awards (tied with Ben Wallace), and his signature finger wag endures as one of the most recognizable symbols, even among contemporary NBA players. Mutombo never backed down from a challenge, which is why his many matchups with Michael Jordan remain among his favorite memories.
Jordan and Mutombo squared off 18 times in the regular season and once in the playoffs. As one might expect, Jordan's teams enjoyed a 12–6 edge in those games. In the second round of the 1997 playoffs, their meeting also went to the Chicago Bulls, who ripped the Georgetown alum's Atlanta Hawks in five games.
Dikembe Mutombo had his moments against Michael Jordan
Dikembe Mutombo is second all-time with 3,289 blocked shots, trailing only Hakeem Olajuwon. The stat didn't become official until the 1973–74 season. Hence, it's likely Kareem Abdul-Jabbar would have had the 101 needed in the four seasons before the stat's recognition to remain ahead of Mutombo (not to mention Olajuwon).
He's one of five NBA players with at least 3,000 rejections. Hall of Famer Artis Gilmore finished with 3,178 between his ABA and NBA tenure, but only 1,747 of those came in the NBA.
There were few players as fearless as Michael Jordan going to the rim, but Mutombo decided to call out His Airness at the 1997 NBA All-Star Game. Mount Mutombo told MJ that Jordan had never dunked on him in the six years they had faced each other. It was their first time as All-Star teammates, as Mutombo was in his first season with the Hawks after playing five years with the Denver Nuggets in the Western Conference.
It sparked a friendly mini rivalry between the two stars, but it was one that Mutombo came to cherish.
Michael Jordan finally got his revenge against Mutombo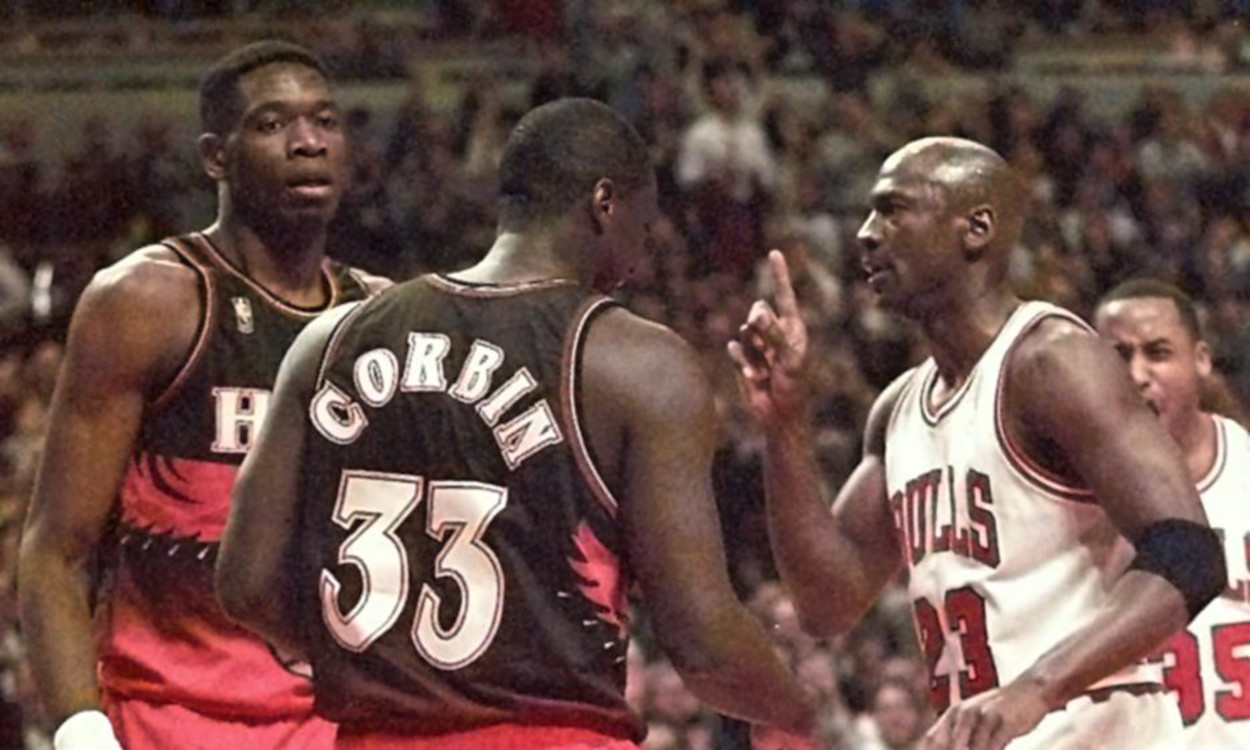 During the sole playoff encounter between the two, Michael Jordan got one up on Dikembe Mutombo. In the series-clinching Game 5 win at the United Center, Jordan made a baseline cut. Luc Longley delivered a perfect pass, and Jordan soared to the rim. Mount Mutombo was officially scaled.
Jordan sealed the powerful dunk with a finger wag because, of course, he did.
But Mutombo said on the Basketball Time Machine podcast recently that mostly, Jordan made him laugh.
"Everybody was looking to play against Michael Jordan. That's the reason why the day we played the Chicago Bulls (in 1993), I think I had like by 29 points and then 22 rebounds because you can see the excitement after what's going on with me, and we end up beating them, which was great.

"I think those are the games that gave me a chance also to elevate myself as an All-Star. But Michael was as funny as he was always and pleasing his friends by closing his eyes and shooting free throws. I was like, 'What is this guy doing, what the heck?'"

Dikembe Mutombo
The blind free throw was a shot at Mutombo. During the big man's rookie season in Denver, Jordan went to the line in an early-season game and told him, "Hey, Mutombo, this one's for you." Then he closed his eyes and swished a free throw.
Dikembe Mutombo a hero in retirement
Since retiring in 2009, Dikembe Mutombo works tirelessly with his Mutombo Foundation. He's brought modern medical facilities to his native Republic of Congo.
In 2018, the NBA recognized Mutombo's work with the Sager Strong Award for humanitarian work. He is heavily involved in medical charities around the globe, with a particular focus on the Southern Hemisphere and marginalized people worldwide. When he won the humanitarian honor in 2018, he said it was part of a more significant legacy, per USA TODAY.
"Helping others is a family tradition. I'm carrying on a legacy that was passed on from my grandparents to my parents and to us. It represents where I came from. It represents my people, as we call it, the Luba people. I'm glad I'm doing a good job for them."

Dikembe Mutombo
Dikembe Mutombo works wonders in his homeland, while his basketball career provided him with a more powerful means to make that difference. He has a $75 million net worth, per Celebrity Net Worth, and he wields it for the betterment of both the Congolese people and those in need everywhere.
He also has some fond memories of competing with the best of the best, Michael Jordan.
Like Sportscasting on Facebook. Follow us on Twitter @sportscasting19.