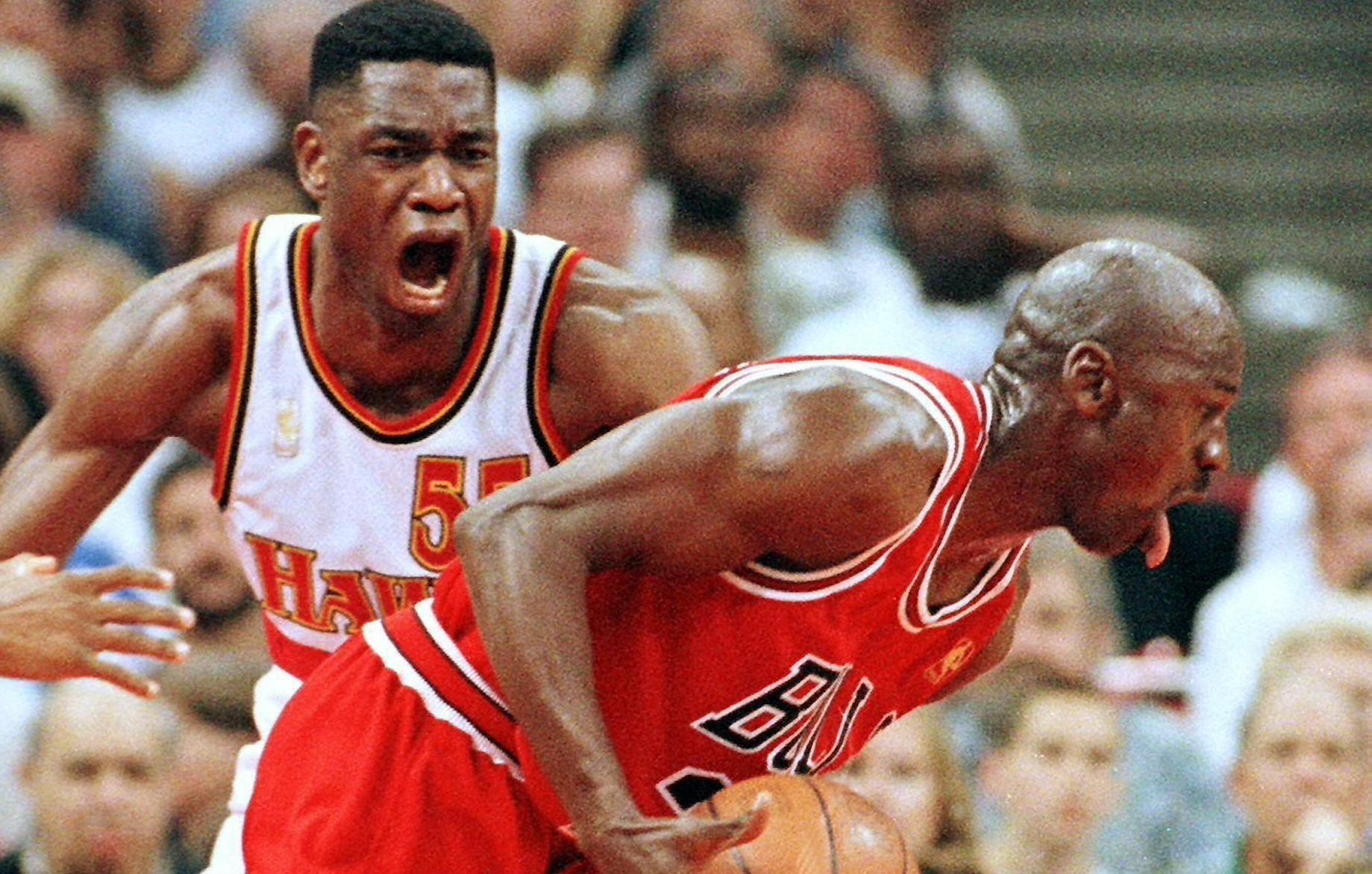 Michael Jordan Once Trolled Dikembe Mutombo by Shooting a Foul Shot With His Eyes Closed: 'This One's for You, Baby'
Michael Jordan had no problem messing with his opponents on the NBA hardwood. Dikembe Mutombo learned that on two separate occasions.
While he hasn't hit the NBA hardwood in quite a few years, stories of Michael Jordan's trash talk still loom large. Whether you were a teammate, opponent, or fan in the crowd, you had an equal chance of feeling His Airness' wrath. During his first season in the Association, Dikembe Mutombo experienced that reality firsthand.
In the big man's case, though, there wasn't too much talking involved. Jordan did utter a handful of words, but then he let his actions speak for themselves.
Michael Jordan had a knack for unleashing some brutal trash talk
When you think of Jordan's skill set, you probably imagine him soaring through the air or nailing a game-winning jumper. While those were well within his wheelhouse, His Airness also had a way with words.
As we saw during The Last Dance, Jordan was willing to push the envelope in order to win. While that took many forms, ranging from spending hours in the gym to punching Steve Kerr in practice, MJ had no problem talking some serious trash en route to the top spot.
As you might expect, opponents felt the bulk of the legend's wrath; seemingly every big name from the 1980s and 1990s has a story about getting burnt by His Airness. Those on the opposing team weren't the only targets, though. Rodney McCray endured a serious tongue lashing as a member of the Bulls, and both Bill Clinton and Barack Obama have been chirped by Jordan from a golfing perspective.
Trolling Dikembe Mutombo with a no-look free throw
For most basketball fans, the name Dikembe Mutombo calls to mind a prolific shot-blocker with a signature on-court taunt. Before he became the big man on campus, though, he had to be welcomed to the NBA by His Airness.
As recorded in a Chicago Sun-Times story, Jordan met Mutombo and his Denver Nuggets in November 1991. In the dying moments of the game, MJ stepped up to the free-throw line. He turned to the big rookie, said, "Hey, Mutombo, this one's for you," then closed his eyes and entered his shooting motion. Unsurprisingly, he hit nothing but net.
A video clip of the encounter also surfaced on social media, thanks to SportsCenter sharing NBA TV's recording in November 2020. While Jordan's trash talk is subtitled slightly differently, adding a "baby" to the end of his sentence, the rest of the scene matches up with the written account. His Airness visibly closes his eyes, then sinks the shot.
You wouldn't expect anything less from MJ.
Michael Jordan wasn't done with Dikembe Mutombo after that foul shot
Under most circumstances, getting trolled by Michael Jordan would have been enough to make a player turn tail and run. Mutombo, however, wasn't one to back down from a challenge.
As seen in an NBA Youtube video, Mutombo and MJ found themselves sitting next to each other in the trainer's room at the 1997 All-Star Game and engaged in a bit of banter. The big man, who was famous for his shot-blocking ability, insisted that Jordan had never dunked on him. As we now know, reminding His Airness of a failure was never a good idea.
Sure enough, Mike got his revenge. When the Bulls and Hawks met during the 1997 playoffs, Jordan received a pass from Luc Longley, drove toward the paint, and threw down a dunk over the Atlanta center. He even hit Mutombo with his signature finger wag, rubbing a bit of extra salt in the wound.
When it came to Michael Jordan putting an opponent in their place, size simply didn't matter.